— Audio Player —
No White Garments
Nancy DeMoss Wolgemuth: Before we begin today's Revive Our Hearts, I want to share some exciting news. Our team and I are still in the afterglow of the Revive '17 conference that took place several weeks ago at the end of September. That weekend we heard fourteen powerful messages based on the fourteen chapters of my book, Adorned, which is based on Titus 2—Paul's instruction to women on discipling women. That weekend had a huge effect on the approximately 3,000 women who were live at the conference from all around the world, and then well over 200,000 women who watched the livestream in either English or Spanish.
Now I'm thrilled to let you know that these messages are going to live on in a new small group study that our team has produced. We captured all fourteen messages on video. And you can get those on DVD, along with the book I've written on Titus 2 called Adorned, and a small group discussion guide. These resources are going to provide the basis for a great study for your small group—whether it is just you and another woman that you are discipling, or a group of younger and older women that want to learn how to live out the beauty of the gospel together.
One of the speakers at Revive '17 was my long-time, precious friend, Susan Hunt. And you could have heard a pin drop when you heard this seventy-seven-year-old godly woman spoke. In fact, the women stood to their feet in a standing ovation when Susan was finished. Both honoring this special woman, but even more, honoring the gospel that she was representing. You really need to hear her message.
Here are some of her thoughts on why you should go through this Adorned material with a small group.
Susan Hunt: I'm so excited that Revive Our Hearts is producing the curriculum package to go along with the book, Adorned. This is going to make it so accessible for groups and churches to use—not simply for individual women to read the book, but for it to begin to take place within groups.
My observation has been that when Titus 2 begins to be a part of the life of a church, it changes the culture of that church. The church becomes more like family. We are obeying the Great Commission; we are obeying the generational principle that one generation is to teach the next generation to praise-worthy deeds of the Lord. The Lord brings great blessing to that. So I'm very excited about the curriculum package.
Nancy: To get more information on the Adorned Small Group Leader's Kit, visit ReviveOurHearts.com, or call 1–800–569–5959. 
Leslie Basham: This is Revive Our Hearts with Nancy DeMoss Wolgemuth, author of Adorned, for Monday, November 6, 2017.
When you go to the doctor, you don't want to be shielded from the truth. You want a true prognosis and a clear plan forward.
Today Nancy will tell us about a church that needed a true diagnosis and a strong treatment. She's continuing in the study we've been on since August on the letters to the churches in Revelation. This portion of the study is called "The Cure for a Lukewarm Faith."
Nancy: If you've been with us over the last several days, you know that we're looking at the words of Christ to the church in Laodicea in Revelation chapter 3, and it's been some tough sledding here. There's some heavy stuff that Jesus has had to say to that church, and He tells us, "He who has an ear, let him hear what the Spirit says to the churches" (v. 22).
It's not just Laodicea. It's churches throughout history, churches in our day who would have these same characteristics. It's been a heavy message. We've seen that the situation in Laodicea spiritually is desperate; it's dire. Jesus has no word of commendation, just words of concern and burden for this church.
But the good news is that their situation is not hopeless, and that's what the gospel is all about: good news for fallen sinners.
Let me go back to the text, Revelation chapter 3, and read what we've looked at thus far, and then we'll pick up with the next part of the passage in today's session.
"The words of the Amen, the faithful and true witness, the beginning of God's creation." By the way, when I see that faithful and true witness, aren't you glad that Jesus loves us enough to speak the truth to us, to give us not just what we want to hear but what we need to hear? That's an expression of His love as we'll see today. He says:
I know your works: you are neither cold nor hot. Would that you were either cold or hot! So, because you are lukewarm, and neither hot nor cold, I will spit you out of my mouth. For you say, I am rich, I have prospered, and I need nothing, not realizing that you are wretched, [literally, the wretched one], pitiable, poor, blind, and naked.
Then He says in verse 18, and here's the hope:
I counsel you to buy from me gold refined by fire, so that you may be rich, and white garments so that you may clothe yourself and the shame of your nakedness may not be seen, and salve to anoint your eyes, so that you may see (vv. 14–18).
I love those words, "I counsel you." Jesus has said, "Here's the diagnosis; here's the prognosis: You are in bad shape; you are in bad condition, but here's a prescription. I counsel you; I have something for you that is what you need to match your condition." Isn't that what God's grace is? God's super-natural supply to meet our need.
"I counsel you." That's a tender word coming in the middle of a hard message. "I counsel you; I exhort you; I encourage you; I have something to offer you."
Who is it giving the counsel? It's the Wonderful Counselor. It's the one who knows how to not only diagnose the need but knows what to do about it and has the provision to meet that need in Himself.
I'm so thankful that He doesn't leave them where they are, and He doesn't leave us where we are. He shows them what they need and how to get it. In this passage He wants to show us what we need and how we can get it.
By the way, where do you look for counsel when you need help spiritually? We have a lot of people who write to us at Revive Our Hearts. They email us; they write; they call, and I'm so thankful they do. We do what we can to encourage them, to point them to the Scripture.
But the best thing we can do is to point them to the Wonderful Counselor because when it comes down to it, there is no human being, there is no therapist, no matter how much you pay, there is no book, there is no seminar, there is no CD, there is no DVD, there is no friend, there is no husband, there is no pastor, there is no resource on the planet that can meet your needs the way Jesus can meet them. There's no one like Jesus who can get down to the root issues and can give what you need to deal with those issues.
Jesus says, "I counsel you."
Where do you get your counsel? Do you look to Him first? Or do you look to Him after you've tried everything else and found that they can't help you? If you really want to get your problems solved, if you want to get your spiritual issues dealt with, if you want to get the spiritual issues of your church dealt with, get to the Wonderful Counselor. Get to Jesus.
He says, "I counsel you to buy from me."
Before we go on and say what is the medication He prescribes, so to speak, what's the prescription; in order to come to Him and buy from Him, it's just implied here that you have to come to a place where you acknowledge your need, where you agree with God about what He has said.
Remember in the last verse these people were saying, "We are rich; we have prospered; we need nothing." If you need nothing, are you going to go to the store? Well, some of you do, but I tell you what, I don't like shopping enough to get me out if I don't need anything. If I go to the store, it's usually because I need something.
The implication here is, "You're going to come and buy this from me because you acknowledge that you are not rich, you have not prospered, and you do have needs." You've come to agree with God about His assessment, that you are wretched, pitiable, poor, blind, and naked. You realize you do have needs. If you don't recognize that, then you won't come and buy.
In order to come and shop in Jesus' grace market, we have to come to the place where we drop our vain, false opinions of ourselves, we humble ourselves, we agree with God.
One of our Life Action Ministries' road teams is in a church (well, they're all in different churches right now). But one of them sent in a report this past week to update us on what was happening in the meeting they were having in a particular church. When the teams go into churches, they pass out prayer cards to the people in the church, and they say, "Let us know how we can pray for you as a team."
Steve sent back this message saying:
There's been an unusually high degree of transparency on the prayer cards.

We've prayed through thousands of requests this week, and I want to share with you samples, so you'll know how to pray for us as we minister, and so you'll be reminded how great the needs really are.
Here were some of the things that came in on the prayer cards in just that one church:
"That I can get rid of my haunting doubt."
"My marital relationship—I can forgive, but it's difficult to trust after my husband's three affairs."
"Pray for me. I struggle with addictions."
"Pray for my son who is addicted to prescription drugs."
"I need to let go of the bitterness I hold toward my abusive ex-husband. It consumes me."
"My marriage and family feel out of control."
And on this list went.
Do you know what's happening in that church? People are getting honest. They're saying, "It's me, O Lord, standing in the need of prayer."
"The sacrifices of God are a broken spirit," Psalm 51 says, "a broken and a contrite heart, O God, you will not despise."
What is that broken heart?
It's just being honest before God, being real.
No pretense
No covering up
No trying to look better
No trying to preserve our image
It's getting honest before God and before one another about the true condition of our lives.
So walking this church and these so-called believers, these professing believers through this process, apparently they're coming to a place where they recognize that they do have needs. Jesus sees that heart in them, and He says to them: "I counsel you to buy from me gold. You say, 'I am rich.' But you're poor. You're spiritually poor. You may be materially affluent, but you're spiritually poverty stricken, so come to Me and get the gold that you need, spiritually speaking."
It reminds me of that passage in Isaiah 55, the first two verses of that chapter, where the Lord says,
Come, everyone who thirsts, come to the waters; and he who has no money, come, buy and eat! Come, buy wine and milk without money and without price. Why do you spend your money for that which is not bread, and your labor for that which does not satisfy? Listen diligently to me, and eat what is good, and delight yourself in rich food (vv. 1–2).
You're starving. Your souls are starving. You're hungry. So Jesus says, "Come to me and buy." The question is: If you're poor, if you have no money, how can you buy? How can you buy gold if you have no money? How can those who are spiritually destitute buy spiritual gold and clothing and eye salve to meet their needs?
It's not suggesting that we can purchase God's grace, because we can't. In fact, we have nothing to offer Him that He needs or would want. The only thing we can give in exchange for His riches that we desperately need is what? Our poverty, our emptiness, our need.
That means we have to renounce all self-sufficiency, all self-righteousness, and say, "Lord, I'm exposed. I'm poor and wretched and pitiable and naked and blind. I need You." Those are sweet words in the ears of heaven.
He hears that, and He says, "I will give you gold and food and all you need without cost. Come and buy and eat and be filled."
The hymn writer said it this way in the 1700s:
Not the labor of my hands
Can fulfill Thy laws demands.
Could my zeal no respite know?
Could my tears forever flow?
All for sin could not atone,
Thou must save and Thou alone.

Nothing in my hand I bring,
Simply to Thy cross I cling;
Naked, come to Thee for dress;
Helpless look to Thee for grace:
Foul, I to the fountain fly;
Wash me, Savior, or I die.

(Augustus Toplady, 1776)
That's the cry of a desperate sinner who realizes they have got to have God's grace. They can't earn it; they can't deserve it; they can't work for it; they can't merit it. It's all available because of what Christ has done for us on the cross.
So where are we to buy all of this stuff that our soul needs—the gold, the ointment for our eyes, the clothes for our nakedness? Where are we to buy? Jesus says, "Buy from Me"—from Him. There's no other place where we can get that which our souls need. It's from Christ. He is the pearl of great price. He is the source of all wealth and wisdom and grace.
Going to Christ to get our needs met is the opposite of looking to ourselves. We can trust in Him, the arm of flesh will fail you. You dare not trust your own—leaning on Him. On Christ the solid rock I stand. In Him we find all that we need.
And what are we to buy? There's a three-fold exhortation here, three-fold offer, three-fold prescription; and it deals with their three-fold problem that Jesus has already diagnosed: of spiritual poverty, nakedness, and blindness.
Jesus offers spiritual counterparts to the three main industries that we've seen were in Laodicea. Remember what they were? Banking, textiles, and eye ointment. Jesus uses those as a picture. He says, "I'm offering you the spiritual counterpart to each of those."
I think that each of these three items that Jesus offers is a way to refer to genuine salvation and its effects in our lives.
Let's look at what the three items are:
First He says, "I counsel you to buy from Me gold refined by fire."
He's told them that they're poor. It's a Greek word that means utterly destitute. Not just living at the poverty line, but destitute, bankrupt. "You have nothing that can get you through this life, so if you're poor, come to Me and buy gold."
Gold is a biblical metaphor for purifying our lives by letting Him remove our sin. Gaining spiritual riches by holiness, purity of heart.
Gold refined by fire, in 1 Peter 1, refers to genuine faith, true faith in Christ that's been tested by fiery trials. That's the fire that burns off the dross from the gold. So He says, "Buy from Me gold for your poverty."
Then, "buy white garments." What's that for? That's for your nakedness so that you may clothe yourself so that the shame of your nakedness may not be seen.
Now these white garments would have brought to their minds the picture of the black wool that they were famous for producing in Laodicea. It's a reminder that what Christ provides to meet our need is vastly superior to anything we can manufacture or produce ourselves. That's the prayer here. Jesus says, "Come to Me, and I will clothe you."
We come to Him, and we say, "Lord, clothe me in Your righteousness. Hide my filthy rags of sin. Remove them. Take them away. Dress me in Your perfect garb, Your holiness, Your righteousness both outside and within."
Those white garments picture the righteousness of Christ that is credited to us; it's imputed to us in what we call justification. It's imparted to us in what we call sanctification. These are garments of holiness, garments of virtue, the righteousness of Christ.
Remember when we looked at the church in Sardis earlier in this chapter how it was said that they did not stain their garments? They kept their garments white. They refused to participate in the idolatrous aspects of society. They kept their garments white and unstained. That's a picture of purity, of righteousness, of character.
In order to have His righteousness, in order to have true holiness, we have to put off our own robes of self-righteousness. Not just the filthy robes that we know are sinful—everybody knows we need to get rid of those. But what about the robes of our own self-righteousness? We need to get rid of those, too, if we're going to be clothed in His true righteousness.
So Jesus says, "Bring your poverty, your emptiness, your need, and receive My great treasure and wealth, receive the clothing that I have for you so that the shame of your nakedness may not be seen."
That brings to mind a verse in Revelation 16:15, "Blessed is the one who stays awake, keeping his garments on, so that he may not go about naked and be seen exposed."
What in the world is that talking about? What does it mean that the shame of your nakedness may not be seen? Well, we've talked in recent days in this series about the return of Christ, the coming of Christ back to earth. We've been reminded that when He returns, His spotlight, His holiness will shine on our lives, and we'll be exposed to what's really in there—not what others saw, not what others thought, not what we promoted or pretended to others, but what Christ saw that was really in there. 
The question is, when He returns and that spotlight of His awesome holiness shines on your life, will there be purity? When you stand exposed in the spotlight, will you be clothed in His righteousness, or will you be seen to be spiritually naked, not clothed because you have not put on the virtue and the righteousness of Christ?
So, "Buy from Me gold, refined by fire so that you may be rich, and white garments so that you may clothe yourself so that the shame of your nakedness may not be seen," and then a third thing to buy: eye salve.
This was actually in the Laodicean culture a powder made from pulverized rock that was smeared on the eyelids. It was thought to help cure eye defects. They were famous for it. They exported it.
Jesus said, "You think you can see, but you're really spiritually blind. So come to Me and get spiritual discernment. Get spiritual vision. Get spiritual perception and understanding."
Now in order to get His eye salve, we need to be willing to reject our own human understanding, the way we see things. We need to be willing to let Him open our eyes so that we can see spiritual realities, so we can see the truth about Christ, about God, about the gospel, about ourselves, about our lives, and about our churches. Eye salve so that you can truly see.
People in the world today think they are so smart, think they are so wise, but they're blind, blind guides trying to lead the blind. I want to tell you, a little child or an old lady or somebody without a high school education who has Christ has more wisdom and keenness of vision and eyesight than all the smart high IQ'd people in the world put together. If you've got Christ, He's the fountain of wisdom. He gives you knowledge and understanding and vision and the ability to see things keenly and clearly.
You say, "I don't know how to figure out this situation in my family or in my church." Ask God for understanding, for perception, for insight, and He will give it.
You can only find any of this through Christ—true spiritual wealth, spiritual clothing, spiritual eyesight. He is the one who has all wealth. He is the one who is clothed in white.
We see Him in Revelation 1 whose all-seeing eyes are like a flame of fire. He has all perception and wisdom and vision and wealth. He's all in Christ. So come to Him. Buy from Him what you need for your poverty.
I love that old hymn, and it's the invitation that Jesus extends to us today:
Come, ye sinners, poor and needy,
Weak and wounded, sick and sore;
Jesus ready stands to save you,
Full of pity, love and power.

Come, ye thirsty, come, and welcome,
God's free bounty glorify;
True belief and true repentance,
Every grace that brings you nigh.

Come, ye weary, heavy laden,
Lost and ruined by the fall;
If you tarry till you're better,
You will never come at all.

View Him prostrate in the garden;
On the ground your Maker lies.
On the bloody tree behold Him;
Sinner, will this not suffice?

Lo! the incarnate God ascended,
Pleads the merit of His blood:
Venture on Him [it means cast yourself on Him], venture wholly,
Let no other trust intrude.

Let not conscience make you linger,
Not a fitness fondly dream.
[Don't just sit there and think, "Oh, if I could just make myself better; if I could just make myself fit for Him" or "I'm so bad He could never receive me."]

Let not conscience make you linger,
Not a fitness fondly dream;
All the fitness He requireth
Is to feel your need of Him.

And then the chorus—this is to be our response:

I will rise and go to Jesus,
He will embrace me in His arms;
In the arms of my dear Savior,
O there are ten thousand charms.1
Listen, whatever pools you're drinking from that are anything other than Christ, they're polluted. They're foul. They're contaminated.
Whatever riches you're looking for other than in Christ, they will never satisfy.
Whatever clothing you're trying to put on yourself that is not the righteousness of Christ, it is no clothing at all.
Whatever salve you're trying to put on your eyes, whatever books you're trying to read, wherever you're trying to learn and gain wisdom and insight, if it's not based on Christ and the fear of the Lord, it is foolishness. It is no wisdom at all.
Come to Christ and find in Him, not ten thousand, but ten million thousand charms found in Christ and Christ alone.
Leslie: You're blind, naked, and poor. It's not the kind of positive message that's so popular these days, but if Jesus said these words, we had better take them to heart, and Nancy DeMoss Wolgemuth has helped us do that.
That message is part of the series, "The Cure for a Lukewarm Faith." You can order that series, or any of her series based on the letters to the churches in Revelation, by visiting ReviveOurHearts.com.
We're committed to sharing messages that are biblical and true, because we know the truth has the power to set women free. Nancy often says she believes in offering truth with a smile. In other words, don't shy away from tough messages from God Word, but do it with love and grace.
If you appreciate this approach, would you help Revive Our Hearts continue? When you support the ministry with a gift of any size, we'd like to send you the 2018 Revive Our Hearts Wall Calendar. The theme this year is, "The Truth That Sets Us Free." Each month, you'll get a new reflection on the theme along with beautiful artwork. To see a sample, visit ReviveOurHearts.com. That's also where you can donate and get this wall calendar for yourself. ReviveOurHearts.com, or dial 1–800–569–5959.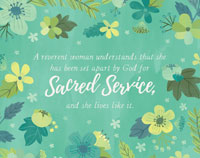 We've considered some tough subjects the last few days. How do you effectively avoid a lukewarm heart? Nancy and some of our listeners get very practical tomorrow. Please be back for Revive Our Hearts.
Revive Our Hearts with Nancy DeMoss Wolgemuth wants to help you develop a passionate faith in Jesus. It's an outreach of Life Action Ministries.
All Scripture is taken from the English Standard Version.
1Words: Hymns Composed on Various Subjects. Joseph Hart. 1759, alt.; refrain anonymous.  Music by Fernando Ortega. "I Will Arise." Storm.
*Offers available only during the broadcast of the podcast season.
Support the Revive Our Hearts Podcast
Darkness. Fear. Uncertainty. Women around the world wake up hopeless every day. You can play a part in bringing them freedom, fullness, and fruitfulness instead. Your gift ensures that we can continue to spread gospel hope! Donate now.
Donate Now