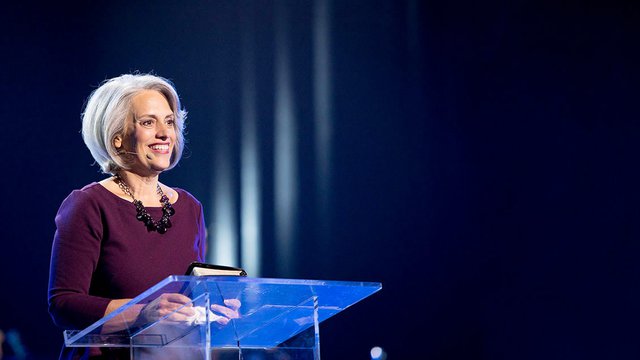 — Audio Player —
No Comparison
Leslie Basham: Here's Nancy Leigh DeMoss .
Nancy Leigh DeMoss: "I love John Piper's teaching. He's the one who really blesses me." "Well David Jeremiah, he's the one who really blesses me." We need to be careful not to exalt some spiritual leaders above others. Thank the Lord for the people that He has used in your life, but don't compare.
Leslie Basham: This is Revive Our Hearts with Nancy Leigh DeMoss for Wednesday, October 5th. In a consumer-oriented society we like to compare products and get the best value. But churches and pastors are not products that exist to meet our needs and make us feel good. Comparison can be dangerous. Here's Nancy continuing in a series called Follow the Leaders .
Nancy Leigh DeMoss: We've been talking about our responsibilities as church members to support our spiritual leadership. I know that in this series I'm kind of in a minefield; there are so many different church situations, and I'm not familiar with the details of yours. I can't address each type of situation, and many of the things I'm saying will probably raise some question marks.
It's not in the scope of this particular series to address all of those issues, but I am trying to point out what I think are some clear biblical principles about respecting and supporting and appreciating and encouraging our pastors and spiritual leaders.
We're sharing that as we come into this Pastors' Appreciation Month in the hope that it will encourage you to follow these exhortations from God's Word and be an encouragement to your pastor and spiritual leaders.
Now today I want to talk about a couple of other biblical principles. The first is found in 1 Corinthians chapter 3, and it's not explicitly stated; it's just implied here, as one of our responsibilities toward spiritual leaders. Let me read the passage. In 1 Corinthians 3, verses 4-6, Paul says, "When one says, 'I am of Paul,' and another, 'I am of Apollos,'" [two different spiritual leaders], "are you not carnal [fleshly, spiritually immature]? Who then is Paul, and who is Apollos, but ministers [servants] through whom you believed, as the Lord gave to each one? I planted, Apollos watered, but God gave the increase" (NKJV). Now Paul is addressing here this issue of comparison, and I think there are a couple things it points out.
First of all we need to be careful not to exalt one spiritual leader over another. "I love John Piper's teaching. He's the one who really blesses me." "Well David Jeremiah, he's the one who really blesses me." Now frankly, they both bless me, but we need to be careful not to exalt some spiritual leaders above others. Thank the Lord for the people He has used in your life. They have different strengths, different callings. Thank the Lord for those, but don't compare. Don't exalt one above the other.
Give God the glory for the spiritual growth and fruit in your life. That's what Paul said. "I planted, Apollos watered, but it's God who gave the increase." It's God who did the work. We're just servants. So give God the glory. Be careful about putting your pastor or spiritual leader on a pedestal that is inappropriately high. If it is too high, it becomes idol worship to where you look at your pastor or this particular teacher or spiritual leader as, you know, God in your life. That's dangerous. You're setting him up for a fall; you're setting yourself up for disappointment.
Give God the glory for how He has used these men as servants in your life. Realize that ultimately it's God who's working in your life and that those men who have most impacted you are merely servants. That's how they view themselves as humble leaders. Avoid a sectarian spirit, a divisive spirit. Refuse to take sides with one leader against another. Don't join the fray. Those conflicts will happen. Don't take sides. "I'm of Paul." "I'm of Apollos." "I follow this teaching." "I follow that teaching." Be humble. Learn what you can from each one of them.
Next I want to bring up a principle that I think is such a fun one, such an important one, about how we should minister to our pastors and spiritual leaders. Let me ask you to turn to 1 Timothy chapter 5. We're going to look at a couple of different passages in relation to this principle.
This is so important, and your pastor probably does not feel the liberty to preach on this subject very often, so I'm going to say it for him. I'm going to put in a real plug here for ministering to the material and financial needs of those who are our pastors and spiritual leaders. What does the Scripture say?
Verse 17, 1 Timothy 5: "Let the elders . . ." and here we're talking about all the spiritual overseers in the church. "Let the elders who rule well be considered worthy of double honor." When you pay your pastor, you don't do it out of obligation. This is something that they're deserving of. This is something they're worthy of, this honor, especially those who labor in preaching and teaching. That's hard work. I know that. It's a lot of preparation.
You know, I come here, and I have all these notes, and we do these sessions. We'll record 25 to 30 programs in two days. But it's hard work, and your pastor goes through that week after week after week. I honor these men who come up with messages, some of them Sunday morning, Sunday night, some of them Wednesday night—two or three different messages a week. They are studying. That is hard work, and the Scripture says they deserve to be compensated for doing that.
The Scripture says in verse 18, "You shall not muzzle an ox when it treads out the grain." Are you calling my pastor an ox? No, God is using a principle here, first written in the Old Testament, to show us an important principle about how our leaders deserve to reap the reward of their ministry. The laborer deserves his wages.
In Deuteronomy 25, the Old Testament passage says that the oxen that threshed the grain were entitled to eat from it. That was their privilege. When Jesus sent out the 70 disciples to do ministry in different towns, He said to go into the towns and stay in people's homes and "remain in the same house," Luke 10 verse 7, "eating and drinking what they provide, for the laborer deserves his wages." They deserve this honor, double honor, those who teach the Word and lead the flock of God.
That word honor has to do with respect and financial support. You know the word honorarium? If you go and sing somewhere for a special event or speak somewhere at a conference or a retreat, you might get an honorarium. That's money that is given to honor someone, to express gratitude for how they have served.
Now the emphasis here is not on the money. That's a part of it, but it's the heart attitude. If you respect your pastors and spiritual leaders, you will want to provide for and minister to them in financial and material ways. You won't begrudge it. "Now I guess we have to pay our pastor." You will want to minister to his financial needs. You will want to support him financially. The Scripture says those who preach the Word should be paid for it.
Now Paul said, "This is a right that I'm not claiming." (See 1 Corinthians 9:12ff.) Paul went and made tents so he could serve people without putting any obligation on them. That's Paul's prerogative. That's your pastor's prerogative, if he wants to function that way. But God says to the people who are being ministered to, "You should minister to the material and the financial needs of those who minister to your spiritual needs." Your church is responsible to provide for the financial needs of the pastoral staff.
Paul says it this way in 1 Corinthians chapter 9: "Who serves as a soldier at his own expense? Who plants a vineyard without eating any of its fruit? Or who tends a flock without getting some of the milk? . . . If we have sown spiritual things among you, is it too much if we reap material things from you? . . . In the same way," he says, "the Lord commanded that those who proclaim the gospel get their living by the gospel." It's pretty clear, isn't it?
Galatians 6:6 says it this way. I love this verse. "Let him who is taught the Word share in all good things with him who teaches" (NKJV). I was meditating on these verses the other night and just thinking about some of the people who have taught me spiritually and the people who have ministered the Word to me. Everything I'm teaching on Revive Our Hearts, these are things that I've learned from my own study of the Word but also from pastors and teachers who have invested in my life over 40-some years.
I was thinking of some of those people—my pastor in Michigan, my pastor in Little Rock, and others who have ministered in my life—and I stopped right while I was working on this study and wrote notes to four of those people, three pastors and a Bible teacher, people who have taught me. I said, "I can't teach on this passage without taking this opportunity to write a note and thank you for your ministry of teaching the Word in my life." And I enclosed a check and said, "I just want to bless you."
I don't know if they need it. That's not the point. The point is I need to give it. I need to minister materially. That's what Paul said: "Let him who is taught the Word share in all good things with him who teaches." We need to give and minister to the material needs and financial needs of those who minister to us spiritually.
So ask God to show you how you can express honor to your pastor, to the youth director, to the children's workers, Sunday School teachers, nursery workers, people who minister to you and your family. And you might include in this also Christian school teachers. You can broaden this: the people who are investing in your life, the elders, the deacons who provide leadership for your church. Ask the Lord how you can express honor in a tangible, practical way to those individuals.
Look for opportunities to minister to the practical needs of your spiritual leaders. It may be just writing a check for your pastor and his wife to go out to dinner. I was recently with a pastor; he's not my pastor, but he serves in the community where I live. He and his wife are a young couple, and they're in a little church. I know that they don't make a large salary in that church, and they have such a heart for the Lord, and they love their people and they love ministering the Word, and they're doing a great job in our community.
I ran into them at a restaurant not too long ago. I just took out my checkbook and wrote a little check, found a piece of paper and just wrote a little note on it that said, "Thank you for your ministry in our community. I want to bless you and thank the Lord for how you're serving God's people and the flock in this community."
Sometimes it may be appropriate to say to your pastor and his family or the music minister and his family, "Could our family have you over for dinner? We'd like to take you out for lunch." Just minister to them in that practical way. Birthday cards, anniversary cards—and don't forget their mates when you're doing this.
Maybe help with their kids' Christian school tuition. Maybe God has blessed you financially and you can say, "I'd like to help. Our family would like to help with your kids' Christian school this year." Maybe offer free babysitting so the pastor and his wife can have a date to themselves without having to minister to others at that time.
Again, let me just mention that we've developed a really neat Pastor's Wife's Appreciation Packet. You can find out more about that on our website. It's a neat thing that you can give to your pastor's wife or youth director's wife to say, "I'm just grateful for you." Give to minister to the material, practical needs of your pastor, of those who've discipled you, of those who've helped you and your children grow in your walk with God.
Invest materially in the lives of those who teach you the Word—pastors, elders, deacons, Sunday School teachers, youth workers, AWANA workers. Ask the Lord, "How can I bless them materially as they have ministered spiritually to me and to my family?"
Leslie Basham: That's Nancy Leigh DeMoss. We'd like to help you respond to today's teaching from Nancy. You can invest materially in the life of your pastor's wife by ordering a special gift we've created. It includes a travel mug and gourmet coffee, a purse-sized calendar and an autographed copy of Nancy's book Surrender. We want to make gift-giving fun and easy, so we're also providing a card, tissue paper and gift bag. It would be a perfect way for you to mark Pastors' Appreciation Month, which is in October.
To order the Pastor's Wife's Appreciation Packet, call us at 1-800-569-5959, or order online at ReviveOurHearts.com.
How often do you pray for your pastor? Not many people do, and we'll talk about that tomorrow. Please be back for Revive Our Hearts .
Revive Our Hearts with Nancy Leigh DeMoss is an outreach of Life Action Ministries .
All Scripture is taken from the English Standard Version unless otherwise noted.
*Offers available only during the broadcast of the podcast season.
Support the Revive Our Hearts Podcast
Darkness. Fear. Uncertainty. Women around the world wake up hopeless every day. You can play a part in bringing them freedom, fullness, and fruitfulness instead. Your gift ensures that we can continue to spread gospel hope! Donate now.
Donate Now