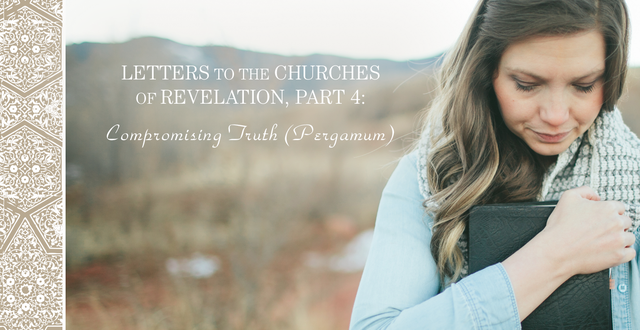 Nancy Acknowledges Concerns from October 13 Program
It is not our normal practice to remove programs or transcripts from our website. However, we have done so with this program in an attempt not to be a stumbling block or to wrongly fuel any further misperceptions. We understand how some of the content in the program left listeners with impressions that do not represent our heart or what we stand for. We are grateful for so many discerning listeners and readers who have a heart for truth and holiness, and who cared enough to bring this to our attention. Please know that our heart is to only say things that reflect rightly on our Lord and His Word.
October 14, 2009
Dear Revive Our Hearts family,
In recent days, we've been in a series on Jesus' letter in Revelation 2 to the church at Pergamum, which has raised the issue of church discipline.
On the program that aired on October 13, 2009, Holly Elliff, Kim Wagner, and I, talked with our friend Terry Morledge. Terry shared how God used the process of church discipline in her life more than twenty-five years ago.
Prior to that time, Mike and Terry were co-workers who had become involved in a sinful, adulterous affair. Their sin was compounded when Mike divorced his wife and he and Terry were married—all in direct disobedience to the Word of God and the godly counsel of others. It was not until her church followed through on the biblical steps of church discipline, as outlined in Matthew 18, that Mike and Terry finally came to a place of brokenness and true repentance over their sin.
A number of listeners responded to Terry's testimony with questions and concerns. I want to thank those of you who took time to share your heart—your feedback helps me learn and grow and communicate more carefully and clearly.
In retrospect, as I've reviewed the program, I realize that I should have made additional comments to clarify some of the issues listeners raised. Better yet, I wish we would have used a different illustration so as not to divert from the primary point we were making about the necessity and value of church discipline. Further, I realize we could have done a better job of communicating what genuine, godly repentance will look like in the life of a follower of Jesus. I take responsibility and ask your forgiveness for the lack of clarity. I hope listeners will hear what was shared on this particular program in the context of everything else we teach on Revive Our Hearts.
The goal of this particular program was to illustrate the redemptive nature of church discipline, through the perspective and life message of a woman who had been the object of discipline and who eventually came to repentance as a result of that process. In that context, we did not take time to unpack the details of how Mike and Terry went back and dealt with this situation following their repentance, including going back to Mike's first wife to seek her forgiveness for the grievous way they had sinned against her. They also went back to the pastors who had confronted them, confessed their sin, and asked their forgiveness for the harm they had done to the church.
I want to make it clear that in no way do I believe that adultery is ever justified under any circumstance. Nor does Revive Our Hearts, nor do Mike and Terry. Nor do we believe it is ever right for the adulterous partner to divorce his/her mate in order to marry the one with whom they had the affair. I regret that that important point was unclear to some who heard Terry's story.
Unfortunately, in Mike and Terry's case, it was not until after they had already made these sinful choices that the process of church discipline took effect, and they were finally brought to a place of repentance. At that point, these particular choices were irreversible and there was damage that could not be undone. The first marriage could not be repaired. All they could do was throw themselves on the mercy of God, just as each of us must do when we have sinned.
I have known Mike and Terry for several years and have seen clear evidence of the fruit of repentance in their lives. Although their failure and repentance took place more than twenty-five years ago, scarcely a day passes that they do not experience remorse over their sin and the great harm it brought to all involved. Their story should motivate people to repent before sin has gone as far as theirs did. For those who have already made choices that cannot be undone, Mike and Terry's story should be a reminder that though sin may have lasting consequences, it is not too late to repent.
Repentance involves more than sorrow for sin. The word repent literally means a change in one's thinking that is evidenced by a change in behavior. It is God's Spirit who brings conviction of sin, and it is God's kindness that leads us to repent. We may live with the consequences of our sin throughout our lives. But God is gracious to bring healing, to bring beauty from ashes (Isaiah 61:3), and to "restore the years that the locusts have eaten" (Joel 2:25). We must never forget that God is a gracious God who is abounding in loving-kindness and in mercy toward all who turn from their sins.
In the wake of the responses we received to the program, Mike sent me an email. I asked if I could have freedom to share it with our listeners, and he and Terry agreed. It communicates their heart about their past and their testimony:
In no way do we think what we did is now "OK," because we repented; nor do we think that makes everything OK for all those who were greatly hurt, especially my first wife. Sin has consequences and today's responses to the program are an example of that. Certainly there were and still are very painful consequences for my first wife that were a result of Terry's and my sin—consequences of sin that she did not commit, but that we committed against God and her.

Adultery is not OK just because the marriage resulting from the adulterous relationship is a healthy marriage. There are lifelong consequences. We hurt many people, especially my first wife. Terry and I separately went to her, confessed our sin, and asked her forgiveness as well as going to anyone else we could think of against whom we had sinned, to seek their forgiveness.

Let me make it clear, what we did was wrong; we sinned greatly. It is only by His grace through sending His Son to die on the cross for sinners like Terry and me that we can be restored to Him, fellowship with other believers, and live a life that is useful and pleasing to Him.

Our marriage and our family is a picture of God's grace. And in a similar way, all who come to Him for salvation are pictures of His grace. That is not to minimize our sin, but we were all dead in our trespasses and sin. While we were yet sinners, Christ died for us. He loves the unlovely, the undeserving, the rebellious, the ugly, the hateful and the scornful. And like Peter, He restores those of us who have denied Him. His grace is totally undeserved. His forgiveness and the fullness and joy of our life in Him do not make our past sin OK. We are the chief of sinners, but God is in the business of saving and restoring great sinners. That is why we can press on to the upward call of Christ.
We must never take lightly the reality of how our own sinful choices have hurt others and are an offense against the holiness of God. I am also grieved when I think about the many men and women who have been sinned against by unfaithful and unrepentant spouses. We must call one another to live holy, set apart lives for His glory.
At the same time, we must declare the good news that God forgives sins and restores sinners. I am grateful to God for the evidences of grace I have seen in Mike and Terry's lives.
Again, I want to ask for your forgiveness for the lack of clarity in what we presented on our October 13, 2009 Revive Our Hearts radio program.
Thank you for letting me share my heart. I take very seriously the responsibility for what is shared on Revive Our Hearts and for the influence we have in women's lives. I consider this ministry a sacred trust, and it grieves me to think that anything that is said on this program could in any way mislead people or hinder them from having a pure, genuine relationship with Christ.
Please pray that God will give our team and me much wisdom and grace day after day, as we seek to proclaim His truth in a way that is pleasing to Him and effectively points our listeners to the gospel of Christ.
Ever in need of His mercy and grace,
Nancy Leigh DeMoss
*Offers available only during the broadcast of the podcast season.
Support the Revive Our Hearts Podcast
Darkness. Fear. Uncertainty. Women around the world wake up hopeless every day. You can play a part in bringing them freedom, fullness, and fruitfulness instead. Your gift ensures that we can continue to spread gospel hope! Donate now.
Donate Now