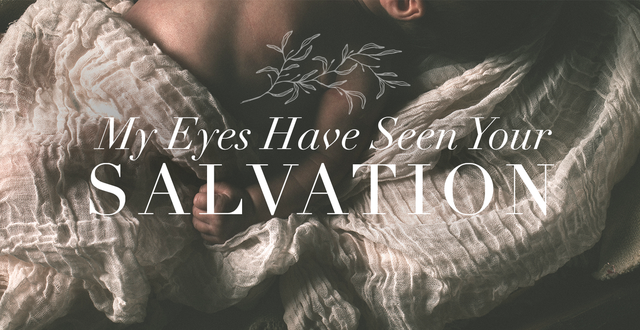 — Audio Player —
Longing Fulfilled
Leslie Basham: Here's Nancy DeMoss Wolgemuth.
Nancy DeMoss Wolgemuth: We're waiting and longing to be free from sin, to not be plagued with temptation and with human weakness and frailty. We're waiting and longing to be free from this fallen, messed up world, to be free from our flesh, from the suffering in this world that's brought about by sin.
None of that was God's plan, and God is going to deliver us from all of that in His time, and in the meantime, we wait and we long.
Leslie: This is Revive Our Hearts with Nancy DeMoss Wolgemuth, author of The Quiet Place, for Tuesday, December 19, 2017.
Waiting. It was hard when you were a child, and it's hard now, even though you might express your impatience in more subtle ways than you did as a child. The Christmas story is all about the incredible moment when waiting came to an end. Here's Nancy to explain in a series called "My Eyes Have Seen Your Salvation."
Nancy: We've been looking in this series at a part of the Christmas story that we don't always focus on at Christmas. It took place shortly after the birth of Christ when Mary and Joseph, according to the law of God, took the baby Jesus to the temple when He was forty days old, where they went through two rites.
Mary went through a purification that was required for a mother of a newborn son and offered a sacrifice as God required, and then she dedicated her Son, Jesus, to God. That's just an amazing picture there, thinking about Jesus being dedicated to God—Jesus, who was God—being presented to God.
Of course, we know Jesus came to earth and presented Himself to do the will of the Father. We were challenged about presenting ourselves to the Lord and also presenting and dedicating our children, the next generation, to the Lord, and asking God to fulfill His purposes in their lives.
Then we said that right at the moment of this scene, as these ceremonies were taking place, God brought two people—one whom we know to be elderly, the other we believe to be elderly, who came to the temple at that very moment and participated in that scene.
We're looking over these days this week at Simeon, the life of Simeon, in Luke chapter 2. We don't know much about him. We don't know anything more about him than what is recorded here in this paragraph in Luke chapter 2.
We've just started looking into his life and his example and seeing what we can learn for our own walk with Christ as a result of his.
So if you're in Luke chapter two, let's look at verse 25. "There was a man in Jerusalem, whose name was Simeon." Simeon means "God has heard," a rather appropriate name for this man.
"And this man was righteous and devout." That meant he had a right relationship with others, he was a law keeper, but he also had a right relationship with God. He was motivated in his religious and spiritual duties, he was motivated by devotion to God, a heart of love for God.
"He was righteous and devout, waiting for the consolation of Israel," (we'll come back to that in a moment), "and the Holy Spirit was upon him." These three things set him aside as being an unusual man in his generation.
If those things are true of us today, they will make us unusual. They will make us out of step with the rest of our culture and even, in many times, the rest of the evangelical culture. But those are things we want to be true of our lives.
We'll see that Simeon was a very blessed man, and I think these are the things that laid the foundation for the blessing that he received when he found Christ.
Let's go back to that phrase, he was "waiting for the consolation of Israel." We talked in the last session about the fact that the "consolation of Israel" was a phrase that refers to the Messiah.
It picks up on an Old Testament promise—hope that God would comfort His people, that He would bring them consolation for their weariness, their sadness, their grieving.
Ever since the fall of man in Genesis chapter 3 there in the Garden of Eden, it has been a sad world. You may have major sad things going on in your life right now, and I know some of you do, but even if your life is pretty much on an even keel right now and everything's going okay, this world is not as it was intended to be.
It is a sad world, and if your life isn't really sad right now, you have people around you who are having really sad lives right now. You want to console them, you want to encourage them, you want to comfort them, but sometimes you just don't know what to say. It's a sad, broken, fallen world.
It reminds me of a scene at the beginning of The Lion, the Witch and the Wardrobe in the Chronicles of Narnia by C.S. Lewis. It was always winter and never spring. And not until Aslan came did the ice begin to thaw and the winter begin to melt and the spring began to come. But the world apart from Christ is a frozen, cold, sad, hard place. We live in that world, and yet God has promised to bring comfort to those who mourn. So Simeon was waiting for the consolation of Israel—waiting for the Messiah to come.
I want to just take the moments we have today and focus on that word waiting. When Simeon was waiting for the consolation of Israel, what was he doing?
That word waiting comes from a compound Greek word that has to do with expectantly looking: "to expect, to look, to wait for something."
Anna, who was the elderly woman who comes into this scene later in this passage, was waiting, same word, waiting or looking, some of your translations say, for the redemption of Israel.
She was longing, waiting, expecting, as Simeon was, for the Messiah to come. If you look at Mark 15:43, you'll see that Joseph of Arimathea, after the crucifixion of Christ, was waiting—same word—he was looking for the kingdom of God.
They were expecting the coming of the Messiah, the coming of Christ, to bring the kingdom of God to earth. So for years, we don't know how many but we think it was probably many years, Simeon had lived in hope that God would fulfill His promises.
He had seen the promises, he heard them, he knew them, and he waited and waited for God to come and visit His people, the consolation of Israel.
He waited through times when all appearances were to the contrary. It didn't seem that God was doing anything. There was no evidence that God was at work. Many had forgotten the promises of God, or had given up waiting, had gone home and said, "What's the use?"
God had not spoken to His people in a way that they could receive it from the end of the Old Testament, at the book of Malachi, until this period. That was 400 years between the Old Testament and the New Testament.
Generations had come and gone and not heard anything from heaven. They didn't have a Bible in the way that we have it today, the completed Bible. They didn't have Jesus. They didn't have the Holy Spirit in the same sense that we have Him today.
They waited quietly, not hearing. I think a lot of people had just given up hope. But not Simeon. He kept waiting. He kept longing. He kept looking. How long had he been waiting? All his life.
Do you think he was ever tempted to doubt? Human nature being what it is, I think he was undoubted tempted to doubt, but we don't know. I'm just applying some imagination here. We doubt at times when we can't see what God is doing and emotions take over faith, and we say, "Lord, are you really going to come through? Are you really going to do what You promised?"
I imagine there may have been numerous times where he was tempted to give up. He had to believe when few others were really expecting the Messiah to come. But he didn't give up hope. He kept turning his eyes back to the promises of God. He kept waiting, kept trusting, kept looking, kept expecting God to come.
That word waiting, he was "waiting for the consolation of Israel," has a second meaning. It's "to look, to expect, to anticipate," but it also has a meaning that "you plan to receive or accept the promise when it comes."
When it's fulfilled, you will favorably receive it. So he was waiting for it, but not in a sense of dread, or not in a sense of, "Well, I'll wait and see what happens and then decide if I want to receive it." It was, "No, when the consolation of Israel comes, I will receive Him."
Maybe you can remember a time when your husband had to be gone for a long period of time. Maybe he served in Iraq, and there were months where you were waiting for him to come home. There wasn't any question that the moment you saw him you were going to be excited; you were going to throw open the door; you were going to have a party; you were going to celebrate his return. You were waiting with baited breath, and you planned to receive him when he got home.
That's the concept of Simeon in waiting. It's the concept in Luke 12:35–36 where Jesus said, "Stay dressed for action and keep your lamps burning, and be like men who are waiting for their master to come home from the wedding feast, so that they may open the door to him at once when he comes and knocks."
That's the heart attitude Simeon had. "I'm waiting, and when He comes, I will fling open the door to receive Him." We'll see that Simeon did welcome the Lord Jesus.
In fact, this word that is translated waiting here is sometimes in the New Testament translated to welcome. We'll see that Simeon not only was waiting, but when Jesus did come, he welcomed and received the Lord Jesus. 
So he had been waiting with anticipation, with longing. He was ready to receive the fulfillment of the promise when it came.
Simeon had the spirit of Charles Wesley, who wrote in that great Christmas hymn of longing:
Come, Thou long-expected Jesus, 
Born to set Thy people free.
From our fears and sins release us, 
Let us find our rest in Thee. 
Israel's strength and consolation, 
Hope of all the earth Thou art. 
Dear desire of every nation, 
Joy of every longing heart.  
You see there the sense of longing and expectation and anticipation, but also the embracing, saying, "This is our desire. Christ is our joy. He is the fulfillment of our longing hearts."
So Simeon waited, and as we'll see in the next session, he was not disappointed. His longing was fulfilled.
Now, today, we wait in a little different way than Simeon waited. Christ has come. We celebrate at Christmas the first advent of Christ. Simeon's longing has been fulfilled.
The longing of the Old Testament prophets who waited for the consolation of Israel—their longing has been fulfilled.
But we are waiting now for Christ to return. We're waiting for Him to come back as He promised He would.
This time, not as a baby. This time, not in humility and infamy as He came as a man here to this earth in flesh, but this time as the reigning, conquering, ruling King to fulfill all the point of history and wrap it up in Himself and overcome all His foes, the victorious Christ returning for His people.
So we wait for that second coming. The New Testament makes it the hope of the believers, the hope of the Church, and it's been the hope and the longing of every generation of believers since Christ first came to this earth.
Paul said in 2 Timothy 4:6, 8 as he was facing death, similar to Simeon facing death, Paul said that it's time for me to die, and "there is laid up for me the crown of righteousness, which the Lord, the righteous judge will award to me that Day, and not only to me but also to all who have loved his appearing."
Those who have longed for His appearing will receive a crown, a reward. The reward will be Christ. If nothing else, the fruit of our longing will be that we'll get to see Jesus.
Hebrews 9:28 says, "Christ, having been offered once to bear the sins of many," (that's why He came to earth the first time) "will appear a second time, not to deal with sin but to save those who are eagerly waiting for him."
Who is He going to save and deliver? Those who are eagerly waiting for Him. It's that hope that caused the blind hymn writer Fanny Crosby to say,
"I know I shall see in His beauty the King in whose Law I delight."
Her blinded eye, she knew, would one day be opened, and she would see the King that she loved. She had that hope, that anticipation.
That blessed hope, as it has been called by Christians of the ages, is what enables us while we're waiting, to say "no" to sin, and to live godly lives.
We read that in Titus 2:11–13, "The grace of God has appeared, bringing salvation for all people, training us to renounce ungodliness and worldly passions, and to live self-controlled, upright, and godly lives in the present age, waiting for our blessed hope, the appearing of the glory of our great God and Savior Jesus Christ."
So while we're waiting for the return of Christ, God gives us grace in this fallen, messed up world to live lives that are holy and pure and above reproach, lives that reflect Jesus Christ to our world.
As we wait, our hearts are longing for the return of Christ, but packaged up with all of that is, I think, something else we're waiting for that is hinted at in Romans 8:21–22.
It's this picture that the whole creation is waiting, longing expectantly, to be delivered from the bondage and corruption of life in this flesh and life in this fallen world.
You see, we are not at home yet. Until Christ returns and takes us to Heaven as citizens of God's kingdom, we are strangers; we are aliens; we're not at home in this world
We're misfits, if you will, in this world. We're not made for this place, this fallen world. Christ came to save us from our sin and ultimately to deliver us from the very presence of sin.
And so deep in our hearts, I believe, are unfulfilled longings that we have to live with from now until Jesus comes back. The problem is that so many of us try to get those longings fulfilled in earthly and temporal ways.
We look to things; we look to people; we look to temporal satisfaction and games and toys and jobs and friends to fill those empty places of our hearts that will not be filled as long as we are in these bodies.
I think we need to recognize that there is something in all of us that is like Simeon. It is longing and waiting for a consolation that is not yet fully ours.
If you're a Christian, if you're a child of God, you have tasted, you have experienced the consolation of Christ, but not in its fullness, not in the way that one day we will.
We're waiting and longing to be free from sin, to not be plagued with temptation and with human weakness and frailty. We're waiting and longing to be free from this fallen, messed up world, to be free from our flesh, from the suffering in this world that is brought about by sin.
None of that was God's plan, and God is going to deliver us from all of that in His time, and in the meantime, we wait and we long.
Paul says it this way in Romans chapter 8. It's a rather lengthy paragraph, but listen to it, and I think you can hear the longing and the waiting that the apostle Paul experienced, and I think you will relate to this in your own experience.
Paul said in Romans 8, beginning in verse 18, "I consider that the sufferings of this present time are not worth comparing with the glory that is to be revealed to us." There's that longing. There's that hope. There's that expectation—something ahead that is not yet here for us.
The sufferings of the present time are the reality right now, but Paul says, "There's something I'm setting my eyes and my hope on that's a glory that is yet to come."
He says, "The creation waits with eager longing for the revealing of the sons of God. For the creation was subjected to futility, not willingly, but because of him who subjected it" (vv. 19–20).
The fall meant that the whole earth, when Adam and Eve chose to sin, became subject to futility, emptiness, bankruptcy, hopelessness, despair.
But God subjected the earth to the curse in hope "that the creation itself will be set free from its bondage to corruption and obtain the freedom of the glory of the children of God. For we know that the whole creation has been groaning together in the pains of childbirth until now" (vv. 21–22).
Childbirth—that's a good picture of what we're talking about here. Many of you women have been through childbirth. Would you want to do it again for no reason at all?
NO! The only reason you went through it the first time or the second or the third time was that there was a hope set before you of a child to be born.
You would never just walk into the hospital and say, "I'd like to sign up for childbirth. No, I'm not pregnant; no, I'm not having a baby; I'd just like to go through childbirth."
You don't go through it if there's not a hope that you anticipate being fulfilled at the end. Paul says, "The whole creation has been groaning in the pains of childbirth," but it's with a hope. It's with an anticipation, a longing that will be fulfilled when the pains and suffering of the childbirth have been completed.
He says, "And not only the creation, but we ourselves, we who have the firstfruits of the Spirit, groan inwardly as we wait eagerly," (there's that waiting again) as we wait eagerly "for our adoption as sons, the redemption of our bodies" (v. 23).
What is he saying? We have the firstfruits of the Spirit. If you're a child of God, the Holy Spirit lives in you. He's a guarantee of the ultimate fulfillment of God's promises, but you don't have the whole thing finished yet.
You still have to hang on to that hope, to wait for the consolation of Israel. He says we wait eagerly. We long. We're open-minded, open-hearted, open-handed, longing to receive Christ in His fullest expression when He returns to earth and sets us free from all that bondage and redeems our bodies from this fallen, broken world.
Let me just say as we wait for the second coming of Christ, the return of Christ to this earth, and He will come, and we long for that. As we long to be free from these earthly bodies, from pain and suffering and cancer and death and childbirth pains and pains of having children who don't walk with the Lord, all these things that are a part of life on this fallen world, as we wait to be redeemed from all of that, there's something else I find myself waiting and longing for.
That is, between now and the time Christ returns, I wait and I long for a visitation of God's Spirit in revival, longing for God to come again as He has at times in the past and pour out His Spirit and manifest His glory here in this world through His Church.
That is the vision and the burden that gave birth to Revive Our Hearts. That is what this ministry is all about. It's a longing I've had in my heart since I was twelve or thirteen years old, as I would read about how God had moved in the past to purify His Church, to bring back a sense of love for Christ, first love, to renew and revive the Church.
I've seen how God has done that in the past, and my heart has cried out now for decades, "Lord, would You do it again?" And so I wait in expectancy. I wait in hope.
I cry out with the psalmist in Psalm 80, "O Lord, God of hosts, how long until You come? Restore us, O God of hosts. Let Your face shine, that we may be saved. Turn again, O God of hosts. Look down from Heaven and see. Have regard for this vine. Have regard for Your Church, Your people" (paraphrased).
And so Simeon was waiting and waiting and waiting and waiting—waiting for the consolation of Israel. You see, as this man got older he realized that the things of this earth don't really matter. The closer you get to the end of your life, the more you realize that the things of this earth don't really matter.
As he got older, he knew that to see Christ was his greatest longing. He knew that nothing else, nothing less could truly satisfy.
He knew that not only was Christ his only hope, Christ was Israel's only hope. Christ was the only hope for the consolation of the world.
So are you waiting? Are you looking? Are you expectant? Are you kind of standing on tiptoe?
I don't think that Simeon—I don't know, because the Scripture doesn't tell us for sure—but I don't think he was a man who was just hanging on for dear life until he got to the end of his life, just basically making it through.
I think he was a man who was standing on tiptoe, waiting, longing, for the consolation of Israel. It was an active faith.
Are you longing for Christ's return? Are you longing to be free from this body of sin? Are you longing for the redemption of your body? Are you longing for revival in His Church, and are you ready to receive Him when He comes?
God's Word promises that those who wait for Him, those who believe in Him, when it appears that God has forgotten, those who wait and hope against all hope, they will never be disappointed.
God will come through. Matthew 5:6 says, "Blessed are those who hunger and thirst for righteousness, for they shall be satisfied." And then the promise in Isaiah 49, "Those who [hopefully] wait for Me will not be put to shame" (v. 23).
You can count on it—God will fulfill His promises. He will come. He will fulfill the longing and the desire of your heart, so don't stop waiting.
Wait until He comes. And then faith will be sight, and prayer will be praise, and we will be with the Lord forever. Amen.
Leslie: Maybe it seems like you've been waiting on God a long time for some issue. I hope the words of Nancy DeMoss Wolgemuth have encouraged you.
That message is part of a series on Simeon called "My Eyes Have Seen Your Salvation."
As a Revive Our Hearts podcast listener, you're hearing a longer version of that message than the one we had time to air on the radio. I'm thankful for podcasting so we can provide that extended teaching.
The point of the broadcast, the podcasts or CDs isn't necessarily to build a big ministry. There's a more important reason for getting these messages out. Nancy's here to talk about it.
Nancy: We're asking the Lord to help women experience greater freedom, fullness, and fruitfulness in Christ. Let me introduce you to one women who has been on that journey. Her name is Molly. She describes herself as a strong personality, and this had a big effect on her marriage. She went into marriage with high expectations about how her husband ought to be, and she didn't hesitate to let him know.
Molly: I was very easily upset when it didn't go the way I thought it should.
Nancy: Molly and her husband knew the Lord, and believed divorce wasn't an option.  But . . .
Molly: . . . in my heart and in Phillip's heart, we wanted a way out.
Nancy: Molly was listening to Revive Our Hearts one day when my friend Kim Wagner was on the broadcast. The program was on the power of a wife's words to either tear down her home or to build it up.
Molly: And for the first time in my life, someone put words to what was going on between Phillip and I. So I followed Kim on the blog. Then she came out with a book called Fierce Women: The Power of a Soft Warrior. That's been so powerful and so practical in just helping me back off and realize the amount of pride in my life.
I thought I knew how everything in my life ought to be, the way it ought to be done. I had very big expectations. So after my eyes were opened to that pride that I had, I realized that God's made him different. I guess I knew that, but I accepted that. I could accept that God made him different, and that's a beautiful thing.
So slowly, since I first her testimony, that's affected me, and then that has impacted my marriage. But most importantly, the realization was, it's not about me trying to fix our marriage or fix Phillip in any way, but it's the Lord saying, "Molly, look at your own heart. I want you to see that there's no humility. You have a critical spirit." So the Lord's been doing a lot of work in my life. It's been a continual work daily.
That's what I appreciate about Nancy's radio program. It always points me back to Christ.
Nancy: Now, because the truth has set Phillip and Molly free, they want to be a part of sharing the truth with others who desperately need it. They've done it by supporting Revive Our Hearts.
Molly: My husband has a generous heart, and he has seen the changes in me. And we have the desire to give back to a ministry that is giving to us. That's what God calls us to do, to pour into and build up the storehouse for those that are preaching the gospel.
That's what we love about Revive Our Hearts. Though it's a ministry to women, and I love the line about calling women to freedom, fullness, and fruitfulness in Christ, because ultimately, that's what it is. Even through biblical womanhood, that's drawing women to Christ. Phillip has seen that, and we both wanted to be part of getting that message to others. Giving financially to the ministry we know helps spread those resources further.
Nancy: I've loved watching the hearts of this precious couple as they have grown in the Lord. I'm so grateful for the way the Lord is using them to help us spread this message to more women around the world.
If you've benefitted from Revive Our Hearts like Molly has, would you consider doing what she and Phillip are doing and support this ministry financially? There's no better time to do that than right now. As we've been sharing with you over the past few weeks, this month some friends of this ministry have offered a matching challenge fundare of $800,000. They will double your gift as part of that challenge.
I want to say a big "thank you" to each person who has given so far to that $800,000 challenge. If you haven't given yet and if God has used this ministry to touch your life, would you ask the Lord how He would want you to get involved? Your gift at this important time helps us speak to women like Molly about the real situations they're facing. You can have a vital part in helping women experience greater freedom, fullness, and fruitfulness in Christ.
Leslie: Thanks, Nancy. To call with your gift, dial 1–800–569–5959, or you can donate online at ReviveOurHearts.com.

A very important person in the Christmas story will not show up in a manger scene—and I'm not talking about Simeon. Find out who it is tomorrow on Revive Our Hearts.
Revive Our Hearts with Nancy DeMoss Wolgemuth is commited to the truth that sets women free. It's an outreach of Life Action Ministries.
All Scripture is taken from the English Standard Version unless otherwise noted.
*Offers available only during the broadcast of the podcast season.
Support the Revive Our Hearts Podcast
Darkness. Fear. Uncertainty. Women around the world wake up hopeless every day. You can play a part in bringing them freedom, fullness, and fruitfulness instead. Your gift ensures that we can continue to spread gospel hope! Donate now.
Donate Now