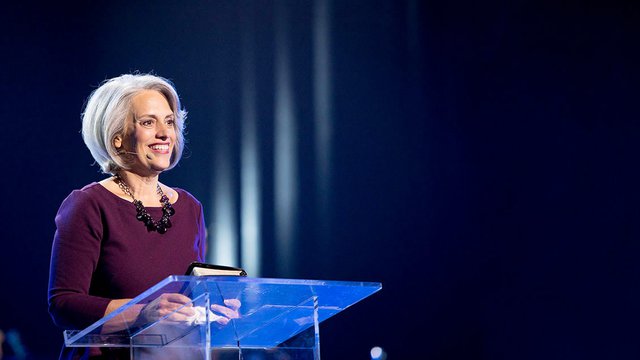 Listener Letters
Leslie Basham: We sometimes make the Christian life so complicated, but great things would happen if we just obeyed the simple commands of Scripture. Here's Nancy Leigh DeMoss.
Nancy Leigh DeMoss: Can you imagine if Christian women all across this country were to begin to do those three things: obey, love and forgive? We probably would have a revival.
Leslie Basham: This is Revive Our Hearts with Nancy Leigh DeMoss. It's Friday, October 24.
The real world is rough and messy. So when we hear the truth of God's Word and apply it to the real world, some sparks are going to fly. But peace and joy are the final result. Let's listen as Nancy tells us about some women who've applied the Bible to their real world situations.
Nancy Leigh DeMoss: I love hearing stories about how the truth that we're talking about on Revive Our Hearts is really making a difference in people's lives.
I brought with me today a handful of letters that I thought would be encouraging to you because you've been a part of this ministry.
One that reflects the kind of things we're hearing a lot is how people are responding to the truth in relation to issues in their own personal lives and relationships.
One woman said, "The Lord has used Revive Our Hearts in my life so powerfully, especially the two series on 'Forgiveness and Love.'"
You may remember the one on love was on 1 Corinthians 13, "How's Your Love Life." And we talked about the tests of true love to see if we're really loving other people God's way.
She said, "I took the love test and I failed." And she underlined it twice. I think all of us who heard that series--certainly me, as I was preparing to teach it--had a lot of that same feeling.
She said, "But this was the best thing because it helped me realize that my heart was so cold, dead and prideful, and I needed to be broken." She said, "The Lord is doing that; and I'm learning to obey and to love and to forgive."
Can you imagine if tens and hundreds of thousands of Christian women all across this country were to begin to do those three things: obey, love and forgive? We'd probably have revival if we would just begin to live out those basic principles of God's Word.
Then she says, "My six-year-old daughter and my eight-year-old son also took the love test." So she's not only growing in her own walk with the Lord, but she is reproducing that heart in her children. And I love to hear that.
Here's one that relates to a work that God is doing in many people's lives and that is in the area of marriage relationships.
This woman says, "I've been listening to Revive Our Hearts for several months now; every program has been a blessing. Each one has spoken to my heart and been right where I am that day."
She said, "I'm serious. One day I was furious with my husband. When I went out and got into the car to go to work, the subject was 'Becoming a Woman of Virtue,' and the first words I heard were, 'Are you a builder? Or is demolition more your style?'
She said, "Well, I listened to the rest of the program and I also ordered the book called Biblical Womanhood in the Home.
She said, "I just want to thank you and all the people who help with the program every day. It has been more than helpful; it's been my personal saving grace.
"My husband isn't saved," and she puts in parentheses, "yet." "And I do get upset and frustrated, but you have helped me reign in my personal feelings and think of what God wants me to do and how He wants me to act and not react."
And there again, isn't that a message we all need. Whether your husband is a believer or not, whether you have a husband or not, we all need the disciplines of the Word of God and the Gospel on our emotions.
That's so wise, what that woman is learning to do. Instead of just reacting emotionally, to stop and think, What does God want me to do? And how does He want me to act in this situation?
And, as a result, her husband hasn't come to know the Lord yet; but she has hope and she's able to become the kind of wife that her husband needs to reveal Christ to him.
Speaking of marriages, another woman wrote and started out by saying, "Dear Nancy, hello. I hope you're not offended by my using your first name," which I am absolutely not offended by her using my first name.
Then she said, "Today's program," she talked about how she listens regularly to Revive Our Hearts on WMBI, a Moody station in Chicago, and how she's encouraging others to listen and how God often speaks to her through the program.
Then she says, "Today's program, however, was absolutely the most convicting. I had no, honestly, no idea that I (as in me) had bitter feelings toward my husband. I was driving," and she was listening to a series that we were doing on the Book of Ruth and she says, "My eyes started to water and my heart filled up with sorrow as I realized you were talking to me."
Then she tells about how God used a portion of this message from the Book of Ruth, and then how God applied it to her heart. And I love to see this happen because I don't know who is listening and I don't know what their story is.
I don't know what your story is. I don't know what you're walking through. So, as I'm teaching, my desire of the Holy Spirit would be to make the practical, personal application, which He is so good at doing and that's what He did for this woman.
She said, "Lately I had been feeling suppressed for some reason. I knew I resented my husband and even harbored some anger but never in my wildest dreams would I have thought that I was bitter. Not at my husband."
Then she said, "Once I heard what you were saying," she began to agree with God about what He was exposing in her heart, that bitterness. She said, "I felt immediately the burden that I had been carrying for ten or more years was lifted. And I was released from the load of sin."
See, she began to see it as sin. And that sounds kind of depressing until you realize that sin is what God forgives. There's grace for sin. So when we acknowledge our sin, there is grace that comes from God to deal with that.
She said, "I prayed with you today" and as you know I often close the program by praying for our listeners and praying with our listeners and I love to hear that people are praying with me and we're closing the programs in that way.
She said, "I understand now why I've not had a burden to pray or to serve the Lord." And bitterness will do that to you.
She said, "It's amazing how we can cloud our minds and play the blame-shifting game." She goes on to thank the Lord for what Revive Our Hearts is meeting in her life.
You know, one of the things that we really desired, through Revive Our Hearts, is that God would use it as an instrument to raise up a counter-revolution among Christian women, women who would be willing to go against the flow, against the tide of the culture and to be different; now, not for the sake of being weird but for the sake of being Christ-like because the ways of God do run diametrically opposite to our culture, don't they? And to what's natural.
And I love to hear that women are taking this challenge and are willing in small and big areas of their lives to become countercultural women.
One woman writes and says, "I thank God for your willingness to speak the truth of His Word, even if it's not politically correct or if it may convict or make us uncomfortable.
"I've hungered to hear God's Word taught in its entirety. Hearing God's truth has really challenged me to make changes in my attitude, my heart and my life with the help of the Lord. It has lead to true repentance in so many areas of my life."
And that's when a woman begins to become countercultural. When she not only hears the Word of God, which all of us have done a lot of, but when she begins to let God change her life to make it consistent with the Word of God, when she begins to make the necessary adjustments so that her life is lived according to the Word of God.
And I'm so delighted to be getting letters from women who are making some tough decisions about lifestyle choices that require that they become countercultural. For example, I have here a couple of letters in my hand from women who responded to a series where we talked about the willingness for us as women to let men lead, to let them be the leaders that God wants them to be.
And a couple women wrote and told how God was changing them in this area. This woman said, "I've always been a strong-willed woman." She said, "I'm forty, but even as a little girl I was that way.
"Just recently, due to illness and stress, I turned the decision making, in specific areas over to my husband. At first he had a difficult time. For example, the bills didn't get paid on time because it wasn't something he had ever done. But now he has a new respect for himself and I see that he can and will do the things I thought that only I could do. God is really blessing our marriage."
By the way, it's the countercultural woman who experiences God's power to bless in a way that the woman who is "going with the flow" of the world will never experience.
Another woman said (along that same line), "This message was so encouraging. I was raised in a non-Christian home and I was taught to be the leader.
"When I married my husband the first time", this is a woman who's been divorced and re-married now to the same man, she said, "I was the initiator; now that we are both born-again Christians," and what a difference that will make in a marriage, "God is changing my heart every day to change me from a leader to a submitter."
Now, some woman will hear that and think, You're a loser. But she's writing to say, "I'm gaining. I'm being blessed."
She says, "It's not easy, by any means, but God is able to do exceedingly abundantly above all that we ask or think. My husband and I have since re-married in the church and before God. To God be the glory. Thank you for this ministry."
God is changing lives, God is changing hearts, God is reviving hearts. And I thank the Lord for these women, for their writing to share.
And we want to hear from you, how God has been using this ministry in your life, specific areas of your life that are being changed as you're responding to the truth of God's Word.
That is what we pray for. That is what we believe God for. By God's grace, I have a vision of one day just millions of women of God, really being women of God with revived hearts, revived homes and being used by God as instruments of revival in their churches, their communities and throughout the nation and the world.
Leslie Basham: Nancy Leigh DeMoss will be right back to lead us in prayer. Maybe today's program has brought to mind the way God has used Revive Our Hearts to affect your real world situation.
Maybe you have a story like the women we heard from today. We'd like to hear it. You can send your letter to Revive Our Hearts.
As we've heard stories of changed lives today, we need to remember and thank a group of people who played a big roll. They're the listeners who support Revive Our Hearts financially.
There's a substantial cost involved in producing and buying airtime for this program. And God provides through the support of our listeners. Maybe He's putting it on your heart to write and include a financial gift.
Again, write to Revive Our Hearts or give us a call, toll free at 1-800-569-5959.
When you call, you can ask for more information about some of the tape series you heard about on today's program. All the programs that were mentioned in the listener letters are available on cassette or CD.
You can get information on-line at ReviveOurHearts.com. Just click on the button, "Order Today's Resources."
Next week we'll get an eternal perspective on giving with our guest Randy Alcorn. We hope you can be back on Monday. Now here's Nancy.
Nancy Leigh DeMoss: Father, how I thank You for Your mercy and Your grace and the way that You are working day after day, as the truth goes out through this program and others that are also communicating Your truths and how You are changing lives.
So, Lord, I pray Your blessing on each of our listeners and each person listening right now. I don't know what the issues and the needs may be in each person's life, but You know and You're able to revive and change and quicken and bless and give life.
So we thank You for that. And thank You, Lord, for that day that is coming, we believe, when there will be that revival of women and women's homes and hearts and churches throughout this country and around this world that You may be glorified. I pray in Jesus' name, Amen.
Revive Our Hearts with Nancy Leigh DeMoss is a ministry partnership of Life Action Ministries.
*Offers available only during the broadcast of the podcast season.
Support the Revive Our Hearts Podcast
Darkness. Fear. Uncertainty. Women around the world wake up hopeless every day. You can play a part in bringing them freedom, fullness, and fruitfulness instead. Your gift ensures that we can continue to spread gospel hope! Donate now.
Donate Now