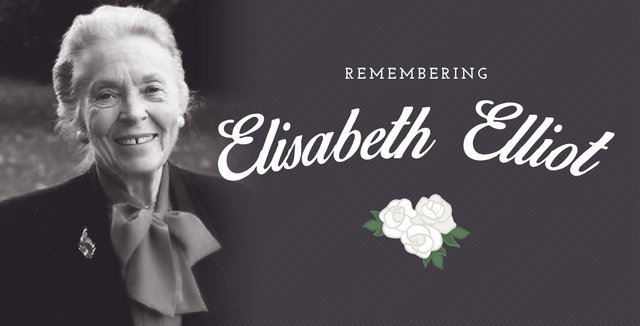 — Audio Player —
A Life of Influence
Leslie Basham: Elisabeth Elliot knew what it is to suffer. Her first husband was murdered, and her second died of cancer. Yet she could look back and sees how God used situations like these for good.
Elisabeth Elliot: The deepest things that I have learned in my own life have come from the deepest suffering. And out of the deepest waters and the hottest fires have come the deepest things that I know about God.
Leslie: This is Revive Our Hearts with Nancy Leigh DeMoss. Today we remember Elisabeth Elliot.
Elisabeth Elliot had a huge effect through her amazing story. In the 1950s, this widow forgave the people who had murdered her husband and shared the gospel with them.
After that experience in Ecuador, Elisabeth continued serving the Lord, writing books and starting the radio program Gateway to Joy. Today we'll hear about some of the ways the Lord used Elisabeth's thoughts and writing to disciple so many who followed her in the faith.
We'll hear from Nancy Leigh DeMoss in a few minutes. But first, we want to hear from various Evangelical leaders about the way Elisabeth Elliot affected them.
Let's start with Kay Arthur.
Kay Arthur: Elisabeth Elliot. I pray that people will remember that name. I pray that women will look for her books and they will continue to read them. Elisabeth was a dear friend. I remember walking into her house, and I remember looking at the verse in Genesis about God's creation. I remember sitting there and having tea with Elisabeth.
You talk about a woman that is consecrated to the Lord, you talk about a woman who is like Joshua of old—strong and courageous, observing to do all that God has commanded her. That's the testimony of her life. Don't forget her; she's one of the heroes of the faith.
Leslie: Here's Jani Ortlund.
Jani Ortlund: Elisabeth Elliot has been a great influence in my life. From the time I started dating Ray, way back in the sixties, her book, Let Me Be a Woman, was very influential. I have always appreciate Elisabeth Elliot's stand on the Word, her call to faithfulness no matter what the cost, because Jesus is worth it.
Not only has she taught it, but she's lived it. Her life has been an example of calling back to me what it looks like. She's been down that pathway a little further. She's ahead of me. I feel as if she looks back and says, "Come on Jani, it's beautiful up here. You can make it." So she's a great role model to me.
I also have benefitted from her biography of Amy Carmichael, A Chance to Die. There are not many women in the world today who will call us to die to ourselves. Elisabeth, Nancy, we thank them for that call, and we want to heed it and follow it.
Leslie: Here's Janet Parshall.
Janet Parshall: Elisabeth Elliot has been such an influence in my life. I grew up in the shadow of one of the New Tribes Institute Bible schools. I remember as a child one of the books in our family bookcase was God Planted Five Seeds. I remember hearing the story of Elisabeth Elliot and Jim and what they did.
Even at a young age, and this is so true . . . It moves me to tears even now. I came to the Lord when I was six, but I dedicated my life to the Lord when I was fourteen. I remember Jim's story and I remember saying, "Janet, are you going to count the cost? Look at the price Jim has paid. Look at the price Elisabeth has paid. Would you be willing to pay that price?" So they were standard bearers.
Leslie: Here's Jennifer Rothschild.
Jennifer Rothschild: I'm so appreciative of Elisabeth Elliot because as a woman in ministry, though I have never met her personally, she has been a far off mentor to me. Though I have read most of her books, the one book that impacted me the most is called These Strange Ashes.
I found it at a used bookstore on audio cassette tape, and she read it herself. I remember listening to her voice as she told the story. I believe it was just a year that she was there in the jungle before she married her husband. She was just real honest about the struggles she was having—just being a little disappointed with other co-workers, being a little disappointed with herself, struggling with some disappointment toward God.
Listening to that woman of God tell her story with such beautiful, eloquent language has always been an encouragement to me. It is the rattiest, most torn up cassette case, and I will treasure it to my dying day because Elisabeth Elliot, a woman of faith, a woman of integrity, a woman of consistency, has encouraged me to follow behind her in ministry and to be a woman of faith, a woman of consistency, and a woman of integrity. I will always be grateful for her.
Leslie: This is author Trillia Newbell.
Trillia Newbell: I have read and listened to Elisabeth Elliot when I first became a Christian. Most of us wouldn't be here if it weren't for Elisabeth's desire to hold up the Scriptures and walk in a manner that is worthy of the gospel. So we are just thankful.
Leslie: We continue to remember the life of Elisabeth Elliot with Mary Kassian.
Mary Kassian: Elisabeth Elliot was a massive influence in my life. She really affected my thinking. I remember hearing Elisabeth Elliot on the radio, writing down the quote of what she said, pasting it in my office, and it hung there for ten years, I believe.
The particular quote that I had was, "It is always possible to be thankful for what is given, rather than resentful over what is withheld. One or the other becomes a way of life." So cultivating an attitude of gratitude. That impacted me in how I live my life every day.
It's funny. At one point in time I had a chance to meet with Elisabeth Elliot. I told her that. And she said, "I don't ever remember saying that." She could not remember it. It was just something that came out of her mouth spontaneously, but it had such an impact in the life of a young woman. It was amazing, and I'm so grateful for it.
Leslie: Here's Erin Davis.
Erin Davis: Elisabeth Elliot had a huge impact on me. Dannah Gresh (another True Woman speaker) was my mentor when I was in high school. I was in a dating relationship, and Dannah gave me the book Passion and Purity. I think, just like for so many people, it really awakened my eyes to what is purity. And just like the title says, it made me passionate about it.
I ended up marrying that guy, so it certainly has impacted our marriage. I've probably passed out thirty copies of that book to young women who are in dating relationships and who are trying to understand what purity means and how to walk it out. She's had a huge impact on me.
Leslie: This is Fern Nichols.
Fern Nichols: When I think of Elisabeth Elliot, I think of a woman who trusted her God no matter what. There have been trials in her life, there have been obstacles. But through each one, she has looked up and has seen her sovereign God sitting on the throne. She did not give up.
I am so grateful for this woman who I believe said as Mary, "I'm your handmaiden. Be it unto me what you want in my life." She taught us this—how to run the race with perseverance and with faith and joy and not to give up. I'm very grateful for this woman who has left a wonderful legacy of faith.
Her books, the radio program that she had, has really allowed women to know their beautiful place in the body of Christ.
Leslie: Here's author Carolyn McCulley.
Carolyn McCulley: The thing that has impressed me over the years, especially in a generation that loves to nurse its wounds and talk about its wounds all the time, was her no nonsense attitude of, "Get over it," but not in a bad way, but in a sense of, "You can trust God even in the midst of great disappointment and great hurt to bring good out of the situation."
That can only really be said by someone who has walked through the great disappointments and the great injustices that she endured. I think that's a helpful voice in this culture that looks at all of its wounds and hurts and says, "It defines me."
She would say, "It's doesn't define you at all. What defines you is your relationship with Jesus." And she never stopped beating that drum.
Leslie: We've been hearing from several leaders about the influence of Elisabeth Elliot in their lives. The host of Revive Our Hearts, Nancy Leigh DeMoss, has been reflecting on Elisabeth's influence as well.
Nancy Leigh DeMoss: Those who listened to Gateway to Joy will remember that Elisabeth used to open virtually every program with these words, "You are loved with an everlasting love. That's what the Bible says. And underneath are the everlasting arms. This is your friend, Elisabeth Elliot." And then she would go on to tell what that day's program would be about. I think that signature at the top of each program became such a connecting point, a significant point for women.
As I think of Elisabeth Elliot's life and influence, isn't that a great way to summarize it? Our friend Elisabeth Elliot, and we thought of her as our friend, and she thought of us as her friends. She reminded us day after day after day that we are loved with an everlasting love, and underneath are the everlasting arms. Now, that's a Scripture verse. It comes from Deuteronomy, so she kept pointing us back to the Scripture. She kept pointing us back to the love of God, which is enough to sustain us and carry us through every situation, every season, every circumstance of life.
I don't think I'll ever forget the day I received a letter from the director of Back to the Bible, the ministry that had been the umbrella ministry for Elisabeth Elliot's Gateway to Joy radio program. The letter said, "Elisabeth is considering retiring from radio, and we've been praying about the possibility of starting a successor program with a different voice, and wondered if you would pray and talk with us about that possibility?"
Well, my heart almost stopped beating, not because I had any aspirations to be Elisabeth Elliot, but precisely because I knew no one else could be Elisabeth Elliot. There was no other Elisabeth Elliot, and likely never will be.
So I was in my early forties, and I had been greatly influenced by Elisabeth's books. I had not heard her radio program so much, but I had read a lot of her books, most of them probably. I had heard her speak on a number of occasions. I had met her on an instance or two. She had actually written the forward for Lies Woman Believe, which I was so grateful that she would do that. That had helped to get that message out. So I had been greatly influenced by her ministry.
In fact, for the previous year or two, I had been thinking about, "What would happen when Elisabeth Elliot passed off the scene?" as I knew sooner or later would happen. I didn't know how many more years that Lord would give her. But I had been asking myself, "How is that heartbeat and mission and message going to be continued to be conveyed to the next generation?"
In fact, I had been putting out some feelers—actually looking for the next Elisabeth Elliot, so to speak. It was the furthest thing from my mind that I might be doing a daily radio program. I could not have fathomed that at the time. But I had been looking around and just keeping my ear to the ground and thinking, How can this message be perpetuated after Elisabeth is off the air, or no longer here on this earth?
So when I received that letter asking if I would consider developing a program for women that would follow Gateway to Joy, it almost took my breath away. Not because I felt in any sense qualified, but just thinking about the huge responsibility that it would be to embark on such an undertaking at all—much less to follow in the steps of Elisabeth Elliot.
I remember the day I received that letter from the director of Back to the Bible. I had actually been on vacation, and I had got home late, late one night. My mail was stacked on my living room floor, and I actually sat down on the floor to open my mail, and that letter was there. I opened it and read it, and actually had been talking for months leading up to that time with FamilyLife ministries about starting a radio program for women. So we were in that dialogue, in that process at that point, but the people at Back to the Bible didn't know that.
And when they said, "Elisabeth Elliot is considering retiring from radio, and we're looking for a successor to that program, would you want to talk with us?" I remember taking that letter and going up to my quiet time chair in my study, laying the letter on the chair, and then kneeling there—just placing that letter before the Lord and saying, "Lord, I don't have any idea what You're up to. What You may be saying or doing. This is all new to me. But whatever You want, just show it to me, because that is what I want."
Over the next several months, there were a lot of meeting, a lot of discussion, a lot of prayer and seeking the Lord on my part, along with godly counsel. But when it came to, "Is this something I should step into?" It came down to the life message that I had learned from Elisabeth Elliot, and that is: trust and obey.
I had so many doubts and fears and thoughts about why I couldn't do this kind of ministry. It didn't all relate to Elisabeth Elliot—coming up with new material every day seemed way out of my comfort zone, way out of my skill set. My first issue was trust. If God wanted me to do this, then as He had enabled Elisabeth all those years, He could enable me.
Then it became an issue of surrender—obedience. If this is what God wants me to do, and believing that He can enable me, then am I willing to wave that white flag and say, "Yes, Lord"? I knew it would be hard. I didn't know how hard, but it would be really hard. But Elisabeth, among others, had taught me that you can't go wrong on the pathway of trust and obedience. That's really what it came down to for me in that journey of deciding to pick up the mantle and start Revive Our Hearts.
Several months before the transition was made from Gateway to Joy to Revive Our Hearts, I had the privilege of being in the studio with Elisabeth Elliot for a day and with Lisa Berry, who was the announcer for Gateway to Joy for many years. The three of us had the chance to talk about some of the things that were on our hearts.
I'd be less than honest if I didn't say that there was some degree of nervousness and my stomach being in a bit of knots that day because of the wisdom and experience and the spiritual depth that I knew Elisabeth Elliot brought to the table. Yet it was an opportunity for me to be reminded that we all have feet of clay. We're all human—myself as well. What counts in ministry, what makes us fruitful and effective is not how smart we are or how gifted, talented, capable, adequate—none of us is adequate. But what we sought to do that day is to point people to Christ, to get them into the Word, to share out of our own personal journey with Christ in His Word.
I'm so thankful that we had the opportunity to record several programs that day which then aired the end of August in 2001, in the last couple of weeks of Gateway to Joy being on the air. It was just before the Labor Day, September 3 of 2001, when Revive Our Hearts went on the air. I look back at that as being a really unique, special opportunity to have been in proximity to a woman who touched my life in such a significant way. And in a sense, to receive from the Lord a baton of faith that I have felt such a huge sense of responsibility to pass on to this next generation of listeners.
In the early days of Revive Our Hearts, I remember having such a struggle with the sense of comparison—not from Elisabeth Elliot, but from many of her listeners. I realized there was no way I could fill that woman's shoes. She had huge shoes!
Actually, I've met a number of women over the years who've come up to me and said, "I need to apologize to you because I didn't like you when you first went on the air because you were replacing Elisabeth Elliot." People would say, "We hated it when she went off the air." "We so missed her." And I was thinking, I missed her, too.
I had to wrestle with the fact that I knew I couldn't fill that place. The Lord had to graciously help me, remind me, that I wasn't called to Elisabeth Elliot, and I wasn't to compare myself to her. My story was different; my gifts were different. But we have the same Christ, the same Scripture, the same heartbeat, and that I was to operate within the grace God gave me and the gifts He gave me and let Elisabeth Elliot have her influence and not worry about whether mine would fall short of hers.
I will say that it has been a huge privilege to minister through Revive Our Hearts in what is a legacy ministry. I have a sense in which we stand on the shoulders, so to speak, of Elisabeth Elliot and Gateway to Joy. It's a privilege because I've met women all over this country, many of them over the years who've told me of the impact that Elisabeth Elliot, her Gateway to Joy program, her books had in their lives. Many of them grew up listening to her as teenagers, as young women, and she shaped their view of womanhood, of God, of the gospel, of Christianity. They were discipled and nurtured by a woman that most of them never met, but they felt like they knew her. They felt like she was the spiritual mother in many cases that they had never had. Many women actually said that.
So as we started ministering through Revive Our Hearts, we were speaking to many women whose hearts were already prepared. The ground had been tilled and the seeds had been planted. Women were already progressing well in their spiritual life. The Lord has allowed us in some of those women's lives to come along and encourage them in a new season of life, and continue in a ministry of pointing them to Christ and pointing them to His Word.
Most of us have been influenced by Elisabeth Elliot. We knew her or knew of her in her older years. Remember, she didn't start Gateway to Joy radio program until she was sixty-three years of age. So it's easy to look at a person in their prime of life, in their seasoned stage of life, where they've had many years of track record of God proving Himself to be faithful and walking with Him and making choices to walk with Him. We can look at our lives, those of us who are younger and think, That's unattainable to get to that place where I could trust and obey the Lord in that way.
I just want to remind us that Elisabeth Elliot was once young. She was once a girl; she was once a teenager. She was once a college student in love with a young man who was making up his mind very slowly—Jim Elliot that is—as to whether he was to marry Elisabeth. She made one choice after another in those younger years of her life, as a young woman, as a young widow with a little girl faced with the loss of her missionary husband. What was she to how? How was she to respond? Each of those moments was one choice where she had to lift her eyes up the same way we do and say, "Lord, show me what to do, and give me grace to put the next foot forward."
That was hard for her at times. That's hard for us at times. I'm sure she didn't always respond in just the way that she had wished. She was human, so she had failures at times, just as we do. But she learned to get to God for His grace. She learned to trust Him as He proved Himself trustworthy in one situation after another.
I think the mistake is to look at a life like Elisabeth Elliot's and just look at the whole bigger than life person and think, "This is somebody who's like in some other stratosphere." And we forget that their life is comprised of many, many choices to get to know God, to cry out to Him for grace, to do the next thing—as Elisabeth Elliot often reminded us. That the big picture of their life was a sum total of many, many little choices to say, "Yes, Lord."
So that's a challenge to me today as I face little choices: with my time, how do I respond to this disappoint or loss. That's when thinking about a sister, a friend, a fellow-servant like Elisabeth Elliot helps to point me in the right direction.
I remember when she sat there in the jungles of Ecuador and learned that her husband wasn't coming back, she did the next thing, put the next foot forward, lifted her eyes to heaven and found God's grace to keep pressing on. She never considered herself heroic or special or extraordinary. She was as we look at her because so few people make those choices. But I'd like to say, that could be true of all of us. It could be true of each of us that when the story of our life is told, for each of us, it could be a story of people pointing us and saying, "She trusted, and she obeyed."
It brings to mind that verse in Hebrews chapter 13, verse 7 that says, "Remember your leaders, those who spoke to you the word of God." I certainly would put Elisabeth Elliot in the category of one who spoke to many of us the Word of God. Then it says, "Consider the outcome of their way of life and imitate their faith."
So that's saying, "By God's grace, this is doable for all of us, not just those who are famous, leaders, celebrities." We can look at the outcome of their way of life and by God's grace can imitate their faith. That doesn't mean the story of our lives will look like theirs, but our faith will be the same. It doesn't mean the narrative of our lives will look like theirs. Our lives may be much simpler, more behind the scenes. But we can still in our little corner of our world imitate their faith in Christ who in that same passage says, "Who is the same yesterday, today, and forever."
Leslie: That's Nancy Leigh DeMoss, challenging all of us to do what Elisabeth Elliot did: To say "Yes, Lord," to whatever He's calling you to do. To be faithful, and trust the results to Him.
If you'd like to learn more from the example of Elisabeth Elliot, I hope you'll visit ReviveOurHearts.com. You'll find a web page devoted to her life. And you can watch many of the tributes you heard today on video. Again, that's at ReviveOurHearts.com.
Does it seem to you like the world is getting louder and louder? In the middle of the clamor, you can learn how to have a quiet heart. We'll look together at God's Word and see to develop that kind of God-given quiet heart. We'll start that series Monday here on Revive Our Hearts.
Revive Our Hearts with Nancy Leigh DeMoss is an outreach of Life Action Ministries.
*Offers available only during the broadcast of the podcast season.
Support the Revive Our Hearts Podcast
Darkness. Fear. Uncertainty. Women around the world wake up hopeless every day. You can play a part in bringing them freedom, fullness, and fruitfulness instead. Your gift ensures that we can continue to spread gospel hope! Donate now.
Donate Now