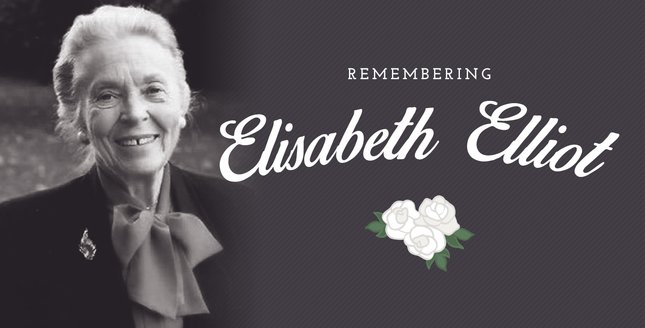 A Life of Courage
Leslie: Here's Elisabeth Elliot.
Elisabeth Elliot: How many things can you think of that are worth living for? I want you to listen, ladies and gentlemen, young men, young women: There is nothing worth living for unless it's worth dying for. Have you made up your mind?
Leslie: This is Revive Our Hearts with Nancy Leigh DeMoss, and we're interrupting our schedule today to thank the Lord for the life of His servant, Elisabeth Elliot. She went home to be with the Lord this past Monday, June 15.
Here's Nancy.
Nancy Leigh DeMoss: It's hard to describe the thoughts and the emotions that were on my heart when I received the news that Elisabeth Elliot had gone on to be with the Lord.
In recent months as I thought about the day that I would get that call, I've had real mixed emotions. Of course there has been the sense of joy for Elisabeth Elliot to have finished her course as well as she has, and to know that she would soon be in the presence of the Lord that she had served faithfully for so many decades. To know that she would be receiving that welcome that we all long to hear, that Christ would say to her, "Well done, thy good and faithful servant, enter into the joy of your Lord."
To think of Elisabeth being there with Christ, with Jim Elliot, with Adelech, her second husband that she was married to that she lost to cancer, and with other heroes of the faith who have gone on before is a precious thought. It makes heaven a little richer. I feel such joy for this woman who has run so well and has finished this course with joy.
At the same time, as I've thought about this day coming, I've had personally a real sense of loss and sadness that one so stalwart, a soldier of the faith and of the cross should be taken from us. We know that that day comes for everyone, and Elisabeth lived a long, fruitful, surrendered life, but the mark she has left on my generation, on so many who have read her books and listened to her radio programs and heard her speak and followed the example of her life over these years, the imprint she has left is huge. The hole that she leaves is huge.
Not long ago I said to a friend as we were talking about the day Elisabeth would go on to heaven, I said, "As these older servants of the Lord pass off the scene, the responsibility is falling on us now to become that older generation and to lead those who come behind us in the pathway of faithfulness and truth." Now that Elisabeth is with the Lord, I have even a stronger and greater sense of responsibility that the Lord has laid on me and on us for our generation.
I feel like I grew up with Elisabeth, she's a generation ahead of me, but she was the generation of my parents. She was actually just about my dad's age. I feel like I've known her all my life, even though we didn't know each other personally or well. But I've been so influenced by her, and I'm so grateful to have her imprint in my life.
I want to say, "I'll miss her." I miss her already, but I'm so thankful for the years of her ministry, especially her writings that will stay with us and the things she taught us and will continue to teach us through those books that are going to go with me until I come to the end of my journey.
I can only hope and pray that I will by God's grace live a life like Elisabeth Elliot's that is well-lived and is faithful all the way to the finish line. That's what I want.
__________
Nancy: Jim Elliot was martyred a couple of years before I was born, so I'm part of a generation who grew up hearing this story, being familiar with it, reading Elisabeth Elliot's books, and being hugely inspired by not only the lives of those five young men who gave their lives for the sake of the gospel, but also being inspired by the life and the story of Elisabeth Elliot.
She continued to minister, going back to that tribe in Ecuador; taking her little girl with her and ministering and just staying the course of what God called her to do in getting the gospel out.
I'm so grateful that early on Elisabeth Elliot's journey, she took the time and made the effort to record the Jim Elliot story and as part of that, her story in some wonderful books that came out early in my life. Gates of Splendor—telling the story of the martyrdom of these five missionaries. Shadow of the Almighty—the life and testament of Jim Elliot.
These are books that came out in the late fifties. I teethed on these stories. Elisabeth's commentary on not just what the story was on the martyrdom of her husband and these other men, but what God had shown her about Himself through this journey and how she was processing grief and loss and the laying down of your life for the sake of the kingdom.
So growing up reading Elisabeth's books and hearing her messages, she early on in my life became something of a modern day heroine—although she would have been the first to recoil of the thought that we would think of her that way. But her life was an amazing one. She refused to be deterred by adversity or loss—she lost not just her first husband, but also her second husband to cancer, and then was married for several years to Lars Gren—but was twice a widow.
But throughout the ups and downs of her pilgrimage, her journey, her life, I think the thing she steadfastly modeled was a simple life of trust and obey. Really, if I had to summarize my takeaway of Elisabeth Elliot's life, it would just be that phrase—trust and obey. God is big; He is great; He is good; He is sovereign; He is trustworthy. You can trust your life to Him.
Because she viewed God as being utterly and absolutely trustworthy—even when we could not fathom His purposes or what He was doing, she still believed He could be trusted. Because He could be trusted, then the appropriate response to that kind of God would be to obey Him. So in an era where people what to see God as their buddy, their friend, their pal, the one who meets their needs, Elisabeth kept coming back to this message: God doesn't exist to meet your needs, ultimately. He is God; He is worthy of your obedience and your worship and your surrender to Him as Lord.
When I think of Elisabeth Elliot, I think of a women who was unbelievably tethered to truth. While I assume she had emotions like the rest of us do—she wrote books after all on suffering and loneliness—she was familiar with these challenges of life in a fallen world. But she never let her emotions drive her life. She was driven by the truth, tethered to the truth. When I think of Elisabeth, I think of a women who was very self-controlled. Her emotions were always reined in under the control of the Spirit. Truth was always primary.
In my own life over the years as I've had my own journey, and my story can't begin to compare with hers in most respects, but as I've experienced ups and downs and challenges and hurts and losses, Elisabeth Elliot is one person that God has often used to call me back to truth. "What do you really believe about God? And if that's true, how should that shape and inform the way you respond to this difficult circumstance?"
She taught us to trust God with the inexplicable, with the things we couldn't possibly understand. That's because she had a big view of God and of Scripture and the Kingdom of God and the gospel—those things were just uppermost in her thinking.
Elisabeth Elliot had a huge influence on my view of God, my view of myself, my view of serving God and others, my view of suffering, my view of what it means to be a woman. I remember reading as a young woman her book, Let Me Be a Woman, where she gave counsel to her daughter, Valerie, about what it means to be a woman. I found Elisabeth saying things that were profound and deep and rich truths of what it meant to be a woman of God and saying them in a way that was gripping and compelling.
I remember thinking, not only when I was first introduced to her writings, but as I've traversed in them frequently over the years, "Yes, I wish I could have written this! This is right; this is true." She made these truths beautiful, winsome, compelling, appealing, and really shaped my view of so much of life through her writings.
It's hard to overestimate the impact of Elisabeth Elliot's writings over the years, the influence of her books—twenty or more in number, if I'm not mistaken. I remember reading years ago a survey in the back of a book by Kent Hughes. The book was about disciplines of a godly man. Kent Hughes took a survey of a lot of Christian leaders who were well known names. He asked them, "What are the five books that most influenced your Christian life and why?"
I read that survey which he posted in the back of his book, Disciplines of a Godly Man, and I think it is interesting that, I think, Elisabeth Elliot may have been the only female author, certainly one of a very few, who was named in that survey of Christian leaders. They named Elisabeth Elliot books more often than most any other single author. I thought, Isn't that interesting. That God in His providence and sovereignty used the writings of the missionary stateswoman to have such a profound influence on the lives of many of the men who were leading the evangelical church today.
So I would say would say about Elisabeth Elliot's books, "Read anything that you can get hands on by Elisabeth Elliot." Those books are timeless; they are timely.  I cannot image that time when they would be out of fashion or out of vogue. She certainly didn't think that way that most people think today, but she is so rooted in timeless, eternal, biblical truth, that those books will be classics. It will be a sad thing to me if and when those books go out of print.
My hope is that her life and legacy and story will be carried on through many future generations. I think that may be possible because of her books. I have in my hands here that copies of three devotional books: Keep a Quiet Heart, A Lamp for My Feet, The Music of His Promises, and my copies are used and worn and highlighted. They are just so rich. And these devotional books just have short pieces, short bits of Truth. They are not long readings; a pages or less in most cases. But I've them marked up here.
I'm just opening one. There are reading on jealousy, on joy, on the cross—that was a reoccurring theme in Elisabeth Elliot's books, the cross, coming back to the cross, and what does that mean in my life? Not just for my salvation but for my sanctification. How does the cross inform everything about my life? How do I respond to pressure? How do I that pressure as an opportunity to identify with the sufferings of Christ?
Elisabeth had a lot to say about suffering. She challenged us to let our difficult life experiences—whether in her case singleness, the loss of a mate, disappointments in life, whatever—that those things would become what she called "material for sacrifice." I actually think she may have borrowed that term from Amy Carmichael, who was a veteran missionary to India for many years, fifty-some years. Elisabeth Elliot was a big fan of Amy Carmichael and wrote a powerful biography on Amy Carmichael called, A Chance to Die.
There again, you see Elisabeth Elliot's view of life on this planet as a believer. The disappointments, the losses, the challenges, the hard things in life this side of heaven are a chance to die to self, to die to my own comfort and convenience, to take up our cross and follow Christ. So that's how she saw Amy Carmichael. That her life was demonstrating what it meant to live a cross-infused life.
Now, you could think that someone who had so much emphasis on obedience and the sovereignty of God and the cross and suffering that that might not be an appealing or attractive life. And Elisabeth certainly was a no-nonsense sort of person. You didn't hear her often . . . I didn't know her personally. We met on a few occasions, but I didn't have an ongoing relationship with her. From what I've read and heard, she wasn't a person who made a lot of jokes. She wasn't big into small talk. She was a serious-minded, sober-minded woman who took the claims of Christ seriously, and it impacted everything about her life. She led a very disciplined life. Her schedule was disciplined. And that has influenced my own thinking.
But she also understood that springs of joy and fullness come flowing out of a life that is fully surrendered to Christ. So I think she demonstrated that this calling to take up our cross and follow Christ is not something to be dreaded or avoided, it is actually the greatest life possible. It's how we enter into fullness of live, by means of the cross. For beyond the cross there is the resurrection, there's the glory of Christ that He experienced beyond the cross, the joy that was set before Him. I think her life and ministry called us not only to suffering and obedience, but also to experience the joy that is possible through Christ.
Passion and Purity is another one of Elisabeth's many books. I would say that book is must reading for every young woman. As she chronicles her courtship with Jim Elliot—and we're talking, mind you, decades ago, this is back in the fifties. But I've seen God use those insights on "passion and purity" in the lives of many college students, young adult woman. It's a way of thinking that would be such a protection and blessing to young women if they could get that today. That's a book I hope stays in print for a very long time.
It's amazing to me to think about the way the Lord scripted and unfolded Elisabeth's life. I don't think of her as a woman who aspired to greatness or to do or be anything heroic. For all of her life, she was just walking in the pathway of trust and obedience. It's God who wrote the script and chose how He was going to use her. She didn't expect to be a headliner personality in the evangelical world when as a young woman she received the news that her husband, Jim Elliot, was one of five men who had been martyred there in the jungles of Ecuador.
Even in the early years following Jim's martyrdom, I don't get the impression that she set out to have a story to tell. She just began sharing that story as God gave her opportunity. The Lord used it and multiplied it in a significant way to bless multitudes, probably millions of people in the United States and around the world. As a result of Elisabeth telling the story, God used that martyrdom, what the enemy intended for evil, God used for good. Only the Lord knows how many missionaries have been sent to the field, have been called by the Lord to serve Him in far-flung fields around the world. One reason is because of the martyrdom, but also because of Elisabeth Elliot and others (but Elisabeth primarily) who wrote this story.
As a result of her writing Shadow of the Almighty and Through Gates of Splendor, many young people said, "I want to follow that kind of Christ." And not just people who went to the mission field but housewives and students and people in all kinds of careers and working situations who were inspired to follow Christ as Jim Elliot followed Christ.
That quote, "He is no fool who gives what he cannot keep to gain what he can never lose," Jim Elliot wrote that in one of his journals as a college student. I'm so thankful Elisabeth Elliot published those journals—"The Life and Testament of Jim Elliot" in 1958 in the book The Shadow of the Almighty. And how many of us have been influenced, perhaps not even knowing where some of those quotes came from, but influenced because Elisabeth put them to paper.
She was a hard worker. Many of our listeners are familiar with Elisabeth Elliot's Gateway to Joy radio program that was on the air for thirteen years. But some people may not realize that she didn't start that daily radio program until she was sixty-three years old, when most people are thinking of winding down and retiring. Let me just stress that is was not because she was some driven women who was some type A personality. She was actually a rather shy woman. She didn't fancy herself as a public figure. She was just following Christ and doing what He put in the way for her to do. In the course of that, when God opened the opportunity for her to minister out of her life message through a daily radio program, she said, "Yes, Lord." This wasn't a career that she had set forth to have, but she was willing to do it.
I'll tell you, once I started doing daily radio, I had an even greater appreciation for the sacrifices involved. That woman at a season of life when many would have been taking it easy, working very hard in her sixties and seventies to produce those daily radio programs that were such a blessing to so many people for those years.
I think we see in Elisabeth Elliot the power of legacy—not only in the legacy that she handed us and that through Revive Our Hearts we've been trying to pass on to another generation. But she herself was the product of a legacy that had been handed to her.
She was one of several children in a godly family, the Howard family from the Philadelphia area (near where I grew up). Her parents were a godly couple who taught the Scripture to their children. She grew up in an environment surrounded by the Scripture. They had missionaries and Christian believers in their home. The Howard children were exposed to the riches of the faith from their youngest years. If I'm not mistaken, all of those children ended up following Christ and serving Him in different ways. Elisabeth is not the only Howard who has made an impact for the Kingdom. Others of her siblings have as well.
She received the heritage that was passed on to her, the baton of faith that her parents passed on to her. She made that faith her own. She received that which had been passed on to her, which again is something that has spoken to me because I had the privilege of growing up in a godly home with parents who were very committed to the faith. The biggest challenge is not so much, what kind of home did you come from? But if you had that godly heritage, what have you done with it? Have you received it? Have you exercised faith in that same God? Elisabeth did. As a result, she has had a very rich legacy to pass on to us.
For years I wondered who the next Elisabeth Elliot would be, who the Lord would raise up, and not necessarily one person. Who would be the women God would raise up to continue sharing that message with the next generation of women? I'm so grateful that God has raised up a number of women in our generation who are faithfully calling women to biblical womanhood and that message of trust and obey.
But now I ask myself the question: Where's the next Elisabeth Elliot? The next generation of women like that? I will say that sometimes when a mom will bring her little girl or teenage daughter to meet me . . . I meet young women, little girls, who every once awhile have a sparkle in their eyes and who seem to have to have a real genuine fervent faith that's being developed in their hearts. Of course I wouldn't say this to one of those children, but sometimes I wonder, Could this be the next Elisabeth Elliot?
I'll say the next Elisabeth Elliot is out there somewhere, growing up, learning the ways of God, seeking the Lord, and being prepared by God for a lifetime of service. And I can't wait to see who some of those women are.
Leslie: Nancy Leigh DeMoss has been remembering the life of Elisabeth Elliot, who went home to be with the Lord earlier this week.
This woman of God had a big effect on so many women who read her books, listened to her radio program, and were encouraged by her example. Tomorrow we'll get a sense of some of that influence, hearing from evangelical leaders about the way Elisabeth affected them.
And, did you know Elisabeth Elliot paved the way for the launch of the Revive Our Hearts program? Nancy will tell you that story tomorrow.
Please be back tomorrow, as we continue to remember a life well lived.
Elisabeth: He is no fool who gives what he cannot keep to gain what he cannot lose. He is no fool who gives what he cannot keep to gain what he cannot lose.
Revive Our Hearts with Nancy Leigh DeMoss is an outreach of Life Action Ministries.
*Offers available only during the broadcast of the podcast season.