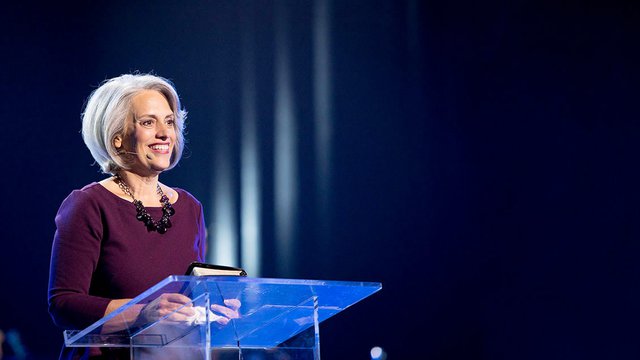 Lies Women Believe About Themselves, Part 7
Leslie Basham: When we experience hurt, the enemy of our souls is ready to tell us lies about what happened. Here is one of the women who have been listening to Nancy's current series, Lies Women Believe About Themselves. Listen to her account.
Listener: When I was five, I was molested; and I really believe that from that really young age that the enemy just worked on my mind. My mother, through the years, didn't know how to deal with me because my brother and sister did everything right. It was I that came along. I really believe--because I believe the enemy--I was one of those kids that was rebellious. And I tried everything to fill the void in my heart. But God has used that. I don't understand why He allowed me to be molested that day; but I've come to the point, too, where I really believe that He is sovereign. And I have to trust Him for that. It's still painful.
Leslie Basham: This is Revive Our Hearts with Nancy Leigh DeMoss for Tuesday, February 5.
Often we begin to listen to lies when we've gone through painful situations. Our current series may have brought up some difficult memories from your life. What should we do when we don't understand why God allows pain in our lives? Here is Nancy with some perspective.
Nancy Leigh DeMoss: I think a lot of our disappointment in life comes from wanting or demanding now what God has reserved for us for later--and that may be in terms of answers. I think one of the things that we tend to demand now that God has reserved for us later is freedom from pain. We think that the highest good is to have no pain. It is something that God has reserved for us. It is something that is ahead, but it's in the last chapter. You and I will never be fitted for that last chapter unless we're willing to experience now the pain that He will one day remove.
You see, I am helped in my "today" walk with the Lord, with its pain, its tears, its sorrows, its heaviness, its burdens, its failures, its curses. What helps me walk through that is looking ahead to the end of the book, looking at the last chapter. That is, by the way, one of the reasons that I try a couple of times a year to get through the Book of Revelation. That's the last chapter. It tells us what is going to happen.
We get to those last two chapters of the Book of Revelation, and we find out that there is coming the day in Revelation 21:4 when there will be no more death, no more sorrow, no more crying, no more pain. You come to (Revelation) 22:3, and there is no more curse. All the blessing we've been seeking for, the tears that we wanted dried from our eyes, the sorrows we wanted to escape from, the pain we wanted to be delivered from, it's promised to us that this is the way it will be. But it will not be fully that way until then.
That's why Psalm 30 promises--I love this promise--"Weeping may endure for a night, but joy comes in the morning." God mercifully gives us some glimpses of joy, some foretastes of heaven. There are some pains He does heal. There are some sorrows and wounds--He does bind up the brokenhearted and the wounded. But it is all just a taste. No matter how many wounds you've had healed, no matter how many sorrows God has comforted you through, there is still a core ache and longing and pain in who we are.
Romans 8 talks about the whole creation striving, groaning, travailing in pain. But what is the context there? He says the day is coming when the whole creation will be redeemed. Our bodies will be redeemed, our spirits will be whole as we have always longed for them to be. Yes, He has redeemed our souls; but He has just given us a taste of what can only be experienced ultimately.
As we are here on earth, walking through those pains, those sorrows, those tears, they are not purposeless. They are not wasted. They are part of God molding and shaping and preparing us for eternity.
When you go back to the Old Testament, you remember that when the temple was being built, there was no construction noise at the construction site. If you've ever built a home or seen a building go up, you know that there are very loud noises that usually take place at construction sites. They built the temple out of these huge stones. The stones had to be hewn and hammered and made to fit, but none of that took place at the site of the temple construction.
Where did it take place? Back at the quarry. That's where all the cutting was done. That's where all the shaping was done. That's where all the noise took place. That's where all the pain was inflicted on those stones. Then they were brought in silently, quietly, (and) perfectly fit together at the construction site.
I think that's a little picture for me of what heaven is going to be. We are in the quarry right now, and God is making us stones for His temple. Living stones, Paul says in the New Testament. We're being shaped and fitted so that in heaven we can be together a temple fit for the glory of God. So there is purpose in that suffering. There is purpose in those wounds. There is purpose in those tears. The problem is that if we resent it and resist and run from it, we're not going to be fit for heaven. We're not going to be ultimately what God called and chose and has made us to be.
So down here we have to do basically two things: Trust and obey. Trust--exercise faith that God knows what He is doing, and He is not making any mistakes. Trust His big, overall purpose. Trust His plan. Trust His heart. Trust that the final chapter will be as He has said and then submit ourselves to that plan. Surrender to it.
It sounds so simple. People are paying all kinds of money and making all kinds of effort today to find help and healing in complex ways. There are books and tapes and therapists and pills and all kinds of things. I'm not saying all these things are wrong, but I'm saying that we're trying to fill a void that is not going to be totally filled until the end. We're trying to heal pains that will not be totally healed until then. It comes back right now to something that is really much simpler than that which most of us are in pursuit of. In fact, that is what Paul said to the Corinthians. He was concerned "lest they should be deceived or beguiled away from the simplicity that is in Christ."
The world offers some real complex answers that seem real impressive; but they really aren't, for the most part, solving people's problems. What's the simplicity that is in Christ? Trust and obey. That's overly simple. It's true, and the truth will set you free. Trust His heart. Trust His plan. Trust that He is God, and I'm not. Trust that He knows what He is doing. Trust that He loves us. Trust that He is working all things according to the purpose of His will for His glory. Trust that what comes into my day today is part of His fashioning and shaping and molding me for that day. And then obey. Submit myself to His instruments, to the chisel, to the hammer.
It might be easier if we could see that God's hand is behind all that. We tend to look at the immediate causes and say, "It's that person. It's that situation. It's that circumstance." God says, "Look beyond. Look past that person and realize that I am really the One who is holding the hammer and the chisel." He is shaping. Submit to Him. Surrender to it. Say, "Yes, Lord."
I know that I need to be molded and shaped. I know that God saved me to make me look like Jesus. I know that I don't look like Jesus. There are major areas of my life that are so unlike Jesus. How am I going to get from here to there? I know He created me for my life to bring Him glory, but I know there are lots of times when my life does not bring Him glory. How am I going to get from here to there?
Well, there are lots of ingredients God uses, but one inescapable one is suffering. Pain. Unsolved mysteries. The only kind of unsolved mysteries we want to watch on television are the ones that get solved. They've got to be solved within an hour.
There is no such thing as mystery in heaven. Remember that. What we cannot see or what we see only through a glass, dimly now, is clear as day in heaven. There are no unanswered questions, no unsolved mysteries, no panic, no sitting up in heaven trying to figure out how to get out of this one. None of God calling an emergency council and saying, "Oh, I hadn't thought of that. How shall we deal with this? How can we make this work to our glory?" He knows it all. He's got it all under control.
That doesn't mean it's easy down here. We've got to lift our eyes upward and say, "He knows what He is doing, and I trust Him."
His love and His grace are sufficient for me, and I'm willing to live with some unfulfilled longings this side of heaven. You know what they do? They make me thirsty and hungry for that which I can never experience here. That's good. That's really good.
Leslie Basham: That's Nancy Leigh DeMoss reminding us that we won't fully understand all of the painful experiences of this life until we meet our Lord in heaven. Today's program wraps up a series called Lies Women Believe About Themselves. If you've missed any of it, you might want to get a copy. It comes on two cassettes for a suggested donation of $8. You can get a copy by calling our resource center at 1-800-569-5959.
To help you dig deeper on today's topic, we also have Nancy's book, Lies Women Believe and the Truth That Sets Them Free for a suggested donation of $17, and the video for a suggested donation of $15. Again, our number is 1-800-569-5959. You can also get information on our Web site, ReviveOurHearts.com.
We'd like to know what you've thought about this series. You can send your letter to Revive Our Hearts. If you're able to help us with a financial contribution, it'll help us continue to provide practical, biblical teaching to women all across the country.
Well, it's February, the month when thoughts turn to love. Tomorrow we'll embark on a new series based on 1 Corinthians 13. We hope you can be here for Revive Our Hearts.
Revive Our Hearts is an outreach of Life Action Ministries.
*Offers available only during the broadcast of the podcast season.
Support the Revive Our Hearts Podcast
Darkness. Fear. Uncertainty. Women around the world wake up hopeless every day. You can play a part in bringing them freedom, fullness, and fruitfulness instead. Your gift ensures that we can continue to spread gospel hope! Donate now.
Donate Now