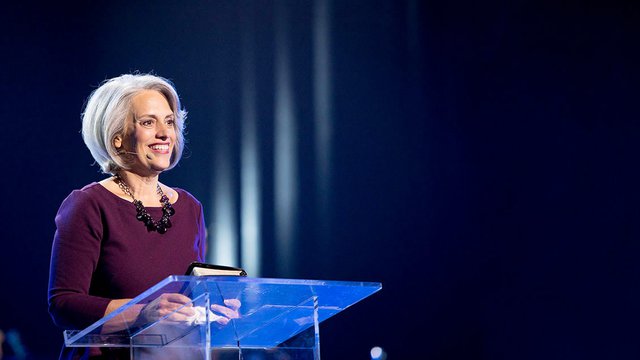 Lies Women Believe About Themselves, Part 6
Leslie Basham: Do you want to be unhappy? Just demand your rights every chance you get. It's Monday, February 4; and you're listening to Revive Our Hearts with Nancy Leigh DeMoss.
When you're in the car approaching a sign that says yield, you slow down and allow others to have the right-of-way. Today we'll hear how important it is to yield to others, not just in traffic; but in many areas of life. We're in a series called Lies Women Believe About Themselves. Let's join Nancy as she identifies another lie: I Have My Rights.
Nancy Leigh DeMoss: Have you noticed how much anger there is in people today? You find it as you go out on the freeway. "Someone gets in my way? I'm going to cut him off and lean on the horn." There's this anger coming out of so many people today. Do you ever stop and think, Where does that come from? Why do kids walk into a school and pull out a gun and start blowing off people's heads?
Unless we think, I have no road rage; I would never pull out a gun and do physical harm to someone, maybe you, like me, can relate to being stuck in a long line at the supermarket check-out counter and feeling that kind of internal impatience just rising up. Or you've just fallen off to sleep at night and someone thoughtlessly calls and wakes you from your sleep. There's this sense of--you're looking at me like nobody here ever gets angry. Oh, you do, too? Okay.
Where does all this come from? I believe it comes from another lie that we as women believe about ourselves, and that is "I have my rights. I have my rights." After all, our Declaration of Independence tells us we have certain inalienable rights. We all know that you've got a right to "Chicken Done Right." So from our nation's founding documents to fast-food chicken, "I've got a right" has really become the watch cry of our civilization, hasn't it?
The modern feminist movement was really birthed and has been sustained by persuading women to march and to clamor for rights--the right to vote, the right to equal educational opportunities, the right to be free from having to carry your husband's name, and the right from every other form of male domination--or so the women tell us.
We've been told--really, through all of my lifetime--that demanding our rights is our ticket to freedom, liberation, happiness. After all, if you don't stand up for your rights, no one else will. We may not consider ourselves to be extremely rights-oriented people as some others (are) that we read about, but I'm convinced that this clinging to rights is in the air that we breathe. And that it has affected all of us much more than we realize. Now I think we all know and perhaps have experienced that standing up for our rights generally does not bring the happiness and the fulfillment that it promises.
One woman wrote me and she said, "'I have my rights' has caused many unnecessary arguments which have led to unhappiness." Another lady said, "When I stand up for my rights and demand my way, I am temporarily happy. But the pit of despair soon follows."
Even our traffic laws realize that you cannot build a successful culture based on the demanding of rights. Have you ever seen a traffic sign that says, "You have the right-of-way"? That's not what the sign says. What does the sign say? "Yield your right-of-way." How does traffic flow smoothly? When every driver says, "I have the right-of-way"? No. We would have chaos.
This emphasis on rights has really shaped the whole way that we live today, and it is inherent in the way that we think about all of life. After all, we have a right to be understood. We have a right to be loved. We have a right to a happy marriage. We have a right to companionship and romance. We have a right to be treated with respect in the workplace. We have a right to be valued by men. And you have a right to be appreciated by your children. Most importantly, if my rights are violated, I have the right to be angry. That's what we think.
The problem is that when our rights are violated, and we insist on clinging to those rights--we are going to end up angry. We're going to end up in conflict. This is where conflict comes from in our families, in our churches, in our culture. We're going to end up being unstable, up and down in our emotions. Each time our rights are violated, it's going to cause us to react emotionally. Even much depression, I believe, comes out of this thing of claiming our rights.
The Old Testament introduces us to a man who was an angry man. He was angry because he claimed rights. When he felt his rights were violated, he became even angrier. His name is Jonah. You may remember that Jonah was a prophet of God. God told him to go to Nineveh, to preach God's Word. After a detour when Jonah tried to run from God, he ended up finally in Nineveh. Lo and behold, the people repented when they heard the Word. And God withdrew and withheld His judgment.
Well, Jonah was displeased. Jonah 4 tells us in verse 1 that he was greatly displeased. And he became angry. In fact, he became so angry that God would have mercy on these Ninevites, who were the enemies of Israel--he became so displeased that he asked God and begged God to take his life. He really was just having an emotional temper tantrum. Isn't that what a lot of our depression is? Many times, (we are) just emotionally torn up because we didn't get our way. I know that is how it is for me often.
Then in Jonah 4:4, the Lord says to Jonah, "Do you have any right to be angry?" Jonah refuses to answer God's question. Instead, he goes to the outskirts of the city; and he builds a temporary shelter. And he sits down to wait and see if God maybe will change His mind and destroy this city that Jonah really dislikes.
Out of His love and mercy for this wayward prophet, the Scripture says in verse 6 that God provided a vine and made it grow up over Jonah to give shade for his head to ease his discomfort. Jonah was very happy about the vine. He had gone from being very displeased and angry--things go his way and he gets what he wants. God smiles on him. Jonah now is exceedingly happy. Do you see how unstable we are if we're living our lives based on rights?
Verse 7 tells us that at dawn the next day, God provided a worm which chewed the vine so that it withered. When the sun rose, God provided a scorching east wind. The sun blazed on Jonah's head so that he grew faint. Once again--now he wanted to die. He said, "It would be better for me to die than to live."
But God said to Jonah, "Do you have a right to be angry about the vine?"
Jonah said, "I do. I am angry enough to die."
Jonah is saying to God, in effect, "I have the right to control my life." He ended up angry, unstable, suicidal, deeply depressed.
The sad thing about Jonah's story to me is that so many times it sounds a lot like my own. Oh, I may never take it to those lengths or those ends; but when something doesn't go my way, when someone at my office doesn't follow through on what I thought they were supposed to do, there is that inner uprising of "I'm angry. I didn't get my way."
How do we get off of that kind of spiritual and emotional roller coaster? According to God's Word, the truth is that we have to yield our rights. (We have to) Yield our rights to the One who ultimately holds all rights in His hand, and that is our Heavenly Father. There is no more perfect picture of how to yield our rights than what we read about the Lord Jesus in the New Testament, and particularly in the Book of Philippians, chapter two. Some of you are familiar with that passage, but let's just review how it was with Jesus.
Paul says in Philippians 2, "Do nothing out of selfish ambition or vain conceit, but in humility consider others better than yourselves. Each of you should look not only to your own interests, but also to the interests of others. Your attitude should be the same as that of Christ Jesus." Watch the Savior, who held all rights, laying down His rights.
The Scripture says, "He was in very nature God." He was God! "But He did not regard equality with God as something to be grasped." He yielded His rights. He took upon Him self the very nature of a servant. He was made in human likeness. He humbled Himself and became obedient to death, even the death of the cross.
What happened when He laid down His rights? The Scripture goes on to say, "Therefore, God has highly exalted Him. God lifted Him up and gave Him the name that is above every name; that at the name of Jesus every knee should bow and every tongue should confess that Jesus Christ is Lord." So God says, "Yield your rights. Lay it all down." Those who humble themselves, God says He will lift them up.
Are there some rights that you're clinging to? Maybe those rights are being violated, and you find yourself getting angry. Your husband, your children, your roommate, your employer--they're not treating you as you feel you have a right to be treated. Would you be willing to acknowledge to the Lord, "I've been believing a lie. I've been claiming rights for myself. It's putting me in bondage."
Then would you be willing to counter that lie with the truth and say, "Oh, God, all I deserve is hell. Anything I have better than that is of Your grace. I'm going to lay down my rights. I'm going to yield them up to You. I'm going to let You bring into my life that which you know is good and right for me. I accept with gratitude whatever You give to me and refuse to let myself be controlled by clinging to my own rights."
Leslie Basham: That's Nancy Leigh DeMoss. She's been reminding us that Jesus gave up His rights to serve others, and we benefit when we do the same. Nancy will be back in just a minute to close in prayer. But first, has today's program made you think about some things in a new way? Nancy teaches us about the danger of demanding our rights on a video called Lies Women Believe and the Truth that Sets Them Free. If you'd like to explore today's subject more deeply, why don't you call us and get a copy? You can get the video for a suggested donation of $15. You can get a copy by calling us at 1-800-569-5959. T
he video will allow you to process Nancy's teaching at your own pace. It comes with study questions to help you apply what you've learned, and it would make a great topic for a women's Bible study in your home. You can find more information on our Web site, ReviveOurHearts.com. If today's program has brought up some issues or questions you'd like to share, why don't you write?
We hope you can be back tomorrow. When we experience pain, the enemy of our souls is ready to offer us lies about what we're going through. That will be our subject next time. Now let's join Nancy as she closes in prayer.
Nancy Leigh DeMoss: Thank You, Lord Jesus, for humbling Yourself, for leaving heaven, for coming to this earth, for taking on You the form of a servant, being willing to be of no reputation so that You could lift us up. Father, we confess that we are rights-crazed. Help us to lay them down, to yield our rights, and to trust You to meet our needs. I pray in Jesus' name. Amen.
*Offers available only during the broadcast of the podcast season.
Support the Revive Our Hearts Podcast
Darkness. Fear. Uncertainty. Women around the world wake up hopeless every day. You can play a part in bringing them freedom, fullness, and fruitfulness instead. Your gift ensures that we can continue to spread gospel hope! Donate now.
Donate Now