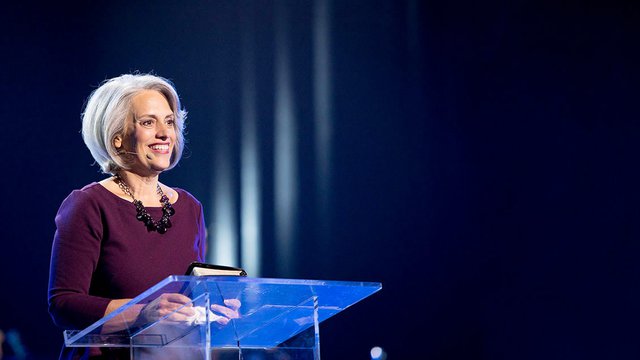 — Audio Player —
Lies Women Believe About Themselves, Part 5
Leslie Basham: You can probably think back to your childhood and remember certain people who were constantly put down and made fun of. Today we'll hear the results that can come from years of ridicule. Today is Friday, February 1. This is Revive Our Hearts with Nancy Leigh DeMoss.
All this week we've been listening to a series called Lies Women Believe About Themselves. Nancy will continue that series today, but we're going to begin our program with thoughts from a woman who's been listening all this week. Let's listen to her story.
Speaker: I was born into a family of eight. I was the seventh daughter of my dad. I had a brother who was 13 months old. My dad died when I was four, so I don't remember anything my dad said to me. My mother did well with what she had, and God was first. Everything about our life was God. The one thing that I struggle with right now is that there were a lot of people who made fun of me. There were a lot of people who ridiculed me. There were a lot of people who put me down, called me stupid, called me dumb. I would just kind of slough it off; it was okay.
But there was one person in my life who was kind to me. He showed me a father figure. For some reason, I don't understand what God was doing here, but this is the one person I was not allowed to visit. I was not allowed to see him. I was not allowed to talk to him. I could talk to those people, any of them, who made fun of me. I could go back to any of those (people); but this one person, I couldn't. I couldn't go back to him. I don't know (why), but this is the one thing in my life which has drawn me to God. It's like, I don't have a father. I don't have a father figure, but I have God.
It's this process that has drawn me to God. When I can't sleep at night, I get up; and I search the Scriptures. I pray. I pray day and night, even to the point that--I have even been asked to leave the prayer room. It's gotten so desperate, and I don't know what's going on here. I don't. I don't understand what God is doing, but I want to get past this. I want to get past it so badly that I'll do whatever God wants me to do in order to get past this, because I want Jesus Christ to be my very best friend. I want Jesus to be my one and only. I want that more than I want anything.
Nancy Leigh DeMoss: Anything that makes me need God is a blessing. Anything that forces me to look upward to Him to get my needs met is a blessing. Listen to Psalm 142. This is a prayer of David when he's in a cave, running from an insane king who's jealous, who's threatening his life, saying all manner of evil against him. From that cave, he prays.
He says, "I cry aloud to the Lord; I lift up my voice to the Lord for mercy. I pour out my complaint before him; before him I tell my trouble. When my spirit grows faint within me, it is you who know my way. In the path where I walk men have hidden a snare for me" (vv. 1-3). A snare can be the snare of words that are said, or the snare of words that aren't said that we wished would have been said.
He says, "Look to my right and see; no one is concerned for me. I have no refuge; no one cares for my life" (v. 4). Now that may or may not have been literally true. Sometimes the enemy makes us think that's true when it's really not true--like Elijah saying, "I'm the only one left here." And God said, "You've overdone the pity thing. There are those who do care." But it's possible that a person could be at a place where that is literally true.
"I have no refuge; no one cares for my life." What's the very next verse say? "I cry to You, O Lord; I say, 'You are my refuge, You are my portion in the land of the living.' Listen to my cry, for I am in desperate need; rescue me from those who pursue me, for they are too strong for me" (vv. 5-6). Some of those people who are too strong for you may have been people from your childhood. They're not even here anymore, but they're still pursuing you. Those words are still haunting you. That lack of affection is still lodged deep in your soul.
And he says to the Lord, "Listen to my cry, I'm desperate; rescue me from those who pursue me, for they are too strong for me. Set me free from my prison, so that I may praise Your name." That's the objective. It's not about me; it's not about my feelings. It's not about me being loved. Ultimately, it's about being able to praise God, to bring Him glory, to reflect His love to our world.
So the motive is so that I can praise Your name. David is saying, "Lord, I believe I can glorify You better if I'm not a prisoner to these thoughts and emotions and circumstances. Set me free from my prison." I don't know that the biggest prison David needed to be set free from was free from King Saul or free from that cave. The fact is, he could be pursued by Saul, and he could be a fugitive in that cave. But he could still be free. Or he could be out of that cave, and King Saul could be dead, and David could still be a prisoner in his heart. The prison is really ultimately one of our own making.
He's saying, "Lord, set me free from that inner prison, that bondage to believing lies, to being so attached to the love and affection and affirmation of others that I can't live without it. How do you get set free from that prison? You've got to find a new master, a new prison to live in, so to speak. That's where we say, "Lord, gladly I will be chained to You--Your affection, Your affirmation, Your view of me, Your lordship in my life. That is what I crave. That's what I'm bound to. That's what I worship." When you're a prisoner to Him, you truly are free.
We're going to be chained to something or someone. We're going to crave someone or something's response to us. We're going to worship something. Ultimately, I think many of us who are in bondage to people who said and did things that have hurt us deeply--really they have become our idol. We worship that person, that's why we crave their response. We crave them to bless us.
Thank the Lord if you had a mom or a dad, who did give you that blessing; but don't worship it. For us to go through life craving for, demanding, always striving after that which some of those people in our lives may never be capable of giving us--some of them aren't even living any more; and we're still in bondage to them. We've made them our idol. We've said, "I'm going to bow down and worship you until you bless me." And they can't hear. They can't speak. They can't bless. They cannot meet our needs.
That's why I've got to get rid of those gods in my life by replacing them with the true God. David did the right thing here. He poured out his complaint before God. He was honest with God, but he talked to God about it. He said, "Lord, I have no refuge here on earth, but I do have a refuge. I cry to You, O Lord. You are my refuge. You are my blesser. You are my gift. You are my lover. You are my soul's home."
All that longing that we have for the blessing--the affirmation, the acceptance that we never have received from a parent, or from a friend, or a sibling, or whatever--is really just telltale evidence that we were made in the image of God, that we were made to be loved and to be blessed. But (it is evidence) that we're seeking it in the wrong places. That unfulfilled longing should really press us to Him. We have no home here on earth. We have no refuge here on earth. We have no true love here on earth apart from God.
That homesick heart, that lovesick heart, that love-starved heart has an empty place that was made for God. That's why--by faith--we have to turn our hearts toward Him and say, "Lord, I cry out to You. You are my refuge. You are my portion. You're enough!" If I have God's acceptance and His love and His blessing in my life, what other portion could compare? If I could get the blessing and affirmation of every human being in the whole world that matters to me, it would be diddly-squat next to the portion I have in Him.
But we've had our eyes on ourselves and other people for so long, we've lost sight of the One whose blessing is supreme, and the One whose blessing ultimately matters. So David says, "Listen to me. Rescue me. Set me free." And two things happen. He says, "I'll praise Your name," and listen to end of verse 7, "Then will the righteous gather about me because of Your goodness to me." Can you imagine becoming the kind of person that other women of God would say, "I want to be around that woman because she is so blessed. She has so much of God's goodness in her life"?
You see when we get filled up with Him, then we're not going to be these demanding, empty-hearted, groveling, pained people who have to always be having a fix from someone else to fill us up. We'll be so filled with the goodness of God that the righteous will gather around us because they know that God has been good to us, and out of our fullness there is overflow that blesses them.
The goal isn't just that we get filled up; the goal is we get filled up so we can give Him glory--so we can lift up glory to Him--and so that we can overflow His goodness into the lives of others.
Leslie Basham: That's Nancy Leigh DeMoss encouraging us from the Word of God. Even if we've experienced hurt in the past, God can put the kind of beauty into our lives that attracts others. If today's program has made you do some thinking about the lies you've heard about yourself, you might want to consider reading Nancy's book Lies Women Believe and the Truth That Sets Them Free. In it, she identifies lies that women tend to believe; and she counteracts those lies with Scripture.
Nancy's teaching on the subject is also available on video. Watching the video with a friend and going over study questions would help both of you grow into the women God wants you to be. The book Lies Women Believe and the Truth That Sets Them Free is available for a suggested donation of $17. We also have the video which includes study questions for a suggested donation of $15. Just call us at 1-800-569-5959. You can also find information on our Web site, ReviveOurHearts.com.
We hope you have a great weekend and that you can join us again on Monday. You've probably heard the phrase, "I have my rights." Is that idea biblical? Find out more next time on Revive Our Hearts. 
Revive Our Hearts with Nancy DeMoss is a ministry partnership of Life Action Ministries.
*Offers available only during the broadcast of the podcast season.
Support the Revive Our Hearts Podcast
Darkness. Fear. Uncertainty. Women around the world wake up hopeless every day. You can play a part in bringing them freedom, fullness, and fruitfulness instead. Your gift ensures that we can continue to spread gospel hope! Donate now.
Donate Now