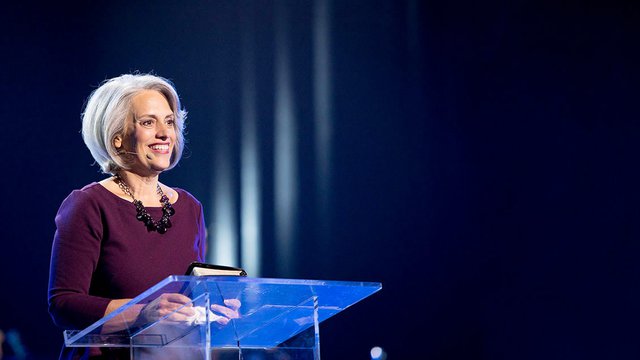 — Audio Player —
Lies Women Believe About Themselves, Part 4
Leslie Basham: As you're standing in the checkout line at the grocery store, what kind of message are you receiving from the covers of all those fashion magazines? It's Thursday, January 31; and this is Revive Our Hearts with Nancy Leigh DeMoss.
It's easy to let our eyes scan the images of airbrushed models on the covers of magazines and start to think that we don't measure up. But when we look to God and the truths of the Bible, we gain a right perspective of physical beauty. Let's join Nancy as she continues a series called Lies Women Believe About Themselves.
Nancy Leigh DeMoss: I hope that you don't spend a lot of your time reading contemporary women's magazines because if you do, you will probably find yourself being brainwashed with a lot of the world's ways of thinking. We're learning that the world's ways of thinking are deceptive, and they put us in bondage. It's so important that we control (to the degree that we can) the influence, the input, that comes into our minds because "As a man thinks in his heart, so is he."
If we listen to lies, we're going to dwell on those lies. We're going to ultimately end up believing those lies, and what we believe we're going to act on. When we act on lies repeatedly, we're going to find ourselves in bondage. Of course, we know the way to be set free from that bondage is to replace the lies with the truth.
But back to women's magazines. If you do ever leaf through those, one thing that certainly will stand out to you as it does to me--as you look at the advertisements and the articles, what is the focus of so much of what we're being told as women today? The world would have us to believe that those external things are what determine our happiness, our sense of worth, our appeal to men, our ability to make friends and keep friends and our overall sense of personal well-being.
I had a friend call me last night as I was actually studying on this subject. She said, "Have you done any study on the whole area of physical beauty and external beauty?" I said, "It's interesting you should ask because I was just sitting here at my desk, thinking about this." She said she had just been to a fashion show of some sort recently, and these models were there from a well-known department store.
My friend was sitting at a table with some women she didn't know who were obviously professional sorts of women. She said it was amazing how intimidated all those women around her table were as they looked at the women walking up and down the runway, modeling these outfits. She said she finally got up the courage to say quietly to the women at her table, "What do you think those women are dealing with inside?" I think in that setting it was as if her words gave a little bit more perspective--that what is on the outside doesn't always tell the whole story.
But our society communicates the message and screams it at us from the time we're little children--and that is that physical beauty matters more than inner beauty. We have this intense pressure as women today to conform to some perfect physical ideal. Many women today are going to drastic measures to change their bodies in order to live up to that ideal. In our culture, I suppose as much as ever, women are driven in their pursuit of physical beauty.
One recent study showed that American women spend half a billion dollars in one year on shape-enhancing garments. That's a lot of money to get beautiful. Then the American Society of Plastic Surgeons shows that over the last eight years, cosmetic procedures among women have increased by 165 percent. I think we all know that physical beauty doesn't really ensure happiness or fulfillment or success. At least, if we think about it, we know that.
Take Princess Diana, who during her life was one of the most photographed--perhaps, the most photographed--woman in the world; but we know that she had a very troubled life and marriage relationship. Being beautiful was not all the story as it relates to Princess Diana.
I remember talking some time ago with a former Miss America. Those kind of women can be intimidating to be around as you can imagine. She told me a lengthy story about what she went through for years in beauty pageants--and the contortions and the changes and the procedures that she had to endure and go through.
She said, "I would do anything to my body to get to be what that particular pageant and their officials considered beautiful." At one point she moved to another state, and the rules changed. She had to undo some of what she had previously done in order to meet someone else's standard of physical beauty.
Believing that physical beauty matters most does lead us into bondage. Let me illustrate that with a couple of things that women have written to me.
One woman said, "I believed that outward beauty, or my body, was all that was valuable about me to anyone, especially men. I chose to take advantage of that to get the attention I so desperately craved, and I became a sexual addict."
Another woman said, "All my life I had believed that my self-worth was based on my appearance. Of course, I never looked like the world said I should, so I've always had a low self-worth. I developed eating disorders. I'm a food addict. And I struggle in my marriage with the perception that I am not attractive, and that my husband is always looking at other women who are attractive to him."
You see how these seeds of lies lodge in our hearts, take root, and ultimately produce fruit. Who would have thought things like promiscuity and sexual addictions and eating disorders and competitiveness and envy and comparison, flirtatious behavior--all these things could be traced back to, in some cases, a faulty view of beauty?
What really matters? How do we get set free from the world's way of thinking, from deception about beauty? As always, we have to counter the lies with the truth. For example, we go to the Word of God; and we find out in Proverbs 31 that charm is deceptive and beauty--physical beauty--is fleeting. It's temporal at best.
I know I can get up in the morning and go to a great deal of effort. Well, I won't say that, because I don't actually spend a lot of time on these things. But I can go to all the effort I know how to go to in trying to make myself physically presentable. But by two hours into the day, I can be looking bedraggled. We know that, even in the course of a day, physical appearance can change. It is temporal and fleeting.
Any of us who are over age 40 know it in a different way. We now see in our faces lines that weren't there 10 years ago. I'm definitely a gray-headed woman now. There are ways our bodies change. Physical beauty is fleeting. Proverbs, of course, goes on to say a woman who fears the Lord is to be praised. I believe he is speaking there about the importance of our pursuing lasting inner beauty, adopting God's standard of what really matters and making that our priority.
That's why Peter says to women in 1 Peter 3, "Your beauty should not come from outward adornment." Now he's not saying we shouldn't be beautiful, but he's saying we need to redefine our idea of what is beautiful. "Your beauty should not come from outward adornment, such as braided hair and the wearing of gold jewelry and fine clothes. Instead, your beauty should be that of your inner self, the unfading beauty of a gentle and quiet spirit, which is in the sight of God of great worth. For this is the way the holy women of the past who put their hope in God used to make themselves beautiful" (verses 3-5).
How did these holy women make themselves beautiful? They trusted in God; and, as a result, they developed an inner beauty of a gentle and quiet spirit. We're not saying, and the Scripture is not saying that external beauty--physical beauty--is inherently sinful, or that it's wrong to pay any attention to our external appearance. In fact, particularly if you're a married woman, you should be making sure that you're paying attention to your external appearance, to minister and to bless your husband.
And, we as women, I believe, should reflect even outwardly the beauty, the order, the excellence and the grace of God. We do that not only through our inner person, but through outer clothing and beauty as well. But we need to keep things in perspective, to remember that which is seen. Paul says in 2 Corinthians (4:18), that that which is visible is temporal. It does not last. "So," Paul says, "Put your focus on the things that cannot be seen, that are internal, and that are eternal." Those are the things that last forever.
When I turned 40, I started receiving catalogs of every description about how to combat the effects of aging--and all kinds of products that are supposed to help me with that. I want to say that the older I get, the more I'm making a conscious choice that I do not want to be consumed, preoccupied with cultivating a beauty that is at best fading, fleeting, declining. I said to the Lord, "Would You instead cultivate in me the things I really want to focus on, the things that really matter--and that is the beauty of a meek spirit, a gentle spirit."
I want to develop for the Lord the kind of beauty that is attractive to Him--that is a gracious, wise, kind, and loving heart. I said, "Oh, Lord, I want to be clothed as Paul says we should be in Colossians 3. I want to be clothed with compassion, with kindness, with humility, with gentleness, and with patience." These are the things that really matter to God. These are things that make a woman truly beautiful.
Leslie Basham: That's Nancy Leigh DeMoss pointing us to the Scripture to find a true definition of beauty. Nancy will be right back to help us apply what we've learned today.
If you'd like to learn more about developing true spiritual beauty, let me encourage you to read a book by Jani Ortland called Fearlessly Feminine. She'll help you gain a biblical view of feminine beauty and help you grow into the woman God wants you to be. We have Fearlessly Feminine in our resource center for a suggested donation of $11. To get your copy, you can visit our Web site, ReviveOurHearts.com. You can also call us at 1-800-569-5959.
What have you found to be the result of listening to lies about physical beauty? Why don't you write and tell us.  When you contact us, remember that we rely on the contributions of our listeners to help make the ministry of Revive Our Hearts possible. We appreciate your gifts and prayers.
Tomorrow we'll hear the story of a woman who believed lies about herself for years. We'll hear about the power of God to change a life. Now again, here's Nancy.
Nancy Leigh DeMoss: What kind of beauty are you pursuing as you think about your routine each day? I know that this morning you took time to get up, to comb your hair, to get dressed in order to come to this place. Did you take time to focus on the inner person? Did you take time to get before the mirror of God's Word and say, "Lord, show me my heart. Show me where my inner person is dirty and needs to be washed. Show me where my clothing inside is ripped and needs to be mended. Lord, clothe me in Your spirit. Clothe me in Christ and make me a woman of true eternal beauty." 
Revive Our Hearts with Nancy DeMoss is a ministry partnership of Life Action Ministries.
*Offers available only during the broadcast of the podcast season.
Support the Revive Our Hearts Podcast
Darkness. Fear. Uncertainty. Women around the world wake up hopeless every day. You can play a part in bringing them freedom, fullness, and fruitfulness instead. Your gift ensures that we can continue to spread gospel hope! Donate now.
Donate Now