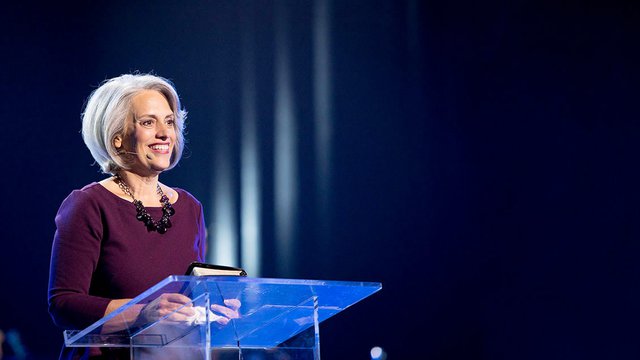 — Audio Player —
Lies Women Believe About Themselves, Part 3
Leslie Basham: Cruel words are like seeds that can send roots deep into our hearts. It's Wednesday, January 30; and you're listening to Revive Our Hearts with Nancy Leigh DeMoss.
"Sticks and stones can break my bones, but words can never hurt me." You probably remember those words from your childhood. Today we'll hear from a woman whose life proves that words can hurt. She's been listening during this week's series, Lies Women Believe About Themselves. Let's join her as she speaks with Nancy about the hurt words can bring.
Lee: It came to me so strong as you were speaking. I'm 56 years old. I had a lot of issues in my life too. As you spoke the other day about the father that only condemned me--I never saw any love or grace or mercy in him. He even ridiculed me when I received Christ and came home from church. God provided people for this little girl to go to church.
God had a plan and a purpose for me. I didn't know it until I was probably 45, that He had this plan and purpose for me. I've gone through so many issues with the grace of God and with good friends and good books and, most importantly, His Word. But I still sense that sometimes I have a giant sore--like a rising--if you can visualize that. It's all healed over, and it looks fine. No one can see it; I don't even notice that it's there. I think, I have victory over all these things in the past. I am not who or what they said I was growing up. I am a child of God. I believe all the positives. I am moving on.
And then words come--betraying words, hurtful words. And the strength of that covering over that sore bursts open, and it hurts bad again. One Scripture that sometimes helps me; but I don't always think of it until I've shed tears and tears and tears and tears, (and prayed again and again) on my knees and on my knees. Then it comes to me--2 Corinthians 10:5, I think, and this is just part of the verse, "I take captive every thought to the obedience of Christ."
And I say, "Lord, Christ never believed any of the rejection that came upon Him. He had one goal, to be obedient to You. Help me to feel like Christ did." After tears and tears and tears, then I can arise again, and the sore is healed over. Sometimes, I wonder, Is this the way it's to be until I see Him face to face? (Will) this sore never, never be totally healed? Will I never be immune to those unworthy feelings again, when statements come to me of rejection or pain? Can I ever receive God's merciful cure? Or is this waiting for me in eternity? This is something I've wondered.
Nancy Leigh DeMoss: Lee, where do you think those thoughts come from? 
When I asked, "How many in this room (have) felt, at times, a sense of great worthlessness," almost every hand in this room went up. That may be because you realize--that apart from Christ, we are all worthless. But is it possible that you've been not seeing yourself as God does? That you've never accepted God's view of you?
Lee: I know, I know, I know...
Nancy Leigh DeMoss: Tell me.
Lee: From Satan. 
Nancy Leigh DeMoss: And why might he put those kinds of thoughts--words--in your path? What might he be wanting to accomplish?
Lee:  He puts me out of commission. I glorify God, not one moment, until I have penetrated myself enough with His Word and with prayers, (that I can) then move on. And, sometimes, I move on rather slowly. I don't get right into the game, into the battle. I'm rather a dejected soldier, creeping in.
I know these truths. I know it's Satan, and I know he's keeping me down. I know his purpose is that I (would) not glorify the Lord, and that I (would) damage my testimony. I know all these things, but when will the sore be ...and will it ever for me...Maybe it has for others--I'd like to know more about--that the sore never bursts open. (I would like to know) That I (would) never respond with some kind of retaliatory words. How could he think you are...Or something really ridiculous. (I don't want to) just add that to my shame--that I not only believe what they said, but then I believe Satan. He says, "Look at you. You've not gone very far, have you, if you respond like that?"
Nancy Leigh DeMoss: Lee, I have no doubt in my heart that God is able to heal that sore so that there's not even a sore there anymore. Sometimes, He does operate that way in issues in our lives--where it's just a total, complete, final, permanent victory. But I noticed while you were sharing that when you do have these things creep up, and the scab is kind of pulled off that wound and becomes raw again--you said twice that it takes you to the Word. And it takes you to prayer. It takes you to your knees.
I know in my own life that there are issues that I struggle with, recurringly; and I would just love to have this immediate, final, permanent victory so I'd never wrestle with that again. But, you know, each time those issues resurface in my life, I discover it's a fresh call back to the Word of God. It's a fresh opportunity to humble myself, to say, "Lord, I need you." There are areas of my life where I have recurring temptations, recurring sin issues, that keep me coming back to Christ for mercy.
I wonder if those were all done away with, if I might begin to live more self-sufficiently, if I would think I could live this life on my own. Anything that makes me need God is a blessing. There may be for each of us--I wonder if there's not for each of us--kind of that Achilles heel, that issue that we keep coming back to, not because God can't deliver us from it. He is delivering you from it. But, I think, sometimes God gives more glory through your walking through that pain, that raw wound and going back to what you said you do, which is--you should bring every thought into captivity to the obedience of Christ. (By doing) That (you) may bring God more glory in your life than if you never had to wrestle with it, if it were never an issue for you.
Every opportunity to humble yourself, every opportunity to say, "I reject the lies; and I embrace the truth," is a means of getting God's grace because God pours grace into the humble. It's when you get in those situations, I can tell by listening to you, that's when you really do humble yourself.
Lee: Yes.
Nancy Leigh DeMoss: I'm not saying that God will never make it so (that) it's not as painful an issue. But, I think, that in all our lives there may be that recurring matter that we go back to--but remembering that it's not the stronghold that it once was. God has given you a huge measure of victory, and it's going to increase. That's what the process of sanctification is about--until you see Jesus. And that's when we're free from all the temptation, all the lies. We won't even ever hear them anymore.
It's interesting, if somebody says something about you that you know is not true, it's like water off a duck's back. If somebody accuses me of being a bank robber, that doesn't hurt my feelings. It doesn't lodge in my heart. It doesn't wound me because it's absurd. I know it's not true. I don't just know it intellectually; it's not true. That person is not going to create any big offense or wound in my heart. The things that wound us most are the things that we, deep down, think, Maybe, it is true. We're not sure that it's not true. That's why we need to go back to the Scripture and find out what is true about us.
There are things that are true about us, that are negative, that others can point out. Somebody is going to point out my failures. They're going to call me a bank robber. I'm going to say, "Well, I'm not that; but there are some other things you could have pointed out that are true." It's not that there's no valid reason to criticize us; but we still have to go back to who we are in Christ. I'm a forgiven, cleansed, whole, new creature. What was true of me, of my old nature, that's not my nature any more. I have the nature of Christ. That's where I have to counsel my heart according to what God says is true and displace the lies with the truth that's found, not in any subjective feeling (that) I may have, but in the objective Word of God.
Leslie Basham: Nancy Leigh DeMoss isn't done; she'll be right back continuing to help apply God's Word to areas of hurt in our lives.
Perhaps, you know of women who have experienced the type of deeps hurts we've heard about today. Why don't you consider sharing the things you've heard today with them? Nancy's made a video called Lies Women Believe and the Truth That Sets Them Free. It would make a perfect subject for a women's Bible study in your home. Each video comes with study questions to help you apply Nancy's teaching to your own situation. We hope you'll call us to get more information. Our number is 1-800-569-5959. We're asking for a suggested donation of $15 for the video.
You can also order on-line at ReviveOurHearts.com. We'd like to know how this series is affecting the way you view yourself. Send your letter to Revive Our Hearts.
There's a certain type of lie we encounter about ourselves every time we walk up to the checkout line at the grocery store. Find out more about that on tomorrow's program. We hope you can be here. Now again, here's Nancy.
Nancy Leigh DeMoss: When I asked, "How many in this room (have) felt, at times, a sense of great worthlessness," almost every hand in this room went up. That may be because you realize--that apart from Christ, we are all worthless. But is it possible that you've been not seeing yourself as God does? That you've never accepted God's view of you? Yes, that's very true.
Have you ever stopped to thank God for all that He has done for you in Christ--for His care for you, for His choice of you, that He found you and pursued your heart and gave His Son for you when you were His enemy? Have you ever said, "Thank you, Lord, for giving me the worth of Christ, and by faith I choose to accept His worth as my worth"?
Thank Him--that in Christ--You have eternal, infinite value. Choose by faith to reject all the lies. Say, "Lord, all those things that I've heard, that I've been told, that I've thought all my life that aren't true, I'm not going to listen to those anymore. That's not You speaking to me. I'm going to reject the lies, and by faith embrace the truth until it becomes the very core of what I believe and feel and live and act on."
Thank You, our Father, for the truth that does set us free. I pray for the women in this room who still wrestle with these issues of feeling worthless. Would You shine into their hearts the light of the truth of how You view them? May they, in worship and in humility, say, "O Lord, I stand in awe. I'm amazed that You would have anything to do with me, but I know that You do. I give You thanks." Instead of focusing on our worthlessness, may we turn our eyes upward to You and worship You and say, "O Lord, truly You are great, and You are great in me." In Jesus' name, Amen 
Revive Our Hearts with Nancy DeMoss is a ministry partnership of Life Action Ministries.
*Offers available only during the broadcast of the podcast season.
Support the Revive Our Hearts Podcast
Darkness. Fear. Uncertainty. Women around the world wake up hopeless every day. You can play a part in bringing them freedom, fullness, and fruitfulness instead. Your gift ensures that we can continue to spread gospel hope! Donate now.
Donate Now