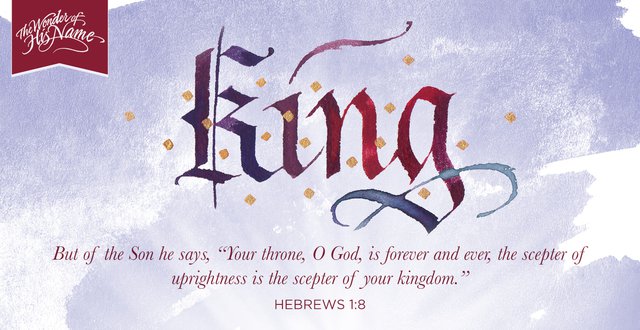 — Audio Player —
King
Leslie Basham: Nancy DeMoss Wolgemuth asks, have you acknowledged Jesus as rightful ruler of your life?
Nancy DeMoss Wolgemuth: You battle against Jesus as Lord? You will lose. The only way to win is for you to say, "Yes, Lord. Yes, Your Majesty. I bow before You as my King."
Leslie: This is Revive Our Hearts with Nancy DeMoss Wolgemuth, author of The Quiet Place, for Monday, December 17, 2018.
Nancy: Earlier this year, Revive Our Hearts hosted the True Woman '18 conference. Leading up to that event, our team put in countless hours of preparation, including stuffing tote bags with gifts and information for our attendees. Now just stuffing those tote bag was a lot of work by our team in Michigan.
So my heart was filled with gratitude when I saw a picture of the Revive Our Hearts team in South Africa preparing for our first ROH conference in South Africa this coming March, where they are expecting up to 7,000 women to attend.
Now, in the picture I saw, these women were sitting at sewing machines. They are not only going to stuff tote bags. They are also sewing the bags themselves—7,000 of them! I'm amazed at this precious team of servants. I'm so excited about what the Lord is doing in South Africa. 
This wasn't something that we initiated as part of some strategic plan here at Revive Our Hearts. This was something God put on the hearts of women in South Africa. We saw what He was doing there, and we wanted to join Him where He is at work.
The reason we were able to move forward with this opportunity is because listeners, like you, support Revive Our Hearts. When you give to this ministry, you're there in South Africa with us—offering True Hope in Christ.
You can help Revive Our Hearts enter 2019 with the resources needed for this South Africa trip, as well as other outreaches that we want to keep going, without interruption.
Now is an important time because some friends of Revive Our Hearts are matching each donation, up to a challenge amount of $750,000. We don't want to leave any of this challenge on the table. In order to keep current ministries healthy and take new opportunities, we need to not only meet this challenge, but also to exceed it. The challenge ends December 31, so we need to hear from you by then. 
To make your donation, whatever God puts on your heart to give, visit us at ReviveOurHearts.com, or call us at 1–800–569–5959. Thanks for helping Revive Our Hearts spread True Hope of the Gospel in South Africa and right in your community!
Leslie: Thanks Nancy. We've gotten to know Jesus better in recent weeks through an extended teaching series called "The Wonder of His Name: 32 Life-Changing Names of Jesus." His many names tell us so much about who He is and why He came. And we worship Him for these many wonderful names. To set up the next name in the series, Nancy's reading from John chapter 12, starting in verse 12.
Nancy:
The next day the large crowd that had come to the feast heard that Jesus was coming to Jerusalem.
Now, Jerusalem is in Judah, the kingly tribe. And Jerusalem is known as the city of the great king.
So they took branches of palm trees and went out to meet him, crying out, "Hosanna! Blessed is he who comes in the name of the Lord, even the King of Israel!" (v. 13).
 King of Israel. That's the name we want to look at today.
Now you know from reading your Old Testament that the Jews were expecting a Messiah who would be a great political and military leader. By the time Jesus came to this earth, the hope of the Jews was that this Messiah would overthrow the hated Roman rule. And so they cried out to Jesus thinking maybe this was the one King of Israel. "Blessed is he who comes in the name of the Lord."
Well verse 14: "Jesus found a young donkey and sat on it, just as it is written, . . ." Now we have a quote from the Old Testament book of Zechariah 9. "'Fear not, daughter of Zion; behold, your king is coming, sitting on a donkey's colt!'" 
So hundreds of years earlier this promise, this prophecy had been written, and now it's being fulfilled as Jesus travels into Jerusalem.
So Jesus comes to assert His authority over the city of the great king. But look, He comes riding on not what would be a typical military mount which would be a horse, but He comes instead on a donkey as a humble, shepherd king, not at all what the Jews were expecting.
In fact, verse 16 tells us:
Even his own disciples did not understand these things at first, but when Jesus was glorified, then they remembered that these things had been written about him and had been done to him.
Now, King of Israel, King of the Jews, the King, is one of the wonderful names of Jesus. As is true with other names, this name reminds us that He is God. It reminds us of the deity of Christ. As we go back to the Old Testament, we see in no uncertain terms that God is the King.
We see, for example, verses that tell us about the duration of His reign:
The Lord is king forever and ever (Ps. 10:16).

The Lord sits enthroned over the flood; the Lord sits enthroned as king forever (Ps. 29:10).

The Lord is the true God; he is the living God and the everlasting King (Jer. 10:10).
He reigns forever. This is a King with no term limits! He reigns forever.
Then we see not only the duration of His reign, but we see the extent of His rule. Psalms tells us that:
The Lord, the Most High, is to be feared, a great king over all the earth (Ps. 47:2).
The extent of His rule is the whole world. He created all of this world, and He is rightfully its sovereign ruler.
And then we see not only His duration and the extent of His rule but His rank. Psalm 95 tells us:
The Lord is a great God, and a great King above all gods (v. 3).
There is none higher. He is the King of kings.
Now God set Himself up to be Israel's King. He was rightfully their King. He had chosen them; He had called them out. He was their King. But when we come to 1 Samuel 8, I won't ask you to turn there, but you might jot down that reference because it's a really important turning point in Israel's history. The leaders of Israel came to Samuel who had been their judge. He had been a prophet. They said to him, "Appoint us a king to judge us like all the nations" (v. 5).
So they came to Samuel and they said, "Yes, we know we have this God/King thing, but we want an earthly king. We want a king we can see. We want one we can touch, and we can go visit him."  Samuel was disturbed by this because he knew that God was the King of Israel, so he prayed, and he talked to the Lord about it.
And the Lord said to him, "Go ahead and give them a king." He says, ". . . .for they have rejected me from being king over them" (1 Sam. 8:7). And then He says to Samuel, "Solemnly warn the people and tell them that since they are not willing to have me rule over them, they will have an earthly king who will serve himself rather than his subjects.
These kings that you get, this next king, he will tax and confiscate your property. He will conscript your sons and your daughters; you will become his slaves (see vv. 9–18).
And then He says, "in that day you will cry out because of your king whom you have chosen for yourselves" (v.18). You can choose your king, but you can't choose the consequences. You reject God from being your King, you will experience the consequences of having any king other than God.
So Israel rejects God as their King. Then it's kind of this love/hate relationship they had with God. "Oh, yes, we want You. Oh God, we need You." They get desperate. They cry out to Him. But then God helps them; He delivers them. They go back to wanting to have their own way and have their own rulers. And they have this whole crazy list of kings—some good, some bad—but none like God. 
So throughout the Old Testament we see prophecies that God will one day send a King to rule over His people. Let me read some of those prophecies to you.  Micah 5:
But you, O Bethlehem Ephrathah, who are too little to be among the clans of Judah, from you shall come forth for me one who is to be ruler in Israel, whose coming forth is from of old (v. 1).
He's been around a long, long time. But He's going to be the ruler over Israel. It's a Messianic prophecy. Jeremiah 23 has another one:
Behold, the days are coming, declares the Lord, when I will raise up for David a righteous Branch, and he shall reign as king and deal wisely, and shall execute justice and righteousness in the land (v. 5).
There's a king coming. He's going to come out of the line of David, and He will reign as the King. He will be a wise, just, and righteous king.
And then Zechariah 9, a prophecy that was referred to in the triumphal entry that we read about in the Gospel of John, says:
Rejoice greatly, O daughter of Zion! Shout aloud, O daughter of Jerusalem! Behold, your king is coming to you; righteous and having salvation is he, humble and mounted on a donkey, on a colt, the foal of a donkey (v. 9).
So we see that this King to come, this promised Messiah, He will be a righteous King. He will be a humble king. He will come bringing salvation.
As we come to the pages of the New Testament, of course these Old Testament Jews looked forward to the coming of this king, now we look back and we see, "Yes. These passages were talking about Jesus." Jesus fulfilled all of these Messianic prophecies. He is the promised King. He descended from the royal line of David.
We read in Luke 1 as the angel said to Mary, this son you are going to have,
He will be great and will be called the Son of the Most High. And the Lord God will give to him the throne of his father David, and he will reign over the house of Jacob forever, and of his kingdom there will be no end (vv. 32–33).
The angel was saying, "All these prophecies that were in the Old Testament about this coming king, they're about to be fulfilled. This child you're going to have? He is this promised King."
Now, throughout Jesus earthly life and ministry and even beyond that in the rest of the New Testament, people acknowledged Jesus as King. Matthew 2:
Now after Jesus was born in Bethlehem of Judea in the days of Herod the king, [now we have some competition] behold, wise men from the east came to Jerusalem, saying, "Where is he who has been born king of the Jews? (vv. 1–2). 
Now we have a rivalry. We have Herod who thinks he's the king of the Jews. But these men see this prophecy. They come and say, "[There is one] who has been born who is the king of the Jews. For we saw his star when it rose and have come to worship him" (v. 2).
Now there you see a set up for what is going to be until the end of this present age a battle between kings of the earth and the Lord Jesus who is the King of kings.
We see others acknowledging Jesus as King. Do you remember in John chapter 1 when Nathanael met Jesus. And Jesus told Nathanael things about himself that nobody else could have known. And Nathanael was amazed and he said, "Rabbi, you are the Son of God! You are the King of Israel!" (v. 49).
What was he saying? "You're the one we've been waiting for. You're the one who was promised. You're the one that was prophesied about. You are the Messiah, the King of Israel."
In the book of Acts, chapter 17, as the early church was being founded,
When they could not find these disciples [them], they dragged Jason and some of the brothers before the city authorities, shouting "These men . . .  are all acting against the decrees of Caesar, [Caesar thought he was the king] saying that there is another king, Jesus" (vv. 6–7).
So here again you see the conflict, the tug of war, the battle between earthly kings and rulers and Jesus who claims the right to be the King of kings and in fact is.
Now what's interesting as you read through the Gospels is how many times Jesus refused the people's efforts to make Him an earthly king because they had a wrong concept of what kind of king Messiah would be and what His kingdom would be like. So for example, we see in John 6,
Perceiving then that they were about to come and take him by force to make him king, Jesus withdrew again to the mountain by himself (v. 15).
Have you ever seen anybody like this? The people were clammering, "We want you to be the President. We want you to be the Prime Minister. We want you to be the King." And he says, "No thank you. I'm not running. This is not an election. This is not a contest. My kingdom isn't what you think, and I'm not the kind of king you think." So he withdrew.
In John 18 we see this conversation that Jesus has with Pilate. And Jesus says to Pilate,
My kingdom is not of this world. If my kingdom were of this world, my servants would have been fighting, that I might not be delivered over to the Jews. But my kingdom is not from this world (v. 36).
You see, because His kingdom is not of this world, He doesn't use this world's methods to accomplish His purposes. He's an entirely different kind of King.
At the end of that week, during the trial of Jesus which probably took place late Thursday night, early Friday morning, Jesus was questioned by Pilate. Luke 23 tells us:
Then the whole company of them arose and brought him before Pilate. And they began to accuse him, saying, "We found this man misleading our nation and forbidding us to give tribute to Caesar, [that was a lie] and saying that he himself is Christ [or Messiah], a king." And Pilate asked him, "Are you the King of the Jews?" And he answered him, "You have said so" (vv. 1–3).
Now Jesus didn't deny that He was the King, but He wasn't the kind of king they thought they were expecting.
And as the trial of Jesus unfolded, as the passion of Christ unfolded, Jesus was mocked as the King of the Jews. He was rejected as the King of the Jews. Let me read you a few verses from John 19.
The soldiers twisted together a crown [it was a crown of thorns] and put it on his head and arrayed him in a purple robe (v. 2).
Crowns and robes belong to kings, right? Purple is the color of royalty. But they were not sincere at all in crowning Him as king.
They came up to him, saying, "Hail, King of the Jews!" [they were mocking Him] and [they] struck him with their hands. . . . Now it was the day of Preparation of the Passover. It was about the sixth hour. He [Pilate] said to the Jews, "Behold your King!" They cried out, "Away with him, away with him, crucify him!" Pilate said to them, "Shall I crucify your King?" The chief priests answered, [the chief religious leaders said] "We have no king but Caesar" (vv. 3, 14–15). 
Now keep in mind, the Jews hated Caesar. They hated the Romans. They didn't want to be ruled by the Romans. They wanted to toss out the Romans rule. They wanted to do away with the Romans. Many of the Jews wanted to kill every Roman if that were possible. But here even the religious leaders, and especially the religious leaders, would rather have had Roman rule, than to accept Jesus as their King. "Crucify Him! He says He's the king. We don't want Him to rule over us. You're not the kind of king we want."
Well, Pilate probably got it better than the religious leaders though he was confused himself. And he declared Christ's kingship at the cross. John 19: 
Pilate also wrote an inscription and put it on the cross. It read, "Jesus of Nazareth, the King of the Jews." . . . [T]he chief priests of the Jews said to Pilate, "Do not write, 'The King of the Jews,' but rather, 'This man said, I am King of the Jews.'" Pilate answered, "What I have written I have written" (vv. 19, 21–22).
Pilate got it right, didn't he? He is the King of the Jews. There on the cross the King of the Jews, the King of the Universe, the King of kings lay down His life for His subjects.
Now, we know that He didn't stay on that cross. He came alive. He rose up from the dead. He spent forty days here on this earth, and then He ascended into heaven where God exalted Jesus to His right hand to that place as the King of kings. And we know as we read throughout the New Testament that one day that King will return in all of His splendor and glory to rule over all the nations of the world.
The kind of king the Jews were expecting in the first century, He is that kind of king. But he wasn't going to come and display His power then in that way. He came first as a suffering King to die as their King. But when He comes back, He will come to fulfill all those Old Testament prophecies about reigning and ruling forever from sea to sea.
So we read in Matthew 25: "When the Son of Man comes in his glory, and all the angels with him, then he will sit on his glorious throne" (v. 31).
And then we come to the book of Revelation where you see the final chapter on so much of this story. When you get discouraged, when it seems like the kings of the earth are winning, that they're having their day, that they are overcoming the saints. Revelation talks about war in heaven and war on earth between the followers of Christ and the followers of the anti-Christ. And when you think the anti-Christ and his force are winning, you need to read to the end of the book and remember what's coming, what's happening. Revelation 11 tells us:
Then the seventh angel blew his trumpet, [these are still trumpets of judgment] and there were loud voices in heaven, saying, "The kingdom of the world has become the kingdom of our Lord and of his Christ, and he shall reign forever and ever" (v. 15).
Then we come to that chapter, Revelation 19, one of my favorite chapters in all of God's Word. I love them all, but this is an amazing chapter. I just keep telling myself this story, reminding myself of where this all is heading because we still see people trying to crucify Jesus, don't we? Rejecting Him as King. We love Him, but most do not love Him.
It's so disheartening, so discouraging to see the economic and political and educational and entertainment and all the rulers of this earth trying to take Jesus' rightful place as king and Lord in our culture. And we sometimes feel that it seems that they are winning. But not for long!
Revelation 19, this is a vision of what lies ahead.
Then I saw heaven opened, and behold, a white horse! [Not a donkey this time. This time a kingly royal steed, a white horse.] The one sitting on it is called Faithful and True, and in righteousness he judges and makes war. His eyes are like a flame of fire, and on his head are many diadems (vv. 11–12).
No longer crowned with the crown of thorns. Now crowned with the crown that God has given Him as He's been exalted to the right hand of the Father as the King of kings. On His head are many diadems.
And the armies of heaven, [Kings have armies, right? He's got all the armies of heaven, the angelic forces] arrayed in fine linen, white and pure, were following him on white horses. From his mouth comes a sharp sword with which to strike down the nations, and he will rule them with a rod of iron.
Those who've rejected Him, those who've pushed Him off the throne, those who've said, "There is no king but Caesar." All those kings past, present, and future who have rejected Jesus as Lord, He will rule them with a rod of iron.
He will tread the winepress of the fury of the wrath of God the Almighty. On his robe and on his thigh he has a name written, King of kings and Lord of lords (vv. 14–16).
And then, that's not quite the end of the story. There's still battle. I'll tell you, Satan and his minions and the rulers of this earth and all of us who in our hearts exalt ourselves to be king of our own lives, there's that battle going on against Jesus as Lord.
And verse 19 of Revelation 19,
And I saw the beast and the kings of the earth with their armies.
So two kings: One king, the King of kings on a white horse with His army and then all the kings of this earth, those who have titles and those who just think they're kings, those who just think they're in charge.
Kings of the earth with their armies gathered to make war against him who was sitting on the horse and against his army.
And there was no doubt about the outcome. Those kings of the earth think they're so powerful. All those rulers, all those congressmen, all those criminals, all those entertainers, all those normal everyday average lay people who are just trying to run our own lives, every earthly imposter and one who would want to usurp the role of Christ, there's no doubt as to what will be the end of that battle.
Revelation 19:20:
And the beast was captured, and with it the false prophet. . . . These two were thrown alive [they're by the way the ones who lead all these rebellions against Christ as King] into the lake of fire that burns with sulfur. And the rest [all those other kings, all their other followers, all their armies, all those who rejected Jesus as king, the rest] were slain by the sword that came from the mouth of him who was sitting on the horse, and all the birds were gorged with their flesh (vv. 19–21).
It's not a pretty picture is it? It's a picture of havoc and devastation and ruin for those who refuse to repent and bow before Jesus as Lord. And so we see that in the end, King Jesus triumphs. And He will have the final word over all other kings and over all lives and over all affairs of this world.
There's a battle going on today, isn't there, and often times a battle going on in our own hearts for who will be on the throne of our own hearts. "Am I going to rule my own life? Or am I going to let Jesus have His rightful place as Lord?" You know what? You can't engage in that war and win. You battle against Jesus as Lord? You will lose. The only way to win is for you to say, "Yes, Lord. Yes, Your Majesty. I bow before You as my King."
Now, I think today that we've lost the sense of awe about Jesus—the majesty, the power of Jesus as Lord and King. We see Him as a friend, a lover, an encourager. And He is all of those and so much more, but He is also the sovereign King of history and of the universe and of all worlds past, present, and future. He is a King who is to be feared and to be obeyed, and we are His subjects.
Now thankfully, He is a righteous King who is always out for the best interest of those He rules over. So as we bow before Him, we know that we have a secure hope to be part of His eternal Kingdom. Jesus is the King.
He is the King of the Jews (Matt. 2:2). 
He is the King of Israel (John 1:49). 
He is the King of the nations (Rev. 15:3–4). 
He is the King of Heaven (Dan. 4:34, 37). 
He is the King of righteousness (Heb. 7:1–3).
He is the King of peace (Heb. 7:1–3). 
He is the King of glory (Ps. 24:7–8). 
He is the King of the ages (1 Tim. 1:17). 
He is the King of all kings (Rev. 10:12, 16). 
Worship Jesus the King.
Leslie: Nancy DeMoss Wolgemuth has been reminding us of who is truly in charge. Nancy will be right back to pray.
That message on Jesus as our King is part of a series called "The Wonder of His Name: 32 Life-Changing Names of Jesus."
I hope you'll check out today's video from that teaching. You'll find a clip of Nancy teaching each day of the series. You can watch it and share it with your friends by visiting ReviveOurHearts.com. That's also where you can listen to the programs in this series again or read the transcript.
If you were to ask a whole group of people, "Would you rather be a king or a servant?" What do you think most would say? Tomorrow, Nancy will contrast the roles of King and Servant and explain why Jesus is both. I hope you'll be back for Revive Our Hearts. Now, Nancy's here to pray.
Nancy: Lord, we bow our hearts before You. We honor You; we exalt You; we reverence You. You are the King, the Lord, the Ruler, Chief Potentate, as Paul says to Timothy. You are the King of kings.
Lord, forgive us for how often we try to be our own king or how often we give way to discouragement or fear thinking that the rulers of this earth's systems are winning, and it looks like they are sometimes. Thank You for Your promises that You win, King Jesus. Kingdoms of this world will become the kingdom of our Lord and of His Christ. And He shall reign forever and ever. And all God's people said, "Amen."
Revive Our Hearts with Nancy DeMoss Wolgemuth acknowledges Jesus as King. It's an outreach of Life Action Ministries.
All Scripture is taken from the English Standard Version unless otherwise noted.
Dawn Wilson, Lindsay Swartz, and Darla Wilkinson provided helpful research assistance for this series. 
*Offers available only during the broadcast of the podcast season.
Support the Revive Our Hearts Podcast
Darkness. Fear. Uncertainty. Women around the world wake up hopeless every day. You can play a part in bringing them freedom, fullness, and fruitfulness instead. Your gift ensures that we can continue to spread gospel hope! Donate now.
Donate Now