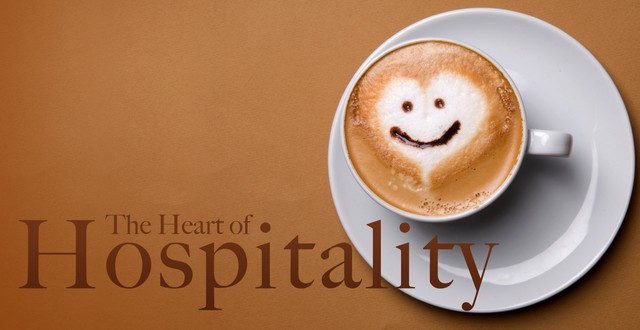 Jesus, The Ultimate Host
Nancy Leigh DeMoss: My good friend, Carolyn McCulley, witnessed the power of hospitality not too long ago. She was in a busy season, yet she realized how many people at church didn't know one another.
Carolyn McCulley: And so a friend and I shared a dinner party together. We invited a group of people who didn't know each other. She cooked; I cleaned; we had it at my house.
There was a moment after all of the "What do you do?" types of questions and kind of getting to know each other, when one of the younger guys brought up a challenge at work. He really expressed discouragement about having enough ambition or bravery or confidence to step forward into something that appeared that God was opening a door for.
I don't remember specifically what I said, but I really apparently encouraged him, and told him some stories about how …
Nancy Leigh DeMoss: My good friend, Carolyn McCulley, witnessed the power of hospitality not too long ago. She was in a busy season, yet she realized how many people at church didn't know one another.
Carolyn McCulley: And so a friend and I shared a dinner party together. We invited a group of people who didn't know each other. She cooked; I cleaned; we had it at my house.
There was a moment after all of the "What do you do?" types of questions and kind of getting to know each other, when one of the younger guys brought up a challenge at work. He really expressed discouragement about having enough ambition or bravery or confidence to step forward into something that appeared that God was opening a door for.
I don't remember specifically what I said, but I really apparently encouraged him, and told him some stories about how God had been faithful to me in various similar ventures in my career.
Nancy: Carolyn says that when you invite people into your home, you're more likely to get into this kind of meaningful conversation than if you met somewhere else.
Carolyn: In those what we call "third space settings" you can have a lot of superficial conversation. It's not until that kind of winds down that you actually get to heart issues.
Nancy: A few days later, Carolyn began to understand how meaningful her hospitality was that night to this young man.
Carolyn: He later wrote me a thank you note and commented specifically on how that really built him up to trust God. It was a five, ten minute moment in the evening, but that was his take-away. He was reminded that God was faithful to us when we have these new opportunities and the doors are opening and you're not sure if I step forward, what's going to happen.
I had the chance then to be that sister who would say to a brother, "God's worth it. God's trustworthy. You can go for this and not be afraid." I had the chance to offer that confidence. It was very meaningful to me to get that thank you note.
I thought, "I almost skipped doing this dinner" because I was under so many deadlines. But I'm glad I didn't.
Nancy: When you practice hospitality, it could have the same kind of long-lasting effect. We'll talk about it in a series called, The Heart of Hospitality.
Leslie Basham: This is Revive Our Hearts with Nancy Leigh DeMoss for Monday, December 5.
Nancy: Over these next few weeks, we want to talk about an aspect of the Christian life that is often overlooked—I think one of the most neglected areas of the Christian life and one that some of us consider optional.
I'm talking about the ministry of hospitality. I have to tell you that over these last few weeks, as I've been studying in preparation for this series  that this has been one of the most exciting studies I've been able to do in a long time.
I had never realized before I got into the Scripture and started digging out what the Word has to say about hospitality how important this subject is to God and how important a subject it is to our culture.
When you read about hospitality in the biblical times, it's easy to think, "Well, that was just something they needed in their culture because they didn't have hotels and restaurants." But we don't need to have people into our homes and have hospitality in the same way.
As I began to meditate on the principles of hospitality and God's heart behind hospitality, I realized that our culture needs this ministry maybe more than any other previous culture. I think of the words: lonely, fearful, and suspicious when I think of this culture. So many people are wounded and detached because they've been hurt in relationships.
It's a world of broken relationships—a world of rejection and isolation, drive-by shootings, and crime. People tend to hunker down in their little fortresses and be fearful and barricade themselves behind locked doors and high walls. They lock themselves in their cars; they drive into their gated communities. They drive into their garage, put down the door, go in their house, lock the door, and sometimes they don't come out until they have to for work.
I know there are a lot of people, today, when they think about going home for the holidays—they have a sense of dread and get a sick feeling in their stomach. For so many people today, home is a hurtful word rather than something to look forward to.
Even in our churches . . . Isn't it true that we can see some of the same people week after week—we nod at them; we smile at them; we exchange a few words, but we don't really know each other? We don't know each other's pains, struggles, each other's hearts, needs, joys, or each other's failures. We just don't know each other.
The ministry of hospitality is a powerful weapon for breaking down walls. It is necessary for breaking down barriers—barriers among believers—and it's a weapon for penetrating our culture with the gospel of Jesus Christ—a culture that is so wounded and hurt.
Some of you are accustomed to hospitality. I look around the room and we have some who are the "hostess with the mostest." What a blessing and joy this ministry can be. But for some people, when I say hospitality, your blood pressure goes up and you get a little nervous about the thought of opening your home and having to entertain people and all that's involved in doing that. Maybe you're not comfortable with the idea of hospitality.
You may be thinking, "I am so busy. You should see my house—it's a wreck!" I see some women smiling. Or, "I hate to cook!" or "We just can't afford to add more people to our table." I think here's one that a lot of people think, "I just don't have that gift. I just don't have the gift of hospitality," and we think of someone we know who does.
Now, before you tune out this subject and think this is not a subject that matters to you or one that you're not particularly interested in, let me just tell you: If you're not currently practicing hospitality, you don't know what you're missing! I hope that over these next days you'll come to realize that this is something that can be a great blessing not only in your life but as a means of blessing others.
I want to give you quickly here ten reasons why you want to know about this subject or that you need to hear about this subject.
Number one: Hospitality is one of the most practical ways to express the love of Christ. That's how people can know that we love them and that we love each other as believers—through hospitality.
Number two: Hospitality reflects the hospitable heart of God. We have a God who is hospitable. When we practice hospitality, we show the world what He is like.
Number three: Hospitality is a great way to build unity and community with other believers. Getting into each other's lives just does not happen within the four walls of church. That's where we can meet each other, but then when we come into our homes—in the context of a home—we break bread; we break barriers, and we create a climate for true fellowship and love to be experienced.
Number four: The Bible promises rewards for those who practice hospitality. There are some blessings that you'll never experience unless you're opening your home to others. Those rewards, by the way, are not only here on earth. There are some rewards promised in heaven for those who practice hospitality.
Number five: Hospitality is one of the most effective ways to create a hunger for Christ in the hearts of non-believers. Some people who won't go in the door of a church will come into your home. That's where we can begin to share with them the love of Christ.
Number six: Hospitality will help you deal with loneliness and depression. I think of some singles, or those who are widowed or divorced, who live by themselves and have to deal with loneliness and discouragement. Hospitality is one way of dealing with that.
Number seven: Hospitality will help us deal with selfishness. Now, I know we have no problem with selfishness here in this room! But I have to tell you: My bent is to be selfish. Hospitality is a way of running into the face of that selfishness and breaking down that natural selfish instinct.
Number eight: Hospitality will help you deal with materialism and help you get values that are eternal.
Number nine: If you have children, hospitality is a great way to cultivate in their hearts a passion for ministry and a heart for serving other people.
Number ten: (If there are no other reasons, this would be a sufficient reason.) God commands us to be hospitable. If you're a child of God, I have news for you. Hospitality is not an option—we're commanded to be hospitable.
In fact, almost every New Testament author talks about the importance of hospitality. Let me read a few of those commands. We read in 1 Peter chapter 4, "Show hospitality to one another without grumbling" (v, 9). Then in Romans chapter 12 Paul says, "Be kindly affectionate to one another with brotherly love, pursuing hospitality" (v. 10). Hebrews 13, "Do not neglect to show hospitality to strangers" (v. 2). What is he saying? Don't neglect hospitality. Don't forget it; don't overlook it. Make sure you pursue it.
Now, it's easy to think that hospitality is something that relates just to women. After all, we think of women having to do more work around the house when we're having company over. But it's interesting in the Scripture that hospitality is a command not just for women, not just for some believers, but for men and women. Both men and women are expected to be hospitable.
In fact, did you know that in the New Testament when the apostle Paul gives the list of requirements for someone who's going to be in spiritual leadership in the church—for a pastor, an elder, or a deacon—one of the requirements is that he must be hospitable? It's in the list in both 2 Timothy (3:2) and Titus, along with "able to teach" (1:8).
Everyone realizes a pastor should be able to teach, but did you realize that if a man is going to be qualified to be a spiritual leader in the church, he also has to be hospitable?
In 1 Timothy Paul tells us that if a widow is going to qualify to receive financial support from the local church, one of the qualifications she has to meet is that she has lodged strangers—she has been hospitable (5:10). 
We're going to examine what the Scripture has to say about this important area of ministry. Along the way, here are some of the questions we're going to address:
What is Christian hospitality? For some of us, we've not seen it modeled. We're not even sure what it really means to be hospitable and why it is important.
Why should we be hospitable?
What are some of the obstacles to hospitality?
How can we deal with some of those obstacles? We'll talk about some of the rewards and the benefits of hospitality. Then we will talk about how we can show hospitality to others.
Today, I want to focus on: What is Christian hospitality? What does it mean to be hospitable? Some of us grew up in homes that never had company; we never had people into our homes. I'm thankful that our home was an open home, and we had lots of hospitality going on. But I know many women today have never really seen hospitality modeled. Let's talk about what it is.
The word hospitality in the New Testament comes from two Greek words. The first word means love and the second word means strangers. Together it's a word that means "love of strangers." The dictionary talks about hospitality as "giving a friendly welcome and kind or generous treatment to guests or strangers" (Webster).
It's something we offer to guests or strangers. You hear the words, "friendly, welcome, kind, and generous." Those are words that relate to hospitality. Another dictionary defines hospitality this way: "The act of receiving and entertaining strangers or guests without reward and with kind and generous liberality."
Now, when I think of the word hospitality, there are some other similar words that come to mind—words like hospital. As I thought, I wondered, "Do these words have anything in common?" As I went back and studied them, I discovered that they did.
For example, the word hospital in its original meaning was, "A place of shelter and rest for travelers; a charitable institution for providing and caring for the aged, the infirmed, and the orphaned." A hospital—a place where people are cared for.
I've experienced that kind of ministry as a guest in people's homes numbers of times over the years. Many people have brought me into their homes, at times when my spirit just desperately needed to be refreshed or strengthened or encouraged. I have found in other people's homes a hospital—a place where their hospitality was ministering to my wounded spirit.
I also think of the word hospice. That's another similar word. The dictionary says that a hospice is "a place for shelter for travelers; a home for the sick or poor; a home-like facility to provide supportive care for terminally ill patients." It's a place where care is provided for people who are desperately needy. As we've come to use the term today, a hospice is care for those who are terminally ill. Hospital; hospitality; hospice—it's a way of caring for those who are needy.
You can see why hospitality runs into selfishness, because I'm having to think about others and not just myself.
I can remember as we were growing up that my dad often told us we had a nice home—we had a large family and a large home. But my dad said to us, "This home is not primarily for us. God has given us this home so that as a family we can reach out to and minister to others." Hospitality is using the resources God has given us, to demonstrate His love to others.
Emilie Barnes has a book called The Spirit of Loveliness, and she's written many wonderful things about this subject. But let me just quote what she has to say about hospitality. She says:
Hospitality is so much more than entertaining; so much more than menus and decorating and putting on a show. To me, it means organizing my life in such a way that there's always room for one more; an extra place at the table or an extra pillow and blanket; always a welcome for those who need a listening ear. It means setting aside time for planned fellowship and setting aside lesser priorities for impromptu gatherings.

Now, the open model of hospitality is not always easy to follow. [And anybody who's opened your house for hospitality, you know that it involves a lot of work and effort and sacrifice. But, she says], it's not really optional for those of us who call ourselves Christians (pp. 126-127).
The Bible tells us specifically, "Cheerfully share your home with those who need a meal or a place to stay for the night" (v, 9). That's the Living Bible translation of 1 Peter chapter 4. "Cheerfully share your home with those who need a meal or a place to stay for the night."
Did you know that in the New Testament the Scripture indicates that hospitality is a test of whether we really have genuine faith—whether we're true believers? It's an evidence of true conversion.
Remember the passage in James 2 where James says, "What good is it, my brothers, if someone says he has faith but does not have works? Can that faith save him? If a brother or a sister is poorly clothed and lacking in daily food, and one of you says to them, 'Go in peace, be warmed and filled,' [have a great day; be blessed] without giving them the things needed for the body, what good is that? So also faith by itself, if it does not have works, is dead" (vv. 14-17).
What is James saying? "You say that you're a child of God. You say that you have faith in Christ, but if your faith doesn't show itself in expressing love through the ministry of hospitality for those who have needs, how can anybody know if you have true faith?" He's saying you have no basis to have assurance of salvation if you're not exercising the ministry of hospitality.
Now we are going to see that there are different ways to exercise that ministry. So don't think that you have to do it just like someone else. But the point is: If we're not doing it in some way, then we have reason to question if we have genuine faith.
The whole book of 3 John, one little chapter, is about the ministry of hospitality. In that book, the apostle John shows a contrast between a man named Gaius, who showed hospitality to God's servants and another man named Diotrephes, who was a leader in the church who refused to show hospitality.
After he shows the contrast between these two men—one was very giving and loving and hospitable; the other was selfish and domineering and controlling; he wouldn't welcome other people—at the end of that passage John says, "Beloved, do not imitate evil" (that's the illustration of Diotrephes), but imitate good" (that's Gaius, verse 11).
Then John says, "Whoever does good is from God; whoever does evil has not seen God" (verse 11). In the context, he's talking about those who exercise the ministry of hospitality and those who don't. This is one way that we can know if somebody has true faith—it's an evidence of true conversion.
Now we've talked about some of the words; the meanings of the words hospitality, hospital, and hospice. But, there's another word that is at the root of all those words—it's the word, host, meaning, "someone who receives or entertains guests; someone who entertains another at his own house without reward."
Now, there's an interesting concept when we think of the word host that shows us how hospitality—being a gracious host or hostess—ties us in to the gospel of Christ. Host can also mean "a victim or a sacrifice." It's applied to our Savior, who offered Himself for the sins of men. He is our host.
In fact, in our liturgical churches, when the Lord's Supper is served, the wafer (the piece of bread) is called the host. It speaks of representing the body of Christ that is offered and consecrated and eaten. We partake of His body, symbolically, during the Christian ceremony of Communion.
That says to me that Christian hospitality (being a godly host or hostess) takes us back to the cross. The cross is where Christ spread out and opened His arms and He said, "I welcome you. I receive you." The cross is where Christ said, "I will die in your place so that I can be your host. Welcome to My Father's house; you're invited to My Father's house. I want you to come home with Me; I want you to live there with Me."
On the cross, He became our host. He did it without hope of reward. He says to us, "You do it, whether you ever get rewarded for it or not." As He invites us to come and partake of Himself, even as we partake of Communion, we're reminded of the hospitality of God—of the host that Christ is to us. Then we realize that we can be His representatives here on earth—opening our hearts, our arms, and our homes to others; welcoming them to come with us into the home and the heart of God.
Father, what a wonder it is that You would send Jesus Christ to be a host for us, to lay down His life on the cross for us, to be hospitable, and to invite us to come in to Your home.
Lord, as we look into the eyes of the Lord Jesus there on that cross, we love Him. We are drawn to You because of what He has done for us. I pray that as others look into our eyes, as we open our hearts, our home, our arms, they would see the love, the offering, the suffering of Christ, the sacrifice that He made on their behalf. That they would be drawn to partake of Him and would come to find a home in Him. I pray in Jesus' name, amen.
Leslie: That's Nancy Leigh DeMoss, beginning the series, The Heart of Hospitality. Did you realize how prominent hospitality is in the Bible? Have you ever considered how much hospitality the Lord shows us?
During this series, you'll grow in your biblical understanding of hospitality.  You'll also hear practical steps about how to open your home. 

The teaching this week combines a deep study on a biblical topic along with practical advice on how to live it out in our day. Do you appreciate this kind of program? Is it having an effect on your life? If so, would you help us spread this important message? You could help us speak to a new generation of women, like the one who wrote Nancy not too long ago.

Nancy: She said, "You have no idea how much Revive Our Hearts has encouraged me and strengthened my walk with the Lord. I have been married for three months and am a full-time college student."

She explained how she was able to listen to Revive Our Hearts podcasts around her busy schedule, then said, "There have been many little trials that have come up since I have been married. Things like finances, medical issues and just stress with being a wife and student. Your programs have encouraged me to press on and be faithful to God in everything.  Please keep up your programs."

I was encouraged to hear that this young wife is being grounded in God's Word. What a terrific foundation for her marriage. The pressures she mentioned—finances, marriage issues, and busyness will likely only intensify as she moves through different seasons of life, but if she continues to stay in God's Word, she'll have all she needs to handle those challenges. I'm thankful Revive Our Hearts can be part of that process.

Now, this listener said, "Please keep up your programs." The donations that we receive in the month of December greatly impact our ability to continue broadcasting at current levels. Of course we have bills to pay throughout the year, but a good part of the donations that are needed to pay all of those bills comes at year-end. 

So when you support Revive Our Hearts this month, your gift will help us proclaim God's Word for many months ahead. Because they know this season is so important, some friends of this ministry have encouraged us by offering to double each gift given during the month of December up to a matching challenge amount of $600,000. Now, we'll only receive as much of that $600,000 that we are able to match. So would you help us meet that entire challenge amount? And by faith we are asking the Lord to help us go far beyond that challenge amount. You can give by phone by calling 1-800-569-5959, or donate at ReviveOurHearts.com.

Leslie: Hospitality isn't primarily about decorating or cooking. It's about genuine love. We'll hear more about that tomorrow, on Revive Our Hearts.
Revive Our Hearts with Nancy Leigh DeMoss is an outreach of Life Action Ministries.
All Scripture is taken from the English Standard Version unless otherwise noted.
*Offers available only during the broadcast of the podcast season.