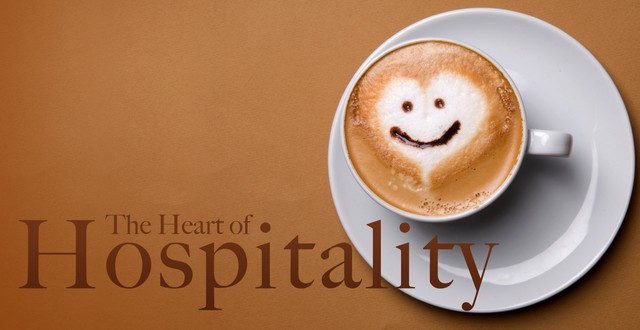 Jesus: The Gracious Host
Nancy Leigh DeMoss: Not long ago, the Revive Our Hearts team talked with a woman named Etonya. She's so grateful for the way God has used this ministry in her life.

Etonya: Revive Our Hearts has changed my life because it just helps me grow. It helps me want to be better in Christ

Nancy: Not only that, Etonya's also thankful that Revive Our Hearts wants to pass the baton of faith on to the next generation.

Etonya: As a mother of a 14-year-old, it means absolutely everything to know that Revive Our Hearts is there for the next generation. Because of the way things are changing and the culture, I think that the young girls and the generations to come absolutely need somthing like Revive Our Hearts. I has changed my life, and I know that it can truly help the young ladies as well.

Nancy: When …
Nancy Leigh DeMoss: Not long ago, the Revive Our Hearts team talked with a woman named Etonya. She's so grateful for the way God has used this ministry in her life.

Etonya: Revive Our Hearts has changed my life because it just helps me grow. It helps me want to be better in Christ

Nancy: Not only that, Etonya's also thankful that Revive Our Hearts wants to pass the baton of faith on to the next generation.

Etonya: As a mother of a 14-year-old, it means absolutely everything to know that Revive Our Hearts is there for the next generation. Because of the way things are changing and the culture, I think that the young girls and the generations to come absolutely need somthing like Revive Our Hearts. I has changed my life, and I know that it can truly help the young ladies as well.

Nancy: When you support Revive Our Hearts with a financial gift here at the end of 2011, you're helping to make sure we're still there for Etonya, her children, and other listeners like them. You're also preparing us to communicate to new audiences in fresh ways through things like social media, mobile devices, international broadcasting, and some other really significant opportunities the Lord is putting before us.

This month when you contribute any amount, your gift will be doubled! Some friends of the ministry have set up a matching challenge amount of $600,000. We're asking the Lord to help us meet that entire challenge this month and even take us far beyond it. You can help us. You can give us a call to make a donation at 1-800-569-5959. Or if you'd rather make your gift online visit us at ReviveOurHearts.com.

Leslie Basham: This is Revive Our Hearts with Nancy Leigh DeMoss for Thursday, December 8.
Jesus was always giving to others. He healed, He taught, and He also cooked. Wouldn't it be incredible to eat a meal that had been prepared by Jesus? We'll look at the hospitality Jesus show us in a series called, The Heart of Hospitality.
Nancy: I think one of the most astonishing verses in all of God's Word is found in the first chapter of the gospel of John where the Scripture says that Jesus "came unto His own, and His own received Him not" (v. 11). We've been talking about the heart of hospitality.
We have seen in our sessions that God is a God of hospitality. He has a hospitable heart. But the astonishing thing is that when the Host of the universe, the supreme Host took on a human body and came to earth to those who were His own creatures, Israelites, His chosen people, when He came to earth, the Host was not received. His own received Him not.
Could there be any more flagrant lack of hospitality? Luke 2 tells us that they laid Him in a manger, the newborn baby, the Son of God, because there was no room for them in the inn. No room. His own received Him not. They rejected Him (see v. 7).
So God takes on human flesh. He comes down to earth, and He becomes the rejected guest. The Host of the ages becomes a guest, and He is rejected. He knocks at earth's door, and we say, "Go away. We don't have room."
We sing at Christmas one of my favorite Christmas carols, a carol that speaks of Christ, the rejected guest.
Thou didst leave Thy throne and Thy kingly crown,
    When thou camest to earth for me;
But in Bethlehem's home was there found no room,
    For thy holy nativity.
Lord, You came to earth to be born. You came as a guest. We should have flung open wide our doors to You, but we closed the door and we said, "We don't want You." And yet the Lord Jesus here on earth, the incarnate Christ, the incarnate God taking on flesh, became a hospitable host.
So today I want us to look at hospitality in the life of the Lord Jesus. We know from the gospels that Jesus didn't have a home of His own, and yet He was hospitable with whatever He had. That says to me, "You may not have much, you may not have your own home, but you can open your heart. And wherever you stay you can open your little environment to people who need a home."
Scripture says in John chapter 1 that one day John the Baptist was standing with two of his disciples. And John pointed out Jesus to his disciples and he said, "Behold, the Lamb of God," the sacrificial Lamb of God (v. 36). The two disciples heard John speak about Jesus and they left John and they went and followed Jesus.
The Scripture says they went to Him and they said, "Rabbi," or teacher, "where are you staying? Jesus said to them, 'Come and see.' They came and they saw where He was staying and they remained with him that day" (vv. 38-39). As you go on in the passage, it appears that they stayed overnight. Wherever Jesus was staying, He opened His home to the disciples. To those who had rejected Him He said, "Come and see where I'm staying."
"Come home with me." Not, "Go to this church." Or, "Go to this hotel." But, "Come and see where I'm staying." There are numerous instances in the gospels of Jesus showing hospitality. I think of the wedding feast at Cana where Jesus went as a guest but He ended up playing the role of a host. He ended up being a blessing, serving in a way that a host was supposed to do.
Then there was that day when five thousand people came for lunch, five thousand men plus women and children—maybe a crowd of ten thousand or more. Actually, they didn't come for lunch; they came for church. They came for a message, and it became lunchtime, and you could hear the tummies growling and the people were hungry. The disciples reasoned logically and said, "Jesus, send them away. Send them to the next town where they can get something to eat."
And Jesus said, "No. Invite them to stay for lunch, all of them. We have nothing to eat, but what we have we will share with them. Oh, we only have five loaves and two fishes? Well, let's thank God for it, bless it, and begin to distribute it (see Luke 9:12-17). And a miracle happens! Hospitality is multiplied as Jesus demonstrates, takes this opportunity to demonstrate the power of God.
I think of the instance after the resurrection when Jesus cooked breakfast for the disciples. They were frustrated; they were sad; they were confused; they didn't know what had happened. Jesus had died, and they thought they had lost the Savior. Jesus stands on the shore after they've been fishing through the night and He has breakfast prepared for them—Jesus, the gracious Host (see John 21:9).
Jesus received throughout His ministry; He received people who were rejected by everyone else. He was known for receiving those who were outcasts. The Pharisees, the religious leaders of His day, the most respected religious people, tended to be exclusive, to shut people out.
But Jesus was inclusive. I mean, He welcomed lepers and adulteresses and sinners and tax collectors. The worse the sinner, it almost seemed, the more welcome His arms were to receive them. In fact, we read in Luke 15 that "all the tax collectors and sinners were coming near to listen to Him. The Pharisees and the Scribes, the exclusive ones, were grumbling and saying, 'This fellow welcomes sinners and eats with them'" (vv. 1-2, paraphrased). Jesus receives sinful men. He received those who were rejected by others. He hosted the outcasts.
Then the Scripture says not only was Jesus a gracious Host while He was here on earth in the flesh, but He is still a gracious Host in heaven. In fact, what is Jesus doing in heaven today? He is preparing a place for us.
Jesus said to His disciples before He went to heaven, in John chapter 14, "In my Father's house are many dwellings: If it were not so, I would have told you. I go to prepare a place for you. And if I go and prepare a place for you, I will come again and receive you to Myself" (vv. 2-3).
Where did we start out in the life of Jesus? He came to His own and His own received Him not. Here we have the very same word in the original language. "I am preparing a place for you, and I will come back again and receive you unto myself. You didn't receive me, but I have received you, that where I am there you may be also."
Jesus wants us to be with Him. And that's what hospitality says. "I want your company. I want you to be with me. You may have been rejected by others. You may not have received me, but I receive you."
That Christmas carol we referred to, "Thou Didst Leave Thy Throne"—there was no room found. It reminds us as it goes on that Jesus will be our gracious, eternal Host in heaven. It says:
When the heav'ns shall ring and the angels sing,
    At Thy coming to victory,
Let thy voice call me home, saying, "Yet there is room—
    There is room at my side for thee."
My heart shall rejoice, Lord Jesus—
    When Thou comest and callest for me.
You see, we live today in anticipation of a reception that's coming in heaven where Jesus will call us to His home, to the place He's been preparing for us. There He will spread before us this great, eternal, lavish feast.
So we anticipate that day. In anticipation of that day, we welcome others to our table, into our home. We said we want to extend to you the hospitable heart of the Lord Jesus as He received the outcasts and the lonely and the strangers and the poor. So I receive into my heart and into my home those who have need.
Paul says in Romans chapter 15 that we are to receive others as we have been received by Christ. Therefore receive one another. The same word that was used to say they didn't receive Christ and Christ says, "I will receive you to myself," now Paul says, "Receive one another" (v. 7 paraphrased).
Open your heart. Get out of yourself. Let down those walls, those protective barriers that you've put up. Okay, you've been hurt. Okay, you don't want people to get close to you. But now as Christ has received you, you let down those walls and you receive others.
You'll find a measure of healing and restoration in your own heart as you receive others in the way that you've been received. We need to ask ourselves, "How has Christ received me? How has He opened His arms and His heart to me when I was His enemy? When I was running from Him, He said, "I receive you to Myself."
In that way, He calls us to receive others. Receive one another just as Christ also received us to the glory of God. That's the whole purpose of Christian hospitality—the glory of God, receiving others as we have been received.
I think one of the most remarkable demonstrations of true hospitality is a meal that takes place in the gospel of Luke chapter 22. It's what we commonly refer to as the Last Supper. In fact, if you read through the book of Luke, you'll see that there are many references to meals, many of them involving Jesus, in the book of Luke. But this particular meal was the last supper that Jesus was going to eat with His disciples before He went to Calvary, before He went to lay down His life.
In this particular instance Jesus is the Host, and He is the Servant. He hosted a Passover meal right before His crucifixion. So we come to Luke 22:7, he says, "Then came the Day of Unleavened Bread, when the Passover lamb must be killed" (vv. 7-8). And of course we know that Jesus is our Passover, the Lamb of God who was going to be killed shortly for the salvation of the world.
But it was the time of the Passover feast and celebration. "And Jesus," verse 8, "sent Peter and John, saying, 'Go and prepare the Passover for us, that we may eat.'" In spite of the fact that He is going to suffer, that He is going to die, that He is going to be denied and betrayed and rejected and handed over to the authorities, Jesus takes time to host a meal.
Now that in itself is remarkable to me because I think about times in my own life that would not begin to equate with what Jesus was going through at that moment. But in my times of sorrow or heaviness of heart or difficulty, the last thing in the world I want to do is say, "You all come over to my home, and let's have a meal." I don't want to host a meal when I'm hurting, when I'm needy. I want someone else to host me at that time.
Yet   So Jesus says, "Go and prepare this meal." Then I love what He says in verse 15 as they come together. The disciples join; they gather around the table. It says, "He sat down and the twelve disciples sat with him" (v. 14 paraphrased).
Then, verse 15, Jesus says to His assembled disciples, "With fervent desire I have desired to eat this Passover with you before I suffer." With fervent desire. Jesus is saying, "I have really been looking forward to spending this evening with you." Can you imagine that the night before He goes to the cross Jesus is looking forward to having dinner with His disciples? That's an incredible thought to me.
With fervent desire, with longing; I have longed to be with you. I have longed to share a meal with you, to commune with you, to fellowship with you, to serve you, to share My heart with you. What a heart! What a Savior!
As we see this meal unfolding, Jesus is the One who serves. He breaks the bread, and He speaks of how it pictures His body that is going to be given for the salvation of the world. He distributes the bread to the disciples. He distributes the wine, the juice, and He says, "This is a picture of my blood which is going to be shed for you." And He distributes it to His disciples.
He starts that meal by going around and washing the feet of His disciples as a Host and as a servant of His disciples. Remember that among those He is serving is one who is going to betray Him. Judas is there. Among those sitting at that table is one who hours later is going to deny that he even knows the man. His closest disciple, Peter, hours later is going to deny that he knows Jesus.
And yet, Jesus knowing this, knowing what is coming, says, "I long to spend this evening with you. In this meal as Jesus breaks the bread, as He distributes the wine, He is saying, "I'm giving Myself to you. I am your Servant. I am your Host. I am your meal. I am the Bread of Life. I am the Living Water. I am the One who cleanses your feet, cleanses you from your sins. I give Myself up for you." What a sacrifice. What a picture of love.
It's a picture of His desire to have a relationship with us. He says, "I want that relationship not to be a distant one, not to be a strained one." There's an infinite gap between a holy God and sinful man, and yet Jesus says, "I have come to bridge that gap. I have come down to be God to you and to bring you to heaven.
He says, "I want to know you. I've earnestly desired to have this meal with you. I want to have communion with you. I want to have fellowship with you." He says, "I want you to open your heart to Me. I want you to receive Me as I have received you."
So when we come to the last book of the Bible Jesus says, "Behold, I stand at the door and knock. If anyone hears My voice and opens the door, I will come in to him," and what? "Dine with him," (Rev. 3:20) eat with Him, fellowship with Him, commune with Him, and He with me." This is a picture of the relationship that Jesus wants us to have with Him and that He wants to make it possible for us to have with God.
So He says, "I have received you. I have given Myself for you. I have laid down My life for you. I am the Passover Lamb. I am the sacrificial Lamb. I am the Bread of Life. But you must receive Me. You must partake of Me." Jesus says to His disciples in John 6, "Except you eat of my body and drink of my blood, unless you by faith partake of me, you cannot see God. You cannot have eternal life. But if you eat of me, if you eat with me, if you partake of me by faith, then you in eating of me and with me, you have eternal life" (vv. 53-58 paraphrased).
Now this is mystery, and I couldn't even begin to explain it in a way that it needs to be explained. But I see something here of the heart and the longing of God to have communion with us. Again, it takes us back to the brokenness of Christ, the cross of Christ.
We sing again in that little Christmas carol, "Oh come to my heart Lord Jesus. There is room in my heart for thee." He calls to us not only to open our homes and our hearts to others, but the real starting place for Christian hospitality is opening our hearts and our homes to Him, opening our lives to Him and saying, "Lord Jesus, come in. Be my Savior. Be my Passover Lamb. Thank You for earnestly desiring to commune with me, to dine with me, to eat with me."
If I had been there on that last evening of His life, He would have said, "I have earnestly desired to spend this evening with you." As we feast with Him, as we partake of Him, as we eat of Him and His Word and commune with Him and receive Him not only initially as our Savior, but day by day as we receive His Word and His Spirit into our lives—we really are having just a foretaste of what we referred to last week and that is that eternal banquet in heaven that is yet to be.
In fact, when we come to Revelation chapter 19 we read about that supper, the wedding supper of the Lamb. We read about a voice of a great multitude that John heard as he was given this revelation. The voice says, "Let us be glad and rejoice and give Him glory, for the marriage of the Lamb has come, and his wife, [his bride], has made herself ready" (v. 7).
There's a wedding coming. There's a wedding feast coming. We have been engaged to God's own Son. He's inviting us to come to His home, to come to this wedding feast, but we have to make ourselves ready. We do that by receiving Him, by having a heart that is continually open to Him.
Then the angel said to the apostle John, write this down, "Blessed are those who are called to the wedding supper of the Lamb!" (v. 9). Blessed are those who are invited. You see, only the disciples were invited to that Last Supper. You and I were not there.
We didn't have a chance, literally, to participate in that meal—though as we partake of the Lord's Supper in our churches we do partake of that meal, not looking ahead as they were to the cross, but looking behind, looking back to the cross and looking forward to that great feast that is still awaiting us in heaven. Blessed are all those who are invited to the marriage supper of the Lamb.
We're invited as the bride. We're invited as the guests to participate. Our name is on the invitation list for that great supper. As we extend hospitality that is prompted by genuine love and is energized by the gospel of Christ, as we take the place of Christ, so to speak, we incarnate what He was here on earth. We say to others, "I've earnestly desired to be with you, to commune with you, to show you the sacrificial love of Christ. As I have partaken of Christ, so I want to share Christ with you."
As our hospitality is energized by the gospel of Christ, we point people, as one writer has said, to the party that's coming. We're making people long to be at that great feast and we're bringing them to a place where their name can be on the invitation list as they come to partake of Christ.
One last thought about that wedding feast that really is very moving to me. According to the Scripture, our Host, the Lord Jesus Himself, once again at that feast will serve us even as He did as He hosted that Last Supper thousands of years ago. How do I know that?
Luke chapter 12, "Jesus said, 'Blessed are those servants whom the master, when he comes, will find watching. Assuredly, I say to you that he, [the Master], will gird himself and have them sit down to eat, and will come and serve them" (v. 37).
Have you ever thought about that? At that great feast that's coming, Jesus will once again put a towel on His arm and stoop down to wash the disciples' feet. He will serve us for all of eternity. Is that an incredible thought?
Does that motivate you as it does me to want to be a servant, to have the servant heart of Jesus? Who is beneath me to serve? Who is too low for me to serve? What job is too low for me to take? When I serve, when I open my home, when I tell people, "Sit down and eat and let me serve you," I'm just revealing and expressing the hospitable heart of our Savior.
Leslie: Nancy Leigh DeMoss will be right back to pray.  She's been pointing us to Jesus as a model of hospitality.  That message is part of a series called, The Heart of Hospitality. When you hear the entire series, you'll understand what a big deal this is in the Bible.  
Nancy will give you an in-depth understanding of this important concept when you order the series on CD. Just call us at 1-800-569-5959, or order the series at ReviveOurHearts.com. You can also listen online or read the transcripts at no charge.  Again that web address is ReviveOurHearts.com.

We've learned a lot this week about why we should show hospitality. Tomorrow Nancy will give us some tips on how to show hospitality. Now she's back to pray with us.
Nancy: Lord, what a thought that You would want to spend time eating with us, that You would give Yourself as the meal for us. As we gather around that meal, even when we were Your enemies and we often deny You and betray You by the way that we live, that You serve us; You feed us.
You call us now to open our hearts and our homes and to give to people a picture, a foretaste of that great eternal wedding feast where You will come and serve us. We love You Lord Jesus, our great, gracious, generous, eternal Host. I pray in Jesus' name, amen.
Revive Our Hearts with Nancy Leigh DeMoss is an outreach of Life Action Ministries.
All Scripture is taken from the New King James unless otherwise noted.
Thou Didst Leave Thy Throne. Emily E. S. Elliott.
*Offers available only during the broadcast of the podcast season.
Support the Revive Our Hearts Podcast
Darkness. Fear. Uncertainty. Women around the world wake up hopeless every day. You can play a part in bringing them freedom, fullness, and fruitfulness instead. Your gift ensures that we can continue to spread gospel hope! Donate now.
Donate Now