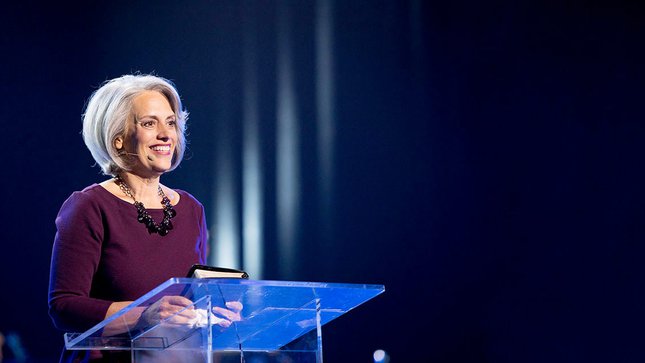 — Audio Player —
Is It Worth It?
Leslie Basham: Elisabeth Elliot asked a group of college students three questions: What do you live for? How do you get it? And now, is it worth it?
Elisabeth Elliot: Jim Elliot wrote in his diary when he was 22, "He is no fool who gives what he cannot keep to gain what he cannot lose."
Leslie Basham: It's Thursday, January 5th, and you're listening to Revive Our Hearts with Nancy Leigh DeMoss.
Nobody likes suffering, yet we're willing to suffer for the things we really want. That's what Elisabeth Elliot has been reminding us of all this week, Nancy.
Nancy Leigh DeMoss: She sure has, and she's been doing it masterfully. I want to leave as much time as possible for us to hear the end of Elisabeth's classic message, given to a crowd of young people at a rally in 1983.
At the close of her message, we'll also hear from Steve Saint, son of missionary pilot Nate Saint, so be sure to stay with us right until the end of today's program. Now, let's listen to the conclusion of Elisabeth Elliot's message on endurance.
Elisabeth Elliot: Is it worth it? One day in October of 1955, Nate Saint flew into our station to tell us that he had discovered some Auca houses. Within a very short time, Ed McCully, that politician from Wisconsin, Jim Elliot from Oregon, and Nate Saint instituted a program of dropping gifts to those Indians, with the hope that they would be able to break down their hostility and prepare the way for an attempt to reach them.
You can imagine our excitement, our trembling, the prayers that went up. And in the evening of January 6, 1956, just before these men left to go into the edge of Auca territory—by this time they had been joined by Roger Youderian and Pete Fleming—they sang together that hymn, "We Rest on Thee, Our Shield and Our Defender." A week later they were all speared to death.
Why? He was their shield, their defender, and He let them get speared to death. What had happened? Can your faith cope with a set of facts like this? There is a mystery here, but it is not unprecedented.
Go back to Hebrews 11, and following all those wonderful, triumphant accounts, we read, ". . . and others were tortured. They faced jeers and flogging, fetters and prison bars. They were stoned; they were" (listen to this) "sawn in two." Talk about endurance!
Is it worth it? How many things can you think of that are worth suffering for? We lived across the street from a high school, and I couldn't believe the forms of torture those high-school kids would go through in order to play football, just throwing themselves at those padded steel teeth, jumping in and out of rubber tires, going face down into the mud. For what? For football.
How many things can you think of that are worth living for? I want you to listen, young men, young women: There is nothing worth living for unless it's worth dying for. Have you made up your mind?
The world was stunned when the news of the death of the five men hit the headlines. People did not know that there were still "Stone Age" savages around. I suppose that's one of the reasons they were impressed. And very few people realized that there could still be ordinary young men for whom obedience to Jesus Christ was quite literally a matter of life or death.
There was plenty of editorializing about it. The secular press called them "blankety-blank fools." The Christian press did a lot of very glib explaining of why God would allow a thing like this to happen.
The verse that brought assurance to me was 1 John 2:17, "The world and all its passionate desires will one day disappear, but the man who is following the will of God is part of the permanent and cannot die."
Ask Noah if the jeers of his neighbors bothered him very much after they got into the ark. Ask Ed McCully if he still wishes he had pursued that career in politics. Ask Abraham whether it was worth the agonies he went through when he went up the mountain. Ask Jesus. Ask Him what it was like to leave the ivory palaces and come into this world of woe. Ask Him about Gethsemane and the cross of Calvary.
What does the book say about Him? "Jesus, for the joy that was set before Him, endured a cross, making light of its disgrace, and has taken His seat at the right hand of the throne of God" (Hebrews 12:2). "He made Himself nothing" (Philippians 2:7).
Jim Elliot wrote in his diary when he was 22, "He is no fool who gives what he cannot keep to gain what he cannot lose." He is no fool who gives what he cannot keep to gain what he cannot lose.
Were those men really out of their tree to do what they did? In Hebrews 12 it says, "What of ourselves? With all these witnesses surrounding us like a cloud, we must throw off every encumbrance, every sin to which we cling, and run with resolution the race for which we are entered, our eyes fixed on Jesus, on whom faith depends from start to finish."
I don't know what particular endurance God is asking of you right this minute. Perhaps it's in your love life, the willingness to submit your longings and to wait patiently for God's best for you, to stay out of bed. God is saying, "I have something infinitely better for you than you can imagine. Will you trust Me? Will you wait? Will you obey Me?"
I promised you that I'd tell you what I was going to say, then I would try to say it, then I'd tell you what I've said. First, I asked, what do you live for? Is it for yourself? The world? The devil? Or is it for God?
Secondly, how do you get it? By obedience. By endurance. By blood, sweat, tears.
Third, is it worth it? Jesus, for the joy, endured a cross.
My husband and I live on the coast of Massachusetts. Do you know what motto is posted in every rescue station along the coast? "You have to go out; you don't have to come back." That, I believe, should be the motto of every Christian. "You have to go out; you don't have to come back."
Maybe I've come across to you tonight as tough, insensitive, dogmatic, ignorant of where you're at. I hope not. But in case I have, let me assure you that the Lord knows exactly where you're at. He loves you more than you can possibly imagine. He's got things up His sleeve that are so much better than your best dreams that it would blow your mind. But He asks you to trust Him.
Jim Elliot often used to quote a poem written by Amy Carmichael of India. He quoted this frequently when he spoke to student groups, and it is with these words that I close.
Hast thou no scar?
No hidden scar on foot, or side, or hand?
I hear thee sung as mighty in the land;
I hear them hail thy bright, ascendant star.
Hast thou no scar?

Hast thou no wound?
Yet I was wounded by the archers; spent,
Leaned Me against a tree to die; and rent
By ravening beasts that compassed Me, I swooned.
Hast thou no wound?

No wound? No scar?
Yet, as the Master shall the servant be,
And piercèd are the feet that follow Me.
But thine are whole; can he have followed far
Who hast no wound or scar?
Nancy: We've been listening to Elisabeth Elliot quoting that classic poem by Amy Carmichael and reminding us that there is a cost to following Christ. Recently Nate Saint's son, Steve, reminded me that this call is not just for those extraordinary heroes of the faith, but it's a call for all of us.
Steve Saint: It might seem like Jim Elliot, Nate Saint, and Roger and Pete and Ed were super-Christians; but, you know, they weren't. They were just common, ordinary men, and their five wives were common, ordinary women who distinguished themselves by their willingness to be used by God.
That's the message in this story, that if you'll just let God, He'll make you a hero of the faith, too. You don't have to go and "stand out." Dad and his friends died out in the middle of nowhere. They must have thought that they had failed, but God had a plan; and as we've seen that plan revealed over this fraction of a second of this fifty years, in God's time it has become apparent that God did have a plan and has had an incredible impact on people around the world.
I think that's a legacy. Just be a common, ordinary man or woman, just whatever God has made you, but allow Him to decide what kind of a vessel He wants and what He wants to use your vessel to do.
Nancy: That's Steve Saint. We'll be hearing more from him tomorrow as he talks about the legacy of his dad and the other four martyred missionaries.
Let me ask you, if you were to die tomorrow, what kind of legacy would you leave? You may want to ask yourself the questions Elisabeth's been asking us this week: What am I living for? How do I get it? And is it worth it?
Leslie Basham: That concept of leaving a legacy is addressed on a bookmark we'd like to send you when you order a copy of the story of those five missionary martyrs, Through Gates of Splendor.
This free bookmark on how to leave a godly legacy is our way of encouraging you to order the book from us. You can do so at our website, www.ReviveOurHearts.com. If you need to call, our number is 1-800-569-5959.
On tomorrow's program, Nancy has an extended conversation with Steve Saint. We'll hear more of the fascinating details about the lives of the Waodani Indians, as well the missionaries who were reaching out to them. I hope you'll join us for Revive Our Hearts.
Revive Our Hearts with Nancy Leigh DeMoss is an outreach of Life Action Ministries.
*Offers available only during the broadcast of the podcast season.
Support the Revive Our Hearts Podcast
Darkness. Fear. Uncertainty. Women around the world wake up hopeless every day. You can play a part in bringing them freedom, fullness, and fruitfulness instead. Your gift ensures that we can continue to spread gospel hope! Donate now.
Leave a $5 gift