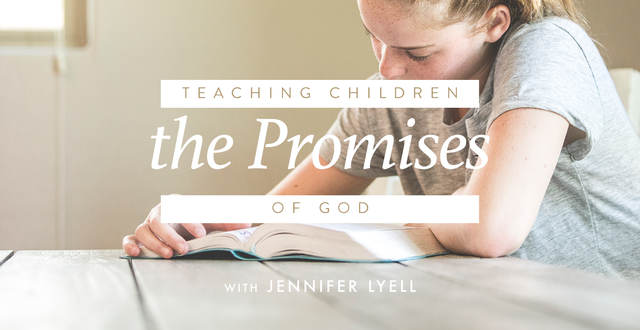 — Audio Player —
Introducing Little Ones to the Redeemer
Dannah Gresh: Can your young child be saved? Jennifer Lyell says, "Yes!" And it has to do with believing God. 
Jennifer Lyell: At the end of the day, we all need a redeemer, and we all have a Redeemer who is promised to us by God!
Dannah: This is Revive Our Hearts with Nancy DeMoss Wolgemuth, author of Lies Women Believe, for January 31, 2020.
Nancy, as we've been talking these last few days about getting God's Word and His promises into children, it can't go without being said that it's critical, because we're losing our kids. And many people are saying, "Oh, we're losing our kids because when they're in college they hear this message or that message," or "We're losing our kids just because the cultural conversation is so hard." 
But I don't think that's true. I think we're losing them because the Word wasn't planted deeply in them when they were really little. What do you think?
Nancy DeMoss Wolgemuth: Yes, Dannah, I think we're losing them because they don't know God; they don't know His character; they don't know His promises, and they don't know that those promises can be trusted.
Throughout the Scripture you see people who were concerned about this very same thing (this is not a new problem): children leaving the faith, or the next generation failing to believe God. Listen to this amazing passage in Psalm 78, verses 4–7. The psalmist talks about how, 
We will not hide [the Word of God] from their children, but tell to the coming generation the glorious deeds of the Lord, and his might and the wonders that he has done. He established a testimony in Jacob . . . which he commanded our fathers to teach to their children, [so] that the next generation might know them, the children yet unborn, and arise and tell them to their children, so that they should set their hope in God and not forget the works of God.
What a huge responsibility this is—for us to equip and motivate and encourage those coming behind us to know the promises of God and to trust them. That's why I'm so grateful for our longtime friend, Jennifer Lyell, whom we've been talking with this week about this really important matter of teaching the Word of God and the promises of God, not just to adults, but to children.
So, Jennifer, welcome back to Revive Our Hearts. Thank you for your heart for these little ones!
Jennifer: Thank you. I'm so glad to be here!
Nancy: I'm holding in my hand a beautiful book that you have put together. I've watched you in this journey. I watched when it was just pieces and thoughts and ideas on a Word document. Then I watched sketches of what became beautiful drawings throughout this book.
It's a hardcover book. It's a keepable book. It's one your children will want to have when they're adults, to read to their children. It's called The Promises of God Storybook Bible, and the subtitle is, The Story of God's Unstoppable Love. Jennifer, tell about the cover painting. It's stunning, and I'd love to hear you just describe it.
Jennifer: So the cover is Abraham on the mountain, and really, it depicts the moment in utter darkness, in the night, when Abraham had no reason to imagine, based on his circumstances, that there could be any sense of hope for a next generation—much less generations and generations and generations of promises. I was where God took Abraham to a mountaintop and had him look at the sky and see the stars and then promised him that from Abraham and Sarah, past the age of childbearing, not only would they have a child, but that from that child God would create a people of His own. It was a people to whom He would make promises and a people for whom He would keep promises. And those are promises that we're still seeing Him keep, we're still anticipating seeing Him ultimately fulfill through the return of Christ and the new Heaven and the new Earth. It captures that epic moment in which God was thinking of us as He made an unbelievable, impossible-seeming promise to Abraham . . . whom we ultimately know believed!
Nancy: And it was a promise of redemption; a promise to redeem our hard, stubborn hearts; to redeem us from the curse of the Fall and to send a Savior who would save us from the wrath of God! What amazing promises these are, not just for children who may read this storybook Bible, but for our own hearts!
And, Jennifer, I've known you a long time. I've watched you love teaching these children. It seems like the highlight of your week every week, that Sunday morning. But I also have sensed that your heart for these children, and for teaching the children the promises of God, is at some level related to the fact that you did not know the promises of God as a child. 
God's promises have redeemed your life from destruction. Just talk about how what a difference knowing the promises of God has made in your life.
Jennifer: Yes, you're absolutely right! What I know is that in many moments of my life since I've known Christ, there have been circumstances in which so many things collapsed around me. It felt as though the ground was falling away. I was uncertain at times whether or not I could keep walking the path that God had laid out for me.
But with each step I have been reminded of the promises of God. And the reason why those Sunday mornings are my favorite times is because that's most often when I'm reminded, because through teaching it you have to know it.
Even as we've prepared for this book to get ready to release—and we're doing some videos and photography in my church—I asked the photographer if we could just do a picture of me in our chapel, because it's the happiest room in the whole entire world for me!
We really needed headshots and author-y kinds of things. Instead, what I wanted to do was just sit down in the aisle in the middle of my church where I was most happy. They indulged me and took the picture.
Later I looked at the picture. I hadn't even thought about the fact that behind me were two banners that hang in our chapel at our church, and one of those banners says, "He Will Redeem!" And I was reminded of a picture that was taken of me when I was a child, I think I was around three. It was at a party that no three-year-old really should have been at. 
There was a banner that was really celebrating the theme of that party, and it really represented that which is brokenness and sin, and a call to sin, actually. It is that juxtaposition that I really think has been consistently represented in my life of the need for the promises, in order to redeem.
While my story is so different than your story, it's not as though me as a three-year-old was any more sinful than you as a three-year-old—or that either of us needed salvation and redemption more. It's the same for Dannah and your sweet little grandbabies who are teeny-tiny. At the end of the day, we all need a redeemer, and we all have a Redeemer who is promised to us by God!
Dannah: Jennifer, as you say that, I go back to the picture on the cover of your book, of Abraham in the dark night looking at the promises, the bright stars in the sky. I'm mindful of the fact . . . I don't know if you two ladies know this, but the only people me in my life who have ever gifted me with a lullaby CD are the two of you! 
Nancy sent me one about ten years ago, and I was like, "Oh, no! Does she know something I don't know!" Because I was past childbearing years (at least I thought), and Jennifer sent me one just a few years ago. Both of them were Scripture, and Scripture stories set to lullabies.
Nancy: I've listened to those over and over and over again, because I need to counsel my own heart with the promises of God!
Jennifer: Yes! I listened to them on the airplane on the way here. I have a playlist of the combination of the two CDs.
Dannah: They're so beautiful! I listened to them many times over, and I didn't feel like I was in the darkness of that night. But then fast-forward, and I get to a place where it's pretty dark. I returned to those simple songs, those simple truths.
Jennifer, I'm wondering, The Promises of God Storybook Bible is full of simple stories, simple truths, simple promises. As you were writing it or about to publish it, did you hit any spots where it just felt really dark, and those promises that were there that you had taught and written about were the bright light for you?
Jennifer: Absolutely. In God's providence, I had made the decision, moved forward with writing this project. I committed to do so and was at the very start of writing and developing the artwork and working with the illustrator when multiple areas of my life just really hit kind of epic pain points of brokenness and destruction. 
With every word I wrote I had to fight it out as to whether or not I believed it. And the way that I did it was, I would teach it in my head to a couple of particular children whom I had taught, and then I would teach it to "the three-year-old Jennifer." Then I would decide, "Okay, does it work?" And story by story, from Genesis to Revelation, ultimately I landed on the promises of God.
Nancy: You've dedicated this book to the children and families of your home church in Nashville, for all they have shown you of the promises of God. But you've also dedicated it in loving memory and honor of, "Job Wilson Kemp, to whom God is keeping all His promises." Tell us about Job.
Jennifer: So Job was a little boy whom I had in my class. He was blond-haired, blue-eyed—big blue eyes—super-cute. At first I thought he was really shy, because he was not super-talkative. He didn't interrupt with questions while I was teaching, but after just a few weeks into the year, I noticed he always had questions. He would just wait until afterwards, because he was thoughtful, and he was thinking.
He started asking questions, little-by-little, and as the months progressed the depth of his questions just seemed to escalate and progress at a level that I had really never experienced with another child. It came to a point that right after his fourth birthday (it was around Christmastime and I was talking about the birth of Christ), he actually asked me if Jesus had created Adam and how He had done that since He hadn't been born yet! 
Well, I had never had such a trinitarian question asked by a child of that age! I remember struggling to figure out, "How in the world do I explain this to him?" And, really, it took several weeks of us continuing to talk . . . and I was looking things up on the Internet to figure out how to answer his questions.
But I want to paint a clear picture. So, Job was thoughtful, and Job asked serious questions about a real God whom he was hearing made promises. He wanted to know not just the promises, but who was this God who could make and keep such promises? 
He was silly, though, too. I mean, he could quote movies and do it so fast, and start giggling so fast that I could never, ever understand what he was saying then! When we would do our Scripture memory of Psalm 121 and he would do the hand motions, he would often laugh so hard he would fall out of his seat!
So he was just a fantastic child to teach, and I loved the time I had with him. I did have a sense that there was something special about him. I remember distinctly one week thinking that perhaps he was going to be a pastor, because there was clearly something distinct about this child.
What I could never have imagined—and still absolutely would never choose—is that over the course of that year as I watched Job learn about this God and watched God working in his heart, and as I struggled to answer the questions that he asked that I had really never been asked by a child of this age before was that just over a year-and-a-half later, after a brief but fierce battle against one of the most aggressive forms of childhood cancer that any child can ever suffer, Job would be in the arms of that promise-keeping God. 
The God whom he didn't just learn about, but whom he had come to know, to trust, to rely on with a heart that was soft, full of repentance. He was desiring to be in the presence of God while at the same time understanding that he was going to leave behind a mom and dad he loved, a little brother and sister he loved, a family he loved.
Dannah: We never know how much time we actually have with the people and the children that God has entrusted to us. We don't want to think about that as parents, as Sunday school teachers. But you were faithful and Job's parents were faithful to put God's Word in his heart. What kind of comfort did that bring to you and to them at the funeral, as they were saying "goodbye" to their sweet boy?
Jennifer: I'll never forget it! This book would not exist without it, without Job. I had been writing the stories, really, in my head as I taught for about four years, and hadn't told anyone. I didn't even tell the two of you, and I tell you guys pretty much everything! But I never wanted to publish.
It was at Job's funeral, and I stood in a long line waiting to get to his mom and dad and trying to figure out what in the world to say . . . It turned out I didn't have to figure out what to say, because as I got to his mom and dad, they embraced me . . . fell into me. We all sobbed, and his mom kept thanking me.
It didn't make sense, but over time I came to understand that what she was thanking me for was for teaching him, and for teaching him things about God that he needed to know to be with God in that moment, and for loving him and for knowing him and understanding his giggles and his sillies, and being able to tell his mom stories of moments that she'd missed, that she'd never get back.
But then, later in the service, I sat and listened as his dad went to the podium. None of us knew what was going to happen. His dad's a big man. He kind of looks like a lumberjack. He stood where we do Scripture readings in our church. He said that he had much to say, but he felt it was best for God and God's Word to speak for him.
And he began to proclaim Psalm 103, which opens with, "Bless the Lord, O my soul!" I believe it's twenty-three verses long. Probably about three verses in, he began to choke up. As he choked up, he began to pound his chest, to beat his chest! He didn't just proclaim the Word of God, he "owned" the Word of God! He declared it; he embodied it!
And in the moment of unspeakable grief, it was as though he had to fight his flesh to get it out, but he was not giving up that fight! And verse 13 of that psalm actually says, "As a father has compassion for his children . . ." I remember the moment when I recognized the psalm and knew that verse was coming, and I thought, Oh, no!
I was sobbing; we were all sobbing. All you could hear was his loud voice, standing far back from the microphone (because he would knock it over as he would pound, if he didn't!). And I thought, Can he do it? It was too much to bear for me! I didn't know how he could get the words out, and he did.
But then, with the next, "Bless the Lord, O my soul," he began to pound at every line . . . and every line . . . and every line. And it was somewhere in that moment that I remember thinking, How will I stand at that story carpet next week and teach these kids the way I've taught them in the past? Because, as you said, Dannah, you don't think this is going to happen.
Well, not only did I know that I was going to be standing in front of that carpet again (where I could imagine Job sitting) in a matter of days . . . But in the providence of God (and really, one of the greatest gifts He's ever given me!), we were about five weeks into the new Sunday school year. And in that year's class I had Job's little sister, Penny.
And so it wasn't just that I was going to be teaching kids the same things that I had taught Job, but it was that I was going to be teaching his little sister the same promises that were holding her big brother right then. And it was in that moment that I realized that there was nothing that my fear of publishing, that my fear of having to do marketing and interviews (and things like this that are outside my comfort zone!) . . . 
Nothing should stop any of us from doing everything that we can to ensure that every child we know and every child we love understands as much about God as we could possibly communicate to them! Because we cannot assume that they are going to have twelve teachers who come after them.
It was really from that moment that I knew that this book would be written, and that it had to be written, and that it would be dedicated to Job.
Nancy: Tell us about the stars.
Jennifer: The stars are my favorite! My classroom is like a lot of Sunday school classrooms. And up until that point, we had art on the walls, and we had pictures, and we have toys and colorful things and a bulletin board. 
But I had this image in my mind of Job sitting on the story carpet and looking up at the picture of Adam and Eve, with the snake in the Garden, asking that first question about Jesus creating Adam. I also had this awareness of the promises of God and how I often would explain to children that stars remind us of the promises of God. When they see a star, they can remember that God makes and keeps His promises. 
So I wanted to hang stars from the ceiling of my Sunday school class. And it turns out that there are a lot of like city codes and logistics that are associated with that! But over the course of the next several days, in-between Job's funeral and then the following Sunday when I knew that his little sister would be coming to church and would be apart from her parents—I believe for the first time since losing her big brother—I wanted those stars there. 
I wanted there to be a star that I could walk her to and say, "This is Job's star. And, in faith, I have put this star next to Job's star, and it's Penny's star. And when you miss Job, and when you hear me tell about the promises of God and you sit here on this carpet, I want you to look at these two stars. And you remember your brother, because he loved you. And God loves you, and God has him," and "Where is Job?" 
My church was incredibly supportive and helped with all of the logistics and the approvals. I ultimately decided to hand-cut every single star. There are over one-hundred. Every star is a child who I had taught or a family in our church. The first star I hung was Job's star. The second star I hung was Penny's star. And then that following Sunday, as her dad (the same dad who had blessed the Lord) walked her to the door and handed her to me, and she clung to me . . .
We walked straight to that star and had the conversation that I had anticipated. And then we went from there and we sat down and we did a puzzle that I had done with Job. For a year she sat under those stars and under the stars that represented so many other children and families for whom I pray, and whom I love.
But still, she and now little brother Zeke, who is two, and will soon be in my class (she's gone on to another class) . . . they will come running in my class at the end of Sunday school and will want to play, but they always go to those stars.
And then, Zeke (and now another little sister has joined the family), the last time they were in my classroom, was trying to tell me where he wanted his star to be. But I gave him zero options! Because I've already decided that all of those kiddos in that family, their stars are all going to be in a line. 
And it is the line that is really what is above me as I teach, because it is the foundation and the impetus for me and my commitment that as long as I'm able and as long as they'll allow me, I will stand in front of that carpet and teach the children that I have, each and every year, the promises of God and how they apply to their lives.
Dannah: Jennifer, you have encouraged me—I think probably all of us are feeling encouraged right now—that there are children in our own lives that we need to be planting God's promises into. Nancy, I just really think that we need to get Jennifer's book, The Promises of God Storybook Bible, into the hands of grandmothers and mothers and Sunday school teachers (and those who have been dragging their feet to be Sunday school teachers!).
Nancy: I couldn't agree more, Dannah! This is such a rich and sweet tool to help do that, to help get the promises of God, not only into our own hearts, but into the hearts of those children that we influence. 
We've heard some of those stories this week, we've heard Jennifer read them, then there are the pictures that help explain some of the background, things that maybe were different in the time of the Scriptures, that will capture a child's attention. They'll capture your attention.
At the end of every one of these promised-based stories, there are questions to discuss. Some of them are easier, for younger children; some of them require a little more thinking, for older children. But what a rich tool this is to help us. We say we want to help children know the promises of God, but how do we do that in a way that is consistent with the Word of God, that will really reach the hearts of children ages four to seven? 
All of us have children in our lives, and that's why we want to get this in all their hands.
Dannah: And, you know Nancy, I think it would be a great tool for family devotions as families kind of try to consider how can they plant the Word in their children more regularly. This is a tool that will help them do that. We'll send that to you as our way of saying thank you when you make a gift in any amount to further the ministry of Revive Our Hearts this month.
You can make that gift by calling us at 1–800–569–5959, or visit us at ReviveOurHearts.com. Make your gift there, and be sure to ask for your copy of Jennifer Lyell's The Promises of God Storybook Bible.
Nancy: Thank you, Dannah, and thank you Jennifer for sharing out of your heart and your journey. 
Jennifer: Thank you.
Nancy: I've seen the promises of God make a huge difference in your life, and now you're sharing those promises with these little ones who have no idea, at the moment, how greatly they are going to need those promises in the days to come!
So Lord, we thank You for Your Word and for Your promises that are true! You do keep Your Word, You keep Your promises! You promised to send a Redeemer to rescue us from our sinfulness and our hard hearts. You sent Jesus, and He died to pay the price for our sins, and He was raised from the dead, and He has promised to come again! 
We celebrate these promises, and we pray for the children that you've placed into our lives—whether in our churches, our neighborhoods, or within the four walls of our own homes. And I don't want to leave out grandparents, either, who maybe have time when they're babysitting the young ones, or maybe even raising them. 
But, Lord, we pray that You would show each of us how can we be instruments of passing on this rich heritage of God's faithfulness from our generation to the next so that even the "generation yet to be born" might come to know and believe the promises of God, for the glory of Your name. We pray it in Jesus' name, amen.
Pointing you to His promises, Revive our Hearts with Nancy DeMoss Wolgemuth is an outreach of Life Action Ministries.
*Offers available only during the broadcast of the podcast season.
Support the Revive Our Hearts Podcast
Darkness. Fear. Uncertainty. Women around the world wake up hopeless every day. You can play a part in bringing them freedom, fullness, and fruitfulness instead. Your gift ensures that we can continue to spread gospel hope! Donate now.
Donate Now