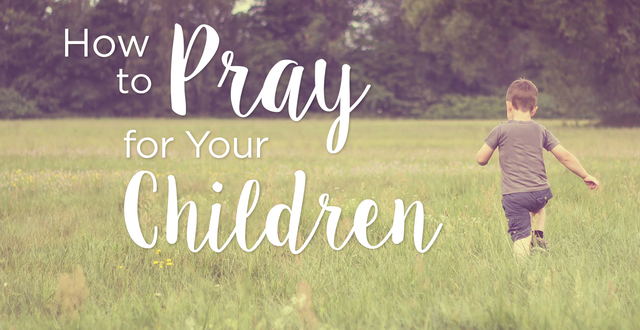 How to Pray for Your Children, Day 3
Leslie Basham: Fern Nichols, founder of Moms in Prayer, says transparency is a beautiful thing. She explains how moms can be transparent during a Moms in Prayer gathering.
Fern Nichols: When we come together in that group, we can share and lament together because there is no condemnation in that group. There is only love. We know the power of God through prayer. We bring that mom and that child before the throne of grace. She knows that that is one safe place in her whole week. She can come and know that she will be loved and accepted and prayed for.
Leslie: This is Revive Our Hearts with Nancy DeMoss Wolgemuth for Wednesday, July 20, 2016.
For the last couple of days, we've been hearing from praying moms Marlae Gritter and Fern Nichols. They're involved in Moms in Prayer International, a group that encourages moms to meet together and …
Leslie Basham: Fern Nichols, founder of Moms in Prayer, says transparency is a beautiful thing. She explains how moms can be transparent during a Moms in Prayer gathering.
Fern Nichols: When we come together in that group, we can share and lament together because there is no condemnation in that group. There is only love. We know the power of God through prayer. We bring that mom and that child before the throne of grace. She knows that that is one safe place in her whole week. She can come and know that she will be loved and accepted and prayed for.
Leslie: This is Revive Our Hearts with Nancy DeMoss Wolgemuth for Wednesday, July 20, 2016.
For the last couple of days, we've been hearing from praying moms Marlae Gritter and Fern Nichols. They're involved in Moms in Prayer International, a group that encourages moms to meet together and pray for their kids. We'll hear from them again today along with some members of our audience as we continue in a series called "How to Pray for Your Children." This is a classic series from the Revive Our Hearts vault, and you may hear the ministry referred to as Moms in Touch International, because that used to be the name when this was recorded. Here's Nancy.
Nancy DeMoss Wolgemuth: I want us to spend a few moments focusing on this issue of prodigal children. I've had so many moms . . . I had a conversation a few days ago with a mom who was sharing with me about a young adult child who is really struggling. This causes moms to really lay hold of God.
In fact, I want to ask Fern and Marlae to share with us some of the insights God has given them out of their own walk about praying for prodigals. First of all, let me ask you and those of you who have had a child go through a different season—maybe it's past tense, maybe it's present tense, but it's a difficult time where their heart is not turned toward the Lord.
What are some of the things you struggled with as a mom that you found yourself thinking or feeling or experiencing during that waiting room period?
Carla: I have both a daughter and a son who were not walking with the Lord. I struggled most with believing promises that God had given to me knowing that it was not His will that they were not walking close with Him. I kept praying that His purposes would be lived out in their lives, and He has answered those prayers.
Nancy: I was with your son and his new bride, and it was an incredible thing, knowing some of the history, to hear that young couple talking about the Lord and to see what God has done in those kids' lives. It is amazing. Why it should be amazing when we have a great God, I don't know.
When I think back to the turning point in your son's life and to see now God giving him and his wife a heart for a godly legacy—and I see tears in your eyes. Praise God that He is a God who really can do the impossible.
Terry: There were a lot of feelings when I went through it. I had three sons that I prayed for in the womb. My husband and I both had the blessing of coming to Christ in college wholeheartedly. We just expected our kids would grow up and serve God. We prayed. We tried to live out the example, all of that, so we expected the best.
When they chose in their teenage years to go contrary, it was very discouraging. I remember sitting in a rocking chair and saying, "I don't get it." Just over and over. "I don't get it." People that know me know me to be very excitable and enthusiastic, but I sat in that rocking chair just saying, "I don't get it. I don't understand."
I would deny I was depressed because I didn't want to be depressed. I was God's child and wanted to still glorify Him, but I was depressed. I remember saying to my husband that if I were God and my child was zealous and loved Him and tried to raise the kids like that, I would answer prayers. But the prayers weren't answered, and people would say, "Well not in the way you want them to be answered." I would say, very boldly, because I am that way, "They're not answered the way I prayed them. I don't get it."
But God in His faithfulness—and that's the thing I learned, that God is faithful. I was not faithful. During that time, yes, I went to church. Yes, I still did Bible study and everything else, but I was not faithful because I was doubting God. But He was faithful and He has brought them back to where they need to be and more and more. I could go into a lot of detail on how I have seen God's faithfulness.
We have another son who is now seventeen, and he is doing really well, yet I see the enemy trying to steal him too. Right now I am learning to just surrender him because I have seen God's faithfulness that no matter what his choice is, God is faithful.
Nancy: That's what you have to hold onto when you don't have anything else to hold onto, isn't it? The faithfulness of God.
Woman 1: For me, I felt rejection. Not only was He rejecting our faith, but I felt rejection myself as well. I thought, All I've done for Him. Why doesn't He care how I feel about this? So I think that was another thing. I also felt very sad, sometimes angry, like why are you making these choices? It's ruining our peace in the home. Those are some of the feelings I had.
Carrie: I think one of the things was disbelief after praying for a child that wasn't walking with God and just the desire to see that and praying and praying and then just saying, "God, why not?" Beginning almost not cognitively realizing that I was disbelieving that God could continue to work even if I couldn't see that.
One of the things that God did was to bring my neighbor from the Philippines to stand in my kitchen one evening and just tell me the story of how, as a rebellious teenager, her mother continued to pray for her. It was as though the Spirit of God said, "Carrie, keep praying. Just keep praying."
Gayle: I think the hardest thing for us was being in ministry. This just isn't acceptable. We had raised our children the same way with godly principles and one chose to follow and one didn't for a long period of time. But I'm happy to say that God answered our prayers exceedingly abundantly above all that we could ask or think. So He gets all the glory.
Nancy: How has God changed you and your husband through that long waiting process?
Gayle: Well, one thing that He's still teaching us is that our prayers will outlive us so it has caused us to get on our knees for family members who we may never see come to know the Lord or may never see come back to the Lord. It could happen way long after we're gone from this earth. But it has reminded us over and over again that God does honor the prayers of His people. So we just keep on keeping on.
Nancy: I want to say it's a privilege not only for a mom to pray for her children, but for others of us in the body of Christ to lift up those children. Together link arms and agree and be in one accord and say, "Lord, this is not just this other mom's or this other family's problem. They're part of our body. They're part of our family. When one member suffers, we suffer together." When a prodigal comes home, we rejoice together. So this is a family matter.
I know we have listeners who would say my children are walking with the Lord, or I don't have children. We're together in this. That's why we're taking time on Revive Our Hearts to address this issue because it's a matter of great, great concern to all of us that a huge percentage—the vast majority—of the young people who are growing up in our Christian homes and in our evangelical churches today are leaving high school to leave the church and many of them never to come back.
So this is a serious matter. We just put a personal face on it by saying there are moms here and others that we could have heard from who have grieved and wet their pillow at night with their tears as a mom or a grandmom for these who are not walking with the Lord. But it's a collective concern, too. Where will this next generation be if God does not rescue and bring back the hearts of those young people?
Fern, there's a verse that is the key verse for Moms in Touch from Lamentations. You just think about the name of that book. It means "to lament, to weep, to mourn, to grieve." I wonder if we don't need corporately some weeping and mourning and crying out to God as this verse says. Share it with us, Fern, if you would.
Fern: "Arise, cry out in the night, as the watches of the night begin; pour out your heart like water in the presence of the Lord. Lift up your hands to him for the lives of your children, who faint from hunger at the head of every street" (Lam. 2:19).
Nancy: How did the Lord lead you to that verse?
Fern: I just was a Moms in Touch verse. I mean, moms just pour out our heart like water—the tears that come. Lifting up our hands is like lifting up our face from the circumstances to the one and true living God that can answer, intervene, change, deliver for the lives of our children.
I love this last part which says, ". . .  who faint from hunger at the head of every street." Not only physically are our children fainting, but they are fainting spiritually and emotionally. The suicide rate . . . there are so many things bombarding the lives of our children. Satan is pulling out all the stops of making "it" look good. Then they get into it, and they are hooked. They need deliverance. 
Who will stand in the gap to deliver them? So this verse is what we do.
I really appreciate your comments, Nancy, about the fact that when one of us in the body suffers, just like our physical body, if we have a sore throat our whole body hurts. That's what I love about Moms in Touch. When we come together in that group, we can share and lament together because there is no condemnation in that group. There is only love.
We know the power of God through prayer. We bring that mom and that child before the throne of grace. We pray for her throughout the week. She knows that that is one safe place in her whole week that she can come and know that she will be loved and accepted and prayed for.
Marlae Gritter: What happens is you begin to love each other's kids. You know how you love your kids, but you hear another mom praying for your child by name in Scripture. I mean that's why we always have Kleenex boxes at Moms in Touch. Our kids desperately need others to love them because it is a tough world out there, and they need us. They need you, mom, to love them along with their kids and pray for them because they just have to have cheerleaders.
Fern: Going along with that, when my daughter was in college, we have college Moms in Touch groups. Periodically we sent care packages. So I think there were about twnety of us in the group. We would bring what we knew our child liked—twenty of them so that each mom would have it.
Then, of course, I would always take the box home of what we already received at Moms in Touch and put some more things in it. What was so neat about this is that we would send a little card and all the moms would say, "I love praying for you or bless you."
So when Trisha would get this box, because she knows all of these women were praying for her as well as praying for her friends that she was with, that box was a sign of prayer. Every time she got it, she got so excited, and so did all the other girls. So it was just another way of our child knowing that there were other moms that loved her enough to take time out of their busy schedules and bring her before the throne.
Nancy: As a means of keeping those kids tethered to the things that are foundational, that matter, that are eternal. It's like you go away to college and some kids are running, and running from the Lord, but the Lord pursues them. He's the hound of heaven. He's the God who sees. But when they know from those moms who are praying, I think it brings a sense of the fear of the Lord.
Fern: I think you are absolutely right. In fact, I would pray, "Lord, let Trisha know that all these women are praying for her to walk godly, for her to not go after the lust of the flesh, for her to be in the Word" and all of these things. And so may it be an accountability almost as she realizes this.
Marlae: I want to add to how alone you feel. You feel like nobody else understands until you talk to another mom who does. I will never forget . . . When we were going through a hard time, especially with our daughter, I was going to Moms in Touch in a frame that I didn't even know if I could pray. I would weep. But they knew what I was going through, and they would pray for her.
I just encourage you moms and grandmoms, if you are sitting there going through something alone, don't do it! Take that step, because there are others that want to come around you. That is how I made it. I was like, "God, if I can make it to next Tuesday, those moms are going to come around me."
So we all had a big hallelujah party for the little and big steps. It makes all the difference.
Nancy: Fern, I know you walked through a period of time with your first born, and he has now told this story with others. For the women who have not heard that story, just give us a little picture of what that season was like. You had been praying for these children, but Ty got to high school, and you started seeing some things that really concerned you.
Fern: Yes, and you know when I think back, it might have been that little bent I saw in him in junior high. He had a charisma about him. He was one of those kids that everybody liked. He was talented athletically and intellectually. If you don't give that to the Lord, it goes to self.
So his junior year of high school is when we really noticed . . . It's not like one day Ty was a wonderful godly fellow and then the next day he's like, "Oh, my goodness!" What he says in his testimony is it's a slippery slope—a little lie here, a little oh, this won't matter there; oh, I really don't need to be in the Word today. It's just one little decision after another that can get you to a place where you think, How in the world did I get here? That's where Ty was. How in the world did I get here?
I remember at night when he would come in at 2:00 or 3:00 in the morning and I—of course moms don't sleep. We pray the whole time. I remember I would just go into the bathroom, and I would just sob but nothing would come out. It was all from the bowels of my body that I just would shake in prayer. I knew that God loved him. I knew that if I wasn't standing in the gap for him, who was? It was like me and God at that time. 
I love the Holy Spirit because He says He takes those groanings and those utterings and you just don't know . . . He takes them before the Lord and translates them. So all that I was feeling all those nights in those few years, He was translating before the Father. Then like Marlae said, to have those other moms not condemning, but really praying for Ty.
So as we were crying out for Ty, little by little the Holy Spirit was working on his heart. He found himself drawn to a church in San Diego on Sunday night and that pastor speaking as if it was directly to his soul knowing exactly what he had done, what he was doing, and how he was thinking. He would weep. This is a young man of nineteen years old. He would go back. Little by little God the Holy Spirit brought truth.
He came to that slippery slope. They get disillusioned. They're deceived. They're not seeing things correctly. The reference point of the Word of God has gone, and so they're wandering around themselves. To pray for them in that little step of unknowing in our own heart what's happening God does.
He recommitted his life to the Lord. The Scripture verse—going back to the Scripture, how we use Scripture and the Word of God, the verse is this: "Simon, Simon, Satan has asked to sift you as wheat. But I have prayed for you. Think of all the things that Jesus, God omnipotent could do, He could have just cleared the way for Peter. He could have made it all smooth. He could have sent ministering angelsSimon, but the best thing (isn't that the coolest thought), the best thing he says, Simon, that I did for you is I prayed for you, Simon, "that your faith may not fail. And when [not if] you have turned back, strengthen your brothers" (v. 32).
So I just brought this before the Lord. "Oh, God, Satan is wanting to sift my son. You have his heart. You have his life. He gave it to You at a young age. I pray that his faith will not fail. Lord, I am believing that when he comes back to You, he will strengthen the brothers." I didn't know what that meant. I just prayed the Word of God.
He came back, and he strengthened the brothers. Here it's the body of Christ, but I like to say it this way. He strengthened the mothers. At our twentieth Moms in Touch anniversary, Ty gave his testimony. I don't know if there was a dry eye in the place because I don't know how many moms out there were experiencing what many of you are experiencing here, and he gave them courage. He said to them, "Don't give up. He hears. I am so grateful I had a mom and Moms in Touch that prayed for me through those years." He said, "Oh, moms, don't give up."
So here what he had gone through just like the Word of God said, he came back and strengthened the body of Christ of mothers. Isn't that cool?
The other thing that was so sweet was, I knew that Ty had this incredible gift of speaking. I thought he was going to be a preacher. You know how we figure that out. At two or three years old, he would get up on the fire hearth at home and he would say, "You're going to hell if you don't . . ." And his little brother was only one, and he was sitting there in the "pew." Ty made sure he was in the pew, because they were in church. Poor Troy. I don't know what was going on in his little mind. But Ty had this heart for Jesus.
There was a truck driver in our neighborhood. He went over and talked to the truck driver and shared Jesus with the truck driver. So you're getting all these "woo's"! And then God takes him . . . I think many times what He takes us through is so that He can get rid of self. 
Nancy: Marlae, you had an experience, you've already referenced it, but with a daughter. It's some of the tough things that have really shaped this ministry.
Marlae: Yes. That's really true because you can say to a mom, "I know. I've been there." A little bit about our story just in a nutshell. Our daughter really began a downward spiral I would say already in middle school. It went into high school. But it was low self-esteem. She just began looking for other things to fill that void in her life and began to make bad choices to try to fill that.
We dealt with anorexia. We dealt with alcohol. I dealt with anger. I was the one she took it out on. It was very hard. We ended up actually having her go live out of state for a while with a family member just to try to help her get away from the influences that she had. That was just a decision that God ordained through it. But really, she came back to the Lord after about a year-and-a-half when she was away and we were like, Lord, thank You.
We're seeing that and then we got the phone call that she was pregnant. You never think that's going to be you. You just don't. By God's grace, He allowed us to be able to love them through it. They got married very young and had my precious Makayla. She then went down a road of being really married too young and lots of struggles, and it ended up that marriage did not work.
So the journey has been very tough. But today I can tell you she's remarried, happily. She's really beginning a journey with the Lord. She is strong in character. She has so much going for her. She and I have become best friends, and I never would have dreamed that.
A couple things I'd like to say of encouragement. What did I learn through it? Being willing to get others to be praying with me made all the difference for me. I think the other thing that God really taught me through it is to love her no matter what. That is really hard. I did not feel like loving her. She was very unlovable.
The Lord just really kept me reminding me to look for ways to say I love you. For an example, one thing He had me do was in our winters, her car would be outside. Every morning before she went to school, I would go scrape the snow off her car and start her car. Now I didn't feel like doing that. But she was in a place where she wasn't hearing "I love you," so I just had to learn to love her in ways that I was screaming, "I love you."
I think the other thing I want to encourage you is . . . Fern really said it, but it was the notes. Every Tuesday I would go to Moms in Touch, and I started writing a little note to each of my kids when they would come home they would see it. It would say, "Today this is what I prayed for you." I would write the verse down, and I'd put it on their pillow. It was a way to get God's Word in them. Our other daughter, she'd bounce into home. "It's Tuesday. There's a note on my pillow!" Our other daughter never said a word. I so badly wanted just to say, "Did you read it?"
But I have to tell you this was after much of this happened. She came to me and told me, she said, "Mom, you never knew this," and I can't say this without crying still. This was ten years ago. She said, "Every Tuesday night I would cry myself to sleep because I would read your note, and I would know that you still loved me, and it kept me going." She still has every one of those notes today.
So you know when it seems like such a little thing that's very hard to do, but God says love them, love them even when it's so hard. So do those little things. It's all part of what He wants to do in their lives.
Nancy: Fern, you had a similar experience with Ty and notes that the Lord prompted you to write.
Fern: I said, "Lord, how do I get close to him?"
The Lord said, "Write him a note."  
I said, "What do I say?"
The just said, "Write a note."
I went down and just started writing a note, which led to many notes. Not preaching. Not, "Ty, have you seen this Scripture? You need to . . ." But, "Ty, I am so blessed that you are our firstborn son." I'd put it in his lunch. Or, "Ty, do you know how wonderful it is to have you in our family?" Or just, "Bless you today, Ty. Just bless you."
One time I put a $5 bill with a little note on top of his dashboard. As Marlae's daughter, Michelle, he never said anything. There really were times I wanted to say, "Well, did you like the five bucks?"
Then when he came back to the Lord, we were sitting in the living room just chatting, having a great time, and just out of the blue, he said, "Mom, do you remember those notes that you wrote me?" I said, "Notes? What notes?" Well, I didn't say that. I said, "Yes, honey, I do."
He said, "You will never know how much I needed those notes and was so grateful for those notes." So we don't know, if we're just obedient. Obedience—and I always told my kids this, but it's true for all of us—until the Lord takes us home, obedience will always, always, always bring blessing.
Leslie: Are you serving under that kind of obedience today? Nancy DeMoss Wolgemuth has been talking with Fern Nichols, founder of Moms in Prayer International. We also heard from Marlae Gritter, also from Moms in Prayer. She'll be joining us at True Woman '16, leading a pre-conference session called "Igniting a Passion to Pray." And she'll be part of Cry Out! A Nationwide Prayer Event for Women, simulcast from the True Woman conference. As Nancy's here to tell us, interest is growing in this nationwide call to prayer.
Nancy: I'm so excited and encouraged by the women we've heard from who have said, "I've made plans to host a Cry Out! event in my area." The Lord is stirring the hearts of women to respond to the desperate needs of our day and to seek the Lord for such a time as this. If you've made plans to join us please pray that God will use the Cry Out! prayer event to change the hearts of those who will be praying together? Would you ask Him to protect the event from any technical distractions or problems? And most important, would you ask the Lord to visit His people in revival as we cry out to Him together?
If you haven't put your group together, you still have plenty of time. Make plans to meet at your church or in your home or another venue with a group of women September 23. Then join us for a focused, targeted, three-hour time of prayer September 23 by connection with the Cry Out! simulcast. That may sound complicated. You might say, "I don't know what a simulcast is or how to do it." You just need to have an Internet connection and a screen where you can watch and participate in what's going on in that prayer gathering. To get all the details, to finds answers to your questions, and to sign up your group, visit ReviveOurHearts.com. When you go to the website, you can also find out if there is a group meeting in your area that you can join that evening.

Leslie: Thanks Nancy. Do you remember the four young men who carried their friend to Jesus and lowered him through a roof? Fern Nichols says that's a picture of what it's like to pray for our children. She'll explain more tomorrow on Revive Our Hearts.
Revive Our Hearts with Nancy DeMoss Wolgemuth is an outreach of Life Action Ministries.
*Offers available only during the broadcast of the podcast season.
For a donation of any amount