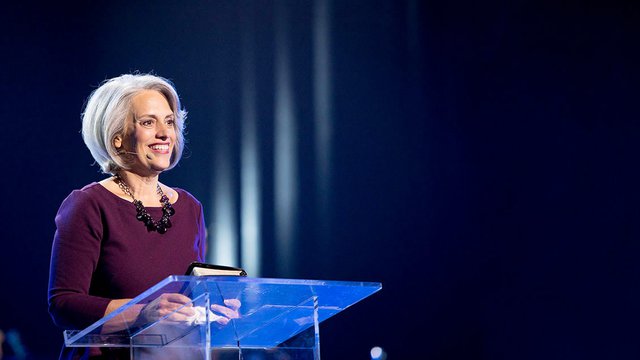 How Many Times?
Leslie Basham: How many times has God forgiven you? We can't count the times. That's why we need to quickly forgive others.
It's Tuesday June 22; and this is Revive Our Hearts with Nancy Leigh DeMoss. God doesn't treat us the way we tend to treat others. He doesn't remind us of past sins years after we confessed them or withhold love because we failed in some way.
Today Nancy will remind us that we need to forgive others the way God has forgiven us. Here's Nancy in a series called "Freedom through Forgiveness."
Nancy Leigh DeMoss: I remember the day at the close of a conference where I had been speaking all day when a mother-in-law and daughter-in-law came down the aisle to speak to me. The daughter-in-law was great with child. She looked close to nine months pregnant, and she and the mother-in-law came together to tell me their story.
The younger woman had been married to the older woman's son for about four years. And through all the time of the younger couple developing their relationship and up to this very day that mother-in-law and daughter-in-law had never gotten along with each other.
They had really disliked each other intensely. And there had been just walls and barriers and differences between them. I don't know if they knew what it was all about or what all the reasons were for their anger because when you start to see someone else through eyes of hurt, you finally get to the place where everything they do bothers you.
But that day as God had dealt with each of their hearts, they had come separate from each other to the conference. In fact the older woman, who was on the committee that brought the conference to the area, had not invited her daughter-in-law because she said, "I knew that if I had invited her, she wouldn't come."
But they both did come and God found them there in that auditorium sitting in different places in that auditorium. And during the course of that afternoon as we talked about this subject of forgiveness, I don't know who it was who made the first move, but I know that those two women ended up together in the prayer room in each other's arms seeking one another's forgiveness for the hurts, the wounds, the wrongs and then extending, in the name of Jesus, forgiveness to each other.
I followed up a little bit later and talked with the mother-in-law. And then I received a letter from the daughter-in-law and found out that during those next weeks they began the process of repairing the damage that had been done by those years of bitterness and anger and even begin to meet regularly to pray with each other and to study the Word together.
Now their problems didn't all go away. They still had issues. There was a lot of build up there but that process of healing began with a point of forgiveness.
We're talking over these days about the subject of forgiveness and realizing we're going to get hurt. The question is, How will we respond when we do get hurt? We saw in yesterday's session that a natural response to hurt is to become a debt collector, to insist that the offender pay up or pay back.
We're seeing that God's way is the pathway of choosing forgiveness. I think we need to understand several things about forgiveness.
One of the things that have helped me the most is to realize that forgiveness is not a feeling. Forgiveness is not emotion. Forgiveness ultimately is a choice. It's an act of my will. It's not that I can't forgive.
Ultimately it comes down to the fact that I won't choose to forgive. You see God's Word, and we all know this, clearly commands us that we must forgive. And when God gives us a command, if we are His children and we have His Holy Spirit living inside of us, He will give us the power, the ability to do whatever He commands.
Philippians 2:13 tells us "It is God who is at work within you both to will, (that is to desire) and to chose to do of God's good pleasure."
Now I know these verses are very familiar to most of us in this room. But I think it is important that we repeat some of these familiar truths and scriptures over again to remind us, on these basic issues of forgiveness, what God's Word says.
For example we go to Mark chapter 11 [:25] and we hear Jesus saying, "When you stand praying, (when you go to church, when you're in a prayer meeting, when you're having quiet time) if you hold anything against anyone"¦"
Now before I finish the verse let me just say, "Would you agree that that pretty much covers the bases. If you hold anything against anyone, I mean that's really a blanket statement Jesus is making. It covers every possible offense that I might be holding in my heart.
And He's saying, "When you come to talk to your Heavenly Father if you hold anything against anyone, before you keep praying, forgive that person, forgive him so that your Father in Heaven may forgive you your sins."
We'll talk in another session about how our ability to experience God's love and forgiveness is directly related to our willingness to extend forgiveness to others. I want to read a couple of other verses that make this same point.
You're familiar with that passage in Ephesians chapter 4 [:31-32] that says, "Let all bitterness," all bitterness, now many of us will deal with most of the bitterness; but we just let this little root, this little seed of bitterness find a lodging place in our hearts.
And I want to say that the little seed of bitterness that you let stay in your heart, may end up being your own undoing. So that's why the apostle Paul says, "Let all bitterness and wrath and anger and clamor and evil speaking be put away from you, (Get rid of it) and (get rid of ) all malice." And instead put in its place kindness.
"Be kind one to another, tenderhearted, forgiving one another, even as God for Christ sake has forgiven you."
There's a similar passage in Colossians chapter 3 [:12] where Paul says, "Therefore as God's chosen people dearly loved and holy," as God's chosen people holy and dearly loved"¦
Now let me just say here, if you're not a child of God then you will not have the capacity to truly forgive. He's speaking here to those who are God's chosen people, those who are holy before Him and what is he saying?
"Clothe yourselves with compassion." Now I know everyone in this room got dressed this morning. But did you clothe yourself with compassion? Did you think to put on love?
He says to "clothe yourself with compassion, with kindness, humility, gentleness and patience." That's quite a list, isn't yet? When you get dressed in the morning, do you think of putting on those qualities, those characteristics?
Let me say that within our homes and our workplaces and our relationships, it would be good, periodically, to ask ourselves how we are doing in these areas? Have you put on compassion, kindness, humility, gentleness and patience? Can you imagine how the spirit of our homes, our churches, our workplaces would be different if we women would just clothes ourselves with those characteristics?
Well it goes on to say, we're in Colossians chapter 3 [:13], "Bear with each other and forgive whatever grievances you may have against one another." Forgive whatever grievances you may have against one another. And this is the standard "forgive as the Lord forgave you." That's quite a bar he's raised there, isn't it?
How are we to forgive, as God forgave us. Well that begs this question. How has God forgiven us? How did God forgive us? For killing His only son.
Now when we go back to Psalm 103 [:10-11], we are given a glimpse, as in many other places and scriptures, we're told that the Lord "has not dealt with us after our sins. He has not rewarded us according to our iniquities for as the heaven is high above the earth, so great is his mercy toward those who fear him. As far as the east is from the west, so far as he removed our transgressions from us."
So how has God forgiven us? Well we see that His forgiveness is complete. It's permanent; it's unconditional and this is what I love about it, it's underserved. It is absolutely undeserved. We can't earn it, we can't work for it. We can't perform harder to get it. His forgiveness is all of grace.
So how are we to love others, how are we to forgive others when they sin against us? Our forgiveness is to be complete; it's to be permanent; it's to be unconditional. And it's to be given even when it's not deserved.
Here's the wonderful thing about the grace of God, and that is that we can actually forgive others with the same grace that we have received from God.
I love that about His grace. He pours into our lives, He lavishes upon us, the abundant exceeding riches of His grace. He pours them into us. And then when He asks us to extend grace and mercy and forgiveness to others, where do we get the grace? From God.
We don't have it in ourselves, but God has given His grace to us so that we can extend to others the same mercy and grace that we have received from Him.
Forgiveness is a choice. It's an act of my will. It's a response to God's command that says, "Yes, Lord, though I have been hurt deeply, yet by Your grace I chose the pathway of forgiveness."
Leslie Basham: We can forgive even when it seems impossible. Nancy Leigh DeMoss has given us a great reminder today. She'll be right back to pray.
Now if you're thinking, I still don't think I can forgive; you don't understand what so and so did to me, then we hope you will continue to learn about this topic. Here's how.
Nancy has written a booklet that will help you search your heart and search the scripture. It's called Freedom through Forgiveness. It would be a great tool to use during your personal study time. It's free when you ask for it during our current series on forgiveness. Just go to ReviveOurHearts.com or call 1-800-569-5959.
If you believe in the ministry of Revive Our Hearts, would you consider helping us with a monthly financial gift? You'll be helping us reach women like the one who wrote us from Georgia.
Her parents had divorced after 30 years of marriage and she wrote: "After listening to Nancy talk about bitterness, I realized for the first time I wouldn't thank God for the situation. I hadn't forgiven them. I think until then I thought I deserved to be bitter and angry because of how this has hurt me."
She goes on to say, "I now realize it is a sin and confessed it that day. And I am now asking the Lord to replace the bitterness with His love for them. There are so many women with so many hurts. That's why our mission is to call women to freedom, fullness and fruitfulness in Christ.
If you would like to help, you can mail your donation to Revive Our Hearts . And make sure to ask for the booklet, Freedom Through Forgiveness.
Computers can sometimes frustrate us, especially when we accidentally lose data. But they can also teach us a lot about forgiveness. We will find out how tomorrow. Now let's pray with Nancy .
Nancy Leigh DeMoss: Father, today I lift up to You those in this room who are dealing with wounds and hurts of the past. And I ask that You would give mercy and grace to choose the pathway of forgiveness.
May we not rely on our feelings, not wait until we feel like forgiving but be willing to say, "Yes, Lord, I will choose by Your grace to extend forgiveness to those who have wronged me, to those who have sinned against me.
Thank You, Lord, for your incredible grace poured out into our lives and may we forgive others as You have forgiven us. We pray in Jesus' name. Amen.
Leslie Basham:
Revive Our Hearts with Nancy Leigh DeMoss is a ministry partnership of Life Action Ministries.
Revive Our Hearts is made available through the generous gifts of supporters. Your gift is appreciated to help keep this ministry touching the lives of women through the radio and Internet. Visit www.ReviveOurHearts.com or call 1-800-569-5959 to partner with us.
*Offers available only during the broadcast of the podcast season.
Support the Revive Our Hearts Podcast
Darkness. Fear. Uncertainty. Women around the world wake up hopeless every day. You can play a part in bringing them freedom, fullness, and fruitfulness instead. Your gift ensures that we can continue to spread gospel hope! Donate now.
Donate Now