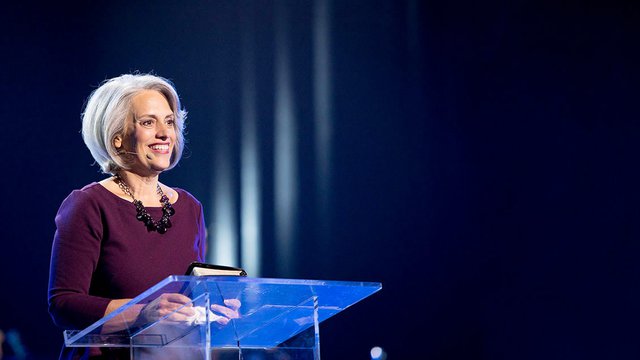 — Audio Player —
Honoring Spiritual Leaders
Leslie Basham: Here's Nancy Leigh DeMoss with an important question for everyone who belongs to a local church, which should be all of us.
Nancy Leigh DeMoss: Do the spiritual leaders in your church know that you appreciate, respect, esteem, and love them?
Leslie Basham: This is Revive Our Hearts with Nancy Leigh DeMoss for Monday, September 26th. Are you obeying what the Bible says about honoring the spiritual leaders in your church? Maybe you're saying, "I don't know what the Bible says about that." Well, stick with us this week, and you'll find out as Nancy begins a series called Follow the Leaders.
Nancy Leigh DeMoss: Well, as you may be aware October has been designated as Pastor's Appreciation Month. So, as we come into that special month, I want us to take some time to look into God's Word and talk about why it's important to appreciate our pastors and how we can express our appreciation for them.
I am so grateful for the many godly pastors and spiritual leaders that the Lord has put into my life over the years. I think about Pastor Earl Conners. He's now with the Lord, but he's the man who baptized me when I was five years old. I have two memories of Pastor Conners, beyond my baptism.
One is his pastoral prayers on Sunday mornings. As a little girl it seemed to me that eternity had come when that man prayed. They seemed to be really, really long pastoral prayers. But I remember that now, forty-something years later, him praying for his people.
I remember when he would serve the Lord's Supper, Communion. He would pass the plate to the deacons and elders at the front after they had passed out the elements, and he would quote memorized passages from the Old and New Testaments about the sacrifice, the body, the blood of Christ. I just have that memory of Pastor Conners washing the congregation with the Word of God and praying over us.
Then I think of Bill Hogan, the pastor that I grew up under for many years; he gave me such a love for the Lord, built a foundation of God's Word in my life, instilled in my heart a love for expository teaching and preaching of the Word. Bill and his wife Jane still are connected to my life. They pray for me and for Revive Our Hearts every day of the week years later.
I think of the pastor of the church in Michigan where I'm a member who has been a faithful servant to the Lord and of that one church for I think probably thirty-five years now, has just loved and faithfully served that congregation.
And then the pastor of the church that I attend in Little Rock who is such a shepherd; he has a shepherd's heart. He prays for his people. He's a faithful expositor of the Word of God. I thank the Lord for him.
I think of so many other spiritual leaders, Sunday school teachers, youth workers, music ministers, people who have ministered to my life, have shepherded my heart, have cared for my soul—God's leaders. What a blessing.
By the way, I had a reminder this week of what a blessing they are. I got an e-mail from one of the elders of my church saying that the elders had prayed together for me and for these recording sessions this week. I was so encouraged and just motivated again to know what could I do to be a blessing to those elders and to the pastors and the leaders of our church?
You know, the Word of God identifies for us a number of requirements for those who are in positions of spiritual leadership. It tells us how they are to administer their duties, what their responsibilities are. The Scripture also gives us some requirements for those of us who are called to follow their leadership. It talks about the attitudes we are to have toward our spiritual leaders and how we are to act toward them, how we are to treat them.
I want to look at several of those New Testament passages over the next several days. And I want to challenge you to let God search your heart to show you how well you are following the spiritual leaders that God has put into your life.
One of the most important passages along this line is found in the book of 1 Thessalonians chapter 5. So let me ask you to turn there. We're going to look at two verses in 1 Thessalonians chapter 5, verses 12-13. In this passage we see three responsibilities of leaders and three responsibilities of followers.
First Thessalonians 5:12-13. Now as I read these verses, see if you can pick out what are the responsibilities of leaders and what are the responsibilities of followers. Verse 12, "We ask you, brothers, to respect [or some of your translations will say to know, to respect or know] those who labor among you and are over you in the Lord and admonish you, and to esteem them very highly in love because of their work. Be at peace among yourselves."
Did you catch what the responsibilities are first of the leaders? It says they are to labor. The New American Standard translates that "diligently labor." "They are to exhibit great effort and exertion," John MacArthur says, "to the point of sweat and exhaustion." In other words, being a pastor or spiritual leader is hard work. They are to diligently labor in the ministry.
Then it says they are "over you in the Lord." That means they are supposed to lead. They are supposed to exercise authority. They are supposed to provide direction and guidance and leadership for the flock of God. They are shepherds of the flock, so they are to provide leadership.
Then it says that they "admonish you." Some of your translations may say "instruct you." They are to teach, admonish, not just giving people head knowledge but for the purpose of life change. Their responsibility is to correct the sheep in the flock when they see that we are going the wrong direction. They are supposed to show us where we need to change and warn us of what will happen if we don't change.
So those are the responsibilities of leaders. Now, what's really important for us to see in this verse is our responsibilities as followers. What are they? First, we're to respect or know our leaders. Secondly, we're to esteem them. And then thirdly, we are to be at peace among ourselves, which I think speaks of the relationship between the people and the spiritual leaders.
Today I want to look at the first two of those responsibilities. In the next session we will pick up the third one. What are the first two responsibilities? The first one is to respect or to know them. The second is to esteem them very highly in love. What does that mean, to respect them, to know them? The word has to do with recognizing them, appreciating them.
First of all we need to know who our spiritual leaders are. Whatever they are called in your church, you need to know who they are. You need to know them well enough that you could be deeply grateful for how they serve the flock. Well enough to respect them. We are to respect or know those who minister spiritually to us, those who care for our souls.
Then we are to esteem them very highly in love. Now this is the Scripture teaching. It's not saying here that they are perfect. We are assuming that they are human, that they are not yet glorified. We are assuming also that they are fulfilling their responsibilities. But it says we are to hold them in the highest regard.
Why? It doesn't say because they have a great personality. It doesn't say because we love their style. It says because of their work, because of the work that they do, because they fulfill these responsibilities before God.
I think it's important not only that we have this heart attitude of respecting and esteeming very highly in love those who provide spiritual leadership for us, but we need to let them know that. We need to express to them that we esteem them, that we respect them, that we love them.
Do the spiritual leaders in your church know that you appreciate, respect, esteem and love them? Verbalize it, and then write notes. Write cards. Find ways to express your appreciation. Birthday cards, anniversary cards. And I'm talking not just about the pastor but about the youth pastor, the worship minister, the elders, the deacons, and of course their wives. It's so important to include their mates in this because they are together in ministry.
Thank them. Say to your pastor what it is you appreciated about a particular message, how God used it in your life. Don't just keep it to yourself. Let him know; he needs that encouragement. Praise. Affirm. Thanksgiving is coming up, and I love sending Thanksgiving cards.
Actually I don't send Christmas cards anymore because so many people do, and I figure they don't get as much attention. But I do send Thanksgiving cards. I thank people who are ministering and serving with me, who are leading my life spiritually. "Thank you for your investment in my life." Make sure you encourage their wives.
By the way, for the third or fourth year in a row now at Revive Our Hearts we have developed a pastors' wives' appreciation pack, and what a great way for you to minister to your pastor's wife or youth minister's wife.
We got an e-mail not long ago from a pastor's wife who said, "Last year I was blessed by receiving a pastor's wife appreciation pack from Revive Our Hearts. I had e-mailed them with a note stating that our church did not make this month special in my husband's life and how it saddened my heart. Being his wife there was no way that I could suggest it."
A few days later after she sent this e-mail to Revive Our Hearts, she said, "I received the lovely packet." We went ahead and sent her one, thanking her for her ministry as a pastor's wife. She said, "I received it, and it made my year." She said, "Thank you, Revive Our Hearts, for your love and concern for the pastors and the pastors' wives. To my surprise the church did shower my husband with cards, and it definitely made his year."
That's a pastor's wife. And your pastor's wife will be so blessed, so encouraged if you will minister to her and if the church will minister to her husband.
Let me just add this thought about respecting and esteeming your spiritual leaders, esteeming them very highly in love. One practical way to do that is to make sure that you speak well of your spiritual leaders to others. That's the positive way of saying it.
Here's the other way. Don't criticize them. Don't be a gossip. Don't be a critic. Don't be evaluating the sermons, especially in front of your children. The way you respond to spiritual authorities will have a huge impact on the way your children view your authority and the way your children respect other authorities. So speak well of your spiritual leaders, not only to them but to others as well.
If you have a concern, tell the Lord about it. Pray about it. Ask the Lord to deal with that issue. Now, if there's a violation of a biblical principle, then there may be other steps that need to be taken, but you make sure that you are not creating any dissension or disloyalty in the body of Christ, that you are speaking well of your spiritual leaders to others.
Respect them, know them, esteem them very highly in love for their work's sake.
Leslie Basham: Nancy Leigh DeMoss will be right back to lead us in prayer. She's been giving us some practical advice on how we can honor our pastors, including praying for them. We'd like to help you pray effectively, and we have developed a prayer calendar called Thirty-one Days of Praying for Your Pastor. It's small enough to fit in your Bible, but the ideas it gives you for prayer can make a big impact.
For instance, Day One says, "Pray that your pastor will love God with all his heart, soul, mind and strength. Pray that God's Spirit will work in his heart in power and that he will value and follow biblical priorities." Would you call us and ask for one free copy of Thirty-one Days of Praying for Your Pastor? Our number is 1-800-569-5959.
And let me challenge you: Would you consider ordering a pack of fifty prayer calendars to give out at your church? Imagine how encouraging it would be for your pastor to have a group of people consistently praying for him.
As Nancy mentioned, October is Pastor's Appreciation Month. We have some great ideas of how you can encourage your pastor and his wife. Just visit our website, ReviveOurHearts.com. Now, let's pray with Nancy.
Nancy Leigh DeMoss: Thank you, Lord, for the spiritual leaders You have brought into my life over the years. What a blessing and encouragement and help they have been to my soul! Thank You for their work, for their labors, for their diligence in studying Your Word and teaching it and admonishing the flock and providing leadership for Your church.
Lord, I pray that You would show us as women how we can administer grace and encouragement and respect to these men who faithfully serve You. Help us be a blessing to them as they have been a blessing to us. I pray in Jesus' name, amen.
Revive Our Hearts with Nancy Leigh DeMoss is an outreach of Life Action Ministries.
All Scripture is taken from the English Standard Version unless otherwise noted.
*Offers available only during the broadcast of the podcast season.
Support the Revive Our Hearts Podcast
Darkness. Fear. Uncertainty. Women around the world wake up hopeless every day. You can play a part in bringing them freedom, fullness, and fruitfulness instead. Your gift ensures that we can continue to spread gospel hope! Donate now.
Donate Now