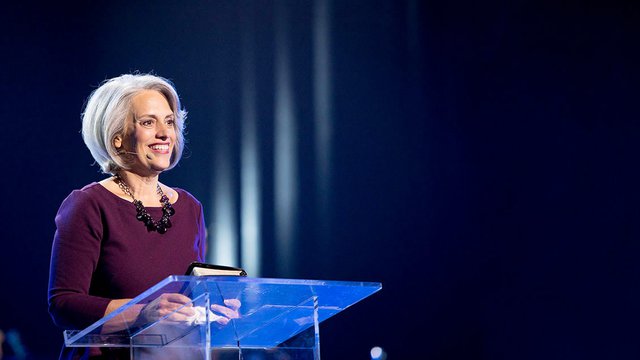 — Audio Player —
Holding Him Up
Leslie Basham: Could you pray an hour a day for your pastor? It's easy, according to Jerry Cherry.
Jerry Cherry: People ask me, "Brother Cherry, how do you pray almost an hour a day for your pastor?" I have that list of 17 requests. He has 13 grandchildren, and that takes a while to go through. And then for his precious wife and other needs that he has.
Leslie Basham: This is Revive Our Hearts with Nancy Leigh DeMoss for Friday, October 7th. We've been in a series called Follow the Leader. Yesterday Nancy taught us why it's so important to pray for our pastors. Today we'll hear from a man who really gets it. Here's Nancy.
Nancy Leigh DeMoss: One of the things we try to do through the ministry of Revive Our Hearts is to lift up the hands and the hearts of pastors and their families. I'm so thankful to the Lord for the pastors He's brought into my life and for how God has used them in my life. It's so important that we be expressing encouragement and affirmation to those men and women of God and supporting their families in every way that we can.
As part of Pastors' Appreciation Month, we're putting a special emphasis on expressing gratitude for the pastors and their families that God has brought into our lives. One of the most encouraging things we can do for pastors is to pray for them. I've heard so many pastors over the years express how much they need and appreciate and value the prayers of God's people.
I'm delighted today to welcome as guests on Revive Our Hearts three friends who are actually not with us in the studio. They're at our station partner WCRV in Memphis. So we're talking over the phone lines, but I want to thank them for coming into the studio today, and WCRV for hosting us there and making it possible for us to have this conversation.
Brother Bobby Moore is the pastor of Broadway Baptist Church in Olive Branch, Mississippi, and he and his wife have been such a dear influence on my life. God has used your ministry and your message in my life numerous times over the years. You have a pastor's heart; not just a pastor's job, but a shepherd's heart. Thank you so much for joining us on Revive Our Hearts today.
Bobby Moore: I'm grateful, Nancy, for your friendship and the relationship that we've had through the years. It's an honor to be able to try and be of an encouragement to other pastors today. Thank you for asking us.
Nancy: And you have with you there in the WCRV studio a couple who are dear friends of yours and mine as well. Jerry and Susan Cherry are a couple in your church, and we want them to share a little bit of their story and how their hearts have become connected to yours. Jerry and Susan, welcome to Revive Our Hearts, and thank you for joining us today.
Susan Cherry: Thank you, Nancy, for having us today. We're glad to be here.
Jerry Cherry: Thank you, Nancy.
Nancy: Tell us how God started to work in your heart and how the whole burden for a pastor's prayer ministry developed.
Jerry: Well, Nancy, I got tired of just being a layman. I was a layman and a deacon, gave, loved my pastor all those years . . . up until nine years ago. I began to seek the Lord on how He could use me.
My wife Susan has a wonderful voice for the Lord, and she sings in his revivals. I began to seek the Lord, at 50 years old, on how He could use me in my latter years. I wanted to be sure and "burn out, not rust out," as the old saying goes. So I began to pray and fast and seek the Lord on how He could use me to build my church, to build His kingdom.
Through prayer and fasting for about 27 days, seeking a ministry and . . . our pastor had asked a dear man to come and do a prayer ministry one weekend. Susan and I attended that, and I knew that he had something a little different than I had. So we took that couple home that night, along with Brother Bobby and Mrs. Joyce, and fed them.
After eating we went into the den, and they began to pray for us. This dear brother knelt over me and began to pray, and I could feel his hot tears fall on my back.
After they left, Susan and I were sitting in our bedroom. She asked me what was wrong. And Nancy, through the years I've had a quiet time on a faithful basis. I did that every morning, spending an hour with the Lord. And I looked at my wife and I said, "Honey, I don't even know how to pray."
So I said, by God's grace I'm going to learn how. So through that weekend, as we took Bill and Mary Annback to the airport, God spoke to my heart on the way home and called me to the prayer partner ministry. The following week I called about 70 men that were in that prayer meeting, and 56 men said, "Brother Jerry, we'll go with you."
So we started a prayer partner ministry for our pastor. Every time he preaches in our church, on Sunday morning and Sunday night, there's a group of 10-12 men praying underneath the pulpit area where we put our prayer room.
For the first four or five years we dealt only with men, because I knew that men will back off and let the women do the things God's called them to do. For the first five years, I believe it was, we dealt with men only, praying for our pastor and praying for the service.
Nancy: So did many of those men feel the way that you did, that they really didn't know how to pray until that time?
Jerry: I had men tell me, "Brother Jerry, I've never prayed out loud." So I mixed the young men with the older men so the older men could get the vigor from the young guys and the young guys could get the wisdom from the old men. After probably about four or five times they prayed back there, they began to learn to pray, and now they pray before the whole church over the offerings taken up.
Nancy, I've seen our church just break when those men spend an hour and a half with the Lord, and then come out and begin to pray. It's not just the normal prayer, "Bless the gift and the giver." They get a hold of God! They've been with God for an hour and a half, pleading for their pastor, pleading for the services, pleading for people by name that they know may be lost or cold or indifferent in the services. It's literally changed our church these nine years that we've been doing this.
Nancy: Brother Bobby, did Jerry come and tell you at the beginning that he had this burden for prayer?
Bobby: Well, after we had the prayer conference, he shared with me what he wanted to do. I'd been trying to get a group of men to pray. As a matter of fact, I'd gone up to the church one Saturday night and prayed by myself and invited the men of the church to come. Over a period of months very few men came.
When God moved on Jerry's heart, it just seemed to be the right timing. The fact that I'd been trying to get something done and I was not able to do it, and yet God raised him up . . . the Lord just really blessed through his submission and surrender to lead that ministry.
So he did share with me what he wanted to do and how he and Susan wanted to pray for me. They asked me to write out my needs, and I wrote out a whole bunch of things and gave it to them. They began to pray and still pray faithfully for all those needs plus a lot of others since then.
Nancy: So this was not just a matter of people praying during the services; this is a matter of a couple taking you on their heart and carrying you consistently in prayer.
Bobby: Well, of course, Jerry would never say anything about it, but he does this every day, every morning, not only for me but for all of our church staff, for their wives, for their children, their grandchildren.
Nancy: And not only your church staff, by the way. I know that he and Susan pray for the staff of our ministry and know the names of our staff children and grandchildren, some of them better than I do because they're carrying that burden in prayer.
Bobby: You know, God's given him and Susan this burden. I think He gave it to Jerry first, and then I think Susan got the burden from the influence and the power of a praying husband. So they both are vitally involved in the prayer ministry, not only of our church, but God has used them in places all over this land to go and encourage churches to pray for their pastors and pray for their church. It's such an impressive thing for people in the congregation to see a layman who has such a heart for God and such a heart for prayer.
Nancy: Brother Jerry, did that heart for prayer increase and develop, or was it just there all of a sudden?
Jerry: Well, I'd have to say, Nancy, that it's increased through these years; but for some reason the Lord burdened my heart for my pastor more than just praying during the service and getting these men to do this. I began to realize immediately how our pastors need prayer.
You know, we put them on a pedestal. I don't think a pastor puts himself on a pedestal, but they're needy just like we are; and I began to realize that almost immediately. God so knit my heart to Brother Bobby's heart, just like in 1 Samuel chapter 18 where Jonathan and David's hearts were knit together.
I became a Jonathan to my pastor, for Jonathan took off his robe, laid down his sword and shield, laid down his spear. I went to my pastor and I laid down all that I have. He can have anything I have, whatever there is in worldly possessions, because I love my pastor. He's built my life for 31½ years. There's not one thing I wouldn't do for him.
When I go into churches, I try to teach these laymen the grave responsibility they have to pray for their pastor. Not only to pray for him, but to make sure that his needs are met financially, physically if they can. I've taken on praying for Brother Bobby on a daily basis.
People ask me, "Brother Jerry, how do you pray almost an hour a day for your pastor?" I have that list of 17 requests. He has 13 grandchildren, and that takes a while to go through; and then for his precious wife and other needs that he has. So falling in love with my pastor [is like] reading in Exodus where Moses' arms needed to be lifted up [because they had] become a hurt to him and Aaron and Hur lifted up his arms in the battle. Our pastors are weary.
I think Monday is probably the day that they're more attacked, after a wonderful day with the Lord on Sunday preaching two messages; then they're more vulnerable on Monday. So Monday is a time that our pastor comes to my office. I have a group of businessmen from our church and another one of our staff meet every Monday morning from 6:00-8:00 to pray for our pastor and our staff during that time.
Satan gets more bang for the buck if he can destroy a pastor. If he can cause a pastor to fall, then he causes a community to take several years to get over that. God forbid that a layman or a deacon or other men in the church fall, but for a pastor there's more damage done to the community, to the name of Christ. So this prayer partner ministry has brought a group of men together who see that their pastor is just like they are.
Leslie Basham: We've been hearing from Jerry Cherry on how joyful it is when we learn to pray. Nancy Leigh DeMoss has been talking with Jerry and his wife Susan. We also heard from their pastor, Brother Bobby Moore.
You might not be ready to commit an hour a day, or maybe you are. Either way we want to help you pray effectively for your pastor every day. That's why we hope you get a copy of a free prayer calendar called Thirty-One Days of Praying for Your Pastor. It will give you a new topic to pray about every day and serve as a reminder to take your pastor's needs before the Lord.
Thirty-One Days of Praying for Your Pastor is free. You can get a copy by calling 1-800-569-5959. If you'd like to multiply your prayers, you can order a pack of 50 prayer calendars for a low price and give them away at your church. Call or visit ReviveOurHearts.com.
Nancy will start a new series on Monday. If you think you know the story of Noah, listen next week. You'll get a lot out of this story and see it in a fresh light. Please be back for Revive Our Hearts .
Revive Our Hearts with Nancy Leigh DeMoss is an outreach of Life Action Ministries .
*Offers available only during the broadcast of the podcast season.
Support the Revive Our Hearts Podcast
Darkness. Fear. Uncertainty. Women around the world wake up hopeless every day. You can play a part in bringing them freedom, fullness, and fruitfulness instead. Your gift ensures that we can continue to spread gospel hope! Donate now.
Donate Now