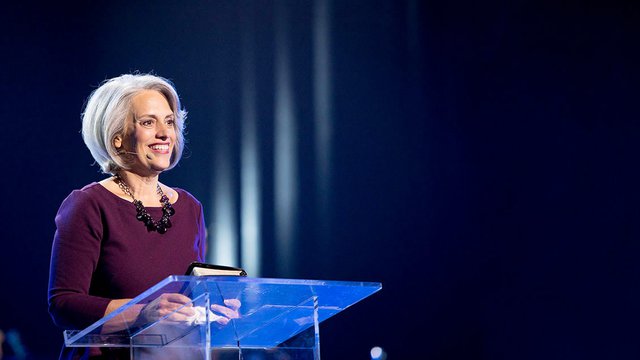 God's Promises
Leslie Basham: What are you most afraid of today?
Woman #1: Being alone.
Woman #2: I don't like to be out of control.
Man #1: I am absolutely scared to death of snakes.
Man #2: Not serving my Lord well enough.
Leslie Basham: It's Thursday, August 5; and you're listing to Revive Our Hearts with Nancy Leigh DeMoss. What are you most afraid of today? Did you know that God has already addressed our fears in the pages of the Bible? Let's listen as Nancy identifies some of the promises God has made and how those promises speak to our fears. We're continuing in a series called "Surrender: Facing Our Fears."
Nancy Leigh DeMoss: I think one of the biggest fears that we have as women--and it's also one of our biggest needs--is that of relinquishing control, letting go, not having to manage the entire world ourselves. We have this fear that if we let go--if we relinquish control--that everything is going to fall apart and that it's all going to be out of control. It's our fears I think that often keep us just clinging and hanging on, and ultimately those fears and that hanging on are so self-destructive.
But the enemy lies to us and he convinces us that if you live a life of surrendering everything to the Lord, if you don't hold back anything from the Lord, if you relinquish control to Him, you're going to be miserable.
We've talked about the four categories of fears: provision (will I have what I need?), pleasure (will I be happy?), protection (will I be safe and will the people I love be safe, my children, my mate?) and personal relationships (will my relational and emotional needs be met if I just let God have His way in my life?).
What we don't realize on the front end of those struggles is that not until we do let go and surrender and relinquish control do we find ourselves with the fullest possible provision, pleasure, protection and personal relationships.
We settle for something that is far less than what God intends for us if we insist on trying to fill those empty places of our hearts ourselves. That's why it's so important that we fill our minds and our hearts with the promises of God--that we get to know God and get to know His promises.
For every fear we have, God has a promise. There's something about who God is and about what He has promised that meets us at our points of deepest fear. We've seen this over the last several sessions with Abraham and Sarah as they had to face many of the same fears that we do and had to live with a lot of the same real-life issues and worse in many ways.
Time after time God said, "Let Me show you who I am. This is Me. This is who I am. This is what I am like. These are My promises. I am your provision. I am your protection. I am your God."
As this couple built altars of surrender and faith, God came through. God was faithful. Even if we're not faithful, God still is. I see in the life of Abraham and Sarah and in our own lives as well that it really gets reduced to those two words, "Trust and obey."
Trust that God is who He says He is. Then step out and obey. Do what God is asking you to do. When you can't figure out how it's all going to work, step out and do it by faith. The more you get to know God, the more you can trust and obey.
So let's look today and in the next session at those four different fears and just examine some of the promises of God that counteract our fears, remembering that God wants us to experience provision, pleasure, protection and personal relationships. But He wants us to seek those things in the only place where they can really be found, and that is in Him.
So take this matter of provision--the fear of "Will I have what I need?" We said, "What promise does God have to counteract that fear?" I think about that passage in Luke 12 [:22], where Jesus said to His disciples, "I tell you, do not be anxious about your life, what you will eat, nor about your body, what you will put on."
Then we come down to Luke 12:28: "If God so clothes the grass, which is alive in the field today and tomorrow is thrown into the oven, how much more will He clothe you, O you of little faith? And do not seek what you are to eat and what you are to drink, nor be worried, for all the nations of the world seek after these things. And your Father"--that's the key, we have a Father, capital "F"--"knows that you need these things."
So Jesus said, "Instead of worrying and being fretful and anxious and fearful about your provision and where it's going to come from, trust that your Father knows and then seek His kingdom. Seek the things that matter to Him, and these things will be added to you. Fear not, little flock."
I love this verse. Luke 12:32: "Fear not, little flock, for it is your Father's good pleasure to give you the kingdom." God has a kingdom for us, and we're saying, "What am I going to eat and what am I going to drink and what am I going to wear and where am I going to live?"
Jesus said, "Your Father knows that you need these things."
He has promised in Philippians 4:19 that He will "meet all of our needs, according to His riches in glory by Christ Jesus." He has said, "I want to give you everything." So what are the implications of that promise? One, be content with what we have, remembering that contentment is accepting that God has already given me all that I need for my present peace and happiness. That means if I don't have it, I don't need it.
Hebrews 13:5: "Be content with such things as you have, because God has said, 'I will never leave you nor forsake you.'" So if you have Him, how can we think that we will not have everything else that we need?
If God has given us Himself--He has given us His Son, He has given us His salvation--we have all of those promises, all of that provision. "Fear not, little flock. It's the Father's good pleasure to give you His kingdom," [Luke Hour="12">12:32] how can we become anxious and worried and fretful about where the next meal is coming from?
Be content with what we have. Don't worry about how our future needs will be met because God has promised, "I will meet your needs."
Matthew 6. Luke 12. Jesus says, "Don't worry about these things." When we are anxious and fearful, it's because we're trying to control something that we're afraid may get out of our control. God says, "Let Me control it. Let Me be your provider." Trust that God is going to provide.
I've been reading recently in the Book of 1 Kings in the Old Testament and the story of how Elijah went to King Ahab and said, "The word of the Lord says that it's not going to rain. Neither dew nor rain for the next three years."
Then God said to Elijah, "Go to this brook, and I have prepared ravens to feed you."
Every morning and every evening, God sent birds to bring food to Elijah. Then when the brook dried up, because there was no rain in the land, God said, "I have prepared a widow in the town of Zarephath to meet your needs. Go there." And there was a whole story about how God had prepared this woman, who out of her own need, ministered to the needs of the servant of God. God provided for both of them throughout the duration of the famine.
I think as I read that passage, "How many times does God want to supply our needs in supernatural ways, but we don't give Him the chance?" We're too busy trying to figure out how to manage on our own. A woman wrote recently and she said, "I really want to be at home with my children, but my husband has lost his job and I've had to go out to work to provide for our family."
I don't know this woman. I don't know God's will for her life. What I'm going to say is not particularly in response to her, but in general my thought is, as I think about the ways and the word of God, is it possible that by going out into the marketplace rather than waiting on the Lord that she and her husband missed an opportunity to see God provide for their needs in a supernatural way that would have allowed her to stay in the home and fulfill her heart's desire to be with her children?
I'm not saying that critically. I'm not saying across the board how God does it in every situation. He may not send ravens to meet your family's needs. But I'll tell you what--He could. If that's what God needed to do in order to meet the needs of your family, He would. You see, that's not just the God of the Old Testament. We have a God today who is a supernatural provider--Jehovah Jireh, the Lord our Provider.
How many times do we not get to see God bare His arm and do what only God can do because we're still trying to be in control? So we have His promises. We're to be content. We're not to worry about how our future needs will be met. Then when we have a need, rather than fretting or striving or manipulating, what are we to do? Simply ask Him to meet our needs and ask in faith, confident that if He knows this is a need, He will provide it.
Ask the Lord. Tell Him what your needs are. "Don't be anxious for anything. In everything, by prayer and supplication with thanksgiving, let your requests be made known unto God" [Philippians 4:6]. Then you will have the peace of God that will control your heart and your mind.
I've had the privilege for 24 years now of serving with Life Action Ministries, a revival ministry ministering to the heart of the local church. Most of the staff in that ministry raise their own financial support as missionaries.
It's been an incredible thing over the years as I've watched many children grow up in that ministry to see those kids watching God provide month after month, supernaturally at times, to meet the financial and material needs of their families.
One of those families, who has been with the ministry for longer than I have--they raised all three of their children in this way of just trusting God to supply their needs month after month. Those kids went through Christian college debt free.
They've had to be content with less than what most people would think they need to be content, but that's been part of trusting the promises of God. The father in that home wrote recently and told me what a joy it was to see one of his sons now, who is in his early thirties and who is now a missionary with his children overseas serving the Lord, and that son wrote his dad and said, "Dad, I learned that I can depend on God to meet our family's needs because of what I saw when I was growing up as you trusted the Lord to meet our family's needs."
So as your children are growing up in your home, that doesn't mean you have to be a missionary to walk by faith, but as you have needs in your family, do your children see you praying, asking the Lord to meet those needs?
That should just be a natural response. But what is our natural response instead? Worry and fret and fuss and fume. Instead, tell the Lord, trust His promises and then watch and see how God provides.
Leslie Basham: Maybe you had the kind of parents Nancy Leigh DeMoss was just talking about--parents that modeled trust and surrender to God's provision. Would you write and tell us about them? We'd also love to hear from you with any thoughts about today's program.
If you include a donation of any amount, we'll send you a gift. It's a booklet called Promises to Live By. Meditating on the scriptural promises in these pages will help you trust God's provision. It will help you live a more fully surrendered life before Him.
Again, we'll give you the booklet when you send a donation of any size to Revive Our Hearts. You can also donate on-line at ReviveOurHearts.com or call us at 1-800-569-5959.
Tomorrow we'll discover one of the byproducts that often comes from surrender and sacrifice--happiness. Hope you can be here for the next Revive Our Hearts.
Revive Our Hearts with Nancy Leigh DeMoss is a ministry partnership of Life Action Ministries.
*Offers available only during the broadcast of the podcast season.
Support the Revive Our Hearts Podcast
Darkness. Fear. Uncertainty. Women around the world wake up hopeless every day. You can play a part in bringing them freedom, fullness, and fruitfulness instead. Your gift ensures that we can continue to spread gospel hope! Donate now.
Donate Now