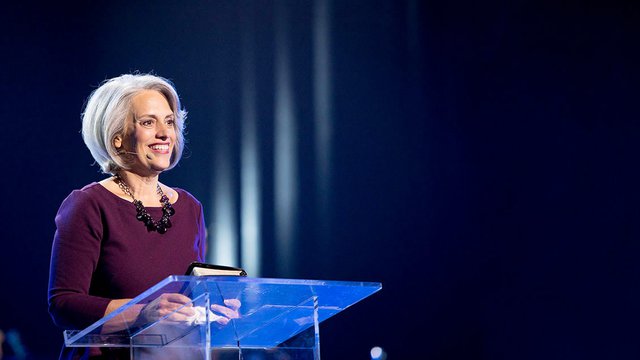 — Audio Player —
Getting Along
Leslie Basham: Here's Nancy Leigh DeMoss on one important way you can serve your pastor.
Nancy Leigh DeMoss: Don't be contentious. Don't stir up strife. God hates it when we stir up strife, disloyalty, or contention among His people. It may happen in the church, but don't you be a part of it.
Leslie Basham: This is Revive Our Hearts with Nancy Leigh DeMoss. When your children aren't getting along with each other, do you find that it can take up all of your time? It's so hard to get anything done when you have to play referee. There's a principle there that's important to anyone who belongs to a local church. Nancy will explain as she continues in a series called Follow the Leaders.
Nancy Leigh DeMoss: I want to share with you today something that has been very much on my heart in recent months and even years as I've watched what's going on in many church situations that I'm aware of. In order to get us into that, let's go back to the passage we were looking at in our last session, 1 Thessalonians 5:12-13.
We're talking about how we can minister to our spiritual leaders. What are our biblical responsibilities as church members to our spiritual leaders? The Apostle Paul says in 1 Thessalonians 5, "We ask you, brothers, to respect those who labor among you and are over you in the Lord and admonish you, and to esteem them very highly in love because of their work. Be at peace among yourselves."
Now we looked in the last session at the first two responsibilities we find in that passage, to respect those who are our spiritual leaders, to esteem them very highly in love. That's a strong term. Again I would ask, are you esteeming your pastor, the leaders of your church, the elders, the deacons? Do you esteem them very highly in love because of their work?
Then we come to the third responsibility that's found in that passage where Paul says, "Be at peace among yourselves." I don't think I'd ever thought a lot about that phrase before until I got into this study. As I thought about this thing of being at peace among yourselves, among pastors and people, it struck me that Satan delights in creating division and conflict in the church.
God has made the church to be a unity, to be one in the Spirit. And what does Satan do? He comes in and he tries to tear things apart. I see this happening all around me, and it seems to work in one of two ways. He goes to one of two extremes. Either you have spiritual leaders who are not biblically qualified, or they fail to fulfill their biblical responsibilities.
I've seen and you've heard stories about great moral failure or sin being covered up in the leadership, doctrinal error, abuse of power, abuse of authority. Those things are tragic. And I know that some of you have been in church situations where you've been really damaged by that kind of thing.
But I want to say that it's not my responsibility to deal with those issues. God does not hold me responsible, and God does not hold you responsible for the sins of our spiritual leaders. We may be affected by it. We may have to respond to it, but our responsibility is to fulfill what God has told us to do as followers. That's what we want to focus on.
The other extreme I've seen Satan do is not just sin in the spiritual leaders, but it's sin in the members. It's carnal church members who have to be in control, who stir-up conflict when they don't get their way.
And let me say, and I want to say this graciously, but it's often caused by women. Not always, but often—women who are speaking when they should not be speaking; women who are creating disorder, who are out of order, who are at times not following biblical responsibilities, such as if they have a concern to talk to their husband first.
Sometimes as women we can be with our tongues . . . we just talk more than men generally, and we can create all kinds of dissension and disunity in the church. That doesn't let men off the hook, but it just says we need to be really careful.
So we see some of these churches that are characterized by strife and by conflict throwing out pastors who are godly men, not perfect but godly men; churches that are contentious, making it impossible for some pastors to lead the flock. I've said many times in recent years, "I cannot imagine wanting to be a pastor today."
So many churches make it so hard for men to pastor. There's this general thing in our culture that is against authority, that thinks nothing of speaking openly and outwardly about our disagreements with authority. We're not careful about how we speak toward authority. We don't care anymore about being respectful toward authorities. That's in our whole culture.
When it comes home to roost in the church, it can be a very devastating thing. I have seen many times where men of God have been rendered impotent, powerless, and ultimately just had to leave the church because of the worst kind of gossip, disloyalty, pettiness, division, anger, hostility, and attacks -- public attacks or behind-the-scenes attacks.
So many times it comes down to just carnality, control issues. There's this little control group in the church. "It's my church. I started this church. I'm a charter member of this church. I've been here longer. I'm twice his age." These attitudes that are so ungodly, they can tear apart churches.
I know some of you in this room have been in the middle of some of those kinds of situations recently and have seen the danger that can happen. How the heart of God must be grieved as He sees His church that He loves, the church for which He died, being torn apart! This is Satanic. This is not of God when these issues are tearing apart the church of God.
Now that raises the question: What about when things happen in my church that I really can't respect or I believe really are wrong? A friend wrote me recently expressing her concern over a situation in her church. Her church happens to be a well-known, evangelical church. There were some situations, actually involving her, that took place in the church, and the way they were handled was very disappointing and disillusioning to her.
All I know is her side of the story. If her side of the story is accurate, my assessment would be that I would think the situation should have been handled differently. I've got to keep in mind that I only know her side of the story. I don't have the perspective of the leadership of the church. But just taking her at face value, I want to share with you an e-mail that I sent to her. This was my response, and it will give some perspective about dealing with situations like this.
I said to her, "I was saddened to hear about the situation in your church. As I read your message the passage that came immediately to mind was Psalm 118:8-9." And by the way, those two verses happen to be located precisely in the middle of the Bible, and they're two good verses to remember in a lot of situations. It says, "It is better to take refuge in the LORD than to trust in man. It is better to take refuge in the LORD than to trust in princes."
I said to her, "Your experience just confirms that the Lord is the only secure object for our trust. People will and do fail us; even the finest Christians and Christian leaders, ourselves included, have feet of clay. We are imperfect people living in an imperfect world, and we have to respond to imperfect situations with humility, grace, compassion and wisdom. Unfortunately, if you live long enough there's no way to avoid the kinds of situations that you're struggling with. The challenge is to learn how to respond to those situations without sinning ourselves."
I said to her, "Your situation is of particular interest to me at the moment because I am developing a new series for Revive Our Hearts on our biblical responsibilities toward those in positions of spiritual leadership, so I have been doing a lot of thinking about these kinds of issues. The Lord will have to direct you as to whether you stay at your church." She was saying, "Should I leave the church? What should I do?"
Then I said to her, "As you think and pray it through, remember that you will never find a church or a church leadership without flaws." And I want to remind you of that. You can go somewhere else. But one, you're going to take your own sinful self. So if you can find a perfect situation, once you get there it will no longer be perfect. And two, you're not going to find a perfect situation this side of heaven.
I said to her, "Regardless of whether you stay or leave, I would encourage you to pray for your pastors and the whole team there at your church. I know enough about pastor so and so to know that he takes the Lord seriously and wants to be the man and the pastor God wants him to be. Through your prayers you can be a part of the sanctification process in the lives of these leaders. You can help him become more of the man of God that God wants him to be by your prayers, which will be of infinitely more value than your criticism."
Secondly, I said to her, "Whether the Lord leads you to stay or leave, ask God to guide your heart and your tongue so you don't develop a hard or bitter spirit and so you don't become an instrument of criticism or division in the church. Hard as it may be, ask God to help you focus on and express gratitude for the many praise-worthy qualities that I'm sure exist in these men and in the church.
"Ultimately, here's something else that's important to remember: God doesn't hold you responsible for what those men do, but only for how you respond to what they do." Then I said to her, "Finally, when you feel discouraged or disillusioned about the condition of a particular church or the church in general, as many do. . ."
Let me say, by the way, I was talking with a Christian worker the other day who works in a para-church ministry. She said she hadn't been in church in ten years because she has been disillusioned by failure, flaws and faults in the church. I don't know what all they are. I know they exist, but she's wrong in her response.
I said to this friend that I was writing, "When you feel discouraged or disillusioned about the condition of a particular church or the church in general, I'd encourage you to go back to the Word and rehearse God's plan and God's love for His church. I find that it helps to keep my eyes on the end of the story; the final outcome of the church is that she will be a beautiful bride without spot or blemish or any such thing. Like it or not, the church, warts and all, is crucial to you and me becoming all God intended us to be."
And I would just share those words of counsel with you. I don't know what your church is like. I don't know what situations are in your church. Some of you are in tiny little churches. Some of you are in mega churches. Some of your churches are just going along at a great clip right now, and there's no major contention in the church.
If you live long enough, you will be in a church situation where you will have opportunity to be critical, to be negative. I want to just encourage you, God's Word says, "Be at peace among yourselves." Don't be contentious. Don't stir-up strife. God hates it when we stir-up strife, disloyalty or contention among His people. It may happen in the church, but don't you be a part of it.
Pray. Ask the Lord to make you a peacemaker, and ask the Lord to show you how you can minister support and encouragement to the spiritual leaders of your church.
Leslie Basham: Did you ever realize that the way you treat other believers affects your pastor? Nancy Leigh DeMoss has been helping us see things from his point of view in this series called Follow the Leaders.
We usually have to trim a few minutes out of Nancy's teaching every day, and today's teaching is no exception. To hear Nancy's complete talk you can order our current series on CD. Just ask for Follow the Leaders when you call.
And ask for your free prayer calendar. If you feel like you're repeating yourself every day when you pray for your pastor, this prayer calendar will give you thirty-one fresh ideas. It's our free gift during this series. Just call 1-800-569-5959.
October is Pastors' Appreciation Month. You need to participate. We hope you're making plans now, and we have some ideas on how to honor your pastor's wife especially. Visit ReviveOurHearts.com for more details.
It's easy to say "Follow the leader," but when it comes to real life, how often do we truly follow? We'll hear more about that tomorrow. Please be back for Revive Our Hearts.
Revive Our Hearts with Nancy Leigh DeMoss is an outreach of Life Action Ministries.
All Scripture is taken from the English Standard Version unless otherwise noted.
*Offers available only during the broadcast of the podcast season.
Support the Revive Our Hearts Podcast
Darkness. Fear. Uncertainty. Women around the world wake up hopeless every day. You can play a part in bringing them freedom, fullness, and fruitfulness instead. Your gift ensures that we can continue to spread gospel hope! Donate now.
Donate Now