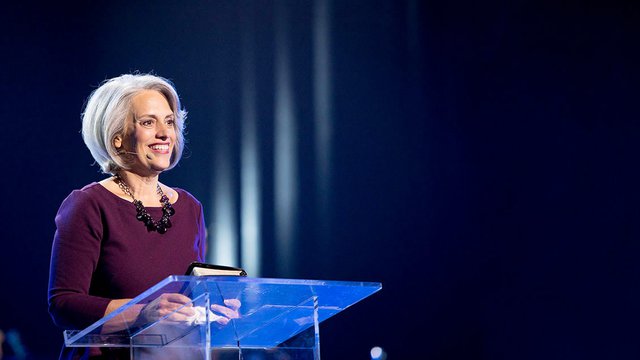 Get Ready
Leslie Basham: Here's Nancy Leigh DeMoss helping us to imagine a very unusual bride.
Nancy Leigh DeMoss: Her face is dirty. She's not fixed her hair. I mean, she looks like she just rolled out of bed. The dress is torn, it's ripped, it's disheveled, it's got grass stains on it and it doesn't fit her properly. She looks awful. Have you ever seen such a thing?
Leslie Basham: It's Thursday, July 31; and you're listening to Revive Our Hearts with Nancy Leigh DeMoss. There's no rule that says a bride has to present herself as beautiful and ready for the wedding, but she does it to demonstrate love for the groom.
That's kind of like our relationship with Christ, our Heavenly Bridegroom. He'll love us no matter what, but we want to grow in maturity and godly character to show our love for Him. Here's Nancy to tell us more.
Nancy Leigh DeMoss: I want you to imagine, if you would, a great, spectacular, royal wedding. All the preparations have been made; all the announcements have been sent out; the invitations have gone out; the people have responded; they've come to the wedding and they have found a beautiful building filled with flowers of every description.
The sanctuary is fragrant. There are bows and beautiful decorations everywhere. There is gorgeous music playing. The groom-to-be and his groomsmen come and take their places at the front of the auditorium.
And now all the guests have been seated and the wedding is ready to start; the candles have been lit, they are everywhere--and the familiar strains of the wedding march. What happens? Everyone stands up. All the necks turn and crane in one direction. What are they looking for?
The bride. But as we see that bride it looks like something is out of place. As she approaches the aisle where we're standing, it looks like her veil is, well, it's askew. It's off. And then we realize it's not just her veil. It's the bride herself. Her face is"¦it's dirty. She's not fixed her hair. I mean, she looks like she just rolled out of bed. I can't imagine this. Have you ever seen such a thing?
And then she gets closer and you can see it's her dress, too. The dress is torn, it's ripped, it's disheveled, it's got grass stains on it and it doesn't fit her properly. She looks awful. Well this is unimaginable.
But then comes the most astounding sight of all. That is when the bride gets to the front of the auditorium and we see that amazed, grieved look in the eyes of her bridegroom as he realizes his bride did not care enough to get ready for the wedding.
She's not ready. What a sense of hurt that groom must feel as he realizes she didn't care enough to get ready for the wedding.
We've been talking over these days about the fact that God has planned a wedding. God sent His Son to earth to find a bride and God chose us not because we were worthy but just because He loved us.
He paid the bride price for us. He gave us an engagement ring of His Holy Spirit--a guarantee of the fact that He would return. He went to heaven to prepare a place for us. He's been doing that all these years.
The day is coming, the Scripture teaches us, when the bridegroom is coming back to consummate the marriage. WE will be intimately joined together with Him. We'll spend eternity with Him. We've said that what we're supposed to being doing now during this time here on earth is getting ready for the wedding.
As we look at God's grand plan--the wedding He has planned for His Son, the Lord Jesus, I wonder if you find yourself sometimes feeling discouraged about life on this earth. I mean, life just isn't very wedding-like.
I was at a wedding recently. I've told you a little bit about that wedding in the past days. The bride was just beautiful for the wedding. It was a beautiful wedding. Then I saw her (quite by accident actually) the next morning--she and her groom as they were getting ready to leave town.
There they were back to their blue jeans and T-shirts. They were just back to really being comfortable. No more of this wedding stuff.
I think that, as we look at life, most of life is more like the blue jeans and T-shirt stuff. Most of life isn't like "wedding day." We're having to live in most of life. We're having to live in the realities of broken relationships and hurt and pain and financial problems and stock market problems and health problems and crime and estranged relationships.
It's easy to get discouraged and to feel that this doesn't seem very much like an approaching wedding day at all. When you get discouraged, lift your eyes up and look to the end of the story. Remember--this is not it. This is not the end.
Jesus Christ did not come and give His life to save you to just leave you. He's coming back. The wedding will be consummated. We will live with the Lord forever. So don't lose the big picture. Don't lose perspective. That ought to encourage and strengthen your heart today with whatever you're facing.
Then just this reminder that it's so important we not lose sight of our beloved--that we not forget about Him in the midst of all the busyness of everyday life. In Jeremiah chapter 2 [:32 paraphrased] God says "Does a bride forget her wedding ornaments? Does a bride forget to wear her veil? Or forget to wear her jewelry? Or forget to wear her dress? Unthinkable!"
Yet, God says, "My people have forgotten me." Unthinkable. But it really isn't, is it? It's so easy to just forget why we're here and where we're headed and whose we are and the fact that we are the Bride of Christ.
God says "I remember. You have forgotten. But I remember the love of your youth, how as a bride you loved me"[Jeremiah 2:2 paraphrased]. You see, God doesn't forget our promises to Him. But so often we forget His promises to us, that covenant. We forget that we're a bride. Then we forget to live like a bride.
Then I want to ask: Are you ready for the wedding? Are you ready for the Bridegroom to return? What if it were today? Would you be ready? If Christ came back today would He have for Himself a glorious church? A bride without spot or wrinkle or any such thing? Would the bride be holy and blameless? Would you be?
And then here's the next question: If not, what would you need to do to get ready? I want to challenge you to make a list. Ask God to help you make the list.
"Lord, what would I need to do to be ready to meet my Heavenly Bridegroom?" Is there sin you need to confess? Is there a habit that you need to put away? Is there clutter that needs to be cleared out of your life? Is there a relationship that needs to be reconciled? Is there a relationship that needs to be broken off? You couldn't face Christ if He were to come today.
By getting ready for the wedding, by doing the things on that list, you're not in any way earning the right to get into heaven. You're not in any way earning the right to be the Bride of Christ.
But you are demonstrating that you are, in fact, the Bride of Christ because the scripture says in 1 John [3:2] that we one day will see the Lord and we will be like Him. We have this hope of this future long-term, eternal relationship with Jesus Christ.
Then the passage goes on to say, "everyone who has this hope" (everyone who is a part of the Bride)--what does he do? "He purifies himself"--evidence of our love for our Heavenly Bridegroom. Evidence of the fact that we do belong to Christ is that we will be setting out to be ready for the wedding.
*Here comes the bride!
What a day that will be,
When angels shout in unison
as Jesus' bride they see.
He's planned the perfect wedding,
Each detail is in place.
And, oh, what grand excitement,
When we but see His face.
And know that as the anthems ring,
And as the trumpets blast,
The wedding will take place, and then
We will be His at last.
Here comes the groom, our Savior.
Such patient love He's shown
And now, at least we'll know Him
As even we are known.
Here come the guests, the multitudes,
Who, in God's sovereign plan,
Have come to witness this event
That stuns the mind of man.
Here comes the bride, what glory,
In garments pure and white;
No sin to mar those garments,
She's covered with His light.
Here comes the celebration;
All grief and sorrow gone.
We know this celebration
Will yet go on and on.
For Jesus and His bride will be
Forever, now as one.
We are the bride beloved,
Engaged to God's own Son.
So every time the organ plays,
Or wedding bells do chime,
Dear Christian, pray, "Lord Jesus, come."
Please hasten, Lord, the time,
When in the light of your great plan,
The ties of earth you'll sever,
And at that the wedding of the Lamb
We shall be yours forever!
Leslie Basham: There's nothing we can do to earn the love of our Heavenly Bridegroom. But we keep ourselves from sin in order to show our love for Him. Nancy Leigh DeMoss has given us a good reminder today and she'll be right back to pray.
We want to help you grow in your relationship with Christ. That's why we bring you Nancy's teaching every weekday. If you visit ReviveOurHearts.com, you can browse through all of the topics Nancy's addressed on the radio and order them on cassette or CD.
You can also do a search for articles Nancy's written by topic. If you're struggling in an area, you may find the exact information you need. Just visit www.reviveourhearts.com.
Again, that's www.reviveourhearts.com for information on any of Nancy's teaching series, including this one. We're in a series called "Here Comes the Bridegroom." When you order, you'll get additional minutes of teaching that we didn't' have time to air.
You can also get more information by phone at 1-800-569-5959.
The reason that we're able to provide biblical help to women through our Web site and the radio program is that listeners like you support us through your prayers and financial gifts. Would you prayerfully consider what you could give to help us reach more women? You can send your gift to Revive Our Hearts.
Before the wedding ceremony comes the invitation. You've received yours. Have you replied?
We'll hear more about that tomorrow. Now, here's Nancy.
Nancy Leigh DeMoss: Father, our hearts do look forward to that day when we will be reunited with You. Thank You that You are in heaven preparing a place for us. And thank You for the promise that You're coming back soon.
Lord, we just say that we want to be ready. We want to be a bride who can approach our Heavenly Bridegroom without shame, without fear, without guilt but with joy, knowing that we've done what was necessary to get ready for the wedding.
So, Lord, show us what we need to do to be ready and give us the grace and the power of Your Holy Spirit to set ourselves to getting ready. For we don't know how long we'll have before we'll hear that trumpet sound. So may we not delay. May we not waste time. May we start now to get ready. I pray in Jesus' name, Amen.
Revive our Hearts with Nancy Leigh DeMoss is a ministry partnership of Life Action Ministries.
*Russell Kelfer, Here Comes the Bride!
*Offers available only during the broadcast of the podcast season.
Support the Revive Our Hearts Podcast
Darkness. Fear. Uncertainty. Women around the world wake up hopeless every day. You can play a part in bringing them freedom, fullness, and fruitfulness instead. Your gift ensures that we can continue to spread gospel hope! Donate now.
Donate Now