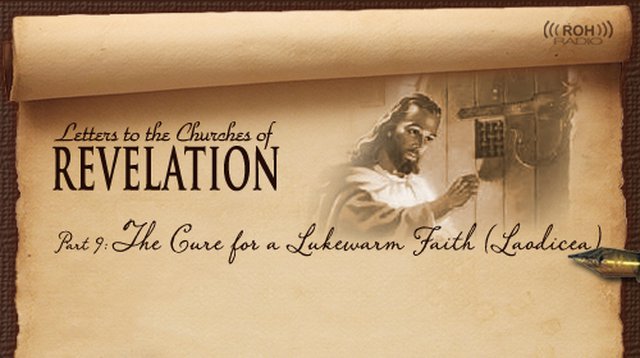 — Audio Player —
Firstborn from the Dead
Leslie Basham: Here's Nancy Leigh DeMoss.
Nancy Leigh DeMoss: When Jesus says I am the Amen, He is saying, "I am God's final word. I am truth. I am certainty."
Leslie: This is Revive Our Hearts with Nancy Leigh DeMoss for Monday, November 30.
Amen. What does that word mean? Most people assume it means I'm done praying. But there's a far deeper, richer meaning. Nancy will explain why as she picks back up in our study of the letters to churches in Revelation. Today's teaching begins a series called, The Cure for a Lukewarm Faith.
Nancy: We come today to the seventh and the final letter to the churches in the book of Revelation—Revelation chapters 2 and 3. Some of you wondered if we would ever get to the seventh and the final church. It seems like months. I guess it has been months that we've been in this series. When I started into this series, I never envisioned we would spend as long as we have.
But the more I got into this passage and began to explore the words of Jesus to His church, the more I realized how much we need those words today and how much our churches need to hear what the Spirit has to say—not only to the churches in the 1st century in Asia minor, but to churches in the 21st century—to us as believers today.
So I've taken more time than we normally would with a series just to try to go into some of the depths of what God is saying. There is even more than what we have explored, but I hope that you have been listening with ears to hear what God would say to us.
Now the sixth church, the one we studied last, was Philadelphia. As you remember, that was the faithful church. In that letter Jesus had nothing to criticize about that church. Not one word of criticism.
When we come to the seventh church today, the church of Laodicea, we will see that this is an unfaithful church. Jesus finds nothing to commend about this church. Not one good word to say about what is going on in this church. This church, the church in Laodicea, is in the worst condition of all the seven churches.
Many commentators believe that this church describes the church in our day. They would say that we're living in a Laodicean church age. Perhaps you've heard that phrase.
The church in Sardis—we studied that one several weeks ago—was nearly dead, but Jesus said there were still a few in that church who were faithful. But in Laodicea He makes no such reference. Now, that's not to say that there weren't some faithful people in this church. There may well have been.
I have found that in the most dead churches today, there's usually a remnant, at least a few people, who still hold fast to the Word of God and who are still praying and believing God to come and meet with that church. But Jesus makes no mention of any faithful believers in the church in Laodicea.
Yet what amazes me is that this church, this church that's in a deplorable condition, is still one of the seven golden lampstands. Jesus still calls it a church. He's not written it off. We'll see in this letter that He offers hope and grace to this church, the church about which He can find not one good thing to say. But He still offers hope and grace if they will listen to His message and if they will heed what He has to say.
The city of Laodicea was located on the bank of the river Lycus. It was in the river valley region. It was one of three cities that were within several miles of each other. There was Laodicea and a city called Hierapolis and then a city that's familiar to us called Colossae (the letter to the Colossians). These three cities were like a tri-city area.
Laodicea was a wealthy and prosperous city, one of the wealthiest cities in that part of the world at this time. As an example of this, 35 years before this letter would have been written, in about 60 A.D., there was a great, massive earthquake that devastated the entire region. The city of Laodicea refused to take relief funds from the Roman government. They said, "We can manage on our own." They had enough money that they could rebuild on their own.
Laodicea was an important commercial center. It was on a north/south trade route and an east/west trade route, so there was a lot of commerce that took place within Laodicea. It was well known for three particular industries that you'll see as we get into this letter. They form the backdrop for Jesus' words to the church.
First of all, it was a banking center. A lot of commerce went on there, so there was a lot of banking that went on. Cicero, you know that name, was a Roman statesman. He lived in Laodicea at one time, many believe. He wrote about cashing his treasury bills in Laodicea. So it was a banking center.
It also was famous for its textile industry. Laodicea was famous for manufacturing clothing and wool carpets. Its wool was particularly well known. It was made from glossy, black wool from sheep that were raised locally. So it was famous for its wool and for woolen products.
Then in addition to being a banking center and a textile center, Laodicea also had a medical school. That school specialized in ophthalmology. It was famous for a special ointment that was used for curing eye defects. The ointment was made from pulverized rock that was found in that area and it was exported around the world.
So you put all these industries together, and I was thinking last night it would be like having Wall Street in its former days and Mayo Clinic and the headquarters for Burlington fabric manufacturers all in one city. So it was a wealthy commercial city. A lot of things it was famous for.
Now, Laodicea did have one major serious problem, and that also comes into play in this letter. That was an inadequate water supply. Because of the problems with its water, they had to build an underground aqueduct and pipe in water from six miles away. We're going to see that the water issue and these three major industries—banking, wool, and medicine—all played a major role in this letter. Once you know those things about Laodicea, then some of the things that Jesus says to that city become more clear.
Now what about the church in Laodicea? This church had a close relationship with the church in Colossae that was less than ten miles away. The apostle Paul never visited Colossae or Laodicea, but he had a strong interest and concern for the churches in these cities.
These churches had probably originally been planted as a result of Paul's ministry in Ephesus. That's the first letter that we studied. And Paul carried these churches on his heart. He labored for them in prayer.
In fact, let me ask you to turn in your Bible, if you have it there, to the book of Colossians. Now the church in Laodicea may have been founded by a man named Epaphras. We find a reference to him in Colossians 4, verse 12.
Epaphras, who is one of you, a servant of Christ Jesus, greets you, always struggling on your behalf in his prayers, that you may stand mature and fully assured in all the will of God. For I bear him witness that he has worked hard for you and for those in Laodicea and in Hierapolis (verses 12-13).
Then down to verse 16.
And when this letter has been read among you [that is in Colossae], have it also read in the church of the Laodiceans. [This was a circular letter and it was to be sent to the different churches in this region.] And see that you also read the letter from Laodicea.
You see that this Laodicean church had had great opportunities. The apostle Paul—no one less than the apostle Paul—had prayed for them. He had corresponded with them. One of his associates, Epaphras, had labored among them. So this is a church that likely had once been in a thriving condition. But by the time the apostle John is sending this letter from Christ to this church at the end of the 1st century, this church is no longer thriving.
That's a reminder to us that any church and any believer can backslide, can drift away from Christ, no matter how great your heritage may have been. You may have a close walk with Christ today, but don't take that for granted. It could apply to any of us if we don't guard our hearts and our walk with the Lord.
Now let's go to Revelation, chapter 3, and I want to read the letter that Jesus sent to the church in Laodicea. Revelation chapter 3, beginning in verse 14.
And to the angel of the church in Laodicea write: "The words of the Amen, the faithful and true witness, the beginning of God's creation. I know your works."
He starts out each letter by saying that. Jesus knows what's going on in His church.
"I know your works: you are neither cold nor hot. Would that you were either cold or hot! So, because you are lukewarm, and neither hot nor cold, I will spit you out of my mouth. For you say, I am rich, I have prospered, and I need nothing, not realizing that you are wretched, pitiable, poor, blind, and naked.

I counsel you to buy from me gold refined by fire, so that you may be rich, and white garments so that you may clothe yourself and the shame of your nakedness may not be seen, and salve to anoint your eyes, so that you may see. Those whom I love, I reprove and discipline, so be zealous and repent.

Behold, I stand at the door and knock. If anyone hears my voice and opens the door, I will come in to him and eat with him, and he with me. The one who conquers, I will grant him to sit with me on my throne, as I also conquered and sat down with my Father on his throne. He who has an ear, let him hear what the Spirit says to the churches" (verses 14-22). 
O Father, how I pray that You would give us ears to hear what Your Spirit is saying to our churches today.
Now let's start into this letter. Today we want to look at Jesus' identification of Himself in verse 14. Who is it who is speaking to this church? These are "the words of the Amen, the faithful and true witness, the beginning of God's creation." Three important phrases that tell us who is speaking to the church, who was speaking to the Laodicean church, and who is speaking to the churches in our day.
First of all, He identifies Himself as the Amen. Amen is a transliteration of a Hebrew word that means "truth." It means "something that is firm." It is "faithful." It means "certainty." It means "so be it." Let it be so. We affirm that this is true.
This verse is the only time in Scripture that amen is used as a name for someone. Jesus said, "I am the Amen. That is My name. I am truth." Now amen is an Old Testament title for God. It's not exactly a name, but it's a designation for God found in Isaiah, chapter 65, verse 16, where we read twice in one verse that He is "the God of truth." That's the Hebrew word that is transliterated amen. He is the God of amen.
When Jesus says I am the Amen, He is saying, "I am God's final word. I am truth. I am certainty." This same word is often used in the gospel of John. Verily, verily. Truly, truly, I say to you. Amen, amen. What I'm saying is true. It's certain. It's firm. It's faithful. It will certainly come to pass.
We read in 2 Corinthians chapter 1, verse 20,
All the promises of God find their Yes in him [Christ]. That is why it is through him that we utter our Amen to God for his glory.
What is that saying about Christ? It's saying that He is the Amen. He is the guarantee. He is the confirmation of all of God's promises. Whatever God says will come to pass. Jesus affirms. Amen. It is so.
Jesus is saying, "I am the Amen. I am steady. I am faithful. I am unchanging." Now Jesus being the Amen is in contrast to the Laodicean church that is unfaithful. It is wavering. It is compromising. Jesus says, "I am the opposite of what you are. I am faithful. I am the Amen."
And then He says," I am the faithful and true witness" (verse 14). He is saying, "I am trustworthy. I am a reliable witness." He tells the truth. There's nothing inaccurate in Jesus' words. Jesus was a faithful and true witness when He was here on earth. He was faithful in declaring God's truth to those He came to serve. And now in heaven Jesus is forever a faithful and true witness.
We read it in Revelation chapter 19, verse 11. Some of you who have been listening to this series know this is my favorite paragraph in the book of Revelation where we read about heaven being opened, "and behold, a white horse! The one sitting on it is called Faithful and True, and in righteousness he judges and makes war." He is a faithful and true witness.
Revelation 22, verse 6, "He said to me, 'These words are trustworthy and true.'" They're trustworthy and true because they were spoken by Christ who is the faithful and true witness.
Now what does that mean for us? Well, it means a couple of things. First of all it means that His assessment of our churches and our lives—whatever He says about us—is true. He's not going to lie about the situation. He's not going to lie about the condition of our hearts and our churches. He is a faithful and true witness. He is the one who searches and inspects hearts. He knows the truth.
He knows our true condition. Not just what we think our condition is. Not just what we tell others it is. Not what others say about us. But Jesus looks within my heart today, and He knows the true condition of my heart. He is the faithful and true witness.
He is going to tell the Laodicean church the truth about their condition. And the truth in this case is very different than their perception of themselves, as we'll see.
Are we willing to let the Faithful and True One speak the truth about our lives and about our churches today?
Are we willing to listen to what the Faithful and True One says?
Are we willing to accept what He says?
Not to defend ourselves when He points out the truth. Not to excuse our condition. Not to blame someone else or point the finger elsewhere. But to say, "Yes, Lord, I agree with what You have to say about my life. I agree with what You're saying about the condition of our church."
He's the Faithful and True One. That means that what He says about us is true. His evaluation is accurate. But it also means that His promises are true.
He is the faithful and true witness.
When He says that there will be consequences for disobedience, there will be consequences for disobedience.
When He promises blessings for our obedience, His promises are true. He is the Amen. He is the faithful and true witness.
When He says He is with us always, Amen! He is the faithful and true witness. He will be with us always.
When He says that He has forgiven our sins and removed them from us as far as the east is from the west, Amen! He is the faithful and true witness.
You can take His promises to the bank. Well, actually, the bank's not a very safe place to put anything today. But you can count on His promises to be faithful and true. He is the Amen. He is the faithful and true witness.
Then number three, He is the "beginning of God's creation." Now that phrase has been taken by some through the course of history to mean that Jesus was a created being. That is, Christ is the first being created by God. In fact, in the 4th century AD there was a priest in Egypt named Arius who used this verse to try and disprove the divinity of Christ. We got from that the theological heresy called Arianism.
He said that Christ was not co-eternal with God the Father. There was a time before Christ was begotten that He did not exist. Arius ultimately was ex-communicated for teaching this heresy, which by the way is something that today is taught by the group known as the Jehovah's Witnesses. This is a verse that they will use to try and say that Jesus did not always exist as God, "the beginning of God's creation."
That is not what this verse says. It doesn't imply that Jesus was created. The word beginning is the Greek word arche. It doesn't mean first in sequential order. It means ruler or source or origin. He is the source, the origin of God's creation. He is the First Cause, the Creator, the Author of God's creation.
As John 1:3 tells us, "All things were made through him, and without him was not any thing made that was made." He's the originator of the creation.
And Paul's epistle to the Colossians, again closely related to the Laodicean church, expands on this point. Colossians 1,
He is the image of the invisible God, the firstborn of all creation. For by him all things were created, in heaven and on earth, visible and invisible. . . .  And he is before all things, and in him all things hold together (Colossians 1:15-17).
It's saying He is the one in whom creation had its beginning. Christ is the one in whom creation continues and by whom it is sustained. He is the sovereign creator. He existed before anything was created, and He is the ruler of God's original creation. But He is also the head of God's new creation, the church.
That's what we see in Colossians 1, verse 18. "He is the head of the body, the church. He is the beginning, the firstborn from the dead, that in everything he might be preeminent."
So not only is He the source of God's original creation, but He is also the source, the inaugurator and the head of God's new creation, the church. He's the firstborn from the dead, a reference to Christ's resurrection by which He inaugurated God's new creation and now reigns as sovereign Lord of His church.
The Laodicean church needs the resurrection power of Christ. The firstborn from the dead. Because the church members in Laodicea we're going to see are self-reliant, they need to recognize their utter dependence on Christ and to put their trust not in created things, not into material wealth or their physical prosperity, but to put their trust in Christ who is the firstborn from the dead, the beginning of God's original and new creation.
Now as we get into the message to the church in Laodicea over these next days, this message may sound severe and it may be hard to receive, hard to listen to, hard to accept for ourselves. But we need to remember who it is who is speaking. Who is he? The Amen. The faithful and true witness. The beginning of God's creation.
As we read in Revelation 1:5, "Jesus Christ, the faithful witness, the firstborn of the dead, and the ruler of kings on earth." What He says is true. What He says is reliable. He is the sovereign creator and Lord.
So our heart attitude as we listen to what Jesus says to the church needs to be, Lord, show me the truth about my life. Show me the truth about my church, about Your Church in this world. And whatever You point out, Lord, we will say, Yes, yes! You are the Amen. You are the faithful and true witness. Amen.
Leslie: Nancy Leigh DeMoss has been shedding light on some of the deeply meaningful names of Jesus. I never knew the word amen meant so much, and I'm glad to know what firstborn from the dead means. She's been in an in-depth study on the letters to churches in Revelation this year.
Today's teaching begins a new series that is part of that longer study. The series is called The Cure for a Lukewarm Faith. For more information on the series visit ReviveOurHearts.com.
We hear from so many listeners who appreciate the depth of practical teaching they hear on Revive Our Hearts each weekday. A listener commented on Nancy's teaching in Revelation. She wrote:
God bless your ministry for the doctrinal truth you share with us who are young in our faith. We struggle with these issues of faithfulness to the Word and the holiness of our calling. Your teaching helps me be an obedient, covenant-keeping Christian in this society of compromises.
Your gifts make it possible for us to speak to women like her. Close to half the donations we need each year are given in December. So as we end 2009, would you help Revive Our Hearts continue on the air in your area? Some friends of the ministry know how important year-end donations are and are matching each gift up to $280,000.
Would you help us meet and go far beyond this matching challenge amount? Don't wait until midnight on December 31. Go ahead and call 1-800-569-5959 with your gift. Or you can donate at ReviveOurHearts.com.
Well, what kind of behavior would make Jesus sick? Find out tomorrow on Revive Our Hearts.
Revive Our Hearts is an outreach of Life Action Ministries.
All Scripture is taken from the English Standard Version.
*Offers available only during the broadcast of the podcast season.
Support the Revive Our Hearts Podcast
Darkness. Fear. Uncertainty. Women around the world wake up hopeless every day. You can play a part in bringing them freedom, fullness, and fruitfulness instead. Your gift ensures that we can continue to spread gospel hope! Donate now.
Donate Now