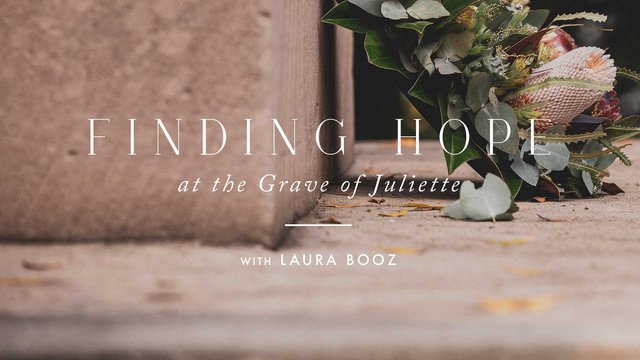 — Audio Player —
Finding Hope at the Grave of Juliette
Dannah Gresh: When her daughter died, Laura Booz found her faith tested . . . and strengthened. 
Laura Booz: If I learned anything from losing Juliette, I learned to place all my trust in Jesus, to turn my face upward and look for the resurrection of the dead. Nothing, not even this tragedy, can snatch me out of His hand.
Dannah: We'll hear a story of loss, grief, and hope, today on the Revive Our Hearts podcast with Nancy DeMoss Wolgemuth, author of The Quiet Place. It's May 20, 2021. I'm Dannah Gresh.
Nancy DeMoss Wolgemuth: Grief and loss can sneak up on us when we least expect it. Today we'll hear the story of how that happened to my friend Laura Booz, and in the midst of pain, she turned her eyes toward Jesus and found hope.
You know, one of our desires here at Revive Our Hearts is to do all we can to reach women everywhere with the message of freedom, fullness, and fruitfulness in Christ. We're doing that multiple times every day through our various outreaches. 
So if you're one of our Revive Our Hearts Monthly Partners or you've given to support this ministry, I just want to stop right now and say thank you for helping to make this program possible. Through your generous giving, you're also helping support our new podcasts initiatives, such as Expect Something Beautiful with Laura Booz. 
If you've never listened to Expect Something Beautiful, you're in for a treat today. Laura is a writer, teacher, and podcaster who encourages women to love God, think biblically, and live vibrantly. She and her husband Ryan and their six children make their home in Pennsylvania. 
We released this episode of Expect Something Beautiful at Easter this year. When I first heard it I was deeply moving and knew that it would minister profoundly to a lot of women. So I said to our team, "We've to to share this with the Revive Our Hearts audience." So today, let's listen together, to the episode titled "Finding Hope at the Grave of Juliette." Here's Laura Booz.
Laura: As our big moving day approached, I could imagine our growing family making this lovely home out of our newly purchased farmhouse. 
I could just picture our three little girls running through the meadows, catching butterflies by day and lightning bugs by night. I imagined them wading in the creek and eating wild raspberries and picking juicy tomatoes from the garden.
But that's not how things turned out. 
Hi there, you're listening to Expect Something Beautiful with Laura Booz. Today I'm sharing a story that's near and dear to my heart just to remind you that you can expect God to raise the dead. 
Life was moving along. I was five months pregnant with my third baby, another sweet baby girl, and was beginning to feel the little flutters inside of me. We were moving from our ranch in town to a farmette in the country.
The big white farmhouse would just be the perfect place to raise our growing family. We just swooned over the cozy fireplace and the wood floors, and it actually had ample closet space. That's a totally rare feature in an old farmhouse.
We planned that the big girls would share a bedroom and the baby would sleep in this tiny office space next to the master bedroom, just waiting to be transformed into a nursery.
Like every dreamy-eyed homesteader, I imagined us working together in the garden, raising our small flock of chickens, sitting on the big front porch with white rocking chairs. It was picture perfect. 
Even my due date seemed perfect. It was October 10, 2010—so that's 10-10-10. I remember when I went on a walk and met up with a friend. She just said, "Wow, you have a great husband and two beautiful little girls. You're moving to a gorgeous farm, and your baby is due on 10-10-10. How perfect is that?" 
Well, the day arrived for the baby's twenty-week anatomy scan. We couldn't wait to catch a glimpse of her sweet face and see her kick and wiggle. We decided to bring the two big girls with us, because we thought they would love to see their little sister growing. 
So we all crowded in the ultrasound room. I wore a hospital gown and laid on the table. Ryan stood next to me holding one little girl in each arm. I remember that the technician adjusted the computer screen so we could see it clearly. She moved the ultrasound probe across my round belly, and an image flickered on the screen. 
Then suddenly, she turned the screen away from us. She got really serious and quiet. Then she said, "I'm so sorry, your baby's stopped growing."
"What?" I asked. 
"Your baby has died" she responded in a low voice, and she said she was so sorry. 
Well, the room was silent. My thoughts were spinning. Ryan leaned in toward me. He and the girls wrapped their arms around my neck, their bodies pressed into mine, and we wept.
After a while the doctor came and talked with us. She said I should go home and pack a bag and plan to deliver the baby the next day. It was there in that crammed little ultrasound room with a darkened computer screen and the warm gel still on my belly that we involuntarily were welcomed into the sober group of humanity acquainted with stillbirth. 
The next morning in a daze, I checked into the hospital and was led to a room at the end of the labor and delivery hall. I had walked these hallways while laboring with our first two babies. The sights and the smells and the sounds reminded me of the excitement of delivering a healthy baby. I had to override my senses and remind myself this is different.
 A nurse even posted a red leaf outside of my door. It's like an unspoken announcement that I was delivering a stillborn baby. So everyone would know, don't expect an excited mother-to-be, expect sorrow.
The doctors and nurses came in asking me impossible questions, like: How did I want to induce labor? Did I want pain medication? Did I want visitors? Did I want to hold the baby when she was delivered? Did I want to bury or cremate her? And I just wanted to scream, "No! I don't want any of these things!"
The doctor said if I took too long to deliver the baby, things could get complicated. She said I should get out of bed and walk around the room and do knee lifts and lunges to speed the contractions. I remember just sitting on the edge of the bed, heartbroken, trying to get up the courage to do what I had to do. 
As I walked around the room, I told myself, "You have to fight your way to the end of this. You have to push yourself towards your greatest fear, towards your greatest dread." I had grown so accustomed to this baby's presence in my life. 
I mean, I remember the first few weeks of pregnancy, when all I could was just sit on the couch and stare at the wall, because I felt so sick. I remembered on Mother's Day, when the baby seemed to be fluttering and kicking just for me. I remembered the dreams we had been weaving as a family and how they all included our sweet little girl, but now I had to say goodbye. 
As I tried to bring on labor, I pleaded with God for help. It came to mind that sometimes when people are dying, they seem to wait until a loved one releases them. So, I stood there and I placed my hand on my womb. I knew she had already gone, but I still had to let her go.
I looked down at my round belly, and I did the last thing I wanted to do. I said, "You can go now." I've always imagined stillbirth like a quiet and sterile experience, but in reality, it's full of noise. It's full of movement, humanity, beating hearts, agonizing labor and delivery, guttural cries in despair.
The only stillness really is the precious little body that emerges to say, "I was here, but I'm not anymore." And that one little person is so very, very still. Everyone else keeps pushing forward groaning and grieving. 
The lovely nurse who was attending me, wrapped our baby girl in warm delivery blankets, and nestled her in the crook of my arm. I untucked the blanket to take a look. 
She was so little, pink, fragile, but already she looked like one of our babies. She even had her great grandmother's chin. I did not expect to love her, like I loved her. I did not expect to feel the same maternal bond that I felt when I held our first two warm and hungry daughters, but I did. I was invaded by love for her. 
I felt overwhelming delight by her. I was proud of her. I was so pleased by how far she had come. On this side of heaven, she would never grow to be more than a tiny still body, yet I loved her with all my heart. 
The hospital sent me home with a small cream-colored box. In it they placed a stuffed bear, a gold ring that fit around her arm, and a bracelet spelled out in tiny iridescent beads, "Juliette Abigail." This was all I had of my precious baby girl, all I had to touch, look at, and hold close.
A few days later we moved to the farmhouse. It was not the picture-perfect scene I had imagined. Instead of digging in the dirt to plant tomatoes, we dug a tiny grave. Instead of running in the meadow, our little girls placed rosebuds on a cedar box and said goodbye to their sister. Instead of moving the crib into the new nursery, Ryan and his friends somberly carried it up to the attic. 
People brought meals; friends unpacked boxes. In the days to follow, I mustered up the courage to ask my friends, "Do you want to see my keepsakes?" We would sit together on the front porch, and I'd open the cream-colored box and take out each item representing Juliette, the teddy bear, and the ring, and the bracelet . . . and I missed her so much. 
I vividly remember standing by her grave, and instead of feeling bitterness toward God, I felt hmmm . . . what did I feel? I felt desperation for Him. Her short little life, and now us returning her body to the soil, it was so blatantly wrong. All I could think was that everything about Jesus then must be true. In my spirit, I clung to Him and said, "Lord, now it's got to be true. Everything I've banked my faith on thus far, it's got to be true."
I thought about this verse from John 20 verse 9, and I don't even know if this is what it means, in proper context. Its talking about the disciples, and it says, "For as yet they did not understand the Scripture, that he must rise from the dead." That's how I felt at her grave, I felt, "He must rise from the dead," because I needed Him to do something about the grave.
It's very common to say that our faith in God is strengthened by all the good things in life, when we look at majestic mountains or cuddle a little puppy in our arms. But if we're honest, I think our faith in God can be strengthened just as much, if not more so, when we stand by the graveside of someone we love.
When Jesus was approaching the graveside of His dear friend, Lazarus, He told Lazarus's sister Martha, "I am the resurrection and the life. Whoever believes in me, though he die, yet shall he live, and everyone who lives and believes in me shall never die." And He asked her, "Do you believe this? She said to him, 'Yes, Lord'" (John 11:25–27).
And then when Lazarus's other sister, Mary approached Jesus, she said exactly what I said to Him about my precious Juliette, she said, "If you had been here, my brother would not have died" (v. 32). You know how Jesus responded? He wept. He didn't defend Himself. He didn't tell her to grow up and get some faith. He wept because there is nothing natural or good about death, and there is no sense in pretending that there is. 
It's an awful thing. It is directly opposed to God's plan for humanity. His plan is that we would have everlasting life with Him. And then He said to everyone, "Didn't I tell you that if you believed you would see the glory of God?" (v. 40). Like . . . hint, hint. I'm about to do something amazing. Then He lifted His eyes to heaven, prayed to His heavenly Father, and then He raised His friend from the dead. 
That's one of the stories I think about when I stand by the grave of someone I love. But the other story, and the more important story is, the story of the day when God raised Jesus from the dead.
When Lazarus rose from the dead, he rose with a body that was still prone to weakness and aging and eventually death. But when Jesus rose from the dead, He had a body that was imperishable. He conquered death once and for all. He was what the Bible calls a "first fruit," a new kind of human life. His body was perfect, no longer subject to weakness and aging and death. 
So His resurrection is extremely important to you and me. His resurrection makes all the difference in the world. His resurrection is why we look to heaven and wait for His return. His resurrection is why we keep on in our faith. 
There's a verse in 1 Thessalonians that is commonly read at funerals that we don't grieve over death as people who have no hope. (vs. 13) And today, I want to take a minute to read a couple of verses surrounding that, so we remember the context. It's in 1 Thessalonians 4. I'm just going to read 13–18. It goes like this. 
We do not want you to be uninformed, brothers, about those who are asleep, [or those who have died] that you may not grieve as others do who have no hope. For since we believe that Jesus died and rose again, even so, through Jesus, God will bring with him those who have fallen asleep. For this we declare to you by a word from the Lord, that we who are alive, who are left until the coming of the Lord, will not precede those who have fallen asleep.

For the Lord himself will descend from heaven with a cry of command, with the voice of an archangel, and with the sound of the trumpet of God. And the dead in Christ will rise first. Then we who are alive, who are left, will be caught up together with them in the clouds to meet the Lord in the air, and so we will always be with the Lord. Therefore encourage one another with these words.
So when we stand by the grave of someone we love, who has placed their trust in Christ, we can know that the moment they died their spirit went to be with God in heaven. The Bible assures us of that. And this passage of Scripture reveals how very important they are to God. So much so that when Jesus breaks through the sky to return to earth, He will raise their bodies up from the grave first. And then He will gather those of us who have placed our trust in Him, and are still alive up in the sky with Him, and we will be with Him forever.
We literally believe this. This is in the Word of God. These are the promises we hold on to. Sometimes it seems like a really nice thing to say, but to sit and meditate on it, it challenges me, it encourages me, and it gives me hope for the future.
It makes me want to keep looking up to the sky for Jesus to return. It makes me want to tell other people about this great hope that we have in Him. That truly if you believe in Jesus, you will not perish but have everlasting life. That the grave is not the end, but He will raise you from the dead. 
The resurrection makes all the difference. The resurrection of Jesus is glorious. Not simply because it was Jesus Himself triumphing over the dead like a hero on display, but because it applies to you and me. That if we place our trust in Him, it's going to be us too. We too will be raised from the dead. And those we love who have placed their trust in Jesus will be raised from the dead.
If you happen to be listening to this and you have not yet placed your trust in Jesus as your Savior, I hope that this episode at least appeals to you to take Jesus seriously, and to search Scripture to see what it says about your life and your death and what happens after death.
Jesus has made a way for you to be raised from the dead to live with God forever. I so much want you to know that this message and this hope is for you. If you're listening and you have known the death of a baby, I want you know that the Bible gives us good reason to believe that babies of believers are with God in heaven.
I encourage you to search the Scriptures and seek faithful counsel about this topic. I hope you'll be comforted and blessed by what you discover. For me, though stillbirth felt so evil and so unrighteous, I clung to the truth that there is no unrighteousness in God. 
My Juliette did not die because God had a lapse in judgment. She didn't die because He was cruel or vindictive. God doesn't play games with our lives. He doesn't operate on superstition, and He's not pushed around by our weakness or swayed by money or power or pleasure. 
On the contrary, He is fettered by His own goodness. He is fully satisfied by Christ's death on the cross. He does not give me the punishment I deserve or treat me according to my sins. He will never allow harm to befall me or anyone who places their trust in Jesus, unless He plans to redeem it for a good so glorious as to render past sorrows as obsolete. Nothing, not even this tragedy, can snatch me out of His hand.
If I learned anything from losing Juliette, I learned to place all my trust in Jesus, to turn my face upward and look for the resurrection of the dead. And if you're listening to this episode and you have stood by the grave of a loved one, I want you to know that without Christ's resurrection, we would have no hope—the grave would be it. It would be the end of it all. It would swallow us whole and there would be nothing after. But because Jesus was raised from the dead as a first fruit, we can be raised from the dead too. 
I don't know about you, but when I meditate on these things, I need to agree with the saints through the ages. As we recite the Nicene Creed together, we end with this, "We look forward to the resurrection of the dead, and to the life and the world to come." Praise be to God.
Nancy: That's Laura Booz modeling for us what Erin Davis called "hope-filled grief" on yesterday's Revive Our Hearts program.
Laura is the host of one of our new podcasts, Expect Something Beautiful. When she shared this episode, the one we just listened to about baby Juliette, a lot of women were stirred, but there were also some men. In fact, one dad contacted us and here's what he said:
We had a miscarriage at about thirteen weeks—that was thirty-one years ago. Hearing this podcast brought back those memories of seeing that tiny body, sorrowing, and burying that little one in the back of our property. This was a powerful story and then the turn into redemption and our hope. It's especially powerful for any who've lost a baby at some point in their family—and that is a lot of women when you stop and think about it.
Maybe that's you. Maybe you're suffering terribly right now, you're so sad, you cry a lot, maybe have bad dreams. Sadness isn't bad. But can I encourage you to do what Laura did, and worship in the midst of the sadness? Turn your attention toward the hope we have in Jesus. 
Yesterday on Revive Our Hearts, John Avant quoted his missionary friend Gary as saying, "The highest form of praise is Christian lament." That's an incredible statement! I think there is nothing sweeter in God's ears than to hear someone crying out to Him from the depths of their despair. As we just heard from Laura, Christians don't have to "grieve as others do who have no hope." So yes, cry! But cry in a Godward direction.
Can I also say, if you're just understanding for the first time the connection between Jesus's death, burial, and resurrection and the hope we have for life after death, I'd like to encourage you to contact us and ask for a book by pastor Erwin Lutzer. The title is How You Can Be Sure You'll Spend Eternity with God. It's our gift to you if this is just starting to make sense to you. Call us at 1–800–569–5959. 
Tomorrow we'll focus on a different kind of loss and grief: the pain associated with infertility. Emily Harmon shares her story. 
Please be back for Revive Our Hearts.
Revive Our Hearts with Nancy DeMoss Wolgemuth wants to proclaim that the resurrection makes all the difference! This program is an outreach of Life Action Ministries.
This episode contains an excerpt from Laura's book, Expect Something Beautiful: Finding God's Good Gifts in Motherhood. Look for it in October, 2021 from Moody Publishers.
*Offers available only during the broadcast of the podcast season.
Support the Revive Our Hearts Podcast
Darkness. Fear. Uncertainty. Women around the world wake up hopeless every day. You can play a part in bringing them freedom, fullness, and fruitfulness instead. Your gift ensures that we can continue to spread gospel hope! Donate now.
Donate Now