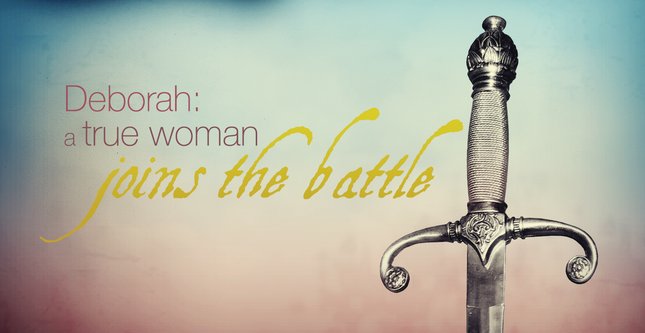 — Audio Player —
Encouragement to Stay in the Battle
Leslie Basham: As you seek to follow God's will for your life, you'll go through some times of discouragement. Here's what it's looked like for Nancy Leigh DeMoss.
Nancy Leigh DeMoss: I have found myself battling fear, extreme weariness, plaguing doubts. I cannot tell you how many time I have wanted to go AWOL.
Leslie: How do you handle seasons like that?
This is Revive Our Hearts with Nancy Leigh DeMoss for Thursday, August 27, 2015.
This week, we've been in the book of Judges with Nancy. She's been describing the courage of Deborah in a message called "A True Woman Joins the Battle."It's been a rich portrait of a woman who inspired the men around her to trust God and take action.
If you missed the two first installments of this story, you can hear them at ReviveOurHearts.com.
Nancy first delivered this message at one of the True Woman Conferences.  Let's listen to part 3 from a message called "A True Woman Joins the Battle." Deborah isn't the only woman God used in this story from Judges.
Nancy: This is the account of the destruction of Sisera. I won't take time to read the whole passage right now, but the Canaanite commander was destroyed at the hands of a woman named Jael.
She was not an Israelite, but in this case she sided with the God of Israel against His enemies. Sisera flees through the torrential downpour, the storm that God has sent, to her tent, assuming that he will be safe there since her family has a treaty with the Canaanites.
He gets to her tent. You can just imagine: He's cold; he's wet; he's drenched to the bone; he's exhausted. Jael welcomes him. She invites him in. She gives him some milk. He's exhausted. He falls asleep. She covers him up, and then she takes a hammer and drives a tent peg into his head and kills him.
Now, keep in mind, as you read that gory story, that Sisera was a ruthless, violent man who was attempting to destroy God's chosen people. In fact, in chapter 5, verse 30, his own mother talks about how he and his men would have thought nothing of raping and killing any woman they considered an enemy. So put that in that context.
In Deborah's victory hymn in chapter 5, Jael's act of courage is celebrated, and she is blessed by God.
My friend, Charles Haddon Spurgeon, says in one of his books,
The Lord can still use feeble instrumentalities. Why not me? He may use persons who are not commonly called to great public engagements. Why not you?
So we have the conclusion of the battle. Chapter 4, verse 23, tells us that "On that day God subdued Jabin the king of Canaan before the people of Israel." Chapter 5, verse 31, tells us: "And the land had rest for forty years."
Notice the sequence, though: first the battle, and then the rest. We want the rest, the victory without going through all the hardships of the battle.
There are times when we get really weary. You know what that's like. If you've got a teenager? You may be feeling that right now. If you've got toddlers, you may be feeling that right now.
Remember, first the battle, and then the rest. We can't enjoy the rest, the peace, the victory, until we've been through the battle.
The impact of Deborah's life, her courage, her faith, her godly influence was felt not only in her generation but also in the next forty years. What mark will your life leave on your generation and the one to come?
I don't have to tell you that the spiritual battle in our day is no less intense than it was in Deborah's. The enemy is no less powerful. God is chastising His people for our sins and our idolatry. There are so many believers who seem absolutely utterly clueless, oblivious to what is going on. Then there are a lot of others who realize what is going on, but they feel helpless, powerless to do anything about it.
John Angell James, I quoted at the beginning, let me quote again:
A community is not likely to be overthrown where woman fulfills her mission, for by the power of her noble heart over the hearts of others, she will raise it from its ruins and restore it again to prosperity and joy.
Oh how I pray that God will raise up in our day, not just one woman, but thousands of women across this country and around the world, women who will arise as Deborah did, women of the world, women of clear vision, clarity, courage, conviction, faith, humility, women who are willing to say, "Yes, Lord," women whose lives will inspire the men around them to believe God for what only He can do.
I believe that the influence of that army of godly women will be incalculable in our homes, our churches, and in our culture.
This is a battle—I need to warn you—that is not for the faint of heart. We've a tireless enemy who hates God, and he's not pleased with the thought of thousands of women saying, "Yes," to Christ. In fact, a year and a half ago we sat in Shaumburg, Illinois, at True Woman '08—it was a great, great weekend. God moved in a powerful way there, as He has here this weekend. But I have to confess that I was not prepared for the battle we were entering into.
Since the launch of the True Woman Movement at True Woman '08, for me, and for others around me, the battle has intensified. I have battled with fear—something I was not really familiar with prior to that time—weariness, doubt, discouragement, my own flesh. I cannot tell you how many times I have wanted to go AWOL. I have become tired of swimming upstream, tired of getting shot at. I have wanted to go back to where it's safe, to have a more normal life.
In fact, I will tell you, and our team knows this, that if it had been up to me, we would not have had any True Woman '10 Conferences. I was too tired. I did not want to do this. Not because I didn't want to see the outcome, but I just wanted out of the battle.
But God has His hand and His calling on my life. My life is not my own. It's tethered to Christ, who is the Author and the Finisher of our faith. I am learning through my weakness that there is no safer place to be than in the thick of the battle with Him.
 I'm learning that our God is:
A mighty fortress is our God, a bulwark never failing;
Our helper He, amid the flood of mortal ills prevailing:
("A Mighty Fortress Is Our God" by Martin Luther)
Some of you have read the story in the Chronicles of Narnia by C.S. Lewis The Voyage of the Dawn Treader. There's a point in that story where Edmund, Lucy, and Caspian are on a voyage from Narnia, headed east, toward Aslan's country at the end of the world.
At one point, their ship, the Dawn Treader, anchors near land, and they all go ashore. Some of the sailors are tired of the long journey. They want to stop and spend the winter there where they are and then head back west and return home to Narnia in the spring. They're told that if they stay where they are, every evening they will be given a feast fit for a king. That makes them even more reluctant to press on eastward toward Aslan's country.
Then Reepicheep speaks up. Remember Reepicheep, the valiant talking mouse? He expresses his determination to keep pressing on no matter what. Here's what he says:
My plans are made. While I can, I sail east in the Dawn Treader. When she fails me, I paddle east in my coracle [small boat]. When she sinks, I shall swim east with my four paws, and when I can swim no longer, if I've not reached Aslan's country, I shall sink with my nose to the sunrise.
God hasn't promised us that the journey will be easy, but He's promised to go with us. He's promised to go with you wherever you're going into the battle today. He's promised that one day prayer will be praise, faith will be sight, every tear will be dried, and our journey will be rewarded.
Some are tired, and they want to stop. They don't want to press on. Some want their reward here and now. And they may choose to turn back. Perhaps some who've come with you may make that choice. But by God's grace, and for His glory, my course is set. My plans are made, and I plan to press on until we reach Aslan's country—the New Jerusalem, the city of the Great King.
Will you go with me? (applause)
Leslie: Nancy Leigh DeMoss knows what it's like to grow tired and discouraged when you're following God's calling on your life. She also knows the value of staying in the battle. I hope Nancy's honest account of the struggles and the joys of staying in the battle has encouraged you.
If you appreciate receiving this kind of biblical encouragement each weekday, would you support Revive Our Hearts so we can continue bringing the program to you? When you make a donation of any size, we'd like to send a book Nancy edited called Becoming God's True Woman. It will give you biblical perspective on beauty, on family relationships, on suffering and many other practical topics. 
Ask for Becoming God's True Woman when you donate ay amount by calling 1–800–569–5959, or donate online at ReviveOurHearts.com. 
Today we looked to the example of Deborah and saw that a true woman joins the battle. One of the greatest ways you can battle for God's kingdom is through prayer. For the next few minutes, we're going to focus on that topic—women battling by spending time on their knees. It's the focus of a new film by the Kendrick brothers and our friend Priscilla Shirer. 
And calling women to pray is a huge need in our day, as Nancy explains. 
Nancy: In recent days I've sensed a growing spirit of discouragement and hopelessness in our land, and there's an urgent search for answers—answers for a nation that has lost its way, for communities that have been torn apart by moral erosion and racial division, for churches that desperately need the breath of God, for families that are in deep pain and dysfunction, and most of all, for individual hearts that long for the healing hand of Christ, hearts that need to be revived. 
Leslie: In this context, we need women who will pray. At Revive Our Hearts we're trying to spread a message—that there's an urgent call to prayer. We're excited to partner with others who are sounding the same call.
Nancy:  There's a powerful new tool to deliver this message. It's for everyone, but I think it will be especially encouraging to women. War Room is the movie that shares how one woman on her knees before the throne of God can be a means of deep, lasting transformation in the lives of those she loves.
Leslie: The movie, War Room, was produced by the Kendrick brothers, who also brought us Facing the Giants, Fireproof, and Courageous. 
Alex and Stephen Kendrick spent a long time praying, asking the Lord what topic He'd have them explore in their latest movie. Here's Stephen.
Stephen Kendrick: After Courageous came out we spent about a year and a half in prayer just asking the Lord for clear direction. It was during the summer of 2013 that we both felt like God was leading us to focus on the issue of prayer.
Leslie: The story focuses on a young wife who learns the power of prayer from an older woman.
The Kendrick brothers needed just the right actress for the female lead, and thought of the Bible teacher for women, Priscilla Shirer. You've heard her on Revive Our Hearts. She wrote a book to support one of the Kendrick brothers' earlier movies.
Stephen: We really enjoyed working with Priscilla on the Resolution for Women book. She was writing it as we were writing the Resolution for Men. We got to know her and her husband, Jerry. It was such a wonderful, harmonious partnership with them. We saw the power of God on Priscilla's life and ministry, and we became good friends with them.
As we were working on War Room it became clear that the lead actors needed to be an African-American couple. We thought, Who do we know that has a great personality, is young, but would also leverage the platform of this film to advance the Kingdom. She was number one on the call list. 
Priscilla Shirer: My husband and I saw their name pop up on our caller ID on our cell phone. I put the phone on speaker phone. The phone call began with them saying . . .
Stephen: Can you do us a favor?
Priscilla: We have learned that any time the Kendrick brothers' names come up on our caller ID to prepare ourselves, because there is going to be a fantastic adventure attached to that phone call. And low and behold, the favor they were thinking of was me being in this film. We laughed out loud, and then I said, "No way! Don't you know that there are real actors and actresses that will be able to do a whole lot better job than I could?"
Stephen: We didn't know if Priscilla could act.
Priscilla: I've not done any acting before unless you count the drama production in high school in the youth group at church.
Stephen: But she prayed about it, and she read the script.
Priscilla: Once I read the script, man, I realized this is still ministry. It's not off the beaten path of what I've been called to do. It's just a different way of saying a message to people that I'd want to say anyway. I usually say it in writing or in speaking or teaching, but this is just another genre. I thought, Why not give it a try? It's been a gift to us to be a part of this project.
Stephen: We've been blown away by how good of a performance that Priscilla does as Elisabeth in War Room. I think people are not going to be disappointed at all.
Leslie: Priscilla mentioned that this movie delivers the same message she'd want to deliver anyway. And she says that message is urgently needed in our day.
Priscilla: When this film opens on August 28 in theaters, it's right in the middle of a whirlwind of political chaos and a whirlwind of cultural chaos. No, that is not by chance. We are in such need of the people of God to be called to prayer now like never before.
Stephen: When we look at our nation and what is going on in the division that is across the nation—racial division, denominational division—we look at the lukewarmness in the church right now . . . America is like the Titanic, morally sinking. God's judgment is promised to come on a nation that is rejecting Him. At the same time, His people are always called to repent of their own sins and to unify in prayer. So the Great Awakenings were ushered in when the churches really began to repent and seek the Lord. We realized the wisdom of the Lord's timing in calling the Church right now to prayer with all that is going on. 
Leslie: So if this movie is about women encouraging other women to pray, why the title War Room?
Priscilla: When the phrase "War Room" is mentioned, it's mostly mentioned in a military setting. It is a room where the leaders of the military will go. They will begin to assess their enemy and then strategize on how to best defeat them given that assessment.
In this film, War Room was a room devoted to doing just that, but in a spiritual sense—assessing the enemy, figuring out where he is moving and where you anticipate that he might be moving, and then to begin to craft in prayer a strategy to call out to God on behalf of those things that you have discovered about who the enemy is and what his plan has become for your life.
Stephen: In the beginning of the film, you see a few images from the Vietnam War. Then it goes right into how God has called us to fight our battles in a spiritual sense on our knees in prayer. Throughout the film, we're using Jesus' words when he says in Matthew 6, "When you pray, go into your inner room and pray to your Father in the secret place and He will reward you openly" (v. 18 paraphrased).
It is very important that believers learn to engage the Lord in prayer first, before they ever try to deal with issues in the physical realm. You know, it's Joshua on his knees before the Commander of the Lord's army, getting the strategy before he took on Jericho. It's Esther calling the nation to three days of fasting and prayer before she went before the king. It's Jesus praying all night before He chose His twelve disciples.
There's a consistent model in Scripture that when we come before the Lord and seek His wisdom and provision and counsel first and seek His heart and His face first, then He rewards that. We've seen that in our own lives. We make much better decisions and much greater is the outcome when we engage the Lord in prayer first before we do anything else.
Leslie: War Room opens tomorrow, and Priscilla encourages you to go see it.
Priscilla: Even if you're a little unsure, maybe you've seen faith films before and they haven't been the quality or the level you would like for them to be, I think this movie is going to change your mind about that for several reasons. One of them is, the Kendrick brothers have gone out of their way to make sure this is a quality film. It's exactly what you would expect from a high budget Hollywood picture. That's what you are going to see here. The cinematography is fantastic. They have a fantastic script. You are going to laugh. I've seen this movie now several times with several different audiences, and they are roaring in laughter—particularly at one of the characters named Miss Clara.
Stephen: Just getting to know Miss Clara and experiencing her wit, her humor, and passion for the Lord is worth the price of a ticket.
Priscilla: Even if you are not sure yet about this whole prayer business, you will love Miss Clara and her quick comebacks and her comments are just hysterical. You will be endeared to this project and enjoy it. The entertainment value alone is worth going and taking your friends. But you will leave having not just been entertained. But you will be challenged and inspired to really see and understand that there is an enemy behind the scenes. But he does not have to have victory in your life.
Stephen: Go see this film with your family, as a married couple, with your small group, anyone you want to be praying with. Use War Room as a launching pad for a deeper walk with the Lord.
Priscilla: I'm hoping that our culture, our country is called to revival. I'm hoping that people will leave the theater and not be able to go home and not pray; that they will find a new fervency toward prayer; that they will find an effectiveness as they see God answer; that because so many people begin to pray, marriages begin to pray, churches begin to put an emphasis on prayer . . .
Stephen: That the church will become more purified, repenting, and unifying and seeking the Lord in prayer. We believe that prayer is the wind in the sails of every ministry of every church. We don't just tag prayer on to what we are already doing, but that we follow the model of the church in Acts—that we devote ourselves to prayer, we go above and beyond, we prioritize it above other things.
If we as couples will begin to pray, our marriages will be stronger. If we are praying for our children, they will grow up to be much mightier in the Lord as we are interceding on their behalf. We're commanded to pray for those in authority over us. I believe that God will give us better political leaders and governmental leaders when we are praying for the ones that we have. We're commanded to pray for missions and from Him to send more laborers into the harvest field. Eternity is impacted by the prayers of the saints. We hope that churches will become houses of prayer for all nations again.
Priscilla: As that happens, God promises that "If my people who are called by my name, if they will humble themselves and pray, I'm going to hear and I'm going to heal" (see 2 Chron. 7:14).
Nancy: When God's people begin to do battle in prayer, nothing is ever the same. Healing and freedom transpire. Fullness becomes the norm. Our lives become abundantly fruitful. I'm eager for you to see War Room because it's at the heart of what makes a true woman and what propels her into a lifestyle of thriving in Christ. I believe this movie could help you experience the eternal difference that only God can make. So I want to encourage you to be sure and watch it and get others to join you. I know that you won't be disappointed.
Leslie: Thanks Nancy. War Room opens in theaters tomorrow. For details, you'll find a link on our website, ReviveOurHearts.com.
Over the last several years, there's been a lot of talk about attitudes toward homosexuality. That wasn't just talk for one mom. She watched and prayed as her son entered more and more deeply into a homosexual lifestyle. Hear the story of a praying mom and her son, starting tomorrow on Revive Our Hearts.
Revive Our Hearts with Nancy Leigh DeMoss is an outreach of Life Action Ministries.
All Scripture has been taken from the English Standard Version unless otherwise noted.
*Offers available only during the broadcast of the podcast season.
Support the Revive Our Hearts Podcast
Darkness. Fear. Uncertainty. Women around the world wake up hopeless every day. You can play a part in bringing them freedom, fullness, and fruitfulness instead. Your gift ensures that we can continue to spread gospel hope! Donate now.
Donate Now