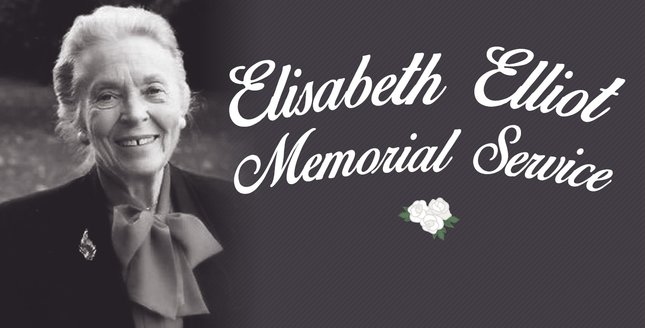 — Audio Player —
Elisabeth Elliot Memorial Service
Leslie Basham: Joni Eareckson Tada remembers the influence of Elisabeth Elliot in her life.
Joni Eareckson Tada: Thank God that I had Elisabeth and her example to show me how to say "it is well" when I felt as though my soul was being singed by fire. But I also learned from her that the altar of affliction is the safest, most secure, most precious place to be because it is a place where dross is consumed and holiness is honed.
Leslie: This is Revive Our Hearts with Nancy Leigh DeMoss for Friday, September 11, 2015.
Nancy Leigh DeMoss: In Psalm 90, Moses prays, "Lord, teach us to number our days that we may get a heart of wisdom." You know I find that sometimes I get so caught up in the busyness of life that I need this reminder to number my days.
Today, I'd like to focus on one way that we can do that. It's to remember the life of a godly woman who's walked ahead of us on life's journey. Reflecting on lives of godly women who have gone before us reminds us to follow their example by God's grace.
As you probably know, Elisabeth Elliot went home to be with the Lord earlier this year. At the time we aired two days of tributes to Elisabeth remembering the life of this amazing woman who had such an influence on multiple generations of women. After we aired those tribute programs, I had the opportunity to attend a memorial service for Elisabeth. It was held at Wheaton College where Elisabeth and Jim Elliot both went to school.
And that service was such a great reminder of what God can do through a woman who was wholeheartedly surrendered to Christ. Many of Elisabeth's dearest friends over five decades or more shared tributes at that service. We heard from her daughter, Valerie Shepherd. We heard from one of her grandchildren. We heard from Joni Eareckson Tada who, wow, she hit the ball out of the park as she reflected on Elisabeth's life and what we can learn from that and how Joni's own life was deeply impacted by Elisabeth Elliot's teaching on suffering.
I sat there spell-bound through that long service, so grateful for this faithful woman of God. I came back and I said to our team, "I'd love for us to be able to air at least a portion of that very special service for our listeners." We'll start by listening to Donna Otto who was a longtime friend of Elisabeth's. Donna is an author and speaker, and we've featured her on Revive Our Hearts before. Here's Donna.
Donna Otto: I am Donna Otto, and I loved Elisabeth very much. She was the mother of my heart. She pointed me to Him always and always away from her. When I met her I was so young, and all I wanted was someone to tell me how to do it. I would go ask the same question with her a dozen different ways.
"Well, just tell me what your morning looks like in prayer. What do you do first? Or what do you do in the middle? Or what do you do at the end? And do you do it all seven days?"
And she would raise her hands. She once said to me, "Murderous. Murderous."
And I said, "Pardon me?"
And she said, "It's murderous. You are so slow to get these simple concepts."
And of course she was absolutely right. I was. But one of the great gifts that this mother of my heart gave me was her enduring patience with me. My life was to be changed at her hand. She always pointed me to Him. She never answered those questions. She never answered them. And it wasn't until I was in my early sixties that a young daughter of my heart asked me much the same variety of questions. And the big lightbulb went on. "Oh that was what she was doing."
Well, I always have a prop when I speak. It's a velvet covered brick. Can you see it? I carried it all the way from Arizona where I live and wrapped it in this black velvet because Elisabeth was a velvet covered brick to me.
And she and I both valued the words of Howard Butt who wrote in the early 70s about this concept of being a velvet-covered brick and that Jesus was like a brick with velvet around it. She was gracious and compassionate to me when I dare say I was a nuisance. She always stood for the same truth, the core of who she was; how she loved her only daughter and her son-in-law and these eight granny's grands and their spouses.
She loved them fiercely and nothing could separate her from those things. Peter Kreeft who was one of the authors that Elisabeth introduced me to says these powerful words. And I know that's a concept that you've heard before. But Peter tells us in the book of 1 Peter, "Let me remind you of what you already know." And Peter Kreeft words are like that: "We are dwarves standing on the shoulders of giants. We see further than the ancients not because we are taller than they but because we stand on their shoulders."
And I know for myself, I stand on Elisabeth's shoulders, and I believe all of us in this room do. The Psalmist reminds us that "one generation shall praise thy works and shall declare thy mighty deeds to the next generation." And Elisabeth did that to me. Yes, o'er and o'er because I wasn't as fast a student as she was.
Louisa May Alcott said that the two most beautiful words in the English language are "Come in. Come in." Have you ever had someone say that to you? "Come in. Come in for tea. Come in for lunch." Well, I think that one of my fondest remembrances of Elisabeth was how often she invited me to come in—come in to her home; come in to her family; come in to her friendships; come in to her life. And I was grateful to accept the invitation each time.
Now we had some things in common, Elisabeth and I. They were more on the plebeian side. "I hate to shop." "I don't like small talk." "I despise unruly childish behavior whether you're a child or an adult." "I don't like fast food." And so Elisabeth and I had these things in common.
And yet I remember one day, in a very noisy mall full of unruly children eating fast food. She leaned to me and said, "I've been given many gifts. But the gift that you have given me in your love for Walt and Val and my grandchildren . . ." (at that time there were only six of you) ". . . is an extraordinary gift." And I took that as a rare treasure. And these grandchildren are exceptional people and will do exceptional things as they continue their lives.
Elisabeth invited me into her friendships. She introduced to me one of her lifelong friends, Dr. Elizabeth Laster, called "Bunny" in the family because there were two Elisabeth's. And Bunny took me under her wing and taught me things that I teach to this day. But it was because Elisabeth opened the door to friendship with no fear that my friendship might supersede her friendship. She loved God and she loved others, and she was gracious and generous with these things. And as I said twice and I'll say again, she changed my life forever.
"All will be well and all things shall be well and all manner of things shall be well." These words of Julian of Norwich found their way into my life from a letter that Elisabeth sent me in 1982. She addressed that letter to "Dotto" which was her pet nickname to me.
I did not grow up in a home that gave pet nicknames. And except for my dear husband, I never received a pet nickname. But whenever Elisabeth said "Dotto," my heart swelled like a small child. She introduced me to people and passages and books and authors and ideas. In the margins of all my Bibles are EE—places that she encouraged me to read and memorize.
Her works especially and Amy Carmichaels were "in acceptance lieth peace." They altered the course of my life. She loved and cared for me. She scolded me. She kissed me. She plumped a pillow and poured me a cup of tea in her bedroom locker as she set me, as Arlita said, before her magnificent view of the ocean. She never gave up what I might learn next even though my slowness was "murderous."
She asked my advice. She wrote introductions to my books. She placed one of my books on her small shelf in her private study. I don't think she ever knew that I noticed that, but there it was. An act of a gracious mother of one's heart. Whether the book was good or not, it wouldn't have mattered because there it was on her shelf.
She reminded me that I should not carry a Bible unless I've swept under the bed. And long before Eugene Peterson wrote The Message, she was quoting J.B. Philips: "And do not be conformed to your world, not just the big world." And she was challenging me to know what my world was.
On Mother's Day, this last year, I sat next to the mother of my heart wondering as I have often in these last ten years, if this would be the last time that I would see her. And it was. Lars always welcomed me to come whenever I was near the city or whenever I could catch an hour, a lunch, or an overnight.
I saw the end of her life full acceptance—a peacefulness that I understood more clearly because of Amy Carmichael's quote. And Amy said in her great book called If, "If I refuse to allow one who is dear to me to suffer for the sake of Christ; if I do not see suffering as the greatest honor that can be offered to any follower of the crucified Christ, then I know nothing of Calvary love."
The mother of my heart had accepted suffering in a true and deep way aided by those who loved her. I know you, too, have read the tributes and salutes and remembrances that have filled the pages of magazines and the Internet and newspapers the last four weeks. All of these words of success and accomplishment, determination, discipline, unapologetic boldness . . .  John Piper said, "The blunt woman with blunt words." He was right.
Compassion and real grace were hers. Her writing is high quality. Her content fit to change your life. Her voice and antics with accents would make you howl. But none can compare to the choices she made to surrender to Jesus Christ beneath the cross. And she showed me that. She modeled that. She encouraged it. She stayed with me to the end.
Elisabeth was a brick. She was tough and tender and I was forever changed by the presence of God in her in my life.
Nancy: That's Donna Otto speaking at a memorial service for Elisabeth Elliot. Later in the service we had the joy of hearing from Joni Eareckson Tada as she reflected on how Elisabeth Elliot impacted her life when Joni was a young woman in her twenties. Here's Joni.
Joni: For centuries, ever since the year 195, I looked it up, we've heard that saying that "the blood of martyrs is the seed of the church." And certainly the blood of Jim Elliot and his missionary friends overflowed the inkwells into which Elisabeth dipped her pen and wrote such wise, wise words. Words that not only inspired generations of courageous missionaries who carried and planted the banner of Christ in jungles and deserts and mountain villages and cities great and small, but words that inspired us, blessed us, invigorated us, especially when hardships, deep painful hardships arise.
I first met Elisabeth in 1976. We were speaking together in a conference at a conference in Canada. She and I often spoke at many women's conferences together. I was only twenty-six years old back then, and I had less than a decade of quadriplegia under my belt. I could not believe that I had a chance to share the platform with this saint of the age.
Back in high school, like most of us, I had been inspired by her book Through Gates of Splendor, but I had no idea back then—back before the diving accident in which I would become paralyzed—I had no idea that soon and very soon after my graduation I would enter that dark valley that Elisabeth so frequently wrote about.
One evening at this Canadian conference, after we spoke, Elisabeth came back to my hotel room and my sister helped me out of the wheelchair, got me undressed, propped me up with pillows. We discovered during the conference that we both loved hymns. And so with me there in bed and her sitting on the other mattress, we sang.
Jesus the very thought of thee,
With sweetness fills my breast,
But sweeter far thy face to see,
And in thy presence rest.

("Jesus the Very Thought of Thee" by Bernard of Clairvaux)
Also, we spoke together, opening up our hearts, sharing how utterly, utterly faithful God had been. God had remained to both of us through so much affliction. And we agreed back then that no one participates in God's joy without first tasting His Son's afflictions.
That night before she left the hotel room, she paused by the door, looked back and smiled and said, "Just remember, Joni, that suffering is not for nothing." It was so "Elisabethan." And back then I thought I totally understood what she meant. I mean after all, nine years of quadriplegia had so far stripped away a lot of pride and exposed a lot of sin. It had refined my faith; it strengthened my character; it had fostered empathy for others who hurt; it had given me a deeper love of God's Word and prayer.
In fact, a few years later I put all of these things down in a book that I wrote with my friend Steve Estes. We called it A Step Further. It was a summary of the many things that God had been teaching me those years in my wheelchair. And I was so delighted with my tidy, orderly list of the thirty-five good biblical reasons as to why God allows suffering and what you can learn from it.
So I asked Elisabeth if she would please read the manuscript to offer an endorsement, which she did. It was very generous. But in her cover letter she confessed that although she found the book extremely satisfactory it was, in her words, "a bit technical." Her comment utterly crushed me.
But after a few more years or so of quadriplegia and the encroachment of chronic pain, I began to see. I began to realize that there is more, much more to suffering than learning the reasons why God allows it and how you can benefit from it. That's what Elisabeth meant by her comment.
She knew that true maturity, true joy, true contentment has less to do with a mechanistic assessment of God's plan and purposes for your life and more to do with being pushed into and at times shoved and pressed up against the breast of Jesus Christ until your heart begins beating in rhythm with His—not a tidy, not an orderly list, but something very messy. An earnest grappling; an earnest wrestling with the angel of the Lord until He touches us in heart and hip.
When you are decimated by affliction, when you are down for the count, you learn Elisabeth's doctrine that the Bible's answers are never ever to be separated from the tender, sweet, holy, precious God of the Bible.
I learned, we all learned that rich and powerful truth from her. And for me, after decades of paralysis and the encroachment of pain and cancer, it has made all the difference. And even as Elisabeth grew older, even when she aged, just knowing that she was with us, just knowing that she was part of the church militant still here, still on planet earth was our best deterrent against complaining.
She was the saltiest of the salt of the earth preserving the body of Christ from whining. She never ever ever meant to run roughshod over our feelings. No. Not at all. She just wanted us to appreciate how high the cosmic stakes really are—that none of us, as the writer of Hebrews puts it, none of us has suffered to the point of shedding blood.
So she held up these things of God: "You have nothing to worry about. Get over it. Life is supposed to be difficult. God wired it that way. And Jesus is ecstasy beyond compare, and it is worth any amount of suffering to be His friend."
I totally ate that up. That kind of stuff I thrived on it. I was totally invigorated by her, as John Piper put it, "her no nonsense, get-up-in-the-morning, pull-up-your-britches, and go-out-and-die way of looking at life." I loved it. She made me, she made all of us understand that every day we are on a fierce battlefield upon which the mightiest forces of the universe converge in warfare.
And all of us happily rose to that challenge. We were invigorated by her example; totally energized by her exalted vision for the church. Philippians 2:14: "Do everything without complaining."
Her life, her example, her writings, how can I put this, they are food and drink to those of us that God places on altars of affliction. I thank God that I had Elisabeth and her example to show me how to say, "It is well," when I felt as though my soul was being singed by fire.
But I also learned from her that the altar of affliction is the safest, most secure, most precious place to be because it is a place where dross is consumed and holiness is honed. Elisabeth embodied that.
But I can't talk about her views on suffering without mentioning her longing and joy for heaven.
Oh, that will be glory for me,
Glory for me, glory for me.
When by His faith I shall look on His face,
That will be glory, be glory for me.

("Oh, That Will Be Glory" by Charles Gabriel)
Heaven is a place for holy inhabitants. And Elisabeth got herself ready for heaven by making holiness her entire life's pursuit and passion. She made utterly certain not to risk the eternal estate into which she daily placed in His hands.
And even now she looks at us from the grandstands of heaven cheering us on but also warning us not to jeopardize our eternal estate. Because every day, as Christians, everything we do down here on earth has a direct bearing on our capacity for joy and worship and service in heaven. Talk about cosmic stakes that are high.
I mean, can't you imagine the rich welcome that Elisabeth received when she entered those gates. I know that some of my friends, when they heard the news, spoke of Elisabeth's great joy in seeing her beloved Jim. But I like to think that her spirit quickly found its place next to Jim and others that she loved together kneeling with them in glorious worship of her Savior.
When the news of Elisabeth Elliot's homegoing broke, most people felt a twinge. Then they inhaled deeply and breathed a great sigh of relief that she was finally free of her broken earthen vessel.
Others, like my friend Nancy Leigh DeMoss, on whom I believe Elisabeth's mantle and message to women has now fallen, others wept, wept openly. And so they should because a significant member of the church militant had been translated into the church triumphant.
But some people, I don't know how many, but certainly I did, some people sang. When I heard of her homegoing, I sang. I sang a hymn that I had been reserving for that poignant moment when I would hear that she had passed into glory. And I am no trained vocalist but:
For this dear saint who from her labors rest,
Who Thee by faith before the world confessed,
Your name, O Jesus, be forever blessed,
Alleluia! Alleluia!
Christ was her Rock, her Fortress, and her Might;
Christ was her Captain in the well-fought fight;
Through darkness drear He was her one true light.
Alleluia! Alleluia!
And when her fight was fierce, the warfare long,
Steeled on her ear the distant triumphant song,
And her heart was brave again, and her arms were strong.
Alleluia! Alleluia!
O blessed communion, fellowship divine,
We feebly struggle, but she in glory shines;
Yet all are one in Thee, and all are Thine.
Alleluia! Alleluia!
From earth's far realms, from oceans farthest coast,
Stream through the gates of pearl the heavenly host,
Sing to the Father, Son, and to the Holy Ghost,
Alleluia! Alleluia!

(adapted from "For All the Saints Who from Their Labors Rest" by William W. How)
If you do not know the Savior that Elisabeth Elliot knew so well; if you do not know His tender mercies and sweetness of grace; if you have not experienced the washing away by Christ's blood of your sin, now is your time.
Now is the moment to lay down that burden at His feet because the forgiveness of Jesus is so utterly costly and prized and precious. So embrace Him and own Him as Lord and Deliverer.
Try very hard not to complain knowing how high the heavenly stakes really are. For as Elisabeth would say, "Our eternity is too precious, too costly to risk." Do this and together we shall walk. I will walk. I will walk together with you through gates of splendor.
God bless you and thanks for listening.
Nancy: Such moving words from Joni Eareckson Tada at the memorial service for Elisabeth Elliot. At the close of that service we watched a fifteen minute video tribute to Elisabeth Elliot. And how moving that was to see those photos and some of that video footage and to hear the voice of this woman that so many of us loved and who impacted our lives so deeply.
That video included a brief excerpt of the final message that Elisabeth gave to the staff of Back to the Bible, the ministry that hosted Gateway To Joy. I had the joy of being in the audience that day when she delivered that message back in 2001 as we were preparing to make the transition from Gateway To Joy to Revive Our Hearts.
Just listening to these words from Elisabeth Elliot brought back such precious, poignant memories. I'd love to share them with you.
Elisabeth Elliot: "I make known the end from the beginning, from ancient times what it is, what is still to come. I say, 'My purpose will stand, and I will do all that I please.' From the east I summon a bird of prey; from a far-off land, a man to fulfill my purpose. What I have said, that will I bring about; what I have planned, that will I do" (Isa. 46:10–11 NIV). All I can say is "To God be the glory."
Nancy: I know that some of our listeners would love to watch the entire memorial service for Elisabeth Elliot and to be able to watch the video tribute. So we've linked to both of those at ReviveOurHearts.com.
So whether you were a listener to Gateway To Joy, Elisabeth Elliot's radio program, or perhaps she's new to you, we're eager for the story and impact of her life to be passed on to the next generation. So I want to encourage you to go to ReviveOurHearts.com and listen to at least portions of that memorial service and perhaps to watch that wonderful video tribute to this faithful true woman of God.
Leslie: Thanks, Nancy. So, are you ever tempted to grumble against God-appointed leaders or do you ever get tired of people grumbling against you? Nancy will show you how to deal with both situations. She'll teach a new series from the life of Moses starting Monday. Please be back for Revive Our Hearts.
Revive Our Hearts with Nancy Leigh DeMoss is an outreach of Life Action Ministries.
*Offers available only during the broadcast of the podcast season.