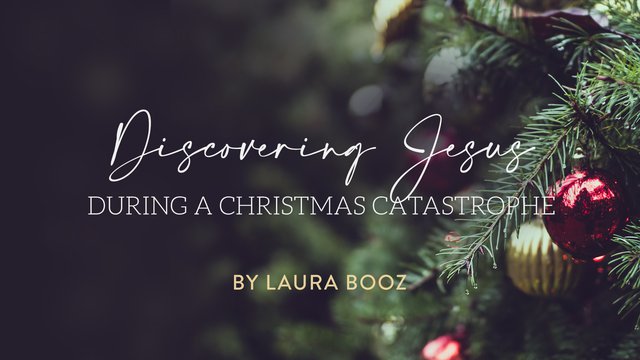 — Audio Player —
Discovering Jesus During a Christmas Catastrophe
Dannah Gresh: Laura Booz remembers a rare, idyllic holiday moment at her house.
Laura Booz: It was Christmas-tree-getting day at our house. We came home from the Christmas tree farm. We came into the house and took off our hats and gloves and boots and warmed up by the fire while my husband propped the tree up and cut the twine—and the tree poofed back to its original shape.
The kids were ecstatic. They were begging to hang up the Christmas tree ornaments, and they were taking turns twirling in the Christmas tree skirt.
Dannah: But as her family revelled in the Christmas glow, Laura's stress level was beginning to rise.
Laura: But my energy level did not match theirs. I had just trekked over the rolling hills of Frasier Firs with an energetic ten-year-old, seven-year-old, four-year-old, and one-year-old, while managing morning sickness. Yeah, I forgot to mention, I had just found out I was pregnant.
So I was exhausted. I was worn out, and I just wanted to sit down. As I sat there on the couch watching the excitement unfold around me, I actually got more exhausted as I reviewed the mental list of what had to happen during the month of December.
Tree getting day was just the beginning of our Christmas traditions. In the days to come we would celebrate Advent, reading Holiday picture books, bake our favorite Christmas cookies, que up the Christmas music, buy presents, wrap presents, make cards, and probably do a craft or two. 
And that's when I remembered, I had also agreed to help direct a children's choir for our Christmas Eve service at church. I was in over my head. 
Dannah: This is Revive Our Hearts with Nancy DeMoss Wolgemuth, author of Born a Child and Yet a King, for Friday, December 25, 2020. I'm Dannah Gresh.
Merry Christmas, Nancy!
Nancy: You too, Dannah! I hope you and Bob are going to get to see your kids and those precious little granddaughters.
Dannah: Yes, with two little eighteen month olds running around, Christmas is going to be extra fun. I'm pretty sure the boxes are going to be the hit of the day. How about you and Robert?
Nancy: Well, this is going to be a different year for us. We've planned to be alone at home this year. Robert's in his final week of chemo, thank You Jesus, we are so grateful for that. He's doing well. But between chemo and COVID, we felt the need to be hunkered down this year. But that didn't keep me from getting the house decorated. It's beautiful. Lights everywhere, Christmas trees everywhere, candles everywhere.
So we are celebrating. We are enjoying each other. We're enjoying the Lord. We know there will be times down the road where we can reconnect with family and friends that we love so much.
I know we are not the only ones for whom this unique Christmas coming at the end of a crazy year.
Dannah: I have some friend who are quarantining. Some of them had their plans to visit family change at the last minute. Nancy, I think it is a sobering as well with hundreds of thousands of people missing around the Christmas table because of COVID deaths in United State. Christmas just looks a lot different this year for a lot of families.
Nancy: It does. And for some it is that dramatic. For others what they are experiencing isn't quite so intense. But I know around the holidays we all feel stress and pressures of the season. That's why every Christmas I'm so grateful for this annual reminder of the hope that came for all of us when Jesus came to this earth, no matter what our circumstances.
I'm so thankful that we can discover and rediscover each year, the wonder of Jesus in the middle of real-life drama and messes and challenges. Our friend, Laura Booz, knows something about stress around the holidays. She's the mother of six kids and the wife to Ryan. She is the host of a brand-new podcast produced by Revive Our Hearts called Expect Something Beautiful.
And in this podcast, she describes some of the frustrations and disappointments we all experience in our everyday lives. But she also knows how to capture the wonder of God's gifts in the midst of that dailiness. And most important, Laura always points us to the truth of God's Word that we need to help us navigate the ups and downs each day.
On this Christmas Day, we'll hear two stories from Laura. They both show us how we as broken, needy people can discover Jesus in the middle of our struggles. 
Dannah: This new podcast, Expect Something Beautiful is a part of a new Revive Our Hearts podcast family we'll be telling you more about in January.
Nancy: The first episode we'll hear focuses on Jesus as the light of the world. To set it up, let me read a passage perfect for Christmas Day. Here's John 1:1-9.
In the beginning was the Word, and the Word was with God, and the Word was God. He was in the beginning with God. All things were made through him, and without him was not any thing made that was made. In him was life, and the life was the light of men. The light shines in the darkness, and the darkness has not overcome it.

There was a man sent from God, whose name was John. He came as a witness, to bear witness about the light, that all might believe through him. He was not the light, but came to bear witness about the light. The true light, which gives light to everyone, was coming into the world. 
We celebrate Jesus as the light here on Christmas Day, and to help us do that, let's listen to an episode of the new podcast, Expect Something Beautiful with Laura Booz.
Laura Booz: Have you ever been in pitch darkness and struggled to find your way around? I have. I was on a camping trip with two friends, and we found ourselves in the middle of the woods in the middle of the night . . . without a flashlight.
Well, it all happened because we went on this camping trip. We showed up late on a Friday night after work, and we started setting up our tent. Then we dug around in our bags to find our flashlights so that we could walk to the bathrooms.
Of course, we always pitched our tent by the bathrooms. We dug around, and we all discovered that we forgot our flashlights. No, we were not your typical girl scouts. So even though it was dark, we decided that together we could find our way. We linked arms and started off into the dark night. 
Well, at first we were walking along on this nice clear path. Then all of the sudden, we were walking through some low-lying brush. And then these trees were brushing across our faces and we're pushing limbs out of the way. I think it struck us all at the same time . . . we were lost.
Hi there, I'm Laura Booz, and you're listening to the podcast, Expect Something Beautiful. Your expectations really matter, and when you use God's Word to light your path, you can expect something beautiful.
So, there we were in the middle of the woods, in the middle of the night, and we didn't know what to do. That's when I saw something shiny on the path up ahead. I picked it up and discovered that it was a silver gum wrapper.
I thought that maybe I could tilt and bend the gum wrapper in such a way that it would reflect the moonlight down onto the gum wrapper and then down on to the path in front of us so that we wouldn't be stumbling over roots and rocks . . . and we could maybe see our way out of this place. 
But, of course, all it did was get us more lost. I have no idea how we got back to our tents, but somehow or another we stumbled back. But we decided that the bathrooms would have to wait until the morning.
The next morning when we woke up, we unzipped the tent and we poked our heads out, and we saw the most beautiful sunlight sparkling through the trees. If you've ever been camping, you know how beautiful the morning is at a campsite, because all your fears from the night before have melted away, and you can see that you made it. 
We all walked out of our tent, and you will not believe what we saw. It was this nice wide path, probably six feet wide, leading straight in front of us. And twenty-five feet ahead was a large white cement building, with a big black word painted on the side that said, bathrooms. They were there all along, and the light of day made all the difference. 
I'm telling you this story because it illustrates that we live in a dark world, and we're so tempted to grasp at other things for wisdom and guidance. 
You know, things like social media and conferences and books, compelling personalities, the news, political parties, social movements. But they don't work to shed light on our path. 
Grasping at them is kind of like grasping at the silver gum wrapper and bending it and twisting it so it would shed some light on my path. 
Today I thought we could pause and remember that Jesus is the Light of the World. In fact, this story brings to my mind in John 8 where Jesus said, 
"I am the light of the world. Whoever follows me will not walk in darkness, but will have the light of life" (v. 12).
This is one of His seven "I AM" statements, where Jesus is claiming to be the Messiah. The very Messiah promised in Isaiah 42, where God says to Jesus, 
"I will give you as a covenant for the people, a light for the nations, to open the eyes that are blind, to bring out the prisoners from the dungeon, from the prison those who sit in darkness. I am the LORD; that is my name" (vv. 6–8).
I did a little digging and I found out that when Jesus shares this "I AM" statement, He's standing in the temple treasury. Now, this was the place where the widow gave her last coins, and it was also called the Court of the Women, because women were allowed to go this far into the temple but no further. 
There would have had been women and men mingling. It would have been the most packed part of the temple, and Jesus is standing in the midst of it. I also learned, this is so amazing, that He is sharing this during the Feast of the Tabernacles. 
This was a celebration of the forty years that the Israelites wandered in the Wilderness. Every night of the feast they lit candelabras all around the Court of the Women. It was called the "Illumination of the Temple." 
These candles burned all night long reminding the Israelites that God has led them through the Wilderness as a bright cloud during the day and a pillar of fire at night. He led them all the way to the Promise Land. 
Ancient writers said that during the Feast of the Tabernacle, the temple looked like pulsating diamond. It's in the middle of all of this that Jesus is standing there saying, "I am the light of the world. Whoever follows me will not walk in darkness, but will have the light of life." It's in the middle of this that Jesus is saying I will lead you all the way to your eternal home. 
Look, all of us are having to walk through really dark times right now. Maybe you feel like you're lost in the woods grasping at silver gum wrappers to shed some light on your path. Just remember that Jesus is your Light and you can follow Him out of the darkness, because: 
He's the Light of Wisdom that dispels the darkness of ignorance. 
He's the Light of Compassion that dispels the darkness of hatred.
Jesus is the Light of Freedom that dispels the darkness of captivity. 
He's the Light of Healing that dispels the darkness of sin and death. 
The wisest thing that you and I can today is to follow Jesus. Only Jesus tells it like it is and guides our path and makes everything make sense. He speaks to us in His Word. So today, open God's Word for the light you need to walk the path before you. 
Nancy: We have been listening to our friend Laura Booz who hss been reminding us how important it is to look to Jesus alone as our light in a dark world.
Dannah: This is Revive Our Hearts. I'm Dannah Gresh. And I'm Nancy DeMoss Wolgemuth.
Nancy: We're celebrating Christmas day with two stories from Laura Booz. 
Dannah: She's the host of a brand new podcast called Expect Something Beautiful. It's part of the Revive Our Hearts podcast family designed to help women connect with God's Word in a variety of ways.
Nancy: Well one of the episodes of this new podcast explores holiday stress, and I know you're going to love this story. Here's Laura Booz.
Laura: Hi there, this is Laura Booz. You are listening to Expect Something Beautiful.
What are you expecting this Christmas? I think this Christmas you can expect God's kindness to melt your heart. 
Well, my husband and I often participated in the Christmas Eve service at our church, and this year he and I were organizing a small children's choir. We were going to sing the Getty's children's carol, "Jesus, Joy of the Highest Heaven," Jesus joy of the highest heaven, born as a little baby under a wonderous star.
My first task was to teach the song to our children so they could sing confidently when we gathered the rest of the choir for the rehearsal. So in-between decorating the house and making the Christmas crafts, I would gather the kids around the piano to practice the song with them. 
Our ten-year-old and our seven-year-old learned the song immediately, and their sweet voices sounded like angels. Our four-year-old, on the other hand, struggled to remember the words, no matter how much he tried. I mean, we would get four measures into the song, and he would collapse to the floor in tears—like big boo-hoo tears because he had forgotten the words. 
And our one-year-old screamed and fussed through the whole song. She wanted to sit on my lap and play the piano and empty the closet and eat a snack and drink some milk and take a nap, all at the same time. And my memory could be playing tricks on me, but I am pretty sure that this happened every time we gathered around the piano to sing. 
I know I lost my patience on more than one occasion. Many times I was sitting there playing, but my jaw was clenched, and I'd bribe those little ones to stop crying for one blessed minute. I'm telling you, it was never the "I'll Be Home for Christmas" scene I had imagined. 
But there was this one holy day, when I finally understood the meaning of the song we were singing. As usual, I was playing the piano, but this time I was truly listening as the older girls sang. They sang about our precious Lord Jesus who came as a helpless baby, crying and needing His mother to hold Him. He came crawling on His belly and had to learn to walk. He came sharing our smiles and our tears, hungering for relationship, and facing all manner of danger. 
They sang about how Jesus came to take away our darkness, and transform us from strangers into children of God, to show how to love what is right and good, to turn me a stranger into a child of God.
As usual our four-year-old was wailing and our one-year-old was screaming and the girls were quite discouraged—they were furtively watching for my reaction in all of this. And to be honest, I think we were all just kind of fed up with one another. But the Holy Spirit was in that room, making me mindful of God's kindness, even when we are weak and stubborn and vile.
I thought about the way that Jesus came to earth and shared our human struggle. He wore our flesh from infancy all the way to adulthood, and He laid Himself down for our sakes. Thought about the kindness of God not to count the sum of our wrong doing against us, but to remove our sin, as far as the east is from the west. 
I just thought about His daily mercies, from the rising of the sun, the food we eat, the piano I played, the voices we used so effortlessly. And right then and there, God's kindness melted my heart. Jesus was in our midst, giving life to each of us, supporting us in our flailing attempt to create something beautiful, and sustaining us when we botched it all up with irritation and discouragement. 
Yes, the little ones were crying, but caught up in the truth of the song, I smiled. Then I raised my voice above the din and I said, "Keep singing girls. Jesus came for moments just like this one." Fortified by my encouragement, those girls sang with gusto. I played the melody with my right hand and then wrapped my left arm around the tear-stained four-year-old and the hungry one-year-old, and they continued to cry until the end of the song.
I played the final chord, and then I hugged all four of them, thanking God for His kindness in sending Jesus as a baby for us.
The whole experience reminded me of Psalm 103, that promises, 
As a father shows compassion to his children, so the Lord shows compassion to those who fear him. For he knows our frame; he remembers that we are dust (vv. 13–14). 
Don't you think there's just something about Christmas that helps us remember the difficulty of being human? Because more than any time of the year, we notice that people are lowly. We all come into the world helpless, crawling on our bellies and hungry and naked. Without the kindness of at least one person, each one of us would perish.
We are each fighting a hard battle against our sinful nature. We each have an enemy of our soul and we're up against a fallen world. And at Christmas, God reminds us that He sees us, and He cares, and He's with us.
Even when I lose sight of my fragility, when I aspire to perfection and greatness and self-sufficiency, when I sign up for one too many things at Christmas time, when I get caught up in the demands of being an adult and caring for others, when I over-commit and under-deliver, God smiles on me with compassion, and He remembers what I am made of—dust.
I cherish this about God. I think His kindness shines brightest when it's extended to a person who doesn't deserve it; one who can't return the favor and is entirely dependent on the benefactor. 
When God is kind, it is always to demonstrate His mercy and extend forgiveness. It's always for the purpose of restoring and strengthening His relationship with us. He's kind when we're hostile toward Him. He's kind because He wants to win our hearts. 
Well, don't ask me how we arrived at church on Christmas Eve night with fancy dresses and sweater vests and most of our shoes on, but we did. Our bellies were full and warmed by our traditional Shepherd's Meal, just soup and bread. And the sanctuary glowed with soft candle light as the children took their places on stage for the opening song. 
Before walking up to direct the choir, I tucked our sleepy little one-year-old in Grandmom's arms, and she snuggled in contentedly. Jesus joy of the highest heaven born as a little baby under a wonderous star. The song began. I looked over the sweet faces of the children in the choir. I saw our older daughters standing in the back row singing with all their might, and our brave four-year-old stood in the front row, and, yes, forgot the words, and, yes, began to cry. But he jumped back in and sang with the rest of the song. 
There was no doubt about it, this Christmas Eve sparkled with the kindness of a Savior come to earth to serve His hungry, fragile children and give them life. This time the only person crying through the entire song was me. 
Hey, one more thing, six months later in the middle of the summer when we weren't singing Christmas carols anymore, guess who suddenly began singing, "Jesus Joy of the Highest Heaven" from beginning to end? Guess who proceeded to sing that carol for a full year as her anthem, her bedtime song, and her swinging song? That precious one-year-old. She was listening the whole time. 
Nancy: Laura Booz has been telling us about a time she discovered the wonder of Jesus in the middle of a hectic holiday season. I hope on this Christmas Day at the end of a topsy-turvy year, you'll be reminded of the same thing.
Laura is the host of a brand new podcast called Expect Something Beautiful. On each episode, I think you'll relate to her stories taken from everyday life. And she will point you to God's Word. You will see how biblical truth intersects with each of our stories. I hope you'll subscribe to Expect Something Beautiful on your favorite podcast app. Or just listen on the Revive Our Hearts app.
Expect Something Beautiful and Revive Our Hearts are both part of a podcast family produced by Revive Our Hearts. You'll hear more of that in the days ahead.
Dannah: I hope the rest of your Christmas day is filled with the wonder of Jesus' sacrifice for us! Next week, we'll revisit a key moment from 2020, as Nancy talks about "Coronavirus, Cancer, and Christ," and she shares her two-word motto for the year, "Heaven Rules." I hope you'll join us as we once again beg for God to Revive Our Hearts.
Revive Our Hearts with Nancy DeMoss Wolgemuth wants your Christmas to be Christ-centered. The program is an outreach of Life Action Ministries.
*Offers available only during the broadcast of the podcast season.
Support the Revive Our Hearts Podcast
Darkness. Fear. Uncertainty. Women around the world wake up hopeless every day. You can play a part in bringing them freedom, fullness, and fruitfulness instead. Your gift ensures that we can continue to spread gospel hope! Donate now.
Donate Now