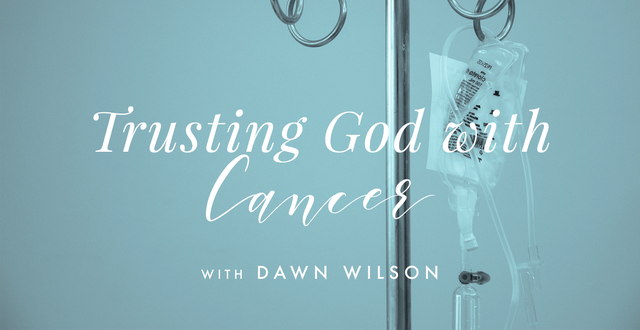 — Audio Player —
Courage and Faith
Dannah Gresh: She's suffering from a serious form of cancer. Here's our friend, Dawn Wilson, reading excerpts from her posts on social media.
Dawn Wilson:
I feel like I'm twenty years older, with the exhaustion and pain. I'm praying I will tenaciously hold onto God-honoring joy in my circumstances—and that's far different from happiness—and learn how to suffer well.

I pray the Lord will carry me when I feel like I'm falling apart. Everything in me wanted to be discouraged after the appointment today, but I chose to go to God to give me hope, joy, peace and wisdom in the days ahead. My doctor's diagnosis is continuing myeloma. But my Great Physician's diagnosis is, "I died for that, too, and I will heal you. It's just a matter of when and where.

All praise to my Sovereign Lord! I am His humble servant and I rejoice in His salvation!
Leslie Basham: It's October 17, 2019, and you're listening to the podcast Revive Our Hearts with Nancy DeMoss Wolgemuth, along with Dannah Gresh.
Dawn:
Today I feel like the psalmist. So often he described his feelings, his laments, his complaints, his fears to the Lord. But he didn't stop there. He always ended with praise to God or an affirmation of trust in God.

A good example of this is Psalm 13, where he says, "How long, Lord?!" but he ends with, "But I trust in Your unfailing love." I won't deny the reality of what's happening in my body, but I will continue to acknowledge the big-picture truth: God will be glorified in my body and my testimony if I have anything to say about it!

That's my righteous determination at work, as God is at work. I'm thanking God in my pain today—not only the pain in my legs from the chemo, but the pain in my feet from two sprained ankles yesterday. I'm thanking Him for the pain that is teaching me many things.

But I'm also thanking Him in the pain, that I can trust Him to help me suffer with purpose, suffer for His glory. My whole myeloma experience has brought me at least four opportunities in my immediate neighborhood to share joy in Christ beyond circumstances and the source of my joy: Jesus.

That is something I have prayed for, for years, and God is answering my prayer in a way I never expected! He's a good, good Father! 
Nancy DeMoss Wolgemuth: We're listening to Dawn Wilson, and if you missed yesterday's program you want to go back to Revive Our Hearts and listen to that, where we started this conversation. Dawn is an author; she's a blogger, a speaker. She's been heavily involved in women's ministries over the years. She and her husband have served in various types of evangelistic and mission agency work overseas for years, and she's been a part of the team of Revive Our Hearts as a research assistant ever since our beginning.
Dawn, thank you for taking time out of your ongoing treatment and weakness to share with us from your home there in Southern California in this conversation that I know is really speaking to our listeners.
Dawn: It's my pleasure, Nancy. 
Nancy: When you say it's your pleasure, it's your pleasure because you're choosing to find joy in the Lord and in His calling in your life in this really difficult season. It was months ago, earlier this year, that you were first diagnosed with multiple myeloma, and as we talked yesterday. That was an utterly unexpected and a total shock to your system!
For those who may not have heard our conversation yesterday, take a moment to just tell us how that diagnosis has upended and changed your life.
Dawn: Well, I really didn't know how it would change my life; that was the total uncertainty of it all. But it has really changed my priorities, changed my choices, changed my thinking. When you have something like a chronic disease—a disease that they basically say is incurable—you begin to think through what's important in your life. What really matters?
What do you want to be remembered for? How do you want to reach your family with a godly legacy? All those thoughts come rushing into your mind, and you realize that you can't do any of that without God's direction. So it was a scary time, but it was really a time of commitment, too, right from the beginning, that I was going to do this with God's glory in mind.
I'm thanking Him for the pain that is teaching me many things.
Nancy: And that has meant, for you, embracing weakness—physical weakness, exhaustion, weariness, pain. You mentioned about having two sprained ankles one day as a part of this whole journey.
Dawn: Yes.
Nancy: You've always been a strong woman, physically strong, healthy, multi-tasking. You get more things done! You're an amazing woman. So what has been like having to because of the medications and the treatment process . . . We mentioned yesterday trying to get your body to the place where you can receive a stem cell transplant. So there's physical weakness and weariness and having to change your lifestyle. Talk about the challenge, how life-changing, life-altering that is for you.
Dawn: Well, you're right. For many years I pushed myself, probably much more than I should have. I even had a godly women's ministry director tell me, if I wasn't careful I was going to be burning out. Which I just kind of not scoffed at, but just kind of said, "Ah, but you don't know me; I can do this!" 
So when God allowed me to have myeloma, it really was His way of taking me down to just the skeleton of who I am and realizing that I wasn't going to be able to do all these things that I could do before. I had to start thinking: what was really important? 
A lot of those things I thought were so important have just kind of gone by the wayside. Priorities are different. A lot of things I can just kind of release from my life. They just aren't making a difference anymore. But what is important to me is making sure that every day I'm doing what God wants me to do.
I remember the Bible says that Jesus did all that the Father asked Him to do. (see John 5:36) That kind of became my early prayer: "Lord, I don't have time and strength for everything, so help me to know exactly what You want me to do today." And I was able to let go of a lot of things. 
In a way it's been a good thing, another gift, because I've been able to release so much of the stress in my life and just really say, "Lord, show me Your heart and show me what you have for me to do today. What is the opportunity that's there for me to do today so that I can honor You?"
Nancy: Yes, I love John 17:4 where Jesus says at the end of His life, "I have finished the work which You have given Me to do" (NKJV)—not the work everybody else gave Him to do, but the work God gave Him to do. And there's nothing like what you're going through to help you recalibrate, "What is the work God has for me to do in this season?" And this season is different than five years ago. It's a different season. And part of trusting God to write your story is embracing the fact that this season is different than previous seasons.
Dawn: Right. I think we go through some of those, as you say, recalibrations, when we get older anyway. I think we tend to say, "I want to simplify my life. I want to get rid of things in my house I'm not using anymore. I just want to be able to have greater freedom to do what God wants me to do." 
And so, if we are walking with the Lord, I think we do start casting off some things that are holding us back so that we can end well and we can stand before Him unashamed, knowing we have obeyed Him. So I was a little bit doing that since about the age of sixty-five anyway, so then at sixty-eight to have this hit me, it was like, "Okay, we're going to speed this process up a little bit."
Nancy: You're trusting God to write your story in His time and at the time of His choosing. You've talked pretty honestly, Dawn, in some of your Facebook posts about dealing with discouragement and doubt. Can you unpack for us a little bit what that looks like and what those hard times look like? What brings on doubt? A little bit of that battle?
Dawn: Yes. Discouragement and doubt have been two biggies for me, and they usually come in the middle of the night when I can't sleep. That seems to be Satan's choice time to attack me. There's nothing wrong with doubt. Doubt can actually lead to faith if we know where to go with our doubts.
So when those doubts about what God's doing come to me in the middle of the night, I search my heart for a Scripture either I've memorized or something I kind of slightly know. I just respond to Satan with that truth. The same thing with discouragement. Discouragement can be a really dark place, but you just turn to the light of God's Word.
When I do that, He floods my heart with the joy and peace that I need to stand up to Satan and say, "You're not going to win this one! You may be wanting me to be discouraged, but I am taking God's courage based on His truth."
Nancy: So the encouragement, finding courage in God, is what delivers you from that discouragement. Being stripped of courage comes from believing the lies of the enemy. That's what brings the discouragement, and the battle against that happens through finding courage in God.
Dawn: Right. There's a Scripture that I've embraced. It's a really simple Scripture, but it's a Scripture about hope. Hope and courage to me are linked. The Scripture is Psalm 71:14, "As for me, I will always have hope; I will praise you more and more" (NIV). And that goes back to that choice again. I am choosing to have hope in God, and I'm choosing to praise Him and let that praise just mushroom in my life. That is an exciting thing that I actually do see happening.
Nancy: I see it happening in you, Dawn, and it's a beautiful thing to behold—probably even more than what you realize. Let me go back to the discouragement point for a moment here. Back in May you talked about having a bit of a pity party. 
You haven't done a lot of that, but there have been moments. I wonder if you would just read for us what you wrote on your Facebook post about this whole thing of pity parties?
Dawn: 
I was having a bit of a pity party last night, but God would have none of that! My faithful Father reminded me of His unconditional love, a love that caused Him to send Jesus on my behalf and rescued me from my sin . . . the love that daily sustains me, provides for me and keeps me.

I am so thankful God's love isn't based on my faithfulness, but on His! He delights in me, and I want to learn how to better delight in Him. Pity parties are such a waste of time! We forget the hope we have in Christ.
Nancy: You could have put a smile after that, when you said, "Pity parties are such a waste of time!" All of us know that's true. It doesn't help anything, it doesn't take us anywhere good. But it is what happens if we forget the hope that we have in Christ. Then what we have left is nothing, right? 
I am so thankful God's love isn't based on my faithfulness, but on His!
Well, as you're choosing to believe God's Word, to cling to it, to trust His heart and the story that He is writing, God is doing some sweet things—not only in you, but through you, to minister. As you're receiving God's grace, you're becoming a channel of God's grace into other people's lives as well. You've talked about that some on your updates.
Just give us a sense of how He's maybe giving you greater sensitivity or ability to minister to others in your time of suffering.
Dawn: Well, I think perhaps we have to go through some deep pain before we can truly comfort people in their pain or at least have some measure of understanding of what they're going through. I wrote: 
In my cancer journey I'm gaining a sensitivity toward those who hurt like I've never had before. I'm praying for people I know who are experiencing deep pain this very day, especially for a couple—my nutritionist and her husband—who are walking through the deepest and darkest valley of all with deep faith. I am so thankful for the God of all comfort!
Nancy: So it's sweet to see that as you suffer, God gives you comfort and then He makes you—even before your suffering is over—able to enter into the pain and the sufferings of others and to be a comfort to them. I mean, how amazing is that!
Dawn: Yes, it's so amazing, because, I will be honest . . . I think before my diagnosis (I didn't want to be this way, but) I think I was pretty self-focused, and only focusing on things that affected my life. And it's like God opened my eyes to the hurting people all around me; that I needed to enter into their lives not only with prayers but with genuine concern and encouragement.
God has really done a work in that selfishness in my life. He's made me reach outside myself more. That has been a real blessing, too!
Nancy: It's just amazing, Dawn, to hear you talk about blessing while you're in the middle of what I know is such a deep, dark valley yourself. Here we are, you've got this diagnosis—multiple myeloma. You're waiting for treatment and meds to take effect so that you could hopefully have a stem cell transplant.
But all this is unknown to you at this moment—or to anybody on earth. So as you think about the future (we've talked about hope), but as you think about the future, the hope would be and the prayer would be that God would restore you, that He would heal, that He would touch your body, that He would reverse or undo (or whatever the terminology is) this cancer.
But you don't know what's going to happen. So as you think about healing and the future and lifespan, what is some of your processing on that?
Dawn: I decided whether I have one year or with the transplant, five years . . . and actually, with the transplant that might be nine years, because they would like to freeze some red blood cells to give me at a later time. So I could have maybe nine years. Maybe with the advances in myeloma, even more than that.
But it's not about the years, it's about what I do with the time that God has given me, whether that's a short time or a long time.
Nancy: And Dawn, it's been so precious to see you embracing God's providence—mysterious as it is—in that way and just saying "yes" to whatever God says He has for you for this day, without knowing what the future looks like.
You referenced in a post not too long ago, 2 Corinthians 4:16, where the apostle Paul says, "So we do not lose heart. Though our outer self is wasting away [which is true of all of us, by the way, whether we have a cancer diagnosis or not; our outer self is wasting away. Yet Paul said:], our inner self is being renewed day by day."
And you responded to that verse and you talked about this whole sense of physical healing . . . your outer self, your inner self. Just share with us that thought about what God is doing in you, even while your body—like all of our bodies—is wasting away.
Dawn: Right. I realized that that is the big picture of God's sovereignty regarding my healing. I wrote,
I will be healed someday, whether on this earth or in heaven, but my inner self is already being renewed—and probably as much from the impact of my diagnosis as anything else. It's driving me into the loving presence of Jesus. I'm walking in the Spirit more than ever before!
Nancy: So you see God doing something in your inner person which is driving you closer to the Lord. It's enabling you to walk more in line with His Word and His Spirit. You're saying some of this is the actual fruit of a diagnosis that you never would have chosen if you'd been the one writing your story. Did I get that right?
Dawn: Yes, that's exactly right.
Nancy: That's a picture of what God is doing in you now.  But talk about the future, whether it's one year, five years, nine years—five days, nine days. I mean, who of us knows? Whether it's cancer or a car accident or whatever? I know you've thought more about death and dying as you've been on this journey. 
Where does your mind go and what keeps your heart filled with hope, when that could be something depressing to think about?
Dawn: Well, I'm not afraid of dying at all. I know where I'm going to be. I know I'm going to be with my Lord who loves me. So I'm not afraid of dying, but I'm not eager to die, either. I still have some dreams and there are still things I would like to accomplish, and only God knows what's ahead.
I'd like to write a book. I'd like to write a book as more of a heritage book for my family so that they'll know what's in my heart. I would like to have other opportunities to write. I'm thankful I get to write for a couple online magazines, and I love those opportunities. But I think I also want to really consider what "legacy" means. I want my legacy in the Lord to be authentic.
I want it to be used for His glory, and all that really matters is that I'm being faithful to Him. So, yes, I'm not afraid of dying; I'm not eager to die. I have a lot of dreams yet. I think God still puts those dreams in our heart. That's part of the hope process. But at the same time, in His providence, I can trust Him to know what my last breath is going to be.
Nancy: Our days, our times, our lives are in His hand, right? That's what the Scripture says. (see Ps. 31:15)
Dawn: Exactly!
Nancy: He ordered our days before one of them came to be. Psalm 139:16 tells us that. So, Dawn, you're in the middle of a perplexing and mysterious providence—mysterious to you and to us, not to God. You and I both know a lot of people who are in the middle of other kinds of providential mystery.
What would you say to encourage somebody who's listening, who is experiencing a story that is happening in their life that they would not have written for themselves, a story they feel like they have no control over, but it's what it is. Just from your perspective, which we can tell is just so rich because of what you're walking through. What would you say to encourage that listener to trust God to write their story, in this season?
Dawn: I think, to me, it all boils down to one simple statement: "God is still on the throne!" God has not changed, though my circumstances have changed. His presence is real; His tender mercies to me are real. His designs for my life are still real, until the day I die. I want to walk closely to Him so that I won't miss one moment, so I won't miss one opportunity that He has for me.
The body is wasting away, but the mind and the Spirit—so far—are still there. I want to cooperate with Him in all the good works that He's prepared for me before the foundation of the world!
Nancy: Yes. And talk to somebody who maybe is not in a hard time or place right now. Thank God, for most of us, storms aren't our whole life. How do you ready yourself. You talked about a bedrock for your life. What are the kind of things we can be doing in the good seasons, the easier seasons, to be preparing us for the day of the storm or the day of trouble?
Dawn: I think, to walk in the Word. The things that I have read and studied and especially memorized are the things that are coming back to bolster me in my times of weakness. I was reading Psalm 119, and was surprised how many references there are to afflictions, and the hope that we have in afflictions in our God, because of the Word. 
As far as memorization, I kind of joked about it with a friend one day. You know, we talk about technology—copy and paste. I realized that all of those Scriptures I had memorized were like "copying" them into my heart, and now I'm "pasting" them into the struggles of my life!
Nancy: Wow! I love that!
Dawn: I'm so glad that those Scriptures are there. They're popping into my mind, and they're bringing real peace. They're bringing real hope. I think I have some regrets that I didn't memorize more Scriptures when I was younger, so that those opportunities to paste would be more and more. But I'm thankful for the Word, I'm thankful that I can rest in that sweet peace and walk with the Spirit as I remember the things that God has said in His Word—that truth that helps me fight off Satan's lies; that truth that encourages me in the middle of the night when I think I can't go on, when I'm feeling very weak; that truth that shows me that God is my strength. 
So I would encourage people to get in the Word and copy it into your heart and memorize it so it's real and ready when you need it the most!
Nancy: Such a good word! And, Dawn, you've lived this for decades. You're living it now. I want to pray for you in just a moment, and I know a lot of listeners would like to join me in that. But first, I just want to mention that Dawn's life is an illustration of what Robert and I have talked about in our newest book—the first we've written together. It's called You Can Trust God to Write Your Story: Embracing the Mysteries of Providence. I believe God is going to use this book in a sweet way to minister grace and hope and perspective and help to many people who are in hard places.
Do you know somebody who's in a hard place? This would help you know how to minister to them. Or maybe it's something that you could hand that person. There are a lot of stories like Dawn's in this book, and we want to make it available as our way of saying "thank you" to any listener who makes a donation of any amount to the ministry of Revive Our Hearts. 
You can make that donation at ReviveOurHearts.com, or you can give us a call at 1–800–569–5959. When you make your gift, be sure and let us know that you'd like a copy of the book You Can Trust God to Write Your Story . . . even as Dawn is trusting God to write her story in these days. I just believe that so many have been encouraged today, to know that you can trust God to write your story.
And, Lord, I want to thank You for this precious sister. What a friend and a ministry partner she has been in this ministry of Revive Our Hearts for so many years! She is a faithful servant. I see her, even in her weakness and physical challenges, trying to do as much as she can to keep up with the areas of responsibility where she shares in this ministry.
She has been so faithful. I've watched the beauty of what You're doing in her life in this really hard time. Thank You for her opening her heart to our listeners in this conversation, whom I know have received some really needed encouragement and wisdom and perspective. And, Lord, we just pray together in Jesus' name that You would strengthen our sister; that You would sustain her in this difficult season; that You would continue to sanctify her by Your grace; that You would support her, encourage her in those night hours. 
May she just go to the Word; may the Word that she has cut and pasted in her life be very real to her; may Your presence continue to be close and near and dear to her. Would you continue to satisfy her deeply with Your steadfast love? Continue to fill her with hope—not in a doctor's prognosis or an outcome of tests. We're praying that these meds would succeed; that she would be able to get the treatment she's needed; that You would give her longer life. But You know exactly what day we're going to be born, what day we're going to die, and I pray that—more than anything—when it's her turn, when it's our turn for You to take us home, that we could go knowing that we have finished the work you gave us to do . . . and that we're ready to meet You!
And in the meantime, I pray that you would fill Dawn. Fill each of us, in whatever our life's circumstances may be, with hope and joy in Christ who is our hope alone! So we bless You, Lord, and give You thanks for the testimony we've heard from our friend, Dawn. We just pray Your blessing on her in a huge way in this season. I pray in Jesus' name, amen.
Dannah: Nancy DeMoss Wolgemuth has been talking with our friend, Dawn Wilson, who has been showing us how to trust God with a cancer diagnosis. We'll continue on this theme of trusting God to write your story tomorrow on Revive Our Hearts.
Revive Our Hearts with Nancy DeMoss Wolgemuth wants to help lift you out of discouragement. It's an outreach of Life Action Ministries.
All Scripture is taken from the ESV unless otherwise noted.
*Offers available only during the broadcast of the podcast season.
Support the Revive Our Hearts Podcast
Darkness. Fear. Uncertainty. Women around the world wake up hopeless every day. You can play a part in bringing them freedom, fullness, and fruitfulness instead. Your gift ensures that we can continue to spread gospel hope! Donate now.
Donate Now