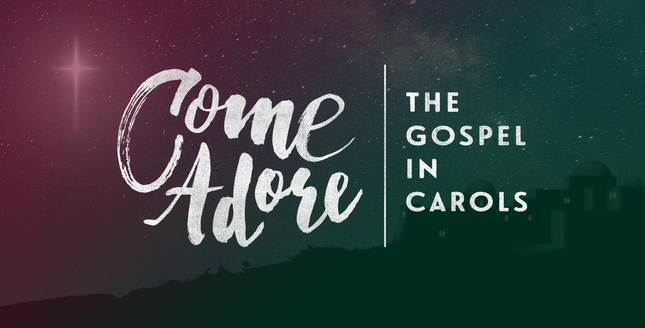 — Audio Player —
Come Adore, Day 8
Leslie Basham: Here's Nancy DeMoss Wolgemuth with one example of grace in the Christmas story.
Nancy DeMoss Wolgemuth: When Jesus came to this earth, there was no room for Him, but He has now gone to heaven to prepare a place for us.
Leslie: This is Revive Our Hearts with Nancy DeMoss Wolgemuth, author of The Quiet Place, for Wednesday, December 7, 2016.
Nancy: Well, I don't know about you, but I have so enjoyed the time I have spent soaking in these Christmas carols and finding the gospel in the carols. Now, the gospel isn't just that Jesus was born. It's that God became human, put on human flesh. He was born. He lived. He died. And He rose again from the dead for our sin, for us as sinners. That's the good news of the gospel, but it starts, as far as we can see it, in this Christmas season when Jesus comes to earth.
So I've loved these carols and how they tell that story. They remind us that Christmas isn't just about sweet, sentimental thoughts and ideas and sights and sounds and tastes, but it's about reality, a message that brings great joy when we put our faith in Christ, we repent of our sin, we let Him bring us out from Satan's dominion and power and bring us back into the dominion and power of the Lord Jesus.
The carols we've been talking about, and we've been sharing with you, come from this CD that we're offering this week on Revive Our Hearts. It's called Come Adore, and these are eleven Christmas carols, including all the ones we've talked about in this series.
I play the piano in these, and then we have other musicians that were brought in. They are beautiful arrangements done by my friend Jay Rouse and just something, I think, will be a blessing to you to listen to in your home or your car during the Christmas season. I hope that as you listen you will reflect on the message of these carols.
That CD is something we're offering as our way of saying "thank you" to you as a friend of this ministry when you send a gift of any amount to help support us during this important, this critical time of the year when we're trusting God to bring a sizeable portion of funds between now and the end of December.
We have this wonderful matching challenge, we're very excited about that, and we're asking the Lord to help us match that and go above and beyond that match so that the needs of this ministry can be met—so we can keep on telling the good news, the good tidings of comfort and joy and peace that come through Jesus Christ.
Well, on this last day of the series, I want to talk about one of my favorite Christmas carols as a child. When I was recording this CD, I discovered that there were very few people who were familiar with this carol. So you may hear it on the CD and think, I'm not familiar with that.
We're going to talk about it. It's called, "Thou Didst Leave Thy Throne." Old English language, but a really rich message.
Let me tell you a little bit about the background of this:
It was written by a woman named Emily Elizabeth Steele Elliott—Emily Elliott. She was a PK. You know what that is? Pastor's kid, preacher's kid, in Victorian England. She loved the Lord. She was actively involved in rescue mission ministry and in Sunday school work, and the purpose of Sunday school in those days was to reach children who didn't know Jesus or didn't come from Christian homes, to reach them with the gospel.
Now, her aunt was a woman named Charlotte Elliott who was an invalid. She had a chronic illness. And she was a hymn writer also who lived nearby to Emily. She wrote the famous hymn, "Just as I Am." So that was Emily Elliott's aunt, Charlotte Elliott, who wrote, "Just as I Am."
Emily wrote a collection of hymns called Under the Pillow for those who were sick in the hospital or at home. And I wonder if it's because she had this aunt who was chronically ill and wanted to have a way to encourage those who were sick.
Well, when Emily was in her late twenties, in 1864, she was studying Luke chapter 2, verse 7, which says:
And she gave birth [this is speaking of Mary of Nazareth] to her firstborn son and wrapped him in swaddling cloths and laid him in a manger [a feeding trough for animals] because there was no place for them in the inn.
As she pondered that phrase, "there was no place for them in the inn," for Mary and Joseph and a place for her to have this child who was the Son of God and the son of Mary. "There was no place for them in the inn."
Well, she was inspired to write a hymn for the children in her father's church to help them understand the true meaning of the Christmas story and of Christ's mission in coming to earth. And so she wrote, "Thou Didst Leave Thy Throne."
Now, as you hear these words, it's kind of Old English, so you think, Wow! Could children really understand this? But it was written for children. And it reminds us that some of our carols and hymns and songs that we sing in our churches, if they have great gospel, biblically-centered words, texts, they're a great tool to teach ourselves and each other and our children the great gospel truths because you get this melody in your head, and you can't stop singing it.
Some of you are humming some Christmas carols even during this series—"Oh Come, Let Us Adore Him." These songs are ways of getting the truth into our heads and hearts.
So this song, "Thou Didst Leave Thy Throne," is a prayer directed to the Lord Jesus. It shows how the birth of Christ fits in the context of His entire life. It's a carol that's most often sung during the Advent or the Christmas season, but really, it could be appropriately sung at any time of year.
There are five stanzas and a chorus that repeats after each stanza. The first two stanzas talk about Jesus' birth. The third talks about His life here on earth. The fourth talks about His death. And the fifth and the final stanza looks to the future and anticipates the day when the resurrected, ascended Christ will return to earth and will take us to His eternal home.
Now, I want to look first at the first four stanzas, and then we'll look before we finish up here at the final one.
The first four stanzas contrast the exaltation, the splendor, the glory, the worship that Jesus had in heaven, with the poverty, the humiliation, the rejection that Jesus experienced down here on earth, and the contrast is huge. It's really important because we need to remind ourselves of what it was that Jesus gave up, what He came from, and what He came to, and the world of difference for Him to do this as the Son of God.
In each of these stanzas, the first two lines form a contrast, and the word that joins them together is the word "but." Let me show you how this works:
The first stanza:
Thou didst leave Thy throne and Thy kingly crown,
When Thou camest to earth for me;
So it talks about how, what Jesus had up in heaven. He had a throne. He had a kingly crown. And then He came to earth.
But in Bethlehem's home there was found no room
For Thy holy nativity.
That word "nativity" just means "birth," by the way, when you hear that.
So, You left Your throne and Your heavenly crown when You came to earth for me, but in Bethlehem's home (contrast), there was found no room for Your holy nativity.
Then we go to the second stanza:
Heaven's arches rang when the angels sang,
Proclaiming Thy royal degree;
But of lowly birth didst Thou come to earth,
And in great humility.
You see from the exaltation to the humiliation. And you have this contrast. In heaven, He was a King with a throne, a crown and mansions. John 14 tells us that.
"He's the God who inhabits eternity." Isaiah 57 tells us that. That's His home. He's huge, He's magnificent. In heaven, the train of His robe fills the heavenly temple, and the angels never cease to say, "Holy, holy, holy is the Lord God Almighty."
That's what He had in heaven. We can't begin to imagine it, but He gave all that up. He came to earth where there was no room, no applause, hardly anyone even noticing that He was born that night. In heaven, He was the center of attention all the time. He comes to earth, and there's no room, no notice, no praise. He's born in a stable, in a manger.
The angels announced His birth. They declared Him to be the Messiah, Christ the Lord, the Savior, to be royalty. But He came to earth as a lowly infant, "in great humility," as Emily Elliott's song says.
Philippians 2 puts it this way:
Though he was in the form of God, he did not count equality with God a thing to be grasped, but he emptied himself, by taking the form of a servant, being born in the likeness of man (vv. 6–7).
Deity puts on humanity. Infinite, holy, majestic God (words fail) puts on poor, human, frailty and weakness.
The next stanza gives us the same idea:
The foxes found rest, and the birds their nest
In the shade of the forest tree;
But Thy couch was the sod [the grass], O Thou Son of God,
In the deserts of Galilee.
Now, this is a reference, not to what he had in heaven, but to the fact that even the animal kingdom had it better than Jesus at certain points. Jesus says in Matthew 8, "Foxes have holes, and birds of the air have nests, [They have a place they can call home. They have a place they can sleep at night], but the Son of Man has nowhere to lay his head" (v. 20). There was no place found for them in the inn. No home He could call His own. 
How much more valuable and precious is the Son of Man than foxes and birds? Even the animals have a place to call home. The Son of God had none.
Listen to the next stanza:
Thou camest, O Lord, with the living word
That should set Thy people free;
But with mocking scorn and with crown of thorn
They bore Thee to Calvary.
So you see the contrast there? He comes. He brings the Word of life. He is the living Word of God. But the people He came to save mocked Him with their words. They didn't regard Him. They scorned Him.
He had a crown of glory in heaven. He comes, and He takes a crown of thorns here on earth. He goes to Calvary.
He comes to bless, to give, to deliver, to give people life. But His love is rejected. He is tortured. He is delivered over to be killed.
And why did He do all this? This is what we've been looking at in the gospel in the carols. We see who He was and why He was born. Why did He do all this? We see it in all of these carols. This one says in the first stanza: "Thou camest to earth for me." For me. He came for you. He came for me.
The chorus of this carol personalizes it even further. It draws us into the story after we sing the chorus after each stanza and invites us to make this personal. It invites us to open our hearts to make room for Jesus, to welcome Him—unlike the innkeeper in Bethlehem.
So what's the chorus?
O come to my heart, Lord Jesus,
There is room in my heart for Thee.
So He came to earth. There was no room for Him. There was no place for Him, no place to lay His head. No acceptance. Just rejection and scorn. But then the songwriter says, "Come to my heart, Lord Jesus, there is room in my heart for Thee."
Now, some say this "come to my heart, Lord Jesus," they sing it at Christmas and in different ways through the course of the year, but the fact is, their hearts are filled with other things. And in reality, there is no room for Jesus in many of our hearts.
We have other priorities: work, hobbies, recreation, busyness, relationships, Facebook, Twitter, Instagram, Pinterest.
I'm not saying there's anything wrong with any of these things, but in many of our lives, these things have crowded out room for Jesus. We don't have room for Him. We say it. We sing it. "O come to my heart, Lord Jesus, there is room in my heart for Thee." But is there really?
So I've been pondering this: How do we make room for Jesus in our hearts? How do we do that? How do we do that this season, this Advent? How do we do it year round? Well, we have to make time for Him.
David, the psalmist, said in Psalm 132,
I will not give sleep to my eyes or slumber to my eyelids, until I find a place for the Lord, a dwelling place for the Mighty One of Jacob (vv. 4–5).
How do you think our days would look different if we said, "I'm not going to bed at night; I'm not going to close my eyes at night until I've set apart time just for Jesus"?
Now, it all belongs to Him. He's Lord of it all. But time, a place for the Lord. Time to be in His Word. Time to pray. Time to seek Him. Time to listen to Him. We make room for Jesus in our hearts by setting aside time for Him.
To make room for Jesus in our hearts means that some other things have to go. Some good things. But there's not time for them and Jesus. Some divided loyalties. Some other loves, some other gods (lower-case g).
Sins that we cling to because they make us feel secure or in control. We've got to be willing to get rid of those to make room for Jesus.
To make room for Jesus in our hearts means that we need to be willing to be inconvenienced at times for His sake. It is so worth it because when we make room for Him, He fills us as nothing and no one else can.
Now, that doesn't mean there's not room to have a mate or children or a house or a job. But it means those things are in their proper place, and they don't steal our affection for Jesus. They don't rob our love for Him. They don't crowd Him out in our lives.
As I was thinking about this the other day and thinking how what it means just to have room for Jesus in our hearts and a word picture came to mind—and I hope you don't mind if I get kind of personal here for a minute. I'm in a season where I'm making room for a husband in my life and in what was home is now our home.
Now, I've got to tell you Robert Wolgemuth is off-the-chart considerate, kind, gentle, thoughtful, sensitive, but there's some things in our home that he'd like to change. Now, I'm not talking massive things. There's some things that, if they were a little different, if they were tweaked here and there, would make him more comfortable.
First of all, my home was built for a short, single woman. And that just says it all. So I've got, like, miniature (so they seem to tall people) sinks and counters. It's been designed around my use, and I was a single woman living in that home for twenty-some years.
Now I'm a married woman living in that home, and my husband has ideas about installing closet organizers and uncluttering the garage. I'm thinking, How many wives would be thrilled to have their husbands doing this in their garage? But I'm used to the way things have been for twenty-five years.
It's not that I think his way is wrong. It's just different than what I'm familiar with. I tend to be a little hesitant about change. (I know there's no one else here that way.) And I want to see exactly what it's going to look like when it's done.
What I'm having to learn is to trust my husband. Trust his heart. Trust his skills and his ability, which are considerable. I have to be willing to surrender what I'm accustomed to, what I've become comfortable with, and, at points, to yield my way of doing things.
Now, we're not talking about right or wrong matters here. When Jesus comes into your heart, you better make sure you get rid of all the wrong things. We're talking, in this case, in marriage, just about accommodating, making room. Love says, "I'll make room, and not just for you to have your little man space. But this is our home, and I want you feel like this is your home. I want you to be comfortable here."
So decluttering has been the name of the game for me for even during the months we were engaged. The things I've had sitting around forever—some of these things, I don't even know what they are. I'm discovering things I didn't even know I had, and I have no use for them. So the motto is: Get rid of it! If you don't need it, get rid of it, and be willing to let my husband move some of those things.
We were talking about this earlier today. There's some things that it's just time to let go. They're not needed. They're not important. Maybe they were important to me fifteen years ago, but they don't matter now.
It also means making room in my schedule. I told Robert when we first began to court that I'm a busy woman. He knew that already. I have a full life. And I said, "I'm not going to add marriage as an appendage to an already overcrowded life."
So to live out that promise, and that's what marriage is, you make room. Right? So I've had to make some adjustments and some changes for the sake of a new relationship, for the sake of love, for the sake of us being one.
I've had to yield, and I'm having to learn to yield day after day my drive to control everything in my home and in my life. And that means points of surrender.
Now, I don't want to make it sound like this awful or hard. It's a joy—because Robert makes it a joy. The difficulty comes when I hold tightly, when I am so crowded in my time or my life or my space that there's no room for my husband. That's a sad place to be.
The sad thing to be in our relationship with the Lord is when we let other things crowd Him out, we have no room, no time for Him.
So my question to you today is: What is crowding out room for Jesus in your heart and what adjustments do you need to make in order to welcome Him into your life—not just to be your partner, but to be your Lord, to make your heart His home.
Let me encourage you during this Advent season to be thinking about that and making room in your heart—not just a little space, but giving it all to Him, saying, "Lord, what do You want this to look like? How do You want the décor to be here? How do You want to decorate this room in my life, my time, my relationships, my reading, my habits, my exercise, my diet, my everything. What do You want it to look like? This is Your home. You are welcome here."
That's what we want to be thinking about during this season.
Well, the final stanza of this great carol looks to the future and anticipates the day when Jesus will return and take us to His eternal home, "When the heav'ns shall ring, and the angels sing at Thy coming to victory . . ."
Let me just stop there. Remember: 
Jesus came the first time in humility to a manger. He'll come back in triumph, in victory.
The first time, He came in a lowly way. The next time, He will come as the exalted King.
The first time, He came to suffer and to submit. The next time, He will come back to reign and to rule.
So:
When the heav'ns shall ring, and the angels sing
At Thy coming to victory,
Let Thy voice call me home, saying "Yet there is room,
There is room at My side for thee.
When Jesus came to this earth, there was no room for Him. But He has now gone to heaven to prepare a place for us, and He's making room there for all who believe and receive Him.
He was willing to leave His home and come to earth, where He had no place to call His own so that we could have an eternal Home with Him. I've seen some spectacular homes here on earth, but they're not going to touch the home that He's preparing for us. He's making room for us.
Let me say, too, those who will not make room in their hearts for Christ while they are here on earth, have no basis for assuming that there will be room for them in heaven. You can't say, "Oh, Jesus is making a place for me in heaven. I've got a home up in the great wild beyond up there," but you haven't made any room here. That doesn't make sense.
Well, when we come to the final chorus at the end of the final stanza, it's a different chorus from the first four. The first four said:
O come to my heart, Lord Jesus,
There is room in my heart for Thee.
But in the last stanza, we come to this chorus. It's a response of heartfelt faith and praise:
My heart shall rejoice, Lord Jesus,
When Thou comest and callest for me!
So this calls us to look forward, not just to live in the here and now, but to know that He's preparing a place for us, that He will welcome us, and we will welcome Him.
The heart that has room for Jesus during this Advent season is the heart that will rejoice.
My heart shall rejoice, Lord Jesus,
When Thou comest and callest for me!
Leslie: Nancy DeMoss Wolgemuth has been reminding us of the wonder of Christmas. It's amazing Jesus would leave His heavenly home to be born in a dirty, uncomfortable stable.
I'm so thankful for teaching like that from Nancy, and other women appreciate it, too, especially those who may relate to Jesus feeling far from home. Nancy, you recently received an example of that.
Nancy: Leslie, here's an email we received from a listener who's an Australian missionary living in Thailand. She said:
I listen to the radio program through the Internet. I'm really enjoying the Lord's Prayer series. In fact, to be honest, the Lord has really used your teaching conferences through the Internet, radio programs, and books to sustain me, revive me, and empower me to disciple and teach others here in Thailand.

If only you could see me with headphones on, preparing a meal for my husband and five kids in a discipleship training center for tribal people from Myanmar in Thailand. Often my kids are running through cornfields, swinging bamboo homemade swords while our students are playing soccer or feeding pigs.

If only you and your team could picture my context and see how I am being changed and equipped to serve God here all through Revive Our Hearts' ministry.
Well, I can just picture this woman in the midst of all the hubbub she's got going on, and I'm so grateful that Revive Our Hearts has the opportunity to invest in this missionary who is living out the beauty of the gospel of Jesus there in Thailand.
Now, we can't provide teaching to this missionary without the prayer support and the financial support of our listeners. And the reality is, almost half of the donations that we depend on for the whole year arrive during the month of December.
So think about this: Last December, a year ago, listeners gave generously, and that's what helped make it possible for this missionary to be encouraged and equipped to minister to other women over there in Thailand.
So just think how your investment this month could pay off in the months ahead as women hear the truth of God's Word and spread it around the world.
Some generous supporters of Revive Our Hearts has seen how God is using this ministry, and they want, not only to give themselves, but to see their giving multiplied. So they have offered to match each gift we receive this month up to a challenge amount of $600,000. I'm so thankful for that gift and for their involvement.
And now I'm asking: Would you get involved and make your year-end gift so we can meet this challenge amount and even go beyond it? Your support at this time will help Revive Our Hearts continue calling women all around the world to freedom, fullness, and fruitfulness in Christ.
Leslie: To get involved with this matching challenge, call 1–800–569–5959. Make sure to ask for, Come Adore.* It's Nancy's Christmas piano CD that includes the carols she's been exploring during this series.
We'll send you the CD when you make a donation of any amount to Revive Our Hearts. It's the last day I'll be letting you know about this offer, so contact us right away. Again, the number is 1–800–569–5959, or visit ReviveOurHearts.com.
Tomorrow, Noël Piper will help us learn how to treasure Christ in holiday traditions. Please be back for Revive Our Hearts.
Revive Our Hearts with Nancy DeMoss Wolgemuth is an outreach of Life Action Ministries.
All Scripture is taken is from the ESV.
*Offers available only during the broadcast of the podcast season.