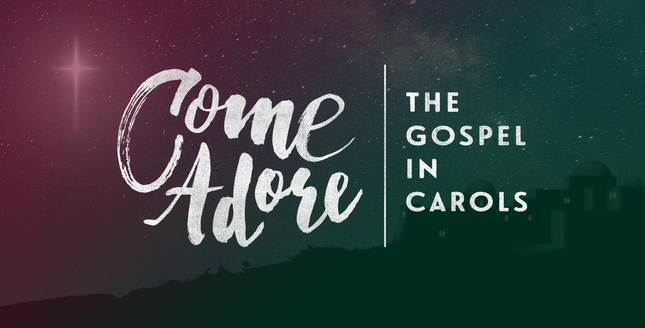 — Audio Player —
Come Adore, Day 6
Leslie Basham: Are you having trouble celebrating this season? Here's Nancy DeMoss Wolgemuth.
Nancy DeMoss Wolgemuth: This Christmas season, and in every season, there is a lot of sadness. There is a lot of pain, there is a lot of heartache, there is a lot of sorrow in this world. But the birth of Jesus changes everything!
Leslie: This is Revive Our Hearts with Nancy DeMoss Wolgemuth, author of The Quiet Place, for Monday, December 5, 2016.
Last week, Nancy began a series called "Come Adore: The Gospel in Carols."
Nancy: If you have Advent candles in your church or in your home, as I do in mine, then yesterday you lit the second candle. We light an Advent candle on each of the four Sundays leading up to Christmas, and then on Christmas Day—as we anticipate the Advent, the coming, the arrival of Christ our Savior.
Now He has come, and we celebrate that, and we rejoice in it, but we also look forward to that Christmas Day coming when we celebrate His Advent and—beyond that—to the return of Christ here to this earth.
That's what we're talking about over these several days, last week and then a few days this week, as we're looking at some Christmas carols—"The Gospel in the Carols." These are carols that are found on a piano CD I've recorded a few years ago called Come Adore.
That's really the message of this series: Come adore this Jesus, who He is and what He has done and why He came. We come at Christmas to adore Him, during this entire season. The carols that we're talking about are on this CD.
We're making the CD available for those who say, "I'd like to make a contribution to help the ministry of Revive Our Hearts." We're so grateful for your desire to partner with this ministry so we can get the gospel into more hearts, into more homes, into more countries and languages—because we want Jesus to be honored, not only at Christmas but throughout the year!
If the Lord puts it on your heart to make a donation to help with our year-end challenge . . . This is a really important time of our year. Some forty percent of our annual donations come during the month of December. That's why we share the opportunity to give and to have your giving doubled during this time of the year.
As you give a gift, we'll say "thank you" by sending you a copy of this CD. I think it's something you'll want to have playing in your home, to remind you of these carols that we're talking about—and not just the carols, but the gospel in the carols.
Today we're looking at another well-known carol. Some have called it the greatest carol ever written. It's been translated into more than 150 languages. In the early part of the twentieth century, this is a song that actually made it on to the top ten on the pop music charts three times over a period of years—different recordings by different artists.
So it's a song that's known and loved not only by church people, but even people outside the church. Even those who don't think they love Christian music have loved this song. It is a Christian song, and it has a great message. We're going to talk about that today.
For many years, no one knew who had written this song: "O Come, All Ye Faithful" is how we know it today. But for years it was just known as an anonymous Latin hymn. However, in the mid-1900s, research revealed that it had actually been written in 1744 and set to music by the same person (which is unusual in hymns).
His name was John Wade. He was an English layman, a music teacher, a music copyist who had been exiled—because of his faith—to France. He was there working as a copyist. When they first saw his name attached to this carol, they thought, "Well, maybe he was just one of the people who copied it," but he was actually the one who wrote it they now believe, based on research.
The Latin title is something you may recognize, even if you don't know Latin: Adeste Fideles. You hear that, and you see that around Christmas. That phrase actually means, literally, "be present," or "come near, faithful ones."
One hundred years after it was written, in the mid-1800s, this carol was translated into English from the Latin. The first line in the original English translation was, "Ye faithful, approach ye." Now, that's a mouthful! I'm glad it didn't stay that way, but that's what it was called.
Needless to say, that title—"Ye Faithful, Approach Ye"—didn't catch on, but several years later it was re-translated into what we have today: "O Come, All Ye Faithful." So that's a little bit of the background behind this hymn.
Now, let's talk about the message of it. It's a call to worship, and this is an appropriate response: the response of praise when we enter God's presence, because Christ is worthy of our worship; He is worthy to be worshiped and praised!
I have a number of books that talk about the background of hymns and carols. One of them, The Gospel in Hymns, says about this one ("O Come, All Ye Faithful"): "The poet takes us by the hand and leads us with triumphant song to the cave of the Nativity in Bethlehem, shows us the Babe, and bids us adore."
The poet takes us by the hand, he leads us to this cave where the manger was where Jesus was born in Bethlehem. He shows us the Babe, and he bids us adore. And as we adore, we'll see in this carol, we join with others through the ages who have done the same.
So the first stanza goes this way (you're familiar with it):
O come all ye faithful, joyful and triumphant;
O come ye, O come ye to Bethlehem.
Come and behold Him, born the King of angels;
Now who are all these "faithful"? O come all ye "faithful." These are believing ones, people who have faith, who are full of faith—who believe what God has said. So, we know—as this song unfolds—that first it's the shepherds who went to Bethlehem.
They heard the message from the angels. They believed what the angels said. So they faithfully went to the place the angel had told them to go, and they found there this Baby, the King of angels.
But these faithful ones who come to see this sight also include those who have made that journey to Bethlehem in their hearts ever since. So we're among those faithful ones. "O come all ye faithful, come joyful, come triumphant, come to Bethlehem. Come and behold Him, born the King of angels!"
This "O come, o come!" . . . one site where I did some research on this hymn has a wonderful paragraph that I just thought described beautifully what we sense in this carol. This writer says, "There's a sense of urgency to this hymn. Imagine a child, tugging at your hand, saying insistently, 'Let's go, let's go, let's go!'"
Some of you have little ones. You know what that's like. They're holding on to you; they're tugging, urging, "Let's go, let's go!" That's the kind of sense we have: "O come! Come to Bethlehem!"
In the same way, imagine someone pulling at your sleeve or grasping you by the hand, half-dragging you as they run through the crowd saying over and over again, "Come, come, come!" This writer says, "We're told that patience is a virtue, but in this case impatience is a beautiful thing, for who could stand by and wait, when all we want to do is worship our Lord and Savior?"
This is what I love seeing at Christmas—the children—and the wonder and the eagerness. They haven't gotten fuddy-duddy like us, you know? We're just prim and proper and reserved, and we sing these carols, and there's not a lot of joy or triumph—I think—sometimes, in the way we approach our vision of Christ and our understanding of the Christmas story
But you see these little ones, and they're mesmerized. There's a sparkle in their eyes, and I think one of the things God wants to do in the Christmas season, in this Advent season, is put a sparkle back in our eyes . . . rekindle wonder. Some of us have been hearing this, knowing this . . .
I can remember the little Nativity scene, the crèche, that was under our tree, and other ones in our home, from the time I was a little girl. I've known this story all my life. But I don't want to ever get to the place where it seems common or ordinary—where I forget that this is an amazing story!
There are some listening today who are hearing it, maybe for the first time, and I pray that God would give you a sense of wonder and understanding. But my concern is also for those who are hearing it for the thousandth time—or the ten-thousandth time—that you would have a fresh sense of wonder and eagerness to come and behold Him.
Now, three stanzas in this carol are well-known, but there are several others that are omitted from most hymnals and that are rarely sung. The next one is a really important one—you maybe have never heard it. It addresses, "Who is this One that we are beholding in Bethlehem?" It reminds us He is not just a human infant.
Here's how that stanza reads:
True God of true God,
Light from Light Eternal,
Lo He shuns not the virgin's womb;
Son of the Father, begotten not created. 
Now those are a lot of words, and a lot of theological language, and it's actually language that's borrowed from one of the most important creeds of the Christian faith—the Nicene Creed which was formulated in 325 A.D. It's where core biblical doctrines about Christ and the Trinity were defined and set forth by the early church, based on the Word of God. Let me read to you a paragraph from the Nicene Creed, which is very much like this stanza from "O Come, All Ye Faithful."
 We believe . . . in one Lord Jesus Christ, the only Son of God, begotten of the Father before all ages; God from God, Light from Light, true God from true God; begotten, not made, of one being [or one substance] with the Father . . . Through him all things were made . . . for us and for our salvation, he came down from heaven; he became incarnate by the Holy Spirit . . . and was made human.
You say, "Why do people have to get together and come up with those kinds of statements?" Here's why: because in every age—in every era, starting with the earliest days of the Christian church—there were those who would plant seeds of false teaching about Jesus: Who He was, why He came, what He did, or about the gospel.
It's the job of God's people in every generation to evaluate these new teachings and to say, "Is this true? Is it in accord with the Word of God? Or is this false?" There were some teachings being perpetrated in the church about who Jesus was, saying He was a creature of God's—He was made by God.
The church came together and said, "No, no, no! That's not what God's Word says!" Now, is it difficult to understand these doctrines of the Trinity? I'm not saying they're easy, but they're really, really important!
If you change or get off course from your understanding or your belief about who Jesus is, then you're going to miss the gospel. You're going to get off on the whole point of why He came.
So this paragraph from the Nicene Creed, and the stanza we're looking at here, talks about the eternal pre-existence of the Son. He existed from all eternity. He didn't start being when He came as a baby in Bethlehem. He had been around for all eternity, from before the creation of the world.
And then, it tells us that He was God. He was not only with God, but He was God. We read this in John chapter 1. He was part of the Godhead—Father, Son, and Spirit. He was begotten, not created, it says.
And then it says that He was of one being, or one substance, one essence with the Father. Jesus has a distinct role in the Trinity, but He is one with the Father. He has the same nature as God. Now, this is a difference between Christianity and most other world religions . . . I might say all other world religions, at some point.
Any religion that considers Jesus less than this is deceiving you—it is false. That's why we need to go to the Word of God to find out what is really true.
So it talks about who Jesus was as God, but then, also His incarnation—that He put on human flesh. He laid aside His glory, and He condescended to be born of a woman. That line says, "Lo, He shuns not the virgin's womb."
He became flesh; He took on our humanity. Without becoming any less God, He became fully man as well. He humbled Himself. And then, it addresses, "Why did He do this?" The creed says, "He did it for us and for our salvation."
Now, in the remaining stanzas of this carol, there are different groups in heaven and on earth that come to worship the Lord Jesus, and in each of these stanzas—I'm going to just read through them, and as I do—you'll see this pattern in each of these stanzas: some group of individuals worships Jesus . . . and then we add our worship to theirs.
We have the angels first:
Sing choirs of angels, sing in exultation,
O sing all ye citizens of heaven above!
Glory to God, all glory in the highest; [gloria in excelsis Deo] 
Luke chapter 2—that's where that phrase comes from. And then the invitation to us:
O come let us adore Him [as the angels do]—Christ the Lord!
And then we come to the shepherds:
See how the shepherds, summoned to His cradle,
Leaving their flocks draw nigh to gaze; 
We too will thither bend our joyful footsteps; 
O come, let us adore Him—Christ the Lord! 
So the angels worship—and we worship. The shepherds worship—and we worship.
And then we come to the wise men:
Lo! star led chieftains, Magi, Christ adoring,
Offer Him incense, gold, and myrrh; 
We to the Christ Child bring our hearts' oblations.  
So the wise men bring Him gifts, and we, too, want to bring Him sacrifices and gifts from our hearts.
And then in the next stanza, it talks about us—as we join the angelic choir, the shepherds, and the Magi in worshiping Christ. This stanza has a line that's a little challenging, but I think it's a sweet one. 
Child [speaking of the Child in the manger] for us sinners poor and in the manger 
Now, it's not talking about the Child being in the manger (though the Child is in the manger). It's talking about us poor sinners who take our place with Him in that humble scene of the manger. It's saying we belong in that humble place. We are poor sinners. We don't deserve a palace or anything great. We take our places in our hearts, we take our places with that Child who is in the manger.
We would embrace Thee with love and awe;
Who would not love Thee, loving us so dearly? 
And then, that more familiar stanza:
Yea, Lord, we greet Thee, born this happy morning; 
Jesus, to Thee be all glory given; 
Word of the Father, now in flesh appearing!
Do you see how rich these hymns are, these carols are, with biblical references? "Word of the Father . . ." Where does that come from? "In the beginning was the Word, and the Word was with God, and the Word was God" (John 1:1).
Jesus is God's heartbeat expressed to us. He is God speaking to us—the living Word of God—and "now, in flesh appearing." God, exalted in heaven, whom we could not see, whom we could not look upon or we would die, He wraps Himself in human flesh. He comes to this earth to become a human like us. He appears, and so we greet Him, "born this happy morning!"
Now, the whole focal point of this hymn—and the whole focal point of the Christmas story—is Jesus. Jesus! There are multiple characters in the Christmas story, as we see in this carol, but the point of them all is to see how they focus on Christ—how they worship Him, how they respond to Him.
So we saw the angel choirs that exalt Him, the shepherds who come to Bethlehem—they draw near to gaze. This story is not about the angels; this story is not about the shepherds. They're bit pieces, bit parts—they're minor characters. The major character is the One in the manger!
The Magi come, a little bit later in the unfolding of Jesus coming to earth—when He's a young child—and they adore Christ. They were from afar. They were probably wealthy. They were probably well-educated. But the story is not about them. The story is about the One that they came to adore, the One to whom they bring their offerings.
And then, the story involves—also—what the songwriter called "us poor sinners." It involves us, but the story is not about us. It's for us, but the story is about Jesus. And so, it is said that we love Him (we poor sinners), we're in awe of Him, we greet Him, and we give Him all the glory!
Now, let me just focus for the remaining moment here on that last stanza: "Yea, Lord, we greet Thee, born this happy morning." 
Throughout this carol, and in many of the carols of this season, there is an overriding sense of joy, of worship. This is a happy morning!
Now, I say that, knowing that in the world—this Christmas season, and every season—there is a lot of sadness, there is a lot of pain, there is a lot of heartache, there is a lot of sorrow in this world. But the birth of Jesus changes everything!
Our joy is not rooted in our circumstances, on how it's going this morning. If I asked you, "Was this a happy morning for you?" you might say, "Well, yes it was," or "No, it wasn't," depending on what happened in your morning.
We've had some water issues in our house, recently, and there have been some mornings that weren't so happy. When my husband had to say to me, "We've got a flood in the basement!" That wasn't such a happy thing.
So, some mornings happy things happen—some mornings happy things don't happen. Some mornings tragic things happen. Some mornings we wake up and we click on our app and we get the headlines, and we realize tragic things have happened while we were sleeping overnight, and our hearts are grieved some mornings.
This may be a not-happy morning in your marriage or with one of your children who is just far, far from the Lord, and you're sad. You know this child won't be with the family to celebrate this Christmas because they're running, they're prodigal, they're rebellious against the Lord, they're separated from your family.
So there is sadness. But there is also happiness. Our happiness, our joy, our sense of well-being is not rooted in what's happening around us, in what may have changed this morning from yesterday morning. Our joy is rooted in what is unchanging from morning to morning to morning—and that is, the truth about who this Child is. 
He is the Word of the Father, God in flesh now appearing. And so, God calls us not only to worship, but to worship with glad hearts—to celebrate . . . and not just around Christmas, but throughout the year. God calls us to realize that our happiness in life is not dependent on anything or anyone that can change, anything that can be taken away from us, but our contentment, our joy, our peace, our sense of well-being is rooted in Christ, who has been born for us. So in this carol, all of God's faithful people from all of the ages are invited—they're urged!—to come to Bethlehem, to behold and to worship.
We join with heaven's choirs, with the shepherds, with the wise men—the Magi—and with all the faithful of all eras in singing, and in worshiping Christ the Lord. And then, we do what the shepherds did—we leave that sight, and we go and invite others to come and worship.
Luke 2:20: "And the shepherds returned . . ." They left that manger; they didn't stay there forever. They returned back to their fields, back to their hometown, back to their ordinary lives, ". . .glorifying and praising God for all they had heard and seen."
And so, we join others in worshiping Christ—those faithful who have worshipped Him through the ages—but it's not just about worship, it's about witness as we invite others to join us in worship. That's why we sing, at the end of each of these stanzas, "O come! Let us adore Him!" Magnify the Lord with me! Let us exalt His Name together!
I want to invite you to worship with me. Christ came for you—not just for me, not just for others, not for just people who lived a long time ago, but He came for you! Worship. Let us adore Him. O come, let us adore Him. O come! Let us adore Him!
It's like it increases in intensity and in the wonder of this, and in the appeal. Come, let us adore Him, Christ the Lord! O come, all ye faithful, adore Him! Christ the Lord!
Leslie: I hope that this season, when you hear "O Come, All Ye Faithful," you'll remember today's message from Nancy DeMoss Wolgemuth. She's been giving us the background stories for several favorite carols, all of which are included on her piano CD Come Adore.
We'd like to send you a copy of that Christmas CD when you support Revive Our Hearts with a gift of any amount. Not only will you get the CD, you'll also help the ministry of Revive Our Hearts continue.
You'll allow us to help tell stories like this one: Debrorah, one of the Revive Our Hearts ambassadors, was talking with a woman in her area. Debrorah told us this young sister came to Christ last year, and "binged" all this year on True Woman messages. These truths have set her ablaze!
Those True Woman messages are online recordings of talks given at the True Woman event. Debrorah went on:
This young sister poured out her heart to me about being abused by her stepmom, brainwashing and lack of love and affection. One message from Nancy dismantled years of false teaching. Starting tonight, we're going through the book True Woman 101, and she is excited! 
Wow! Nancy, God has the power to speak through messages and books that listeners help make possible.
Nancy: You know, Leslie, that story is a great picture of the beauty of the gospel. I love spreading the message of the gospel because I know that it's the only thing that truly changes lives. Here at Revive Our Hearts, we're asking the Lord to multiply stories like that one we've just heard.
By His grace, we want women everywhere to know the joy of living out the beauty of the gospel. I believe that when others can see that beauty in us, they'll be drawn to it and they'll want to know Christ for themselves.
Now, we're spreading that message in a number of ways, through radio broadcasts and podcasts, through video resources, a variety of blogs and websites, our phone app, conferences (including one coming up in March in Mexico), and the training of women's ministry leaders . . . including the Revive '17 conference that will be held in Indianapolis next fall.
None of these outreaches would be possible without the financial support we receive from listeners like you. Your support allows us to use these vehicles, and to call women to experience—and then to share with others—the beauty of the gospel of Christ.
In order to keep our current ministry outreaches going, and to move forward through the doors God is opening up for us around the world, we're asking Him to provide $1.8 million dollars in donations during the month of December.
I'm so thankful for those who have already given to help meet this need early in the month of December. Those who have given, you're gift has been doubled due to a matching challenge of $600,000. That's because some friends realized that when they give to Revive Our Hearts they're making an eternal investment.
That's why they've offered to double each gift this month, up to that matching amount. That means when you give a gift of any amount this month, your gift will go twice as far! So, would ask the Lord, "What do you want me to give to help with this need?"
Would you join us in praying that the Lord would meet the needs of this ministry and that He'd put it on the hearts of many of our listeners to get involved at this important time of the year?
Thank you so much for your support, your prayers, as together we're showing women how they can experience and live out the beauty of the gospel of Christ.
Leslie: Thanks, Nancy. To get involved, call 1–800–569–5959, or donate at ReviveOurHearts.com. Ask for Nancy's CD Come Adore* when you contact us. We'll send one per household for your gift of any size.
Our world is full of bad news. How can you have joy this Christmas? Nancy will talk about it tomorrow on Revive Our Hearts.
Revive Our Hearts with Nancy DeMoss Wolgemuth is an outreach of Life Action Ministries.
All Scripture is taken from the ESV.
*Offers available only during the broadcast of the podcast season.