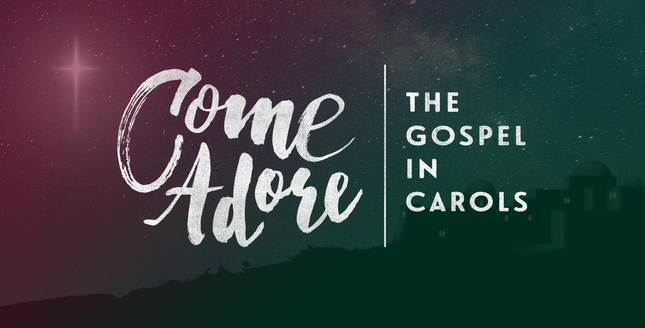 — Audio Player —
Come Adore, Day 3
Leslie Basham: Here's one reason to celebrate Christmas. It reminds us how to act all year long. Here's Nancy DeMoss Wolgemuth.
Nancy DeMoss Wolgemuth: We should be cheerful people. We're not supposed to be gloomy people. We're people of the light. We're people of hope.
Leslie: This is Revive Our Hearts with Nancy DeMoss Wolgemuth, author of The Wonder of His Name. It's Wednesday, November 30, 2016.
Nancy: Well, as we're in this first week of the advent season in the weeks leading up to Christmas Day, I hope that you're getting in the spirit—not just of holiday cheer but of the reason for great cheer, the true reason for the season—the fact that Jesus, Emmanuel, has come to this earth.
We're celebrating that and getting our hearts prepared for the celebration of Christmas over these next days by talking about some Christmas carols. We're titling this series "Come Adore: The Gospel in Carols." We're looking at a number of Christmas carols that I've recorded on a piano CD, piano with some extra instruments that others play. The CD is called Come Adore.
And that's the point of these carols. Many of them richly help us better understand the gospel of Jesus Christ. They tell us who He is and why He came. We're making that CD available this week. It will, I think, be a meaningful part of your Christmas celebration. I love playing Christmas music all through this season, and here's one you can add to your collection.
When you send a donation of any amount to help us at this important time of year as we're asking the Lord to provide for a year-end matching challenge and you send a gift of any amount, this is our way of saying thank you. We'll send you a copy of this CD if you send that gift right away, we'll get it out to you as quickly as possible so you can enjoy it during the advent season.
Now, we said that the word "advent" means "coming, arrival." And the advent season is a time of longing, of anticipation, of expectation, awaiting the arrival of Christ. And so, "O Come, O Come, Emmanuel," the carol we've been looking at for the past couple of days.
We've said it's one of the oldest Christmas carols that we know of today, going back to the eighth or ninth century. For those of you who didn't catch the last couple of days, it was originally a seven stanza poem and the different stanzas of this poem were sung responsively each day of the week leading up to Christmas.
Each stanza features one of the titles of Messiah, the coming Messiah. These titles are taken from the Old Testament mostly from the book of Isaiah. They express the longing that Messiah, that Christ would come and would meet the needs of His people. But not only expressing longing, but it's a prayer. It's an invitation for Christ to come and be known and experienced among His people.
And so during this series, we're looking at four of those titles. Over the last couple of days, we've looked at Emmanuel. We looked at the Root of Jesse, and we looked at the Key of David yesterday. And today we look at another one, the Dayspring.
O come, Thou Dayspring, come and cheer
Our spirits by Thine advent here;
Disperse the gloomy clouds of night,
And death's dark shadows put to flight.
And then this chorus that recurs after each of these stanzas expresses faith that this longing will be fulfilled; that God will send—or in our case, has sent—the promised Messiah:
Rejoice! Rejoice! Emmanuel
Shall come to thee, O Israel.
Now, let's focus on this stanza over the next few moments: "O come, Thou Dayspring, come and cheer, our spirits by Thine advent here; disperse the gloomy clouds of night, and death's dark shadows put to flight."
Do you see in this stanza the contrast between light and darkness? Light and darkness: before the coming of Christ, before His advent, the whole world lay engulfed in darkness. Spirits of people were sad. This song talks about the gloomy clouds of night and death's dark shadows. Death had cast a dark shadow because every soul must die. And this was a dark gloomy existence before Christ came to this earth.
From Genesis chapter 3 when mankind first declared their independence against God until the coming of Christ to earth, the whole world lay in darkness. But with the coming of Christ to earth, the gloomy clouds are dispersed. The dark shadows of death are put to flight. Gloom and darkness are replaced with light and cheer.
That's one of the things we feature during the Christmas season. We feature the Christmas lights. These aren't just something pretty. They're meant to signify that Christ, the Light of the World, has come into the world to disperse the darkness, to banish darkness and gloom and death. And the One who brings all this about by His advent is Christ who in this stanza is called the Dayspring. Come thou Dayspring.
Now, what in the world is that talking about. Well, you may recognize that term from the gospel of Luke—the first chapter of Luke where we have a prophetic song of Zechariah. Now, I know I'm throwing around some names here that may not be familiar to you. So go look them up. Go study for yourself. I'm just going to touch on these things to whet your appetite today.
Zechariah and his wife, Elizabeth had long awaited the birth of a child. They had wanted a child desperately. They had not been able to have one. But one day, in their old age, an angel of the Lord came to Zechariah and told him that he and Elizabeth were going to have this long-awaited child; that it would be a son who would prepare the way for the longer-awaited Messiah to come to earth.
And so, when this son, John the Baptist, was born, Luke 1:67 tells us that Zechariah was filled with the Holy Spirit and he prophesied, saying,
Blessed be the Lord God of Israel, for he has visited and redeemed his people . . ."
And then we have this long and wonderful song that Zechariah prays about this one who will come and redeem His people. Then we come to verse 78:
. . . because of the tender mercy of our God, whereby the sunrise shall visit us from on high . . ."
The New King James Version says there, "The dayspring from on high [will visit] us." The sunrise, the dayspring. Verse 79:
. . . to give light to those who sit in darkness and in the shadow of death, to guide our feet into the way of peace.
This word "dayspring" or "sunrise" in the original Greek of this New Testament is the word "anatole." Sometimes you'll see a hotel that's named the Anatole. I believe there's one in Dallas. It's a word that's used for the rising of the sun, the rising of stars. It's usually translated "the east."
You read this same word in Matthew 2 when it says, "There came wise men from the east [from the anatole; from the place where the sun rises] to Jerusalem, saying 'We have seen his star in the [anatole] east and are come to worship him'" (vv. 1–2).
So this word "sunrise," "anatole" means the rising of the sun at break of the day. It is literally the dawn. The dawning of the day. The beginning of the day. The first appearance of the light that disperses the darkness of the night. The light that dispels the darkness. The dayspring. The sunrise. The dawn.
Now, this passage in Luke 1 where Zechariah talks about the sunrise or the dayspring from on high visiting us, refers us back to Isaiah's prophesy 700 years earlier in Isaiah 9. It says:
There will be no more gloom for her who was in anguish . . . The people who walk in darkness will see a great light; those who live in a dark land, the light will shine on them. . . . For a child will be born to us, a son will be given to us" (vv. 1–2, 6).
This child who was to be born, this son who was to be given, this Messiah would be the sunrise, the dawning of the day, the dayspring, the beginning of the day, coming from God to dispel the darkness and the gloom of night.
You see another reference to this "son coming" in Malachi 4. It's a difficult and complex passage, but I want to read a paragraph here just to give you a sense of how astonishing is the rising up of the sun, the Messiah, the dayspring coming to earth. Malachi 4:1:
For behold, the day is coming, burning like an oven, when all the arrogant and all evildoers will be stubble. [Talking about the coming judgement of God against all sinners who refuse to bow before Jehovah.] The day that is coming shall set them ablaze, says the LORD of hosts, so that it will leave them neither root nor branch. [This will be devastating destruction, doom, darkness, gloom, judgement.]

But for you who fear my name, the sun of righteousness shall rise [the dayspring; the dawn, the sunrise] with healing in its wings. You will go out leaping like calves from the stall. And you shall tread down the wicked, for they will be ashes under the soles of your feet, on the day when I act, says the LORD of hosts (vv. 1–2).
Another prophesy of the coming of Jesus to this earth. The sun of righteousness will rise. The dayspring. The dawning of the day. He will bring healing in His wings and those who fear His name will find light in Him. Their darkness will be dispelled, and they will join Him as part of the great army that will judge the enemies of God.
So the coming of Christ is like sunrise. The dayspring disperses the dark and the gloom, causes the fear of death to flee and brings cheer to this gloomy, dark world.
We see other references to Christ in this way in the New Testament. The last chapter of the Bible, Revelation 22, Jesus says:
I, Jesus, have sent My angel to testify to you these things in the churches. I am the Root and the Offspring of David, the Bright and Morning Star (v. 16).
The Dayspring, the Sunrise, the Anatole.
And we have something more sure, the prophetic word, to which you will do well to pay attention [that is to the Word of God revealed as we have it here] as to a lamp shining in a dark place, until the day dawns and the morning star rises in your hearts (2 Peter 1:19).
The coming of Christ dispels, disperses the darkness and gloom and death and judgment and brings light and joy and cheer. It shatters the darkness. It brings hope to our despair.
You see, because Jesus, the dayspring, has come, we no longer have to walk in darkness or dread or fear—He is the source of all true holiday cheer.
And this says to me, and I think this is one of the biggest takeaways the Lord has been giving me over the last several days as I've been immersed in these Christmas carols, is that we should be cheerful people.
My husband likes having a cheerful wife. I'll just tell you that. He's not crazy, nor is any other husband crazy, about having a whining, moaning, griping, unhappy wife. Note to the wise.
He loves it when my heart is cheerful and encouraged. Now, he's not asking me to pretend when there are things that are hurtful or hard. He wants to know those. But he's blessed, he's encouraged when my heart is cheerful.
As I've been studying these Christmas carols, I've realized that we're supposed to be people of cheer. We're not supposed to be gloomy people. We're people of the light. We're people of hope. Yes, we still live in a world that has darkness. There's a lot of it around us, and there's still indwelling sin within us that sometimes makes us very frustrated, very sad. But penetrating all that is the gospel in this carol—that the dayspring, the light, the dawn has come, and He disperses the darkness. He gives us hope.
He said, "I am the Light of the world" (John 8:12). But this same Jesus, the dayspring, also said in Matthew 5, "You are the light of the world" (Matt. 5:14). This world doesn't have any way to see the light of Jesus if it doesn't see His joy, His light, His radiance in us.
Proverbs 4:18 says, "But the path of the righteous is like the light of dawn, [like the sunrise, like Jesus] which shines brighter and brighter until full day."
Listen, we live in desperate, dark, difficult times. These are dire times. This is a time for grieving and for mourning and for crying out. But it's also a time when God's people should be the light of Christ that shines brighter and brighter and brighter until that light penetrates and pierces every corner of this earth, every corner of your neighborhood, every corner of your workplace, every corner of your home. And the light of Christ shines through you and me to bring light to others.
This is a theme throughout the New Testament:
First Thessalonians 5 beginning in verse 5,
For you are all children of light, children of the day. We are not of the night or of the darkness. So then let us not sleep, as others do, but let us keep awake and be sober. For those who sleep, sleep at night, and those who get drunk, are drunk at night. But since we belong to the day [since we belong to Jesus who is the light of the world], let us be sober, having put on the breastplate of faith and love, and for a helmet the hope of salvation (vv. 5–7).
You see how there should be such a world of difference between us and those who do not know Jesus?
Ephesians 5, verse 8:
For at one time you were darkness, but now you are light in the Lord [in Christ you are light; you have light so]. Walk as children of light (for the fruit of light is found in all that is good and right and true), and try to discern what is pleasing to the Lord. Take no part in the unfruitful works of darkness, but instead expose them (vv. 8–11).
Now, does that mean you're supposed to go around and find every dark and wicked and evil thing in this world and just chop it off, just confront it, just be angry and loud and vociferous? Not necessarily.
Light dispels darkness. It means that wherever we walk as the children of light, our environment should be made light. Gloom should be dispersed. Darkness should flee. People should be confronted by the light of Christ and the holiness of God when they get around us, not because we're self-righteous. We were children of darkness ourselves, at one time. But because we have Christ, the light of the world who has come into our lives. So the very presence of your life and mine in our homes, in our neighborhoods, in our communities, in our world should bring light.
As another songwriter of the early 1900's wrote:
We've a story to tell to the nations,
That shall turn their hearts to the right,
A story of truth and mercy,
A story of peace and light.

For the darkness shall turn to dawning,
And the dawning to noonday bright;
And Christ' great kingdom shall come on earth,
The kingdom of love and light.

("We've a Story to Tell to the Nations" by Earnest Nichol)
That's the kingdom that we're a part of if we know Jesus. Day has dawned. Christ has come. The dayspring has come. He has scattered the gloomy clouds of night and death's dark shadows He has put to flight by His death and His resurrection. Day has dawned. But we don't yet see the fullness of day. Yet we have the promise that one day we will.
We read in Revelation 21 about new heaven and a new earth: "Behold, the dwelling place [the tabernacle] of God is with man. He will dwell with them, and they will be his people." And what will that place be like? Verse 23: "And the city has no need of sun or moon to shine on it, for the glory of God gives it light, and its lamp is the Lamb . . . and there will be no night there."
No more night. No more darkness. No more death. Why? Because Christ, the light of the world, the dayspring, the sunrise is there.
And so we pray:
O come, Thou Dayspring, come and cheer
Our spirits by Thine advent here;
Disperse the gloomy clouds of night [He's doing that],
And death's dark shadows put to flight [He's doing that too].
And then we have that chorus that expresses faith that our longing will be fulfilled and God will send that promised Savior back to earth:
Rejoice! Rejoice! Emmanuel
Shall come to thee, O people of God.
Song: "Rejoice! Rejoice! Emmanuel! Shall come to thee, O Israel."1
Leslie: I love that song. How about you? Before that moment of musical cheer, Nancy DeMoss Wolgemuth opened up some of the meaning of "O Come, O Come, Emmanuel." She's been showing us the beauty of the gospel in this favorite carol.
And of course, she's been talking about more than just carols. In this series, she's been helping us get to the heart of the gospel like she does so many times on Revive Our Hearts. We want to show you the beauty of living out the gospel here on Revive Our Hearts. Nancy's back to tell you what that looks like in a real-life situation.
Nancy: Well, there's no way I can do this story justice in the limited time we have. But let me try. A woman named Patsy wrote to tell us about coming to the conference that Revive Our Hearts recently hosted, True Woman '16.
On the first night, Dr. Russell Moore said, "The problem with the church is that we look like everyone else."
Well, that line stood out to Patsy. She had passed a lot of homeless people on the way to the conference and felt like she had ignored them—just like everyone else. Patsy sensed the Lord was leading her to live out the beauty of the gospel right there on the streets of downtown Indy where True Woman was being held.
So she went out and found two young women on the street, gave them tickets to True Woman and brought them with her to the conference the next morning. There they were able to hear the testimony of Jennifer Smith who came to know Jesus while she was in prison.
Patsy wrote to us and said,
Talk about God's timing. What a perfect message for these two young women to hear. We had lunch with them, prayed with them, and listened to their hearts. One of them came back that night for the Cry Out! prayer event and spent hours in prayer with us.
Now that's the beauty of the gospel in action. And just to imagine if the Lord would multiply stories like this one through His women everywhere. You know we are able to have this kind of ministry outreach thanks to listeners like you who support Revive Our Hearts financially.
Nearly half of all the donations that we need for the entire year usually arrive at the end of the year. So we're asking God right now to meet some significant needs between now and the end of December.
We're asking Him to provide $1.8 million in donations. We know He can do that as He prompts individual listeners like you and like me to be a part of meeting that need.
And the great thing about giving over this next month is that when you give to help meet our need, your gift will be doubled by some friends who are matching each gift to Revive Our Hearts up to $600,000.
So would you join with us in giving to support this mission and this message and this ministry over these next weeks? Would you do whatever you can and whatever God puts on your heart to help us meet and then go past this $600,000 matching challenge? Your support at this time will continue helping Revive Our Hearts call women to live out the beauty of the gospel in the year ahead.
Leslie: Thanks Nancy. When you support Revive Our Hearts with a gift of any amount, we'd like to send you Nancy's Christmas CD. It's called Come Adore. I think you'll love this instrumental piano with other carefully chosen instruments and that it will add to your Christmas joy this season.
Ask for the CD Come Adore* when you call to make a donation. The number is 1–800–569–5959, or visit ReviveOurHearts.com.
Did you know that the idea of waiting is central to Christmas? Nancy will be back tomorrow to tell you why. Now she's back with a final prayer for today.
Nancy: Oh Lord, we come to adore You, as we contemplate the gospel in this wonderful carol.
Thank You that You have come, O Emmanuel. You have come, O Rod of Jesse. You have come O Key of David. And You have come O Dayspring, the sunrise. And thank You that by Your coming, You cheer our spirits; You disperse the gloom and the night, and You put to flight deaths dark shadows.
Help us to live this day and this season and all the time as children of light, and may Your light disperse the darkness in us and through us. And Lord, by faith, we anticipate that great day when there will be no more night and the light of Jesus will fill every crook and crevice, every nook and cranny, the farthest reaches of this whole earth. Heaven and earth will be filled with Your glory—with the glory of Christ, the Lamb, the Light of the world. We pray it in His name, amen.
Revive Our Hearts with Nancy DeMoss Wolgemuth is an outreach of Life Action Ministries.
1 Francesca Battistelli. Christmas. "O Come, O Come, Emmanuel." 2012 Word Entertainment LLC, a Curb Company.
*Offers available only during the broadcast of the podcast season.