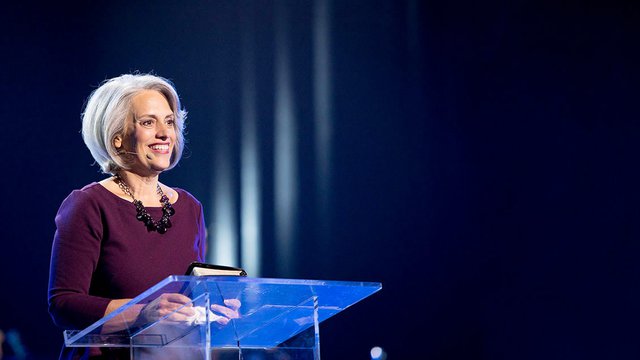 Chosen
Leslie Basham:Do you ever in a quiet moment feel overwhelmed at the thought that God loves you? Here's Nancy Leigh DeMoss quoting from an old hymn.
Nancy Leigh DeMoss:
*I stand amazed in the presence
Of Jesus the Nazarene
And wonder why He would love me--
A sinner, condemned, unclean;
O how marvelous,
O how wonderful
is my Savior's love for me.
Leslie Basham: This is Revive Our Hearts with Nancy Leigh DeMoss. It's Tuesday, July 22. With all the demands we feel every day, quiet moments of reflection are just too few. But they are necessary. We need to be still and to marvel at God's love. I hope today's broadcast can be such a moment for you today. Here's Nancy.
Nancy Leigh DeMoss: We're talking in this series about the love relationship between the Lord Jesus and His people--a love story. It really is the story of the whole Bible from Genesis to Revelation--one great big long love story.
We read some of that story yesterday. We started in the Song of Solomon and read an exchange between a bride and her beloved as they were expressing their love and their affection and their devotion to each other.
Then we saw in the Book of Ephesians that Paul talks about marriage between a husband and wife as being a picture of the love relationship between Christ and His Church. He talks about how Christ loved the Church and He gave Himself up for her, to make her holy. His goal is to present her to Himself as a radiant Bride, a radiant Church, without stain or wrinkle or any other blemish but holy and blameless.
I want to pick up in Revelation 19. The apostle John says, "Then I heard what sounded like a great multitude." I'm reading beginning in verse 1. "Like the roar of rushing waters and like loud peals of thunder."
Now keep in mind, John has been given a vision into what heaven is like. What he is seeing is what is going on in heaven. He heard this sound--this great multitude. They were shouting.
Here's what they were saying: "Hallelujah, for our Lord God Almighty reigns. Let us rejoice and be glad and give Him glory, for the wedding of the Lamb has come; and His Bride has made herself ready. Fine linen, bright and clean, was given her to wear." Fine linen stands for the righteous acts of the saints.
Then the apostle John says, "Then the angel said to me, 'Write this down: Blessed are those who are invited to the wedding supper of the Lamb.'" Then the apostle says, "I saw a new heaven and a new earth, for the first heaven and the first earth had passed away."
I've moved, by the way, over to chapter 21. I'm going to just skip through some verses here. He says, "I saw the holy city, the new Jerusalem, coming down out of heaven from God, prepared as a bride beautifully dressed for her husband."
Well, the passage goes on to tell us, "One of the seven angels came and said to me, 'Come, I will show you the bride, the wife of the Lamb.' And he carried me away in the Spirit to a mountain great and high and showed me the holy city, Jerusalem, coming down out of heaven from God. It shone with the glory of God, and its brilliance was like that of a very precious jewel--like a jasper, clear as crystal."
So here we see a picture of a wedding. It's a time of joy. It's a time of celebration. It's a time of feasting. It's a time of the bride and her groom consummating their marriage relationship and entering into an eternal bliss together as husband and wife. It's the last chapter in the story of human history. It's a story of Christ being eternally united with His Bride, the Church.
We read that the bride has made herself ready for the occasion. I attended a wedding last weekend. It was the son of longtime friends of mine. I've known this young man all his life.
But as I was there for the wedding and just watched all these young people--the bride and the groom and the attendants making all their preparations and getting everything just right and just ready--and I saw that bride then come down the aisle. She had made herself ready for her groom.
I was watching. In fact, I had a better view of the groom than I did of the bride. I was watching him down at the front--just the radiance on his face as he watched her come through that door, never having seen her in this dress before.
And, I might add, never having kissed her until the end of that wedding, at which point they got a standing ovation. But just watching him as he was so delighted that his bride had made herself ready. She was beautifully dressed as a bride for her bridegroom.
Someone has said that revival is really just the Church falling in love with Jesus. It's a love relationship. It's the Bride making herself ready for the wedding. That's what revival is. Revival really is the approximation here on earth of the consummation that we will experience when we're in the presence of Christ in heaven.
So through this series, I want us to look at the Bride in this wedding. Then we're going to look at the Bridegroom. Then we're going to look at what it takes to get ready for the wedding. How do we get ready for that wedding that we will experience finally in heaven?
The Scripture teaches that if you have been born again, if you have come to repentance in faith to become a child of God, that you are a part of the Bride of Christ. This is true of all believers of all time--that together we make up the Bride of Christ. You are part of something very special if you are a child of God.
There is also a sense in which individually we have a Bride relationship with the Lord Jesus. Do we belong to Him? I want us to talk about what it means to be His Bride. Let me do that initially by telling you a story.
We started by reading a portion of this story yesterday in the Song of Solomon. The Song of Solomon is a short little book--a jewel, really, hidden in the Old Testament. By the way, I love to teach through this book.
We have an entire series available on audio and videotape that walks verse by verse through the Song of Solomon. It's called "How to Fall and Stay in Love With Jesus." That series is available. We'll tell you how you can get ahold of that.
But I want to just give you a nutshell version of that story today. It's the story of a king. He lived in a palace. He lived in a capital city. He decided that he wanted to get married. He wanted a bride.
As the news got out that he was looking for a bride, you can just imagine--if I could use a little sanctified imagination here--that all the women of the city, who in the Song of Solomon are called the daughters of Jerusalem--they're the other women in the city. You can imagine the eligible women thinking, Will I be the one he'll choose?
Much to everyone's surprise, he didn't marry any of the daughters of Jerusalem. In fact, he left his palace. He left the royal city, and he went out through the suburbs out into a rural countryside area.
There he found a common ordinary peasant girl. I mean, a nobody. There's no evidence that she was beautiful or brilliant or well-connected. There's no indication of why. The fact is he said to her, "I want you to be my bride. I want you to be the queen."
Now the people of Jerusalem were astounded, but no one was more amazed than this young woman. Throughout the early parts of this book, you find her in a sense of wonder and awe. "Why would he have chosen me?" She knows that she is just a common ordinary country girl.
In fact, she says in the first chapter of the book, she says, "My skin is dark." Today we think of having a suntan as being beautiful. But in those days, royal women had very pale, fair skin.
Why was her skin dark? Because she had been working in her family vineyard. It was sunburned. It was as if she was saying, "My skin is tough and leathery. It's not that beautiful, protected skin of a royal woman."
Then she says, "Yet somehow I'm lovely in his eyes. What does he see in me?" There's this sense of amazement. You know, he never gives an answer throughout this book as to why he chose her. He just chose her. The only answer is "I love you and I want you to be mine."
He brings that woman with him back to the palace. He takes her into the palace and into the bedchamber. Some of the translations read, "He gives himself intimately to her." Never is there any reason given as to why he would have chosen her.
When I read this story, I think about how when I was a four-year-old little girl, May 14, 1963, I first realized that Jesus wanted me to be His Bride. He called me to Himself. I didn't understand then why He would have chosen me.
You know, forty-some years later, I still don't understand. My heart has wondered so many times over the years, "Lord, why? Knowing what You know about me, why would You have chosen me?"
You know, He has never given me an answer, except that He loves me. I've never gotten over the wonder of that. I hope I never do for all of eternity.
I stand amazed in the presence
Of Jesus the Nazarene
And wonder why He would love me,
A sinner, condemned, unclean;
O how marvelous,
O how wonderful!
And my song shall ever be:
O how marvelous,
O how wonderful
is my Savior's love for me.
Leslie Basham: May we never get over the wonder of being chosen by God. Thank you, Nancy. Maybe you know someone who has never recognized the wonder of being loved by God. Maybe our current series called "Here Comes the Bridegroom" could help them understand how much love God has given them through His Son. It comes on two cassettes for a suggested donation of $8 or on two CDs for $10.
To get a copy, just call us at 1-800-569-5959. When you order the programs, you'll get additional minutes of Nancy's teaching that we weren't able to include on the air. You can go on-line at ReviveOurHearts.com.
Our Web site lists all of Nancy's resources. You can read a transcript or hear today's program on the Web as well.
If this week's programs are helping you appreciate your Savior's love in a fresh way, would you write and tell us about it?
So much is said and written about self-acceptance and self-worth. Is this something God wants us to pursue? We'll talk about it tomorrow. I hope you can join us. Now here's Nancy to lead us in prayer.
Nancy Leigh DeMoss: Lord, we stand in awe of Your incredible love. Thank You that this love story is not just for someone else, but that it has my name in it. Thank You for choosing me. Thank You for loving me.
When there was nothing in me to attract You, You loved me. You chose me. You said, "I want you to be My Bride." Lord, all I can do is say, "Thank You" and love You in return. And I do. Amen.
*Charles H. Gabriel, "My Savior's Love."
*Offers available only during the broadcast of the podcast season.
Support the Revive Our Hearts Podcast
Darkness. Fear. Uncertainty. Women around the world wake up hopeless every day. You can play a part in bringing them freedom, fullness, and fruitfulness instead. Your gift ensures that we can continue to spread gospel hope! Donate now.
Donate Now