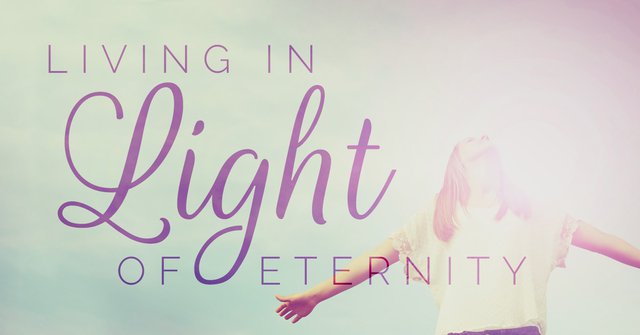 — Audio Player —
A Candidate for Grace
Leslie Basham: Do you sometimes feel that you've made a mess of things, that you just can't do anything right? Here's Nancy Leigh DeMoss with some words of hope.
Nancy Leigh DeMoss: Only a redeeming Savior can make joy and gladness out of the mess that we have made in our lives and in our world through our sinfulness.
Leslie: This is Revive Our Hearts with Nancy Leigh DeMoss for Wednesday, December 31, 2014.
Even on our best days, our efforts fall short of God's glory. If you ever feel like you just can't get it right, take heart. You're a candidate for grace.
Let's join Nancy as she concludes our series called "Living in Light of Eternity."
Nancy: We've been looking all this week at Psalm chapter 90, a prayer of Moses, the man of God. As he spent those years in the wilderness with the Children of Israel, seeing the effects of God's wrath and God's anger against sin, he looked toward heaven, and he realized God is eternal. He is from everlasting to everlasting. But when he looked at man, he realized life is so short.
Not only is life short, but as we've seen in the first part of this passage, life is also sad. Its years are just labor, drudgery, and sorrow if we live those years apart from God. And the reason for the sadness and the shortness of life is the wrath of God against our sin.
In yesterday's session, we looked at Moses' prayer in light of the brevity of life where he said, "Oh God, teach us to number our days so that we may gain a heart of wisdom."
When we look at how short our lives are here on this earth, and we look at how long eternity is yet to come, then we will get God's perspective on life. And that's wisdom—the ability to view all of life from God's point of view.
Now, in the final paragraph of this chapter, Moses makes six requests to God in light of all that has gone before. In light of the eternity of God, in light of the frailty and the brevity of man, he asks God for six things. These are my prayer requests. Moses was a man of God. These were the things he prayed, and I figure these would be right things for us to pray as well.
Beginning in verse 13 he says, "Lord, return. How long? And have compassion on Your servants."
Now, he's talked about the wrath, the terror, the consuming anger of God, and he realizes that their only hope is if God will have compassion. So he says, "Lord, look not on us in wrath, but have mercy on us as sinners. Yes, we have offended You. No, we do not deserve Your compassion. But would You just show us Your mercy?"
The only hope for sinful man, doomed to die under the wrath and the judgment of God, consumed by God's anger, our only hope is that God will have compassion on us. So we pray, "Lord, in wrath, remember mercy. Have compassion on Your servants."
Then he prays in verse 14, "Oh, satisfy us early with Your mercy, that we may rejoice and be glad all our days!"
Now, that's the first note of joy that has come into this psalm thus far since he started talking about the brevity of life and the sadness of life. But he says, "There's something that can bring joy and rejoicing to the labor, the drudgery, the travail, and the sorrow of our short lives here on earth, and that is the mercy of God."
He says, "God, let us be satisfied early with Your mercy." The mercy of God speaks of His unfailing, covenant love, the love that He showed to us when He sent Jesus to Calvary to die for us. That's mercy. That's covenant, faithful love.
And Moses says, "Let us be satisfied with Your mercy early." Now, this request, I think, can mean one of two things. There's a sense in which we want to be satisfied early in life with God's mercy, to come to know the mercy of Christ early in life.
And many of you are mothers and grandmothers, and as you pray for your children, pray that early in their lives they will come to know the mercy of God; that they will come to see their need for a Savior, come to be convicted of their sin and turn to Christ for mercy.
I'm so thankful that my parents, who did not come to know the Lord until they were young adults, prayed for the salvation of their seven children. I'm so thankful that at the age of four God worked in my heart to draw me to Jesus, to satisfy me early in life with His mercy. That has proved such a wonderful, gracious foundation for the rest of my life. It's brought joy and gladness into these fifty-some years. 
There's another sense in which we can understand the word early in this verse and that is to be satisfied with God's mercy early each morning, early each day. The mercies of God are fresh and new every morning, the Scripture tells us. And I wonder, as he prayed this prayer, was Moses thinking about how early each morning God would provide manna there in the wilderness for the Children of Israel?
They had to get the manna while it was still fresh in the morning. And how we need each morning to go into the presence of God and apply for fresh mercy and grace to sustain us through that day so that we may rejoice and be glad all our days. Do you want to live your days with joy? Then start each day getting your soul satisfied with His mercy.
Then Moses prays in verse 15, "Make us glad according to the days in which You have afflicted us, the years in which we have seen evil."
Moses realizes that only God can turn affliction and evil into gladness. In fact, we learned elsewhere in the Psalms that God will cause the wrath of men to praise Him. Only a redeeming Savior can make joy and gladness out of the mess that we have made in our lives and in our world through our sinfulness.
Paul tells us in 2 Corinthians 4 that our light affliction, which is really just for a moment, even if it endures for a lifetime here on earth, it's still just a moment in the light of eternity, and he says that affliction is really light even though it seems very heavy and hard to bear.
And what is it doing? It's working for us. It's producing in us a far more exceeding and eternal weight of glory. The weight is yet to come. The glory in its fullest expression is yet to come. But living in light of that will give us hope in these afflicted days that we live here on earth.
I love that promise in Psalm chapter 30, "Weeping may endure for a night, but joy does come in the morning" (v. 5b).  And Moses prays for that joy to come in the morning.
And then he prays in verse 16, "Let Your work appear to Your servants, and Your glory to their children."
Moses is pleading with God to let Him see God's work. He said, "Our work is just labor and sorrow, but, God, I want to see Your work in this world. I want to see Your mercy active and alive in Your people."
Our work is sheer drudgery apart from His working in and through us. And the work that we have to do takes on meaning when it is Christ working in us. His prayer is that not only he, but the next generation may be privileged to see the glory of God.
And isn't God gracious in the midst of this troublesome, short, oppressed, sad, few days we have here on earth to give us some glimpses of His glory, to let us see His heart, to let us experience His salvation and His goodness in the midst of our sorrow.
Then in verse 17, the last verse of this chapter, we see Moses' final two requests. "And let the beauty of the Lord our God be upon us, and establish the work of our hands for us; yes, establish the work of our hands."
I've prayed this prayer many times over the years, and I find myself often, as I face the work that's ahead of me for that day, praying, "Oh, Lord, would You let Your beauty be upon me, and would You establish the work of my hands?" In fact, before coming here this morning, I knelt before the Lord and just lifted up this days' work to Him, saying, "Lord, would You let Your beauty be upon me? And would You establish the work of my hands? I give it up to You."
You see, only by God's grace can the labor and sorrow of life be turned into productive, fruitful service for Christ and joy instead of sorrow. As we lift up our day's work to the Lord, some days that work that we're doing seems pretty lofty. Some days it's exciting things that we get to do, big tasks. And then, as we look at this passage, we're reminded that even when we're doing stuff that we think is pretty important, that we're really just a vapor, that our lives are really so very short.
And then there's some days when the work that's set before us seems very trivial and insignificant. That's when it helps me to be reminded that when He establishes the work of my hands, then that work becomes an act of worship, and it is sanctified by His presence.
Now, I don't know what kind of work you have to offer up to the Lord. Some days my work is teaching sessions like this. Some days my work is spending hours and hours at the computer, planning to teach days like this. Some days it seems very tedious. Some days, when there's a group of women like this here, it's very encouraging and exciting.
But every day's work needs to be offered up to Him.
Your work may be preparing meals for your family. It may be washing the dishes after you have prepared those meals. It may be doing laundry. It may be caring for little ones. Some of you are homeschooling your children, perhaps. The work of that day may be writing thank-you notes, writing notes of encouragement to people who are going through difficult times.
Whatever the work, lift it up to God, and say, "Oh Lord, my life is too short to waste. I don't want to spend this life just going through this meaningless treadmill labor and sorrow. I want my life to be spent in light of eternity. I want it to be invested in a way that brings You glory. And so, Lord, would You let Your beauty be upon me? And would You establish the work of my hands, transform my labors into something that is meaningful for Your kingdom?"
And then we thank Him that, by His grace, He is able to transform that sorrowful, short life into an abundant, joyous, not always easy but hope-filled, life that looks forward to all of eternity in His presence.
Leslie: That's Nancy Leigh DeMoss giving us important long-term perspective as we near the change to 2015.
That message is part of the series "Living in Light of Eternity." If you've missed any of the series, you can hear all of it at ReviveOurHearts.com.
Well, we're about to hear from a woman who is spending her life investing in eternal things. The Lord is using her to speak the gospel in Iran. Does that sound impossible? Nancy's here to tell you how this guest is able to do it.
Nancy: At the recent True Woman'14 conference, I had the opportunity to meet a special woman named Sabrina who's actively involved in speaking to the women of Iran. Now, if you're a fan of the Chronicles of Narnia, you'll appreciate Sabrina's last name. It's Aslan, the Persian word for Lion.
Sabrina Aslan: I'm Sabrina Aslan, and I'm coming from California, but originally from Iran. I was born in Tehran, the capital city of Iran. I was raised there until 1996. My husband and I just moved to the U.S.
Nancy: While living in Iran, Sabrina had a life-changing encounter with Jesus.
Sabrina: When I was ten, I heard the gospel from my aunt. She heard the gospel from some missionaries, back many years in Iran. She was born again, and she just told me that even though I was born into a Christian family, I needed Christ as my Savior. She introduced me to the gospel, but it took me some years.
When I was almost thirteen years old, I went to the youth group of one of the evangelical churches in Tehran. And again I heard the gospel, and I surrendered my life to my Savior Jesus Christ.
Nancy: At that time, believers in Jesus had more freedom in Iran than they do today.
Sabrina: We could go to church much more freely. We even had conferences, retreats, but eventually the government just closed all those doors to people—especially Persian-speaking churches. They are closed now all over the country. Right now there are just home churches there or some traditional churches, like Orthodox churches. The government does not have anything to do with them.
So, at the time, we were just taught to evangelize. I know that I had so many friends that were under persecution. One of my friend's husband got killed. At the time there were martyrs over there, like four of the pastors were killed. Sometimes even my husband was just watched.
After that one of the churches in the U.S. just invited us to have the pastorate position over there. We prayed and saw that God is calling us here, so we moved in 1996 to the U.S.
Nancy: Sabrina had escaped the religious persecution in Iran, but that didn't mean that life was easy. Some medical issues affected her family in 2008.
Sabrina: My youngest one was diagnosed with a brain tumor, and I was in some kind of trauma. One of my friends introduced Revive Our Hearts to me as a resource to listen to and get comfort. But I knew from the moment I started to listen that God was working in my heart. He was teaching me, teaching me, like drip, drip, drip. I know those teachings were just penetrating in my heart and changing my heart.
Nancy: God wasn't just changing Sabrina's heart for her own sake. As she was beginning to thrive in Christ, she realized she needed to share biblical truth with others. The Lord wasn't done using her in Iran. A media ministry that broadcasted into Iran invited her to teach.
Sabrina: I didn't know that He was going to call me to another kind of ministry to women. The Revive Our Hearts message can go through me to Iranian people because there is an open door for me through the satellite through the social media to give this message to women over there because there is a big awakening in Iran.
Back there, everybody thirsts for Christ. There are so many people, thousands of people, they are fed up with Islam, and they just need Christ, and they do come to Christ. So I needed somebody like Nancy, like Revive Our Hearts to just help me to give this precious message to Persian people, Persian women, and all in Afghanistan and Europe.
Nancy: Sabrina felt that she wasn't up for this big task of teaching the Bible to Iranian women, and I'm so grateful God used Revive Our Hearts to help Sabrina.
She takes what she learns through this ministry, translates it, puts it in her own words, and uses it as a basis for her teaching.
Sabrina: One year ago one of the satellite programs just asked me to prepare some women programs for them. I was struggling with this calling, with this invitation. So after a while, after so much praying and fasting, I decided to say "yes." I could tell that 60–70% of those messages were just from Revive Our Hearts, from the teachings that I got them from Revive Our Hearts.
I even named the program Izana Roseen, which is "True Woman."
Revive Our Hearts helps me thrive in Christ by giving me the truth about women's hearts, and I'm so happy about it.
Nancy: Wow! I'm in awe of what only the Lord can do. When we began this ministry fourteen years ago, we had no idea that He would take our efforts and multiply them in such a way.
When you support Revive Our Hearts, you're helping to resource and encourage Sabrina who in turn is investing in women in Iran, Afghanistan, and other Persian-speaking countries. And the women who hear the gospel from Sabrina can spread the message to others that they know. Only in eternity will we know how far-reaching your investment has been.
Now, we can't continue providing this program to you and to listeners like Sabrina without the support of friends like you. Now, throughout the month of December, we've been asking the Lord to provide $1.7 million to get us to where we need to be at the end of this year and ready to launch into a fruitful new year. I want to thank each listener who's been praying with us about that need and those many who have given to help us get toward that goal.
Now, we've come to the last day of the year, and it's not too late to join us in praying and giving toward that goal. In fact, it seems as if each year the Lord provides a significant amount of what we need on the very last day of the month—New Year's Eve. I think that may be His way of reminding us that we are dependent on Him every step of the way. So it would be a great blessing and encouragement if we hear from you today and have you be a part of God's provision to help us reach women in the year ahead.
Our call center is open today. So to make your donation, you can give us a call at 1–800–569–5959.
Thank you so much for your prayers and for your support that allows Revive Our Hearts to help women thrive in Christ.
And as so many of you have been faithful to pray for me and for the ministry of Revive Our Hearts, I want to close this program on the final day of this year by praying a prayer of blessing for you and your loved ones.
Oh Lord, how I thank You for each person who's been a part of this listening audience, for each one who has helped to support this ministry, who's encouraged us, and for those who have lived out the truths and the messages that they've heard throughout this year.
I want to pray a special blessing on each person listening to this program today. I pray, Lord, that You would strengthen them, that You would sustain them, that You would supports them in this season of their life by Your grace. I pray that You would sanctify them by the power of Your Holy Spirit.
And I pray that this day and throughout the year ahead, You would satisfy them deeply with Your steadfast love. I pray it in the great name of Jesus, amen.
Leslie: Thanks, Nancy.
Well, do you have as much time to spend in prayer and the Bible as you'd like? Nancy will lead you in a study of the life of an extremely busy man—Jesus. Find out how He was able to make time alone with God a priority.
Nancy: I'll just be honest with you, there are times at the end of a long day or a long week of ministry when I just want all the people to go away. I'm basically an introvert, and when you're on the platform, people don't usually think of you that way, but crowds drain me. There are times (I'm not proud of this; I'm not bragging about it) when I can start to resent the very people the Lord sent me to serve. Now, nobody will come up and talk to me afterwards now because you're afraid I'll resent you. But I look at Jesus, and I ask, "How did He do it?"
You say, "He was God."
Well, He was God, of course, but He was serving as a man to show us how we as humans filled with His grace and Holy Spirit could serve like Him.
Leslie: That's tomorrow on Revive Our Hearts.
Revive Our Hearts with Nancy Leigh DeMoss is an outreach of Life Action Ministries.
All Scripture is taken from the NKJV.
*Offers available only during the broadcast of the podcast season.
Support the Revive Our Hearts Podcast
Darkness. Fear. Uncertainty. Women around the world wake up hopeless every day. You can play a part in bringing them freedom, fullness, and fruitfulness instead. Your gift ensures that we can continue to spread gospel hope! Donate now.
Donate Now