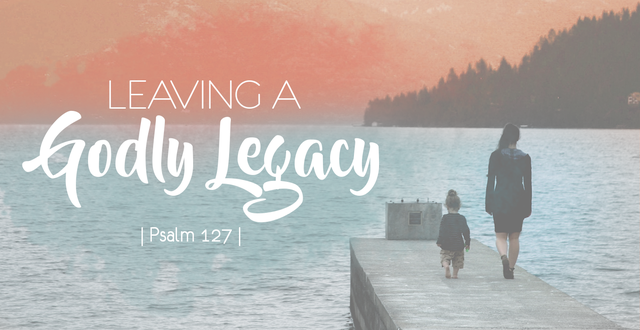 — Audio Player —
Blessed by a Godly Mother
Leslie Basham: Revive Our Hearts listeners remember moms.
Female caller: She was a special and remarkable woman in that she raised seven children on her own.
Male caller: Her commitment to God and commitment to family is just humbling.
Female caller: She has been the greatest prayer warrior and prayer partner that I could have ever had.
Female caller: That's our comfort and my mother's greatest contribution—a life selflessly lived here with sincere longing to be with the One she loved the most, the One who had redeemed her soul.
Male caller: If you have a kind, good mother, you should consider yourself lucky, but if you have a godly mother, you should consider yourself blessed. I truly think I am in the blessed category.
Leslie: It's Friday, May 11, and you're listening to Revive Our Hearts with Nancy Leigh DeMoss. Here's Nancy.
Nancy Leigh DeMoss: Well, over these past couple of weeks we've been talking about the importance of establishing and leaving a godly legacy, and I trust that you've been encouraged and challenged by what you've heard from God's Word and from the Canfield family who've shared with us some practical illustrations of how to apply these principles in the context of a family.
As you know, Sunday is Mother's Day, and I hope that you have plans this weekend to honor some of the special women in your life, whether that would be a mother, mother-in-law, grandmothers, and spiritual mothers. I like to take time on this special occasion to honor not only my own mother, but some of the other women who had a spiritual impact in my life over the years.
I am so thankful for the mother that God has given me. I am her namesake. Her name is Nancy also, and God has used her in my life and in so many other lives in such a significant way. She's the mother of seven children. The first six of those children she had in her first five years of marriage by the time she was 24 years of age.
I didn't realize as a younger girl and woman what an incredible thing that was for a woman to devote her life to the extent that my mother has to her children. I certainly didn't fully appreciate as a young girl or younger woman all that it meant for a woman like my mother to lay down her life in the many, many ways she has for her family. The older I've gotten, the more I appreciate that, and I just want to say to my mom today, "Happy Mother's Day. I love you. I'm so thankful for you."
You know, the Scripture does tell us to honor our parents, our mothers and our fathers, and it seemed like an appropriate time this weekend to hear from some of our listeners who wanted to do that. We set up a call-in line, and we asked our listeners to offer a tribute, to share something they appreciate about their mother.
I was moved hearing some of the tributes that were given, and I know that you will be, too. As you're listening, would you thank the Lord for the mother that He gave you? I'm assuming she wasn't perfect or isn't perfect, if she's still living, but thank the Lord for the way God has used your mother in your life. Ask the Lord how you can honor her in a special way through the course of this Mother's Day weekend.
Male caller: Hi, I'd like to pay tribute to my mom, Helen Gay. She's one of the few people I know who truly lives the Christian life and not only just talks about it.
I have a younger brother, and when we were kids, I remember my mom having Bible studies with us. She was trying to teach us about the Lord and to have godly principles and to do things God's way. She would always tell us that she wanted us to grow up to be godly men because to her that was most important.
I remember one time when I was 14 years old I told her that when I grew up, I wanted to be rich and famous. I told her, "If that ever happens, I'm going to buy you furs and a nice house and a nice car and everything."
She looked at me real serious-like, and she said, "If you really want to make me happy, live your life for Jesus, because happiness is not found in all those other things."
She's a hard worker, too. I mean, she holds an eight hour job, and when she comes home she cooks and cleans for us and washes our clothes, and she even takes care of her own mom who has Alzheimer's disease.
When she's doing all this, it seems like it gives her joy that she's just helping out the family and doing all that she can for her family. To her that's almost top priority, but the thing I think I respect most about my mom's that she carries herself like a lady. She and my father have been married for, I guess, close to 40 years. In all the time I've never once seen her look at another man or act flirtatious or just carry herself indecently.
I guess in conclusion I'd just like to say that if you have a kind, good mother, you should consider yourself lucky, but if you have a godly mother, you should consider yourself blessed. I truly think I am in the blessed category.
Female caller: I only had my mom for seven years before the Lord took her home, but I had more love and more kindness in those seven years than most children have in a lifetime. What makes it even more special—I was adopted by her and my dad when I was two months old, but our bond was as strong or stronger than most blood-related moms and daughters. I am here to tell you blood is not thicker than water. It is the time, love, and patience that makes a mom a mom.
Female caller: I would like to pay tribute to my mom, Catherine Palma, whose most distinguishing characteristic was that she, more than any Christian I have ever known, embraced and lived out the verse in Philippians chapter one, "For to me to live is Christ, and to die is gain" (verse 21, KJV). Mom had a deep, loving, and selfless commitment to her husband, children, family, and friends.
She was an active witness to the unsaved and had a true servant's heart toward her fellow believers in the local church body, but to those who knew Catherine well, they were aware that what she desired most was to be with her precious Lord Jesus Christ who gave her the gift of eternal life when she was 48 years old, a wife and mother of five, emotionally exhausted from a long, futile search for inner peace and happiness.
After the Lord took Mom home in 1996 at the age of 72, through circumstances that to us were sudden and unexpected, my dad told me that she once said to him, "Fred, this has nothing to do with my love for you or the children, but if the Lord were to take me home right now, I would be very happy."
In the months and years that followed her home-going, my sisters and I would often say, "Mommy's where she wants to be." That's our comfort and my mother's greatest contribution—a life selflessly lived here with sincere longing to be with the One she loved the most, the One who had redeemed her soul.
Female caller: I had a pastor once ask me who would I most like to be like when I grew up, and without a doubt of hesitation, my answer was, "My mom." My thoughts embraced all the grateful people that she showered seeds of kindness upon by ministering words and acts of encouragement in little ways, so, Mom, thanks for the example over these wonderful years. May you live out your life in good health and be blessed with fruits of kindness bestowed upon you.
Female caller: My name is Jennifer, and I'm calling for a tribute to my mother, Nellie Jones, who passed away, went to be with the Lord on November 28, 2001. She was a special and remarkable woman in that she raised seven children on her own.
Our father died, and my mother went on to hold down a full-time job, was active in the community, and continued to make sure we knew about the love of Christ. In that, she was involved in the church and always was talking to us about having faith and loving the Lord. She's just a remarkable woman who, to me, epitomized what the Proverbs 31 woman was. My mother, when she went on to be with the Lord, even though we grieved over her, we all felt that she was getting her rewards for her life devoted to Christ, and that made it a little easier for us in her passing.
Of course, we still miss her, and one thing about our mother is she had a wonderful sense of humor. During the most trying times she was able to laugh or make us laugh and find the humor in situations. It's four boys and three girls. We try to do the same thing with our children.
We just felt that she deserves a tribute. Her name was Nellie Jones. Thank you.
Female caller: I would like to pay tribute to my mother for Mother's Day on Revive Our Hearts. I have a very special mother. I love my mother very much. The Lord couldn't have given me a better mother.
We've been through a lot of hard times, and since I was a little girl she made me learn how much Jesus loves me and what the Lord has done for me. Even in the roughest times she's had me in church. She's instilled in me the things that the Lord has done. And as a woman now, I'm active in my church. I'm saved, and by her being a representation for Christ, it has led me to be the person I am today.
God's still working on me. She taught that to me when I was very young, and it's true. He's still working on me today.
My mom had difficulties while she was pregnant with me. She was in a car. She was hit by a bus. She had a hard time in labor that could have come out to either  she or I might not have made it. So I just know that the Lord has blessed me so much by my mother that He brought her through that when I was born.
Mother's Days are just a wonderful thing for me because I love her so much. Happy Mother's Day, Mom.
Female caller: My mom is probably the hardest working mom in the whole world. She had two failed marriages. She raised three children alone with no support at all except from the Lord. She rededicated her life when I was nine years old and put us in church.  I've been in church ever since, except for when I fell away in my teenage years, and came back to the Lord after I was married.
My mom worked so hard. She didn't have time to spend socially or even to get out and play with us and do things that moms like to do. She worked so hard, and she always had to do manual labor. She always had to stand on her feet, and do that type of work.
Now, she and I are the greatest of friends. I'm going through a crisis in my own life, and she has been the greatest prayer warrior and prayer partner that I could have ever had. There's just not a greater mom, and I thank the Lord for her.
Male caller: My mother was widowed with six kids, the youngest being a month old. My father died of an aneurysm, just suddenly, and my mother didn't have a job. She was an at-home mother—no driver's license. Because of her faith, because of her reliance on God, she came to us, and she said, "We can't give up."
She had to learn how to drive, and she desperately sought out a job and took a job teaching art and just doing artwork at night, not taking any state aid. I just remember during the tough times her selling furniture and just coming to the house and seeing less furniture to pay the bills. Just over the years she has been unmoved in her faith to God—and seeing that has cemented us together as a family for God.
I was at church the other day and someone asked for my testimony. I said, "Growing up, Jesus was as a part of our family as any one of my brothers or my one sister." It was just a glorious way to grow up, even the hard circumstances, just seeing her every day. Her commitment to God and her commitment to family was just humbling.
Female caller: I had been raised in a godly home and was taught to fear the Lord and to serve Him, but as I got older and had a family of my own, I seemed to wander from that. My mother never gave up. She continued in her prayers. She continued reminding me every once in a while of my background, even though I didn't like to hear it.
It was through her perseverance that I began to realize what was missing in my life again. I returned to the Lord and have been serving Him faithfully since that time. I really appreciate what she did for me in her prayers and in holding me up.
Female caller: My mother died four years ago, due to complications of an aneurysm surgery. I remember her calling me around the first of November saying, "I have your birthday present all wrapped. You pick a weekend for a party, and we'll celebrate."
The next phone call I got was someone telling me that my mother was being rushed to a hospital. The next four months at her bedside in ICU were the most stressful times of my life. Through losing her, I became more aware of what she stood for, her teaching, her values, especially her love for others.
When I stayed with my dad after the funeral, I looked for that birthday present she said she had put away for me, but I never found it. Then I began to think of all the gifts she had given me throughout my life. After my marriage failed, my mother helped me raise my son and called so many times to ask if we needed anything.
She was a true Christian and always saw or looked for the needs of others. She was my best comforter and reminded me she was just a phone call away, and I did call her often, sometimes just to thank her or say how much I appreciated all she had done for me over the years.
After her death, I found myself going to the phone so many times, dialing her number, then having to hang up, realizing she was no longer there. I was lost without her. We were very close, and then I realized I should have been calling on God all these years.
Why did I let my mother carry such a load? Even though she insisted, I failed to see God wanting to be a part and offer His help and guidance. Now I'm learning how to communicate with God in my thoughts and words and deeds, and for me it took practice to really feel comfortable in my conversations with Him.
I must admit I was mad at God for awhile because my mother was so important to me, and I still needed her. If it took losing her to make me need God more, then I can accept her loss and give thanks to God for all the years He gave her to me and for letting me have the chance to tell her how much she meant to me and say goodbye, which a lot of people never get to do.
Because I kept her spirit alive in my heart, my tribute to her is exactly what she gave to me—self-worth, respect, gratitude, values, and most of all, love for one another. To fulfill her beliefs is my tribute to my mother.
Female caller: I want to just express my love for my mother, Angela. She lives in California and I in Idaho, and there isn't probably a day that goes by that I don't think about her and miss her. One thing that I can really tell you all about my mom is that she was always giving and continues to be. There isn't anything that she wouldn't do for me and all her grandkids and for my brother.
After my sister died many years ago, it was really hard for my mom. It was hard for all of us, but in time, she just continued to just give and be considerate of others. She is just a wonderful person, and I pray that I can just follow her in the way she is.
Female caller: I want to thank my mother, Roberta Hall, who has been a wonderful example and model for all of us five children on how to walk with the Lord. People come up to me and say things like, "Your mom is so special. She is one of my favorite people. She is so kind."
My sister, who trained as a school psychologist, once tested my mom's IQ. She was a few points from the genius level, and this was even after raising teenagers. There is no doubt in my mind that my mother could have run a Fortune 500 company with ease. She is a hard-worker, gives her best at any task, has excellent people skills, is smart, is full of common sense, and can build harmony among diverse people.
Instead of pursuing the job or career, she chose to stay at home and nurture five kids and be a helpmate to her husband. She also volunteered frequently in the community and at her church, and she was a 4-H leader for 28 years.
Some people today might say that my mom wasted her near-genius mind and her talent, but you can look into my mom's eyes and face at age 73 and see joy and vitality. She sacrificed her life for others.
Jesus set the example as the ultimate sacrifice on the cross. He gave His life for others to help others, and my mom followed Jesus' lead. Thank you, Mom, and Happy Mother's Day.
Female caller: I'm from Fresno, California, and I would like to relay this message for my mother, Cindy. I just want to tell her, "Thank you, Mom, for praying for me and being there in all my time of need, in all my rebellious, teenage years. Without you I know I wouldn't be the godly woman that I am today, and I honestly am thankful for such a wonderful, single parent that you've been.
Thank you for all the prayers, all the wonderful prayers that you continued to pray for me throughout my life. I love you, Mom, and I thank God for you. Thank you for everything you've done.
Leslie: What a treat to hear each of these listeners, Nancy, as they've honored their moms.
Nancy: As they honor their mothers, they've honored the Lord as well and honored His grace in the way that He's used these special women. Let me just say again that I hope you'll express this kind of honor and gratitude and appreciation for your mother this weekend or for other women that God has used in a significant way in your life.
Leslie: Yes.
Nancy: You know, if you're a mom, God has given you such an important, vital role in passing on to the next generation the baton of spiritual truth, the baton of the Christian faith, and I just pray that God will encourage you in your calling, that God will give you faith and courage and stamina, perseverance, all that you need—grace and love and wisdom to be the mom, the woman God wants you to be as you help to establish and to leave a godly legacy.
Leslie: Nancy, I think one of the best ways a young mom can learn how to pass on that baton, as you just put it, is to order a copy of your teaching series called Leaving a Godly Legacy. We've been hearing this important message over the last couple of weeks, and it gives moms a solid, Scriptural foundation on how to pass on God's truth to the next generation. You can order Leaving a Godly Legacy on CD by calling 1-800-569-5959, or visit ReviveOurHearts.com.
As a mom, wouldn't you love it if your kids described you as being compassionate, kind, humble, meek, and patient? Those are qualities that we're told to put on in Colossians 3:12. Nancy taught this Scripture a few months back, and we created a tote bag with this verse printed on it. Listeners went nuts over these bags. We sold out and decided to keep the same design, but we improved the bag itself. It's more durable and ready for the wear and tear the summer is about to bring on.
Since this is now a higher quality bag, you might expect it to retail at top dollar in specialty stores, but actually, you can get this bag when you make a donation of any amount to Revive Our Hearts. In other words, we'll send you the bag, and you set the donation amount. It's just our way of saying thanks.
The month of May represents our fiscal year end which means we wrap up the books and put the final touches on a new budget, so your gift is important to us right now. We want to start a new fiscal year able to continue ministry to women in your area and all around the world.
To make a donation by phone, call 1-800-569-5959, and be sure to ask for your tote bag. You can also donate quick and safe online. The web address is ReviveOurHearts.com.
Isn't it fun to introduce someone to a friend knowing that the two of them will hit it off? At Revive Our Hearts, that's how we feel about our listeners and Sarah Krause. Maybe that's all I should say. Be back Monday and meet our friend, Sarah. Trust me.
Revive Our Hearts with Nancy Leigh DeMoss is an outreach of Life Action Ministries.
*Offers available only during the broadcast of the podcast season.
Support the Revive Our Hearts Podcast
Darkness. Fear. Uncertainty. Women around the world wake up hopeless every day. You can play a part in bringing them freedom, fullness, and fruitfulness instead. Your gift ensures that we can continue to spread gospel hope! Donate now.
Donate Now