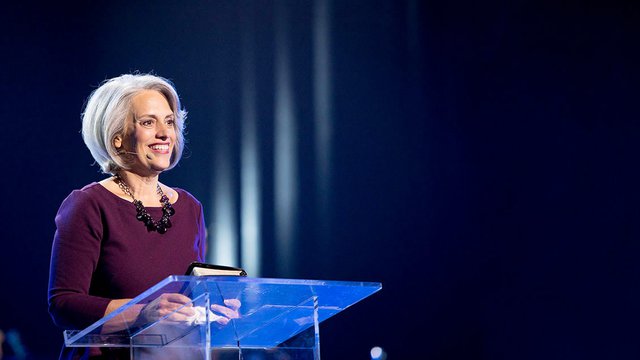 Beauty for Ashes
Leslie Basham: How do you normally respond when you've been hurt deeply? Here's how a woman named Kathy felt after suffering a terrible attack.
Kathy: I wanted revenge so badly that I honestly think I could have killed, if I could have gotten away with it.
Leslie Basham: Today we're going to hear Kathy's story. This is Revive Our Hearts with Nancy Leigh DeMoss for Friday, June 25. All this week Nancy Leigh DeMoss has been teaching a series called Freedom Through Forgiveness.
She'll continue today but first we're going to hear from a woman named Kathy who's been a part of the studio audience this week. If anyone could appear justified in harboring bitterness, it's Kathy, who was the victim of a horrible crime. But God has been doing something special in her life. Let's listen to Kathy's story about the power of forgiveness.
Kathy: When I was 16 years old, I was sexually assaulted by three boys who I thought were my friends, and I learned the meaning of hate. I wanted revenge so badly that I honestly think I could have killed, if I could have gotten away with it.
I never told anybody: my mother, my father, no one. But in my heart I knew that the boys had probably told everyone. You know, maybe I imagined the way people looked at me. My last year in high school was horrendous and as soon as I got out of school, I got out of that town. And I never effectively went back to see anybody but my parents.
Over the years I have said that I have forgiven, but I don't think I really have because I think about it so much. And none of their lives have been worth anything. One is gone; he's not alive anymore. And if I go to a high school reunion, I still have to still face one. I finally got up the nerve 20 years later to go one and I was just in knots inside. I didn't enjoy anything because I had to face that one.
It's something I've carried in my heart so many years and I have buried it so long. I finally, three years ago, got up the courage to tell my husband. And my husband had known it all along because I couldn't watch a program on TV about rape. I couldn't even talk about that, so my husband knew. But bless his heart and thank God for him, he never pressured me.
So I have so much to be thankful for because there have been so many hard issues in my life, medical issues, that God has spared my life. And I felt like He had a greater work for me to do. I have really striven to be faithful to God and to try to do His work, but I know until I release all of those things, no matter how far past, that I won't be free.
And I say in front of you today, "I forgive those boys who are men now, older than me. I forgive them and I pray for them that they can have the forgiveness and receive it that I have had in my life." Thank you.
Nancy Leigh DeMoss: Turn if you would to Isaiah chapter 61. God has shown Kathy something that most believers who have been through a similar experience never, ever realize. I don't want us to miss the point. This is not just about Kathy, but it's about the ways of God and God being glorified in our lives.
What happened to Kathy when she was 16 years old is an unspeakable atrocity. It's wicked. It's heinous. And those boys, now men, have had to live with the consequences in some fashion of their sin.
There's no question that they sinned. But what most of us who have been sinned against in some way never get honest about are the ways that we have sinned in responding to those who sin against us.
And Kathy was so specific. She said, "I hated them. I wanted to take revenge. And I thought in my mind that I would kill them, if I thought I could get away with it."
Now, any person who's listening to that story and has an ounce of mercy in their heart wants to say, "Kathy, I understand why you would feel that way. I'd feel the same way if I were in your shoes." But that's where, if we're really going to be instruments of mercy in each other's life, we need to bring each other back to the truth. And God has just done that for Kathy.
What He showed her is that her hatred, her desire for revenge and her murderous heart are wicked. And you notice all these years she's been in bondage. She wasn't the one who did this. Why is she in bondage? She hasn't been in bondage all these years because of their sin--no one else's sin can put you in bondage. She's been in bondage because of her sin.
And it sounds incredibly unjust or imbalanced to point that out, but God pointed it out to Kathy and showed her that as a child of God she could not hate, that revenge is not hers, it's God's.
And that by thinking these thoughts in her heart, she had in effect committed murder. And she's in the process of getting set free because she was willing to say, "Lord, it's not those three young men, it's me in need of Your mercy."
Yes, they need God's mercy but they are not her responsibility. And don't you just sense in Kathy the first stages of release, the freedom that God wants to give to her. It reminds me of the passage we've got open before us.
Isaiah 61:1, the passage talking about Jesus before He ever got to earth and talking about what His ministry would be. This is not only what He did here on earth, this is what He does in times of revival.
"The Spirit of the Lord God is upon Me, because the Lord has anointed Me to preach good new to the poor; He has sent Me to heal the brokenhearted, to proclaim liberty to the captives, and the opening of the prison to those who are bound."
Does that sound like what God has just been doing in Kathy's heart and in several of us in this room in different ways today, giving us good news about our poverty, healing broken hearts.
You get healing by dealing and letting God deal with your own heart and with your own sinfulness because that's how our hearts get broken ultimately. It's not by what others do to us, though that does wound us, but the deepest wounds of our lives are the result of our choices.
So God is healing the brokenhearted. He's proclaiming liberty to the captives and the opening of the prison to those who are bound.
Verse 2, "To comfort all who mourn." Kathy is mourning but I think it is a good mourning. And, Kathy, there's comfort coming with that mourning. I think there is a whole new level of grace and comfort and peace and release and freedom that you are walking into today. It's only going to get more and more beautiful.
Verse 3, "To console those who mourn in Zion." This is the ministry of Jesus with the Holy Spirit in our lives. "To give them--oh, this is great--beauty for ashes." Think how the enemy thought he had Kathy at age 16 and in some ways has kept her saying, "You're just a bunch of ashes." But look what God's doing; He's making beauty.
"To give the oil of joy for mourning." Kathy, I think you've never experienced joy to the extent that you will in the days ahead. I'm not saying there's not been any, I'm sure there has been, but probably not like there will be.
"The garment of praise for the spirit of heaviness." It's like going to the mall and getting a whole new wardrobe and one that He makes, one we can never afford. I love it, "The garment of praise for the spirit of heaviness."
And look at this, the end of verse 3. This is incredible, not only that He would redeem us, give us liberty, heal our broken hearts, comfort us, give us beauty for ashes, give us joy, give us praise--I mean that's already incredible enough--but then that He would want to use us. "That they may be called trees of righteousness; the planting of the Lord, that He may be glorified."
Kathy, you're a tree of righteousness, the planting of the Lord, a virtuous, clean, forgiven woman. And God has incredible plans for your life. And I'm not saying none of those have been fulfilled to this point, but I bet there are a lot that you haven't even seen yet. And what's the goal for Kathy--that He may be glorified!
So He takes us, whether it's our own failures or the failures of others that have wounded us and then our failure in responding to that, and through confession, through repentance, makes something of great worth.
Leslie Basham: That's Nancy Leigh DeMoss offering hope to anyone who's been hurt deeply. Perhaps what you've heard has brought to mind a time when you've been hurt by someone else. We hope the broadcast has encouraged you to offer complete forgiveness.
To help you in the process, we want to give you a free booklet called Freedom Through Forgiveness. It's a personal Bible study that will take you through steps of offering forgiveness to others. You can ask for your free copy by calling 1-800-569-5959.
You can also call to get a copy of today's broadcast. Maybe you know someone who's suffered at the hands of others and would benefit from hearing the program. Why don't you order them a copy?
It's part of a two-weeks series called "Freedom Through Forgiveness," and it's available on two CDs for a suggested donation of $10. To get a copy, call us at 1-800-569-5959. If you would like to order on our Web site, go to ReviveOurHearts.com.
If today's program has brought to mind a difficult situation in which you had to forgive, why don't you write and tell us about it.
I hope you can be back with us on Monday when Nancy will help us move from saying, "I should forgive" to "I do forgive." There's a big difference and we'll learn more next time on Revive Our Hearts.
Revive Our Hearts with Nancy Leigh DeMoss is a ministry partnership of Life Action Ministries.
*Offers available only during the broadcast of the podcast season.
Support the Revive Our Hearts Podcast
Darkness. Fear. Uncertainty. Women around the world wake up hopeless every day. You can play a part in bringing them freedom, fullness, and fruitfulness instead. Your gift ensures that we can continue to spread gospel hope! Donate now.
Donate Now