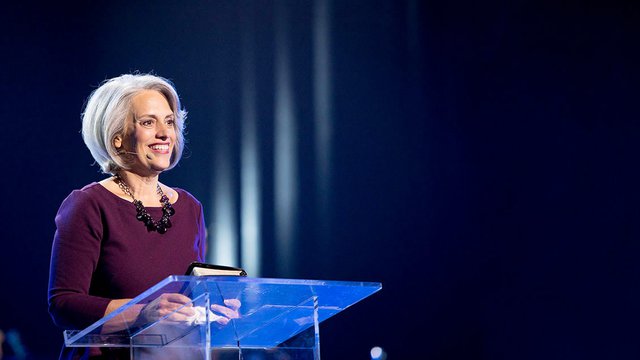 — Audio Player —
An Unconditional "Yes" to God
Leslie Basham: Saying yes can be easy.
"How about we eat out tonight?" "Yes!"

"Would you like ice cream with your pie?" "Yes!"

"Do you mind if I do the dishes instead?" "Yes!"

"Do you like my hair this way?" "Yes."

"Are you breathing?" "Yes."

"Ah yes, you want fries with that?"
On the other hand, it could depend on the question, like when God asks us, "Will you unconditionally give Me your whole life?"
This is Revive Our Hearts with Nancy Leigh DeMoss. It's Tuesday, January 3rd.
Today we'll hear more about five men who answered God with an unconditional "Yes!" when He asked them to give Him their lives, literally. Here with more is our host Nancy Leigh DeMoss.
Nancy Leigh DeMoss: Thanks, Leslie. You know, I'm afraid that all too often we say we'll go anywhere or do anything God wants us to do, but our lives don't always match our words. We say, "I'll serve You, Lord, but I'll agree to what You're asking me as long as I can insert some fine print before I sign on the dotted line."
But Jesus doesn't want lukewarm, halfhearted followers. He said in Luke 9:23-24, "If anyone desires to come after Me, let him deny himself, and take up his cross daily, and follow Me. For whoever desires to save his life will lose it, but whoever loses his life for My sake will save it" (NKJV).
Yesterday we listened to Elisabeth Elliot as she spoke of counting the cost of following Jesus. "Make up your mind," she said "before you're put to the test." Today we're going to hear the second part of this classic message. This is Elisabeth Elliot speaking to a crowd of about 20,000 college students back in 1983 on the subject of endurance.
Elisabeth Elliot: What do you live for? Number two, how do you get it? Whatever it is you want, it's going to cost you something. Eric Liddell put his gold medal on the line; Abraham, his beloved son; Jim Elliot, his life, ultimately.
If it's God's will that you want more than anything else in the world, it's going to mean endurance. Where did I get that idea? Isn't the Christian life supposed to be "happiness all the time, wonderful peace of mind," and feeling comfortable about things? Lots of good feeling, lots of good vibes? Isn't that the way it's supposed to be?
Listen to what the writer to the Hebrews says: "You need endurance if you are to do God's will and attain what He has promised." You need endurance. Do you feel comfortable with that word? I don't. We like to feel comfortable about everything. Do you think those thousands of hours pounding the cinders were soothing to Eric Liddell? How relaxed do you think Abraham felt as he toiled up that mountain with his donkey and his servant and the wood to roast his son?
Listen to what an old preacher of the 17th century named Samuel Rutherford wrote: "It costs Christ and all His followers sharp showers and hot sweats, ere they win to the top of the mountain; but still our soft nature would have heaven coming to our bedside when we are sleeping and lying down with us that we might go to heaven in warm clothes; but all that came there found wet feet by the way and sharp storms that did take the hide off their faces and found to's and fro's and ups and downs and many enemies by the way."
How shall we who hardly know what the word suffering means ever grasp this idea, so central to the gospel, that following Jesus Christ means a cross? The cross was an instrument of torture. Would you wear an electric chair on a little gold chain around your neck? It was the Roman method of execution. "If you wish to go the whole way," Jesus said to the rich young man, "sell everything." The whole way.
Jesus put His finger instantly on the crucial point: the man's money, his possessions. "Get rid of it," He said. "Then, follow Me." Who wants to hear that? Who takes that kind of discipleship seriously? Some people do. I want to encourage you to see that it's still possible to believe that God means what He says. He expects us to trust Him, and He offers us staggering rewards if only we'll endure. Let me tell you a story.
Once upon a time, before you were born, there were in Ecuador a tribe—so-called savages. They were naked, they used stone tools, and they killed strangers. Nobody had ever gone into their territory and come out alive. Missionaries had been praying that God would enable them someday to take the gospel to these Aucas, but it had never happened.
It wasn't until 1956 that the first Operation Auca was attempted. Five young American men banded together to do this. I want to tell you a little about who they were and how they got there.
First there was Nate Saint from Philadelphia. He inaugurated the program of jungle flying in the eastern jungle of Ecuador. Pilots who have watched film footage of some of Nate's landings on those canyons of green trees in the jungle have said that it's impossible. Nate was a genius. He was a rather slightly built blond guy with a terrific sense of humor, a creative imagination, and an almost fanatical discipline and caution as a flyer.
Then there was Roger Youderian, a cowboy from Montana. He went into World War II as a paratrooper, was wounded, and somehow ended up in the eastern jungle of Ecuador working with the Jivaros.
The next man was Pete Fleming from Seattle, Washington, an earnest, scholarly type who had a Master's Degree in literature and planned on an academic career. God had another plan for Pete, and Pete ended up in the jungles of Ecuador.
Ed McCully was a guy that I knew in college, and when I think back, there's hardly anybody who seemed less likely to me to become a missionary. Doesn't it seem like kind of a waste? I mean, here was this guy, six feet three, football player, track star, president of his class.
He was smooth. We thought he'd make a great politician—that's what he was going to be. He had charisma, and he went to law school. But God changed his mind after he got into law school, and somehow he too ended up in some God-forsaken corner of the eastern jungle of Ecuador, again, a missionary to the Jivaros.
Why would a guy like that bury himself in the jungle? Couldn't he find more fruitful ways to use his gifts? All those talents that God had given him, wasn't that an awful waste? Well, yes it was, if what matters to you is self-image, fame, money, success—terrible waste. The backwoods isn't really an auspicious place to pursue those kinds of things.
Then there was the fifth man, one I got to know pretty well. His name was Jim Elliot. I've already told you what he was after when he went to college, the A.U.G. degree. You don't just decide one Tuesday morning that you're going to be a hero of the faith. There has to be a period, a long period, maybe years, of learning to walk humbly in obedience with God, beginning now, when you're students.
During Jim's junior year he went through what he used to call an exercise, a wrestling with God over some issue. In this case the issue was marriage. Paul, the Apostle Paul, wrote quite a bit about the advantages of being single. He wished that everyone were as he was—single.
And Jim had a sneaking suspicion that was exactly what God might be calling him to do, to remain single for the rest of his life. It had nothing to do with "being Jim's thing." It had nothing to do with his temperaments or preferences; he really did like women, but his response was, "Okay, if that's what God wants, that's what I'm going to do."
Does it sound easy? Does it sound simple? It wasn't. You can read about it in this book, Shadow of the Almighty, diary entries from Jim Elliott telling about the struggles of his soul. He went through some agonies. But when a man says an unconditional yes to God, God is going to test the validity of his commitment.
How would you expect the test to come? What kind of endurance was God going to require in this disciple's training?
Remember when He said to Abraham, "Take your son, Isaac; offer him as a sacrifice"? There's a profound spiritual principle here. It's one you need to understand if you are going to understand commitment and endurance as a follower of Jesus Christ. Your heart must be sifted and scoured. That means that some very good things must be offered to God—not just bad things—forsaken.
Nancy: We've been listening to a challenging, straight-forward talk from Elisabeth Elliott at a rally for college students nearly a quarter of a century ago. Yesterday she asked, "What do you live for?" and today, "How do you get it?"
I want to remind you of the significance of this week. It was 50 years ago this Sunday that Elisabeth Elliot's husband, Jim, along with four other missionaries, gave their lives for Christ in the jungles of Ecuador.
In fact, not too long ago I had a chance to speak with Steve Saint on the phone. Steve is the son of martyred missionary pilot Nate Saint, who Elisabeth was describing today. When his dad was killed 50 years ago, Steve was just five years old. I asked him how much he remembered about the circumstances surrounding that event.
Steve Saint: I remember him going out every morning, pulling out the airplane and loading it up; and I'd help, or thought I helped. Then I'd run up on the little bank and watch him taxi across and take off into the jungles. And then, of course, I'd wait in the afternoon for him to come back, which he did, except on rare exceptions.
So I remember there were special days, and I remember my mom calling me into her room and telling me that my dad wasn't coming back. I mean, I was just dumbfounded. I couldn't imagine . . . I mean, this is total nonsense! Of course my dad is coming back!
Nancy: Again, that's Steve Saint, the son of Nate Saint, who was killed by Waodani warriors on January 8th, fifty years ago this Sunday. We'll be hearing more from Steve later in the week.
Leslie Basham: The whole story of Jim Elliot, Nate Saint, and the other three missionary martyrs has been recorded by Elisabeth Elliot in the book Through Gates of Splendor. We'd like to encourage you to order a copy, and when you do, we'll also send you a free bookmark called "Leaving a Godly Legacy." On it Nancy lists steps you can take to help make sure you're leaving a godly legacy, just like Jim Elliot, Nate Saint, and their friends did.
You can order Through Gates of Splendor with the free bookmark when you visit our website, www.Reviveourhearts.com. That's the same place you can go to see transcripts of our program. If you need to call, our number is 1-800-569-5959.
Revive Our Hearts with Nancy Leigh DeMoss is an outreach of Life Action Ministries.
*Offers available only during the broadcast of the podcast season.
Support the Revive Our Hearts Podcast
Darkness. Fear. Uncertainty. Women around the world wake up hopeless every day. You can play a part in bringing them freedom, fullness, and fruitfulness instead. Your gift ensures that we can continue to spread gospel hope! Donate now.
Donate Now