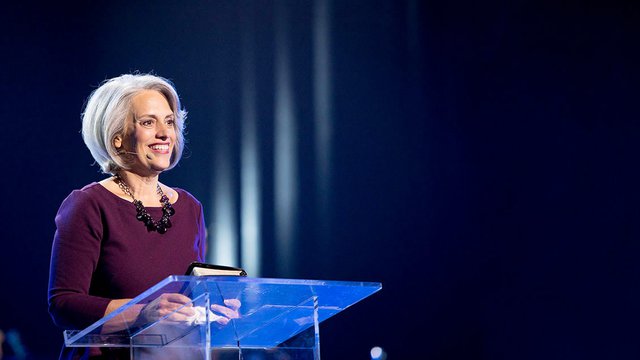 A Wedding Announcement
Leslie Basham: When a woman gets engaged, she can't wait to tell others.
Lady's Voice: On the day we got engaged, we were in a restaurant that didn't allow cell phones, so I couldn't call anyone until about an hour later.
We were driving home and I called my maid of honor and my best friends, and the last person I talked to on the phone was my mom but I talked to her so long on the phone that my fiancé fell asleep.
Leslie Basham: This is Revive Our Hearts with Nancy Leigh DeMoss. It's Tuesday, July 29.
Even a woman who is typically timid and shy can hardly keep quiet about her engagement. She seems to find her voice when there's a wedding to announce. Then, isn't it ironic that we're often so quiet about Christ? Here's Nancy.
Nancy Leigh DeMoss: I have to tell you that I love weddings but I know someone who loves weddings even more than I do. And that's the Lord.
There's a lot about weddings in Scripture. In fact, you know, the Bible starts with a wedding and it ends with a wedding. And there are a lot of weddings in between.
I think of Jesus doing His first miracle at a wedding but from start to finish, as we've said, the Bible is a love story; primarily a story of God's love for His people.
And we've talked about what it means for us to be the Bride of Christ, the fact that the Lord Jesus loves us and He has chosen us to be His Bride. If you're a child of God and you've come to Him through repentance and are saved, that means that you are a part of the Bride of Christ.
And as we come to the last book of the Bible, we find that when the story of human history comes to a close; and we move into eternity, that at the close of that history will be another wedding. It's a grand wedding--the wedding of Christ and His Bride.
And really, life down here on earth is about getting ready for that wedding. There's a royal wedding coming. And we see, if we read the Scripture, that the Lord Jesus is coming back for His Bride.
In fact, in the last book of the Bible, the last chapter of the Bible, Revelation 22, three times the Lord Jesus says, "Behold, I am coming soon." And in that context, it talks about Him taking His Bride--that He is coming as a Bridegroom for His Bride. "I'm coming soon."
Now, to understand a little bit more about what it means that He is coming for His Bride, it helps us to go back a bit and just take a glimpse at some of the Jewish culture as it relates to weddings and marriage.
Some of you may have read that probably it's the result of an arranged marriage. A couple when they were of age would become betrothed. Now, that's kind of an old-fashioned word. We think of it as being similar to being engaged. And it is similar, although the Jewish concept of betrothal was not like our engagements that can be made and broken.
In the Jewish culture, once you were betrothed, you were as good as married. A covenant had actually been signed and the only way you could break that betrothal was if one party was found to have been morally unfaithful during the betrothal period, before the marriage was actually physically consummated.
Now, at the time of the betrothal, the groom-to-be would pay a bride price, based on what he felt was the worth and the value or what he could negotiate for that bride.
They established a covenant and then they were considered married but the groom left. He left and he went back to his home and he began to prepare a place for his bride. Now, usually, their first home wasn't a home of their own. It was usually an addition he would make onto his parents home.
He left with a promise--"I'm coming back. I'm going to come back and take you to this place I'm preparing for you." Ah, but she didn't know exactly when he would return. The day would come. She knew the day was coming that he would come back; he would take her to his home.
They would have a great wedding feast that would last about a week. They would consummate the marriage physically and they would then begin to live together as husband and wife.
But she had this waiting period during the betrothal. And what was she supposed to be doing during that waiting period? Why, getting ready for the wedding, getting ready for her bridegroom.
Now, what a picture this is of our relationship with Jesus Christ. The Scripture says that God sent His son down to earth to find a bride. And Jesus came to this earth and He selected a bride for Himself.
He came to you and to me and He said, "I want you to be my bride." He paid the bride price. An incredible price. It was His lifeblood that He gave at Calvary where He died in our place, paying the price so that He could purchase us to belong to Himself.
And then, having purchased us, having signed a covenant sealed with His blood, He went back home. He left. But He left with a promise--"I'm coming back."
And He tells us when He's coming back three times in the last chapter of the Bible. "Behold! I am coming," what's the word? "Soon!" You say, what is soon? I don't know but it's soon. And that's the hope we have as the Bride of Christ--that He has gone to prepare a place for us. That's what He's doing today in heaven, building a home for us, where He can take us to be His bride.
So, what are we supposed to be doing in the meantime? Why, getting ready for the wedding! That's the purpose of our time here on earth--this betrothal period, if you will.
We're supposed to be getting ready for the wedding. We're engaged to Christ! Betrothed to Him and He has left us His Holy Spirit as kind of an engagement ring, a promise, a guarantee that the marriage will be consummated at the wedding supper of the Lamb.
So, how do we get ready for the wedding? How do we get ready for the return of Christ? Well, it helps me to think about what a young engaged woman does to get ready for her wedding. What are the things that are true of her?
Well, if it's the typical relationship, first of all, she's not thinking about anything else. I mean, she is totally, utterly preoccupied with thinking about her bridegroom and the wedding date to come.
She daydreams about this man. I mean, she's useless at work. She's counting the hours. I mean, you ask an engaged girl how long 'til the wedding. The guy, you know, he's out there somewhere. He's not counting days and hours quite like she is but she's eagerly anticipating and longing for that day to come.
She's making plans and preparations during this whole engagement period. She wants everything to be just right. She spends time with this guy, she spends time planning the wedding, she spends money, well, her dad spends money. Ah, but money is no object to this engaged young woman.
She's talking about this man all the time, to anyone who will listen and even to people who don't want to listen. You have to listen. She doesn't try to hide her relationship, in a healthy relationship, she doesn't keep it a secret.
She wants everyone to know how wonderful he is and she doesn't care what other people think because all that really matters to her is what she thinks of him.
I'll tell you something else about that engaged gal; she doesn't date other guys. At least you hope not. You know why? She's not available. She's taken. And she wears that engagement ring as a sign, as evidence that she's taken.
So, as we think about that girl, don't we have a picture of how we, as the Bride of Christ, need to be getting ready for the wedding? Eagerly waiting and anticipating, longing for the day when He will come and consummate the marriage, take us to His home? Shouldn't our relationship with Christ and our coming wedding to Him be uppermost on our minds, our hearts, our thoughts?
2 Timothy 4:8 tells us that there's a crown of righteousness that awaits those who have longed for His appearing. Matthew 25, Jesus said to be watchful. Be alert. Be prepared. Be thinking about this because you don't know the hour when He will return.
As the Bride of Christ, should we not be making Him our top priority? Not consuming our lives and frittering away our time with unnecessary things but longing to be with Him, wanting to please Him, wanting to talk to Him, wanting to spend time with Him.
And doesn't it seem it would be natural that we would want to talk about Him to other people? I mean, that engaged gal does.
Ladies, we're engaged to be married to Jesus! And why should it be so difficult for us to talk about Him then to others? You see, witnessing to people who don't know Jesus is really just the overflow of a love relationship! Shall we not be planning, preparing, wanting everything to be just right for Him?
I've said, half jokingly but at least half seriously over the years, that one of my goals in life, one of my callings in life is to be a wedding coordinator. And here's what I mean by that.
I feel like my calling in life is to help the Bride get ready for the wedding. I want to be ready and I want to spend my life"¦and that's what we're trying to do through the ministry of Revive Our Hearts, helping women get ready for the real wedding, making sure that we're prepared, that we're ready to stand before Him and face Him with joy and without shame, making sure that we're not frittering away our lives and our time with things that really don't matter in light of eternity.
But that we're using every opportunity here on this earth, in the course of everyday life, as a wife, as a mom, as an employee, as a friend, as a neighbor, as a church member, seeing that all of life is really about getting ready to see our bridegroom.
That's our mission. That's the mission of Revive Our Hearts--getting ready for the wedding. And that ought to be your mission. That ought to be my mission.
Leslie Basham: That's Nancy Leigh DeMoss, giving us perspective on one our most important jobs on this earth. She'll be right back to pray. Maybe you're ready to join the mission that Nancy was just talking about but don't know where to start.
One idea is to get a copy of this teaching on video and use it in a home Bible study or class at church. It will help women come to appreciate how much they're loved by their Heavenly Bridegroom and it will help them anticipate His return.
Just ask for the video, Here Comes the Bridegroom, when you call us at 1-800-569-5959.  You can also get more information on-line at ReviveOurHearts.com.
While you're there, you can read a transcript of today's program and e-mail it to a friend who needs to hear about Christ's love. It's another way you can be a part of the mission.
And when you contact us, you can donate to the ministry of Revive Our Hearts and help us continue teaching women about Christ's love. You can give a gift by visiting ReviveOurHearts.com or send it to Revive Our Hearts.
When there's sin in our lives, it's like getting a stain on a wedding garment. We'll talk about it tomorrow. Now, here's Nancy.
Nancy Leigh DeMoss: Lord, our hearts do look forward to that day when we'll be reunited with our Bridegroom, our Heavenly Bridegroom. We just say, we want to be ready. Forgive us for being consumed and sidetracked and our attention diverted with so many things that will not be of eternal significance.
I pray that You would restore in us that first love, that sense of anticipation and expectation. Remind us in the course of everyday life that even in the upsets and the hurdles and the disappointments and the challenges that You're really just providing us an opportunity to be more ready to meet Jesus.
So, help us to see all of life from that point of view. I pray in Jesus' name, Amen.
Leslie Basham: Revive Our Hearts with Nancy Leigh DeMoss is a ministry partnership of Life Action Ministries. 
*Offers available only during the broadcast of the podcast season.
Support the Revive Our Hearts Podcast
Darkness. Fear. Uncertainty. Women around the world wake up hopeless every day. You can play a part in bringing them freedom, fullness, and fruitfulness instead. Your gift ensures that we can continue to spread gospel hope! Donate now.
Donate Now