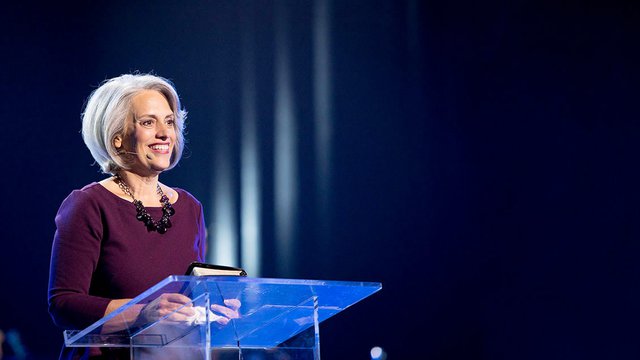 A Throne or a Cross
Leslie Basham: Making decisions can be hard. Here's Nancy Leigh DeMoss with a suggestion on how to weigh the choices that we face.
Nancy Leigh DeMoss: In every circumstance and situation of life the challenge is, What does God want me to do; then just saying simply, "Yes, Lord." Whatever that means, whatever it is, whatever it requires--trust and obey.
Leslie Basham: It's Wednesday, August 11; and you're listening to Revive Our Hearts with Nancy Leigh DeMoss. I think we've all done this: We read a convicting passage of Scripture in our quiet time; then we get up and go about our days as normal. We simply don't obey what we've read. Today, we'll be encouraged to say yes to the things God has told us to do. Here's Nancy in series called "Surrender: Facing Our Fears."
Nancy Leigh DeMoss: We've been talking over the last several days about the matter of full surrender to Jesus as Lord and letting Him have His way in our lives and facing our fears of what that will mean, what the price will be--but remembering that God is faithful and His promises counteract our greatest fears about surrender.
You know, I've stressed this whole point, and I keep coming back to it on Revive Our Hearts because I believe at the heart of the Christian life is the need to simply trust and obey. I read scores and scores and scores, probably hundreds of e-mails and letters from our listeners, and I'm always so thrilled to receive those.
But as I read those I realize that what God is saying to you and what He is saying to me in every issue of life is, "Find out what My will is. Find out what My Word says, and then just bow your will and say, 'Yes, Lord,' to whatever it is."
In every circumstance and situation of life the challenge is, What does God want me to do? Not, How can I solve my problem? Not, How can I get out of this--But, What is the will of God, and then just saying simply, "Yes, Lord. Whatever that means, whatever it is, whatever it requires." *Trust and obey for there is no other way to be happy in Jesus, but to trust and obey.
Many of you have heard the story of William Borden--Borden of Yale, he's often called. William Borden grew up in an affluent socially prominent home in Chicago. He was the heir of the Borden dairy estate, the Borden milk company. The opportunities and options before him were practically limitless.
When he graduated from high school at the age of 16 back in 1904, his parents gave him, as a graduation gift, a cruise around the world. Young William Borden, Bill Borden as he was known then, had accepted Christ as his Savior when he was young boy. Now as he was sailing from one continent to another, he saw the spiritual needs of the people all around the world.
His heart was broken, and he was drawn. He sensed that God was calling him to serve Jesus as a missionary so he said, "Yes, Lord. That's what I'm willing to do." Humanly speaking, he had a lot to lose in this decision. He'd never been less than comfortable. He had a wonderful future ahead of him in the business world, but he felt that God was calling him to serve as a missionary.
During his college years at Yale, he made a journal entry that defined what he saw as heart of the issue. He said in his journal, "Say no to self and yes to Jesus every time." He went on to say, "In every man's heart there is a throne and a cross. If Christ is on the throne, self is on the cross; and if self, even a little bit is on the throne, then Jesus is on the cross in that man's heart."
So he prayed and this was also recorded in his journal. He said, "Lord Jesus, I take my hands off as far as my life is concerned, and I put Thee on the throne of my heart. Change me, cleanse me, and use me as You will choose."
After Bill Borden graduated from Yale, the time finally came for him to leave for the mission field. He was headed ultimately, he thought, to China where he hoped to reach Muslims with the Gospel; but his travels took him first to Egypt, where he planned to study Arabic.
While he was in Egypt, young William Borden contracted spinal meningitis; and less than a month later, he died at the age of 25.
When his will was probated, it was discovered that he had left his entire fortune of roughly $1 million, which is a lot today; it was a lot more back in 1904--he had left that entire estate to be invested in the cause of Jesus Christ. And that didn't include the tens of thousands of dollars he had given away during his short lifetime while he was a student there at Yale.
Bill Borden had said no to self and yes to Jesus. He surrendered everything the world considers important. From earth's vantage point, Bill Borden was a big fat loser. But from heaven's perspective, what did he do? He gave up those things which were only temporary anyway in exchange for the eternal riches of the kingdom of God.
That's what God is calling us to do every day in every circumstance and situation of life--to relinquish control, to say yes to God, to bow the knee. We need to say yes to the Word of God in every area where it speaks to our lives, the wisdom of God, the warnings of God as we find them in His Word.
I received a letter from a woman who had heard me speak on waving the white flag of total surrender to God. She shared that when she got home from that conference, she borrowed one of her husband's white handkerchiefs.
Every day she began her quiet time, before she turned to read the open Bible in her lap, she literally waved that hanky before the Lord symbolizing, "Lord, I'm saying yes to whatever You say. Your Word says forgive; I forgive. Your Word says give to those who have need; I'll give. Whatever You say in Your Word, I'll say, 'Yes, Lord.'"
I want to encourage you not only to say yes to the Word of God but to the ways of God. That's God's providence and His sovereignty--trusting that what God is doing in your life and in this world is according to His plan.
I have a friend who recently has been going through a very, very painful series of circumstances in her family, and she said that the peace she's experiencing in the midst of this turmoil is the result of her determining to accept these circumstances as God's will for her life.
She said, "This is God's will for my life. It obviously is. I had no control over it so I accept it. This is where God wants me to be."
So, as you face tragedy, loss, disappointment, pain, things you can't understand, things you can't explain, with your children, with your marriage, in your workplace--say, "Yes, Lord." Surrender, bow the knee, instead of fighting and resenting and resisting, which is our nature to do--just say, "Yes, Lord. I accept Your ways and Your providence and Your sovereignty in my life."
And then say yes to the will of God, to the calling and the plan of God in your life. That's where I love, and I've quoted this often, but the heart of Mary of Nazareth, who when the angel came to her and said, "You're going to have a child, the Son of God,"--I love Mary's response.
She said, "I am the servant of the Lord. May it be to me as you have said" [Luke 1:38]. What was she saying? "Yes, Lord. I receive Your will for my life."
You say, "Well, God's not going to give me something like He gave Mary." No, God's giving you something like singleness, perhaps for some period of time or maybe even for a lifetime. If that's God's will for your life, say yes to it.
Perhaps you find yourself in a difficult marriage. You need to come to the place where you recognize, that for this moment, that is God's calling and will for your life--that you endure, that you find His grace to love and reverence that mate as difficult as it may be and to embrace the will of God even in that difficult situation.
God may have called you to motherhood. Embrace it. Say, "Yes, Lord, I receive it." God may have called you to not be able to have children. Embrace it as the will of God and say, "Yes, Lord."
That doesn't mean it doesn't hurt. It doesn't mean you don't weep. It doesn't mean you don't ever struggle with that, but ultimately we come back to saying, "Yes, Lord. If it pleases You, it pleases me."
God may be calling some to vocational ministry. I heard just recently from a woman who said as we talked about this issue of surrender--she said, "You know, God has been calling my husband into fulltime Christian service, and I've been holding him back."
She had fears; she had reservations. She said, "God has spoken to me today, and I need to release my husband for us to follow the will of God."
Is it worth it? Well, if we could ask William Borden, "Would you do it again?" what would he say? I think he would respond with three phrases that were discovered written in the back of his Bible after his death. Here were the three phrases: "No reserves. No retreats. And no regrets."
You say, "But he lost his life at the age of 25. What a loss!" Do you think he had a moment of regret as he stood in the presence of the Lord? Not a chance!
What are you living for? And is it worth dying for? When you stand before the Lord Jesus--shortly, as we all will--will you be able to look back on this earthly life and say, "That's how I lived it. No reserves. No holding back--and no regrets because I just trusted and obeyed"?
Leslie Basham: Nancy Leigh DeMoss will be right back to help us apply what we've heard today. Today's program requires all of us to make a decision. Will we say, "Yes, Lord"?
It's appropriate to say that right now, but it's also important that we say it every day, that we learn to say it more and more. That's why I hope you'll go deeper with today's topic and get a copy of Nancy's book Surrender: The Heart God Controls.
It'll help you search the Scripture to really understand the surrendered life. It'll give you stories of people who did surrender. It will help you learn to say yes to God's will. You can order a copy for a suggested donation of $10 by visiting ReviveOurHearts.com or give us a call at 1-800-569-5959.
If you'd said, "Yes, Lord" for the first time today, would you write and let us know? If you send us a prayer request a member of our team here will pray for you.
Tomorrow we'll hear from a man who did surrender everything to God, and people around the world have enjoyed the results. Now to end our time, here's Nancy.
Nancy Leigh DeMoss: I wonder if there's anything that God's been speaking to you about from His Word, but you've been struggling with it. You've been wanting to get out of that marriage rather than stay committed to that husband. You've been wanting to give up on somebody that God has called you to love.
You've been wanting to hold onto bitterness toward somebody that God has been calling you to forgive, somebody's who's hurt you deeply perhaps. You've been wanting to hold more tightly to your financial resources, and God's been impressing your heart that you need to be giving, that you've been hoarding and holding onto that out of fear.
I don't know what it is, what circumstance or situation God may have you in right now. Maybe right now it's just a series of little things. Would you just right now think about whatever that circumstance is, that situation, and would you just say, "Yes, Lord. I accept this as from You. I receive Your will for my life. I trust You. Even in the midst of pain or hurt or loss, I will keep on trusting You, and by Your grace, I will obey You."
Lord, I pray that You will give us the faith and the courage to live not only this day but tomorrow and the next, and each day for the rest of our lives saying, "Yes, Lord," bowing the knee, waving a white flag of surrender and acknowledging that You truly are Lord.
As we do, we know the day will come when we will be able to look back and say, "No regrets." We pray in Jesus' name. Amen.
*John H. Sammis, "Trust and Obey."
Revive Our Hearts with Nancy Leigh DeMoss is a ministry partnership of Life Action Ministries.
*Offers available only during the broadcast of the podcast season.
Support the Revive Our Hearts Podcast
Darkness. Fear. Uncertainty. Women around the world wake up hopeless every day. You can play a part in bringing them freedom, fullness, and fruitfulness instead. Your gift ensures that we can continue to spread gospel hope! Donate now.
Donate Now