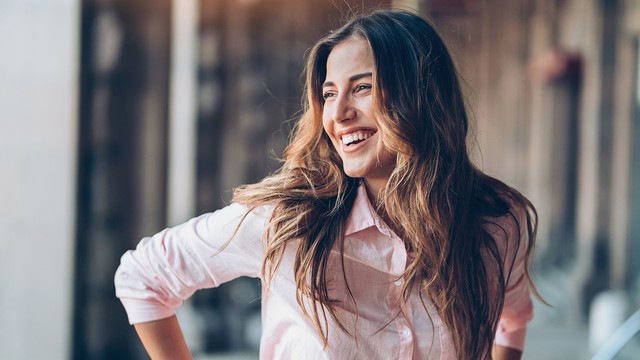 The Shirt Collar
Laura Booz: When our son was just a little guy, two or three years old, we were teaching him to obey us. So, of course we'd sing, Children obey your parents and the Lord for this is right. Ephesians 6:1
And we taught him that obedience is wrapped up in love, in God's love for us and our love for Him, and His love for us in return. And by God's grace he listened, and he soaked it all up. 
There were those times where we'd call for him. We could tell he wanted to obey us, but he also wanted to run in the other direction. We could see it on his face, and we knew what he was going through. We knew because we had been there ourselves. But he would grasp himself by the shirt collar and turn himself in our direction. We never modeled this, and …
Laura Booz: When our son was just a little guy, two or three years old, we were teaching him to obey us. So, of course we'd sing, Children obey your parents and the Lord for this is right. Ephesians 6:1
And we taught him that obedience is wrapped up in love, in God's love for us and our love for Him, and His love for us in return. And by God's grace he listened, and he soaked it all up. 
There were those times where we'd call for him. We could tell he wanted to obey us, but he also wanted to run in the other direction. We could see it on his face, and we knew what he was going through. We knew because we had been there ourselves. But he would grasp himself by the shirt collar and turn himself in our direction. We never modeled this, and we certainly didn't treat him this way, but he naturally understood the internal battle of obedience and sometimes what it took to do the right thing. 
Hi, you're listening to Expect Something Beautiful with Laura Booz. Your expectations really matter. I hope today's story illustrates two things that supernaturally our walk of faith is in the Lord's hands. He who began a good work in you will be faithful to complete it, and He has ordained that in the natural world you and I would receive His grace to trust and obey . . . even when it's hard. 
I think about that a lot, because for me, the Christian life often feels like that. It feels like my heavenly Father is calling my name. By His grace I want to obey, but other things are vying for my attention. 
Recently, I've been noticing this tension when the Lord invites me to befriend, or bless, or even share the gospel with someone who doesn't know Him yet. Right away the Holy Spirit brings to mind 2 Timothy 4:5, "Do the work of an evangelist." I want to, but other voices are loud and distracting. Sin and the spiritual forces of evil are discouraging and intimidating. 
In those moments in order to love God and my neighbor, I must grasp myself by the collar and turn toward the Lord and what He wants me to do. I must choose to pray for that person, to make the phone call, to reach out, to serve, to say, "May I tell you about Jesus?" Whenever by God's grace a person chooses to obey, their love for God and neighbor shine brightly. 
Now, Scripture provides many examples of people who are lured by temptation but chose to surrender to the one true God over everything else. We see this type of faith in the book of Judges, when a woman named Jael drives a tent peg into the head of God's enemy. 
The story begins when God graciously responds to the cries of His repentant people. He raises up a judge named Deborah and a military commander named Barak to rally 10,000 Israelite foot soldiers to fight against King Jabin's formidable force.
Now, this includes Commander Sisera's trained soldiers and 900 iron chariots. But in this battle, God moves heaven and earth. He sends a torrent to overwhelm the army and in a surprising turn of events, God defeats the Israelite's enemy.
Now, Sisera escapes on foot and flees to Jael's tent looking for refuge. Why did he flee to Jael? Well, it just so happened that Jael's husband had an alliance with King Jabin. Now, in the past Jael and her husband had lived amongst God's people in Judah before her husband moved them as far away Scripture says, ". . . the oak in Zaanannim . . . near Kedesh." (Judges 4:11). Her husband's name is Heber the Kenite. He was a Midianite, not an Israelite, and he had made an alliance with King Jabin—the king who had been cruelly oppressing God's people for twenty years.
I did a little digging and discovered that the Kenites were metalsmiths. It's possible that Heber contributed to building King Jabin's 900 iron chariots. Things get very interesting when Jael welcomes Sisera to her tent and coaxes Sisera to stay. She comforts him, gives him milk to drink, covers him with a rug so that he may recover in safety. 
From appearances, Sisera will get away with this. He will return home stronger than ever; this is all part of Jael's plan. Verse 21 tells us, "Jael the wife of Heber took a tent peg, and took a hammer in her hand. Then she went softly to him and drove the peg into his temple until it went down into the ground while he was lying fast asleep from weariness. So he died." 
Wow, Jael like many of us, binds herself between two opposing forces: On one hand is King Jabin and her husband and possibly her whole community, and on the other hand is, the God of the Israelites. Who will she serve?
I wonder if she felt conflicted? Or frightened? I wonder if her mind was running through every logical reason not to serve God in this moment? Boy, did she have some logical reasons to say no. I wonder if she had a grasp-yourself-by-the-shirt-collar moment? 
Because Judges 5 describes her decision like this, it says she sent her hand to the tent peg, and her right hand to the workman's mallet. That sounds so intentional. We don't know how she was feeling. We don't know what she was thinking. We do know that she was far removed from God's people. We do know her husband was a well-known ally of the enemy, and we do know that God often invites the humble into His grand story of redemption. 
He often uses people who are displaced, far from home, and alone amongst opposing forces. I'm thinking of Moses, Joseph, Daniel, Esther, and Jesus Himself. Deborah and Barak praised Jael. They sing, 
Most blessed of women be Jael,
the wife of Heber the Kenite,
of tent-dwelling women most blessed. (v. 24)
And here's my favorite part, all of this happens within the context of the Lord having mercy on His people, of the Lord raising up leaders in Israel, going up before them in the battle, and giving them the strength to rout the enemy. And then the Lord causing the earth to tremble, the storm to break, the river Kishon to swell and sweep the enemy away. It was the Lord selling Sisera into Jael's hand, subduing Jabin the king of Canaan, and blessing His people with forty years of rest.
The victory in Judges 4 and 5 is the Lord's. I'll join Deborah and Barak in singing bless the Lord.
Thankfully on this side of redemptive history, we do not express our faith in God by fighting human enemies. In fact, Jesus taught us to love our enemies and pray for those who persecute us. And Ephesians 6 says that instead of standing against human kings and iron chariots, we stand against the schemes of the devil and against the rulers of the spiritual forces of evil in the heavenly places. 
Our armor is spiritual like the helmet of salvation and the belt of truth. Our weapons are spiritual, the sword of the Spirit, which is the Word of God, and prayer. And they're particularly useful when we find ourselves in positions of neutrality, like Jael, surrounded by people who may not believe in Jesus. These are unique opportunities to glorify God, to worship Him, to love Him, to choose Him, and to share the good news about Jesus. 
You know, Spurgeon read this story about this Jael and he wrote, 
Somebody may come to the house today even as Sisera came to Jael's tent. May it be our role not to slay them but to save them. Let us receive them with great kindness and bring out the blessed truth of salvation through the Lord Jesus, our great substitute. Let us press home the command, believe and live. Who knows but some resolute sinner may be slain by the gospel today.
I just love that quotation, because I feel inadequate and frightened. I'm often tempted toward complacency or compromise. I may invite an unsaved neighbor to my house, I may comfort and refresh them, but never quite get around to sharing the God's lifesaving truth with them. Sometimes I'm afraid of offending them, but if I only pamper someone who is dead in their sin and never tell them the truth about the Holy God who made and loves them and has provided a propitiation for their sins, am I really benefiting them?
Maybe you can relate. Well, as Spurgeon says, "Let us press home the command, believe, and live." And let us always remember that just like Sisera, just like King Jabin, just like Heber the Kenite, we are all born as God's enemies. We are engaged in a battle we cannot win. 
But Jesus left His home in heaven and traveled as far as the tree of Calvary. As we ran our hell-bound race, Jesus came out to meet us, and welcomed us to turn aside to Him. Then instead of slaying us as we deserve, Jesus laid down His own life. 
Isaiah 53 says, He was pierced for our transgressions, He was crushed for our iniquities, upon Him was the chastisement that brought us peace and with His wounds, we are healed. Then Jesus rose from the grave, and Jesus assures our victory over sin and our eternal rest from the oppression of death.
Yes, you and I must choose to trust and obey and serve the Lord. Sometimes we must even grasp ourselves by the shirt collar to turn in His direction, but we do all of that in the context of this, that when given the choice between us and anything else, God chose us. And He chose us in love. 
Here at the end of this episode, I invite you to slow down and listen as I read Ephesians 1:3–14. About how God chose you and chose me in love.
Blessed be the God and Father of our Lord Jesus Christ, who has blessed us in Christ with every spiritual blessing in the heavenly places, even as he chose us in him before the foundation of the world, that we should be holy and blameless before him. In love he predestined usfor adoption to himself as sons through Jesus Christ, according to the purpose of his will, to the praise of his glorious grace, with which he has blessed us in the Beloved. 

In him we have redemption through his blood, the forgiveness of our trespasses, according to the riches of his grace, which he lavished upon us, in all wisdom and insight making known to us the mystery of his will, according to his purpose, which he set forth in Christ as a plan for the fullness of time, to unite all things in him, things in heaven and things on earth.

In him we have obtained an inheritance, having been predestined according to the purpose of him who works all things according to the counsel of his will, so that we who were the first to hope in Christ might be to the praise of his glory. In him you also, when you heard the word of truth, the gospel of your salvation, and believed in him, were sealed with the promised Holy Spirit, who is the guaranteeof our inheritance until we acquire possession of it, to the praise of his glory.
In light of God's great love for us, we all need help learning how to grab ourselves by the collar and pull ourselves towards obedience. Nancy DeMoss Wolgemuth writes about surrendering to God's will even when it seems scary, in a booklet called Facing Our Fears. This month when you support the ministry of Revive Our Hearts with a gift of any amount, you can receive this booklet. 
Revive Our Hearts produces Expect Something Beautiful, so when you donate, you are helping to keep this podcast coming to you. Visit ReviveOurHearts.com, make a donation of any amount, and you'll see a place there on the site to say I'd like the booklet Facing Our Fears. 
And you can also get encouragement to pull yourself in the direction of obedience by visiting my personal blog, LauraBooz.com. And if you ever wonder how all of this might relate to motherhood, you can check out my book. It is called Expect Something Beautiful Finding God's Good Gifts in Motherhood. 
Expect Something Beautiful is a production of Revive Our Hearts, calling women to freedom, fullness, and fruitfulness in Christ, 
*Offers available only during the broadcast of the podcast season.
For a donation of any amount