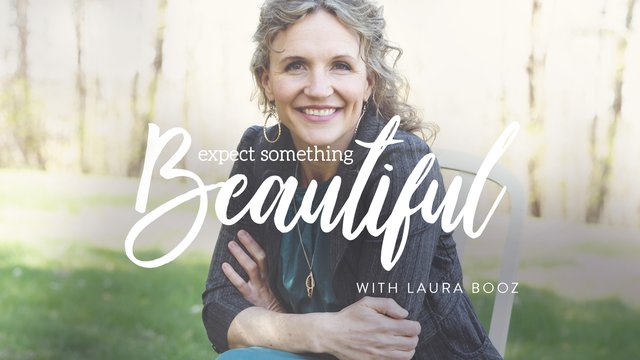 — Audio Player —
A Gum Wrapper and a Dark Path
Have you ever been in pitch darkness and struggled to find your way around? I have. I was on a camping trip with two friends, and we found ourselves in the middle of the woods in the middle of the night . . . without a flashlight.
Well, it all happened because we went on this camping trip. We showed up late on a Friday night after work, and we started setting up our tent. Then we dug around in our bags to find our flashlights so that we could walk to the bathrooms.
Of course, we always pitched our tent by the bathrooms. We dug around, and we all discovered that we forgot our flashlights. 
No, we were not your typical girl scouts. So even though it was dark, we decided that together we could find our way. We linked arms and started off into the dark night. 
Well, at first we were walking along on this nice clear path. Then all of the sudden, we were walking through some low-lying brush. And then these trees were brushing across our faces and we're pushing limbs out of the way. I think it struck us all at the same time . . . we were lost.
Hi there, I'm Laura Booz, and you're listening to the podcast, Expect Something Beautiful. Your expectations really matter, and when you use God's Word to light your path, you can expect something beautiful.
So, there we were in the middle of the woods, in the middle of the night, and we didn't know what to do. That's when I saw something shiny on the path up ahead. I picked it up and discovered that it was a silver gum wrapper.
I thought that maybe I could tilt and bend the gum wrapper in such a way that it would reflect the moonlight down onto the gum wrapper and then down on to the path in front of us so that we wouldn't be stumbling over roots and rocks . . . and we could maybe see our way out of this place. 
But, of course, all it did was get us more lost. I have no idea how we got back to our tents, but somehow or another we stumbled back. But we decided that the bathrooms would have to wait until the morning.
The next morning when we woke up, we unzipped the tent and we poked our heads out, and we saw the most beautiful sunlight sparkling through the trees. If you've ever been camping, you know how beautiful the morning is at a campsite, because all your fears from the night before have melted away, and you can see that you made it. 
We all walked out of our tent, and you will not believe what we saw. It was this nice wide path, probably six feet wide, leading straight in front of us. And twenty-five feet ahead was a large white cement building, with a big black word painted on the side that said, bathrooms. They were there all along, and the light of day made all the difference. 
I'm telling you this story because it illustrates that we live in a dark world, and we're so tempted to grasp at other things for wisdom and guidance. 
You know, things like social media and conferences and books, compelling personalities, the news, political parties, social movements. But they don't work to shed light on our path. 
Grasping at them is kind of like grasping at the silver gum wrapper and bending it and twisting it so it would shed some light on my path. 
Today I thought we could pause and remember that Jesus is the Light of the World. In fact, this story brings to my mind in John 8 where Jesus said, 
"I am the light of the world. Whoever follows me will not walk in darkness, but will have the light of life" (v. 12).
This is one of His seven "I AM" statements, where Jesus is claiming to be the Messiah. The very Messiah promised in Isaiah 42, where God says to Jesus, 
"I will give you as a covenant for the people, a light for the nations, to open the eyes that are blind, to bring out the prisoners from the dungeon, from the prison those who sit in darkness. I am the LORD; that is my name" (vv. 6–8).
I did a little digging and I found out that when Jesus shares this "I AM" statement, He's standing in the temple treasury. Now, this was the place where the widow gave her last coins, and it was also called the Court of the Women, because women were allowed to go this far into the temple but no further. 
There would have had been women and men mingling. It would have been the most packed part of the temple, and Jesus is standing in the midst of it. I also learned, this is so amazing, that He is sharing this during the Feast of the Tabernacles. 
This was a celebration of the forty years that the Israelites wandered in the Wilderness. Every night of the feast they lit candelabras all around the Court of the Women. It was called the "Illumination of the Temple." 
These candles burned all night long reminding the Israelites that God has led them through the Wilderness as a bright cloud during the day and a pillar of fire at night. He led them all the way to the Promise Land. 
Ancient writers said that during the Feast of the Tabernacle, the temple looked like pulsating diamond. It's in the middle of all of this that Jesus is standing there saying, "I am the light of the world. Whoever follows me will not walk in darkness, but will have the light of life." It's in the middle of this that Jesus is saying I will lead you all the way to your eternal home. 
Look, all of us are having to walk through really dark times right now. Maybe you feel like you're lost in the woods grasping at silver gum wrappers to shed some light on your path. Just remember that Jesus is your Light and you can follow Him out of the darkness, because: 
He's the Light of Wisdom that dispels the darkness of ignorance. 
He's the Light of Compassion that dispels the darkness of hatred.
Jesus is the Light of Freedom that dispels the darkness of captivity. 
He's the Light of Healing that dispels the darkness of sin and death. 
The wisest thing that you and I can today is to follow Jesus. Only Jesus tells it like it is and guides our path and makes everything make sense. He speaks to us in His Word. So today, open God's Word for the light you need to walk the path before you. 
I want to help you dig into God's Word, so I'll tell you about a website that has given me tools to know the Bible better. The website is ReviveOurHearts.com. I think you'll find resources there to help you grow, and I hope you'll check it out. 
Well, this is the first episode of the podcast Expect Something Beautiful. We want to help you recognize God-given moments in everyday life. We take a look at how God's Word illuminates your story. Expect Something Beautiful is part of the new Revive Our Hearts podcast family. You can hear new episodes every other week starting in January. So, subscribe now in iTunes or wherever you get your podcasts.
I'm Laura Booz. To stay in touch with me, visit LauraBooz.com. And in case you're wondering, and I bet you are, "Booz" is spelled B-o-o-z. 
I hope you'll point the Light of God's Word toward every situation in your life, and when you do, Expect Something Beautiful.
Expect Something Beautiful is a production of Revive Our Hearts—calling women to freedom, fullness, and fruitfulness in Christ.
*Offers available only during the broadcast of the podcast season.
Support the Expect Something Beautiful Podcast
Darkness. Fear. Uncertainty. Women around the world wake up hopeless every day. You can play a part in bringing them freedom, fullness, and fruitfulness instead. Your gift ensures that we can continue to spread gospel hope! Donate now.
Donate Now