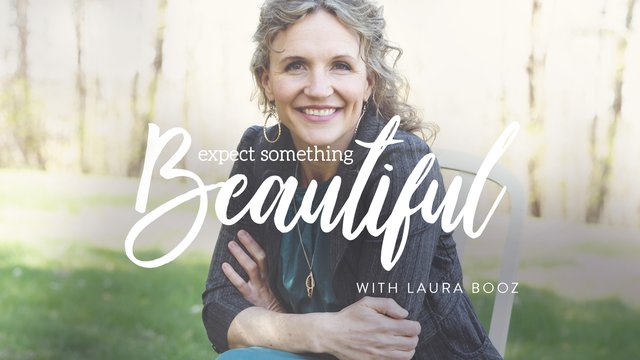 — Audio Player —
An Extra Ninety Cents!
Laura Booz: I once heard a pastor say, "Everyone wants to be a servant, until they're treated like one." Isn't that the truth? We want to be servants, until people talk to us like we're servants. We want to be servants until our schedules look like a servant's schedule. Or until our bank accounts look like a servant's bank account. Until our energy is depleted and our emotions are rung dry, then servanthood doesn't look so appealing, does it?
I recently found myself facing the ugly underbelly, if you will, of servanthood. 
Hi this is Laura Booz. You're listening to Expect Something Beautiful, where expectations really matter, especially when we are serving the Lord. And today, you can be reassured that God will refill you when you feel like you've given all you got.
Late one night, tragedy hit a dear friend of mine. She called me in the morning and asked if the kids and I would come over and just be with her to pass the time. So after breakfast I packed the kiddos up as quickly as I could, and we arrived at her apartment just to sit with her. 
It was wonderful to be able to do that. The children were considerate and compassionate. And my friend was the least needy person on the face of the planet. All I had to do was just rub her back when she cried and listen.
We just chatted and then in an hour or two we took her to the hair salon to get a haircut and helped her run an errand. Then we dropped her back off at her apartment. I headed home with the kids for the baby's naptime.
Pulling into the driveway at home had the same effect as pulling on the loose thread on a sweater. Little by little we all just started to unravel. And of course, it started with the toddler getting out of the car seat. As we unbuckled and got out of the van and entered into the house, we unraveled so quickly. 
I was trying to take shoes and coats off, and there was so much crying and fussing and fogginess. We got to the lunch table. I'm not even sure what we ended up eating, and after that we crashed. 
The baby took a nap. I laid down on the couch. Even one of my older kids took a very uncharacteristic nap. The afternoon went by in a haze. Eventually, when evening rolled around, I could not even get dinner on the table. I just felt so fried. I was wiped out; the kids were wiped out, and to tell you the truth, we didn't really regain our footing for a couple of days.
I felt crushed. I turned to the Lord and said "Lord, I know You intend for us to imitate Jesus, to lay our lives down for one another, to be servants, to be there for one another when we're mourning, but I'm wondering why don't I have more strength? I want to serve You but even the simplest things wear me out. I wish I had more emotional rebound, more energy, more grit. I wish I could keep going after serving someone." 
I wanted to be a servant, but I didn't like how it felt. I wondered if I went overboard, if I over taxed my kids. In our comfortable modern painted verse world, it's easy for me to believe when life pinches or stings or hurts, I'm doing it wrong.
As I was praying, I remembered a story from Luke 21. It's actually also found in Mark 12. Jesus and His disciples are at the temple, and He gathered them around and told them first to beware of the Scribes. He says they like to walk around in long robes and they love greetings in the market place and the best seats in the synagogue and the places of honor at feasts. They devour widow's houses and for a pretense make long prayers. 
Jesus said that they will receive the greater condemnation. When I read, that I realized my faith is not meant to be a cakewalk. It's not meant to be for my own pleasure or pride, comfort, fame, appetite or glory. If it is, it's not just that I'm missing out on the better way. It's that I'm living a lifestyle that's condemned by Christ, and that's serious business. 
Well, then Jesus goes and He sits in the temple treasury across from the offering box. I did a little digging and discovered that this was the public fund, where people would give money that would help the poor.
Jesus looked on and He saw rich people giving large sums of money, which they should. He saw something that really caught His attention. He called His disciples over and He pointed it out. Jesus looked up, and He saw a widow putting two small copper coins in the temple offering. 
You know what He said about that? He said, "Truly, I tell you, this poor widow has put in more than all of them." More than the rich people putting the large sums into the offering box. He said, "Truly, I tell you, this poor widow has put in more than all of them." More than the rich people, "For they all contributed out of their abundance, but she out of her poverty put in all she had to live on" (Luke 21:3–4).
Now, there are so many gems in this passage, but today I just want to share with you a couple of insights that helped me when I felt like I had given all I had to give. First, when I read this story, I realized that Jesus treasures her gift. He looked up and He saw it. He pointed it out to His disciples, and He translated its worth into something valuable. 
Her offering was really little. I mean it was so little. The footnote in my Bible says that the two coins totaled 1/64th of a day's pay. So, if we're working with minimum wage that would be about 90 cents where I live. What could the poor possibly do with an extra 90 cents? What could God possibly do with an extra 90 cents? 
And yet, her offering cost her a great deal. Jesus said it was all she had to live on. Imagine her heart for the poor. Imagine her heart for the Lord God, who has a heart for the poor. And it's so encouraging to see that her generosity meant a great deal to Jesus. God, the defender of the poor says, "What she just put in that box is worth more to Me." I think what He's saying is that in His economy, He can do more for the poor with a wholehearted gift like this, than with a wealthier person's extras. 
He's saying that when it comes to giving, He is looking at our hearts. This wrecks me in a good way, because I don't live there. I don't live in the place of emptying all my pockets, all of my time. It's just the every once in a while, when I give all that, I've got, that I can look back at this widow and be encouraged. I feel like what I can offer right now is so small. But Jesus sees my heart. So when I'm laying it all down for Him, He can do great things with it, and that gives me a lot of hope.
We see things so differently than Jesus does, don't we? It's interesting, because when I'm giving a portion of my mine, that will never pinch our budget or really feel any great comfortability. Like let's say I'm giving someone an extra, one that I'll never wear again. I feel like I'm so generous, like I'm really giving a lot. I'm so proud of myself in those moments. But when I'm actually leaving it all on the court, giving every dollar, giving my best or only coat, I feel like it's a small offering, and it's not enough. 
It's very odd to see my deceived heart in action. I'm glad I have this story of the widow in the temple to come back to because it realigns my values system with God's. 
The point of this story is that the numbers don't indicate the value of the gift. The point of this story is that Jesus loves when we give wholeheartedly, cheerfully, generously. He loves when people live according to the value of His kingdom and not the kingdom of this world. He treasures tender-hearted, sold-out committed women, far more than we do. 
It seems to me, that the reason the poor widow could give such a treasure to the poor box, is because she knew that God Himself had pressed those two coins into her hand, so she could have the pleasure of returning them to Him. 
It's kind of like my children who hold out their palms during the offering at church, waiting for me to put a quarter in their hand so they can immediately plunk it in the offering plate. We hold our hands out to our heavenly Father, and immediately give His blessings, whether they be money or time or energy or skill or personality. It's an opportunity we give them back to Him, and He loves it. 
The second thing that I gleaned from this story is that the widow went home empty-handed. She might have felt joyful as she brought the coins to the temple, but if she was anything like me, she may have felt a loss when she went home with nothing. She may have opened her front door feeling depleted, because she had to start all over again, working. Maybe receiving assistance from the church, maybe begging. I wonder how she felt about that?
I wonder if the widow returned home, feeling a bit like my kids and I felt when we returned home? I don't know. But what I do know is that when we give everything, we're going to feel like we gave everything. We're going to feel the emptiness and the lack and the exhaustion. We're going to feel like we have nothing left, and we're going have to start over again. Sleeping, eating, working, praying for strength. When we live like a servant, we're going to feel like a servant, and that's okay. 
And then the third thing that I gleaned from this story is that the widow trusted God to sustain her. Remember that just moments before this scene, Jesus criticized the scribes, who misused the widows. They took everything they had for selfish purposes and did not provide for them in return. Who would want to contribute to an institution like that? Who would put their money in the poor box of the temple? Who would trust them?
Now, we should be wise about how and to who we give our money. We should pray for and look into the ministries we support. We should pray for and help our home churches to make biblically upright decisions with money. But I think this story is about so much more because God is different. He loves and provides for widows. When this widow gives all of her money to the temple, especially because it was corrupt, she's demonstrating that her hope is in the Lord. 
He can take her money, for He will take care of her. 
What trust. She must have believed it wasn't the last time that God would provide for her, so she could give generously. She could go home empty-handed. She could feel depleted, because she knew as she waited on the Lord, He would renew her and restore her. 
When you find yourself depleted from serving the Lord, I want you to remember something really important from the book of Isaiah. Isaiah 40 verses 28–31 says, 
"Have you not known? Have you not heard? The Lord is the everlasting God, the Creator of the ends of the earth. He does not faint or grow weary; his understanding is unsearchable. He gives power to the faint, and to him who has no might he increases strength. Even youths shall faint and be weary, and young men shall fall exhausted; but they who wait for the Lord shall renew their strength; they shall mount up with wings like eagles; they shall run and not be weary; they shall walk and not faint."
This passage of Isaiah dovetailed so beautifully to the time when Jesus said, "Come to me, all who labor and are heavy laden, and I will give you rest" (Matt. 11:28). When we give until it hurts and we are empty and depleted and unraveled, we can think about this woman and her generous God-dependent heart. And we can think about Jesus sitting back, nodding, saying this is how it's done, because well, He would know, right? Because we were on the other side of the spiritual poor box, needing someone's extravagant generosity. And all along Jesus was carrying the treasure of our salvation to the cross where He gave everything He had. 
He gave His life to pay the debt for our sin, and He paid it in full. He reached through the boundaries of poverty and offered a way out. He made us children of God so that we would inherit everything. And out of our extravagant blessing in Christ, we have the opportunity, you see, to give knowing that Jesus sees. 
Our salvation is wrapped up in His generosity and His never-ending supply of help. So, we love because He first loved us. We give, because He first gave to us. Believing in God's loving goodness opens our hands. We give out of love for the Lord Jesus, who is worthy of our money and time, attention, and energy. 
But keep this in mind, when we give all we've got, we will feel empty. And the unchanging law of the kingdom of heaven is that God will fill us back up again. 
-------------
In my current season of life, I'm called to serve primarily by being a mom. I write about my journey at LauraBooz.com. If you visit my personal blog, I hope you'll be encouraged to serve in the way God calls you.
If you'd like to grow in becoming more of a servant, I hope you'll check out a podcast series from Nancy DeMoss Wolgemuth.
Nancy DeMoss Wolgemuth: We're never more like Satan than when we're serving out of a desire to be recognized, and we're never more like Jesus than when we're serving with no need for recognition, no reputation seeking, just wanting to lay down our lives for His sake and others.
Laura: That's from the Revive Our Hearts daily podcast. Nancy taught a series called "Serving Like the Savior." You can hear that and so many more helpful teaching series by visiting ReviveOurHearts.com.
When I was eight years old, I tried out for a swim team. I was ready to jump in and impress the coach. But instead, I began to sink. I'll tell you more about it next time on Expect Something Beautiful. 
Expect Something Beautiful is a production of Revive Our Hearts, calling women to freedom, fullness and fruitfulness in Christ.
*Offers available only during the broadcast of the podcast season.
Support the Expect Something Beautiful Podcast
Darkness. Fear. Uncertainty. Women around the world wake up hopeless every day. You can play a part in bringing them freedom, fullness, and fruitfulness instead. Your gift ensures that we can continue to spread gospel hope! Donate now.
Donate Now