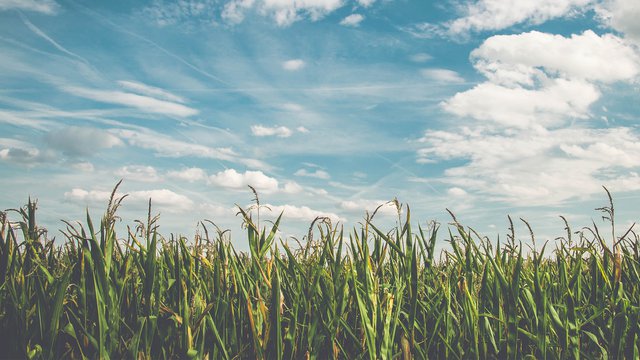 — Audio Player —
An Enemy in the Corn Patch
Laura Booz: The first summer we planted sweet corn, we didn't know what we were in for. We plowed out a square plot of rich soil and planted the kernels in rows and columns. We were faithful to water that patch and let the sun shine on it. And wouldn't you know that by the fourth of July, that corn was knee high. The leaves were green and lush, and they continued to grow day after day. In time we could see the little ears of corn starting to develop. They started small, and then they'd get bigger and bigger.
Someone had told us to walk through the patch and gently shake the stalks to aid in the cross pollination, and you better believe we did it. We started to daydream about our late summer picnic where we'd be sitting on our porch eating a cheeseburger fresh off the grill; enjoying a slab of watermelon and sinking our teeth into buttery salty corn on the cob—that we grew, right here in our own garden. 
But while we were daydreaming about reaping and eating the fruit of our labor, we started to realize we weren't the only ones eyeing that corn. We had ourselves some competition. 
Hi there, you're listening to Expect Something Beautiful. I'm Laura Booz. Today's story illustrates that you can expect God to give you everything you need to win the battle against the devil. 
It was the craziest thing, because one evening we were walking through the patch admiring our growing corn cobs, shaking the tassels, and the next morning I discovered three empty corn cobs lying side by side on the railing of the garden fence. At first, I thought maybe it was a hungry traveler stopping by our farm in the middle of the night so hungry that he was willing to eat that unripe corn. But then the next day, more corn cobs had been picked, husked, and nibbled completely clean. So I wondered, Was it a deer? I mean, do deer have that type of dexterity? Or maybe it was a groundhog? Or a squirrel? Maybe a squirrel climbed a tree and lucked into our garden.
Well, we added a solar powered electric fence, but to no avail. The empty corn cobs continued to pile up. And in no time, our beautiful sweet corn was reduced to an empty pile of corn cobs, looking as if it was closing time at The Crab House in Maryland. 
Well, one morning I went for a walk at 5 a.m. It was just me and the Lord and the sunrise. Beautiful morning. But it was funny, because I thought I could hear some music off in the distance. As I approached our neighbors farm, the music grew louder. Then I realized, wait a minute, there's country music blaring from my neighbor's sweet corn patch. I remember thinking, That's odd, why would Betty have a radio playing in the middle of her corn patch?
I met up with Betty later that day and asked her why Garth Brooks was singing the "Star-Spangled Banner" to her sweet corn at 5 a.m.? And she said, "Do you really want to know?" Of course I wanted to know. I leaned in and I was all ears. She said, "Oh sweetie, you and I have to fight for our sweet corn. We have a fearsome enemy, and it is the racoon."
Racoons can demolish a patch of sweet corn in no time at all, and well, Betty won't stand for it, because you don't mess with Betty's sweet corn. According to her, this means war. So first, she sets up her radio in the middle of that corn patch and blasts country music all night long. Then she mixes up a spicy concoction of garlic and vinegar and jalapeño peppers and sprays it all around the perimeter of her patch. And finally, when her husband comes in the door from mowing the lawn on a hot summer day, he hands over his sweaty undershirt, and she stakes it in the garden with an "umph" knowing that if nothing else scared off those rascals away, the stinky shirt would. 
With the help of these unexpected instruments, bet who wins that war against the racoons and reaps a harvest of sweet corn, year after year. I could just picture that raccoon coming every night just sitting there, sinking his teeth into our hard-earned sweet corn and neatly piling the evidence without a pang of guilt.
That summer I lost my patch of sweet corn, because I didn't know who the enemy was, and I certainly had no clue how to fight him off. 
These same principles of knowing who our enemy is and how to fight him off are infinitely more important when it comes to protecting the harvest in our spiritual lives. In his letters to the Ephesians, Paul writes that if we are going to live out our Christian faith in our communities, churches, marriages, homes, and workplace, we need to be aware that we are fighting a spiritual battle.
Yes, we battle our own sin; and yes, we live in a dark and broken world, but we cannot lose sight of the fact that we also have an enemy. Paul writes that our enemy is not our family, friends, politicians, new anchors, communities, school board, other countries. No no no, "We do not wrestle against flesh and blood, but against the rulers, authorities, and cosmic powers of the dark world" (Eph. 6:12).
Although we should never make more of the devil than Scripture makes of him, we should also never downplay what Scripture says about him. Peter writes, "Your enemy the devil prowls around like a roaring lion, looking for someone to devour" (1 Peter 5:8).
And elsewhere in Scripture we read that the devil is a liar, a murder, a thief, a sinner. God wants us to be crystal clear about this: when we become Christians, we become enemies with Satan.
So, through Scripture he says be wise about the devil's schemes. Know that he is eyeing the good fruit that God's growing in our lives. The devil wants nothing more than to steal that fruit prematurely, pluck it right off, decimate it, devour it, and leave behind the skeleton of a memory. He wants nothing more than to scare, intimidate, and push us back so that God doesn't receive the glory from our lives.
But God is greater. He has given us armor and weapons to fight the good fight of faith and to overcome the devil. And right now, you and I are going to take a few minutes to meditate on those unlikely instruments of war.
These things might seem unusual and counter-cultural. They might not feel intuitive, but we must trust that the most powerful weapons will be the ones God says work. You can read about them for yourself in Ephesians 6. But for today, lean in and imagine what this looks like for you today to wear the armor of God, to use the weapons He's given you to fight the devil, and to live a victorious life in Christ. 
So, here's what we know of the armor: first we put on the belt of truth. We surround and encircle ourselves with the truth of God's Word and with Jesus who says He is the truth. We create a lifestyle so that when we wake up in the morning and all throughout the day, we are hearing, singing, reading, speaking, and thinking about the truth. The truth about God's character and His promises.
Then to that we add the breastplate of righteousness, Jesus' righteousness, which is fully sufficient for us, all debts are paid. We wear His righteousness confidently and unapologetically, so that when Satan tempts us to despair and reminds us of the guilt within, we look to Christ. We wear His righteousness, and it is enough.
And we put on the shoes of the gospel of peace. We let the good news of what Jesus has done for us determine where we go and why we go there. We pray that the Lord would not lead us into temptation but He would deliver us from evil. We ask Him that through that peace we would not follow the deceiver, but we would follow the voice of our Good Shepherd, Jesus. 
And then we take up the shield of faith, with which we can extinguish all the flaming darts of the evil one. Paul says to use this shield of faith in all circumstances so that no matter what the devil brings against us, scare tactics, intimidation, temptation of jealousy, lust, hatred, strife, whatever it may be, our faith in Christ will extinguish those flaming arrows so that they lose their power to burn us up and destroy us. 
And finally, we put on the helmet of salvation, which protects our thought lives. Listen, what goes on in our minds is so important. It's there that the battle is fought. When we have invasive thoughts, memories, confusion, the battle will be won as we continually remind ourselves of who we are in Christ. As we continually rest in His good work at the cross, and as we continually remind ourselves that nothing can separate us from the love of God, that's the armor that God has given us to protect us from the schemes of the devil.
And He has also given us two amazing weapons, the first one is the sword of the Spirit, and that's the Word of God. God gave us the Scriptures for our well-being, for our battle, for our hope. I don't know about you, but there are too many days when I think, Eh I don't really need to read it today. But night falls and the enemy comes unnoticed, and when I'm not looking, he devours the crop. I really do need it, day upon day, night upon night, and so do you. These words of truth that God has given us can fight off any lies the enemy brings our way.
The second weapon that God has given us is that we can pray at all times in the Spirit. By turning to God in prayer, we invite Him into our lives. You and I were not meant to live in this world as if we don't have access to the all-knowing, all-powerful, all-loving God. We need Him. He's here for us. Let's pray at all times in the Spirit.
I think it's interesting that Paul emphasizes we need all of the armor of God. He says several times, "Put on the full armor of God" and the images are that from the top of our head to the bottom of our feet, we would be protected and prepared. And this armor is not just intended for individuals, but we are meant to be wearing it together, engaged in the battle alongside one another. I need you, and you need me. 
Now, the battle can get long and tiresome, and sometimes the shield of faith just seems too heavy, and we just can't seem to wield the sword of the Spirit. That's when we need to fight for one another, and we need to keep our eyes on Jesus. We need to keep our eyes on eternity. 
I love this statement by Charles Spurgeon, who also loved Jesus and fought against the devil. He said, "Eternal life is worth a life's battle." And he followed it up with this prayer, "Lord, give us faith so that we may overcome, and then grant us grace to remain unharmed, though sin and Satan dog our heels."
So whether we feel charged up and ready to fight, or we kind of feel too weary to go one more day, let's lift our eyes to Jesus, who has already won this war on our behalf, who will finish the good work He began in us, and whose love for us is unassailable. 
The harvest is right around the corner. Can't you just imagine it? Someday soon the battle will be over and we will be joyfully bringing in the harvest, and we will feast in the House of Zion, together.
Expect Something Beautiful is a production of Revive Our Hearts, Calling Women to Freedom, Fullness, and Fruitfulness in Christ.
*Offers available only during the broadcast of the podcast season.
Support the Expect Something Beautiful Podcast
Darkness. Fear. Uncertainty. Women around the world wake up hopeless every day. You can play a part in bringing them freedom, fullness, and fruitfulness instead. Your gift ensures that we can continue to spread gospel hope! Donate now.
Donate Now