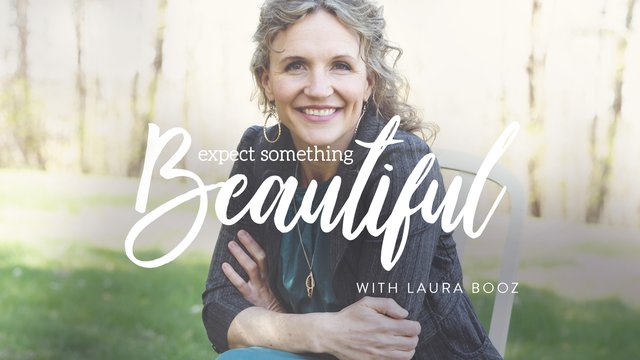 — Audio Player —
A Christmas Choir Disaster?
It was Christmas-tree-getting day at our house. We came home from the Christmas tree farm. We came into the house and took off our hats and gloves and boots and warmed up by the fire while my husband propped the tree up and cut the twine—and the tree poofed back to its original shape.
The kids were ecstatic. They were begging to hang up the Christmas tree ornaments, and they were taking turns twirling in the Christmas tree skirt. But my energy level did not match theirs. I had just trekked over the rolling hills of Frasier Firs with an energetic ten-year-old, seven-year-old, four-year-old, and one-year-old, while managing morning sickness. Yeah, I forgot to mention, I had just found out I was pregnant.
So I was exhausted. I was worn out, and I just wanted to sit down. As I sat there on the couch watching the excitement unfold around me, I actually got more exhausted as I reviewed the mental list of what had to happen during the month of December.
Tree getting day was just the beginning of our Christmas traditions. In the days to come we would celebrate Advent, reading Holiday picture books, bake our favorite Christmas cookies, que up the Christmas music, buy presents, wrap presents, make cards, and probably do a craft or two. 
And that's when I remembered, I had also agreed to help direct a children's choir for our Christmas Eve service at church. I was in over my head. 
Hi there, this is Laura Booz. You are listening to Expect Something Beautiful. What are you expecting this Christmas? I think this Christmas you can expect God's kindness to melt your heart. 
Well, my husband and I often participated in the Christmas Eve service at our church, and this year he and I were organizing a small children's choir. We were going to sing the Getty's children's carol, "Jesus, Joy of the Highest Heaven," Jesus joy of the highest heaven, born as a little baby under a wonderous star. My first task was to teach the song to our children so they could sing confidently when we gathered the rest of the choir for the rehearsal.
So in-between decorating the house and making the Christmas crafts, I would gather the kids around the piano to practice the song with them. 
Our ten-year-old and our seven-year-old learned the song immediately, and their sweet voices sounded like angels. Our four-year-old, on the other hand, struggled to remember the words, no matter how much he tried. I mean, we would get four measures into the song, and he would collapse to the floor in tears—like big boo-hoo tears because he had forgotten the words. 
And our one-year-old screamed and fussed through the whole song. She wanted to sit on my lap and play the piano and empty the closet and eat a snack and drink some milk and take a nap, all at the same time. And my memory could be playing tricks on me, but I am pretty sure that this happened every time we gathered around the piano to sing. 
I know I lost my patience on more than one occasion. Many times I was sitting there playing, but my jaw was clenched, and I'd bribe those little ones to stop crying for one blessed minute. I'm telling you, it was never the "I'll Be Home for Christmas" scene I had imagined. 
But there was this one holy day, when I finally understood the meaning of the song we were singing. As usual, I was playing the piano, but this time I was truly listening as the older girls sang. They sang about our precious Lord Jesus who came as a helpless baby, crying and needing His mother to hold Him. He came crawling on His belly and had to learn to walk. He came sharing our smiles and our tears, hungering for relationship, and facing all manner of danger. 
They sang about how Jesus came to take away our darkness, and transform us from strangers into children of God, to show how to love what is right and good, to turn me a stranger into a child of God.
As usual our four-year-old was wailing and our one-year-old was screaming and the girls were quite discouraged—they were furtively watching for my reaction in all of this. And to be honest, I think we were all just kind of fed up with one another. But the Holy Spirit was in that room, making me mindful of God's kindness, even when we are weak and stubborn and vile.
I thought about the way that Jesus came to earth and shared our human struggle. He wore our flesh from infancy all the way to adulthood, and He laid Himself down for our sakes. Thought about the kindness of God not to count the sum of our wrong doing against us, but to remove our sin, as far as the east is from the west. 
I just thought about His daily mercies, from the rising of the sun, the food we eat, the piano I played, the voices we used so effortlessly. And right then and there, God's kindness melted my heart. Jesus was in our midst, giving life to each of us, supporting us in our flailing attempt to create something beautiful, and sustaining us when we botched it all up with irritation and discouragement. 
Yes, the little ones were crying, but caught up in the truth of the song, I smiled. Then I raised my voice above the din and I said, "Keep singing girls. Jesus came for moments just like this one." Fortified by my encouragement, those girls sang with gusto. I played the melody with my right hand and then wrapped my left arm around the tear-stained four-year-old and the hungry one-year-old, and they continued to cry until the end of the song.
I played the final chord, and then I hugged all four of them, thanking God for His kindness in sending Jesus as a baby for us.
The whole experience reminded me of Psalm 103, that promises, 
As a father shows compassion to his children, so the Lord shows compassion to those who fear him. For he knows our frame; he remembers that we are dust (vv. 13–14). 
Don't you think there's just something about Christmas that helps us remember the difficulty of being human? Because more than any time of the year, we notice that people are lowly. We all come into the world helpless, crawling on our bellies and hungry and naked. Without the kindness of at least one person, each one of us would perish.
We are each fighting a hard battle against our sinful nature. We each have an enemy of our soul and we're up against a fallen world. And at Christmas, God reminds us that He sees us, and He cares, and He's with us.
Even when I lose sight of my fragility, when I aspire to perfection and greatness and self-sufficiency, when I sign up for one too many things at Christmas time, when I get caught up in the demands of being an adult and caring for others, when I over-commit and under-deliver, God smiles on me with compassion, and He remembers what I am made of—dust.
I cherish this about God. I think His kindness shines brightest when it's extended to a person who doesn't deserve it; one who can't return the favor and is entirely dependent on the benefactor. 
When God is kind, it is always to demonstrate His mercy and extend forgiveness. It's always for the purpose of restoring and strengthening His relationship with us. He's kind when we're hostile toward Him. He's kind because He wants to win our hearts. 
Well, don't ask me how we arrived at church on Christmas Eve night with fancy dresses and sweater vests and most of our shoes on, but we did. Our bellies were full and warmed by our traditional Shepherd's Meal, just soup and bread. And the sanctuary glowed with soft candle light as the children took their places on stage for the opening song. 
Before walking up to direct the choir, I tucked our sleepy little one-year-old in Grandmom's arms, and she snuggled in contentedly. Jesus joy of the highest heaven born a little baby under a wonderous star. The song began. I looked over the sweet faces of the children in the choir. I saw our older daughters standing in the back row singing with all their might, and our brave four-year-old stood in the front row, and, yes, forgot the words, and, yes, began to cry. But he jumped back in and sang with the rest of the song. 
There was no doubt about it, this Christmas Eve sparkled with the kindness of a Savior come to earth to serve His hungry, fragile children and give them life. This time the only person crying through the entire song was me. 
Hey, one more thing, six months later in the middle of the summer when we weren't singing Christmas carols anymore, guess who suddenly began singing, "Jesus Joy of the Highest Heaven" from beginning to end? Guess who proceeded to sing that carol for a full year as her anthem, her bedtime song, and her swinging song? That precious one-year-old. She was listening the whole time. 
I hope you have a Merry Christmas. In the holy and chaotic moments, may you remember how deeply you are loved by God, and may His kindness melt your heart. 
Well, if you're looking for a way to receive God's gift of kindness this Christmas, I want to encourage you to pop on over to ReviveOurHearts.com and look for a devotional written by Nancy DeMoss Wolgemuth called Born a Child and Yet a King. I think it might speak to this very topic and encourage your heart. 
And if you'd like to connect with me, you can find me at LauraBooz.com. That's my personal blog, and I might even post a picture of our Christmas tree this year. 
Look for new episodes of Expect Something Beautiful every other week. Next time I'll tell you about a devastating report card. I hope in the busyness of this Christmas season, you'll slow down and be on the lookout for God's kindness in everyday moments, and when you do, expect something beautiful
Expect Something Beautiful is a production of Revive Our Hearts—Calling Women to Freedom, Fullness, and Fruitfulness in Christ.
This episode contains an excerpt from Laura's book, Expect Something Beautiful: Finding God's Good Gifts in Motherhood. Look for it in October, 2021 from Moody Publishers.
*Offers available only during the broadcast of the podcast season.
Support the Expect Something Beautiful Podcast
Darkness. Fear. Uncertainty. Women around the world wake up hopeless every day. You can play a part in bringing them freedom, fullness, and fruitfulness instead. Your gift ensures that we can continue to spread gospel hope! Donate now.
Donate Now