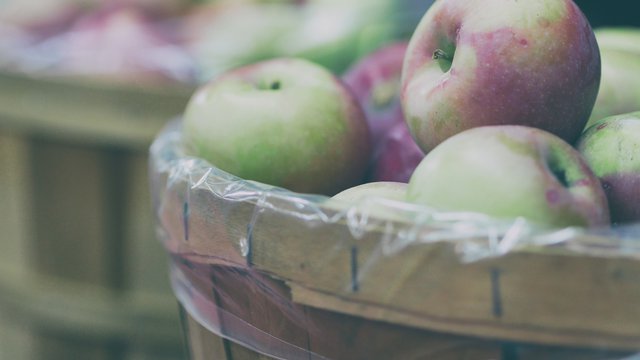 — Audio Player —
A Bushel and a Peck
Laura Booz: My high school did the best musicals top notch, out of this world. I mean, people came from all over to see the performances. Night after night when the curtain closed, they would leap to their feet in a standing ovation and say, "That was every bit as good as Broadway." It was such a thrill to be a part of them. 
In my junior year they were doing Guys and Dolls. If you've never seen that musical, you may at least recognize the theme song, "A Bushel and a Peck." Let me just sing a line for you. So stand back, because I'm going to do this in full character. Okay, here goes. 
"I love you, a bushel and a peck, a bushel and a peck and a hug around the neck." Yep, it's from Guys and Dolls. 
During the audition I was up for the lead of Sarah Brown. It was so exciting. The day the director posted the cast list, we all rushed down to the theater department. We were skimming the list for our names. I saw that I did not get the part of Sarah Brown. 
But I looked over the rest of the list for my name. I finally found it. It was in a group of six or seven other females. That's when I discovered that I got the part of a hot box dancer.
____________
You're listening to Expect Something Beautiful, your expectations really matter. And today, I hope you are assured that you can expect God to give you a good life.
Now, if you haven't seen the musical, a hot box dancer is exactly what you think it is. I knew that our costume department would do a lovely job as always, but our costumes would be skimpier than anyone else's. And I knew our choreographer would create as classy of dances as possible, but we would still be hot box dancers. 
Heading into this I had learned biblical principles of modesty, purity, and dignity. But they were not my priorities. 
At the time, I wanted to develop my singing and acting and dancing skills. I wanted to support the theater program in hopes that maybe just maybe I'd get the lead in the play my senior year. So, I took the part. 
The production was tons of fun, and the performance was a hit. We sang, we danced, and the entire audience leapt to its feet and applause. 
But you know, looking back, I wish I hadn't taken the part. Because now I can see that I compromised my faith in God. I ignored the values in His Word just to be in that play. At the time, I couldn't fathom turning down the part. I just didn't understand that I would have been all right if I made the hard choice to live according to God's Word, and to do everything for His glory. 
Sure, it would have been disappointing to miss out on the play and to jeopardize future opportunities. But now I know that God is big enough to have provided something better for me to do. 
I simply didn't know Him well enough yet. I didn't know I could trust Him to provide good things for me. I thought I had to reach out and get them for myself doing whatever it took and defining good as whatever seemed appealing at the time.
It goes without saying that I have made compromises like that many times in my life. I've struggled to trust God's good heart for me. And I am no different than Eve in the Garden of Eden, who was tempted by the devil, and tempted by her own desires. 
She doubted God's goodness and ultimately reached out to taste the forbidden fruit. At the time, it looked so good to her. And for a moment it tasted so good to her. But then it turned bitter and only brought her sorrow and suffering. 
But God didn't give up on her. He made a promise to redeem her compromised life with a perfect Savior who would come and crush the head of her tempter and who would deliver her from sin. 
And you know, He did it through Jesus His atoning death on the cross and His resurrection. God has made a way for Eve and me and you to stop grasping for lesser fruit and to start trusting and obeying Him.
Let's face it. Every day you and I are tempted to compromise. We are tempted to taste fruit that looks alluring. It looks appealing and enticing. We're tempted to taste certain fruit that culture says is fine, good even, but that God says is off limits because it ultimately leads to our demise. 
And every day God gives us grace to say no to that temptation and grace to stand on the principles and promises and values that He has established in His Word. And, of course, grace to face the hardships or temporary losses when we do get life is not only about saying no to forbidden fruit. Life is actually about experiencing and enjoying something far better. 
In Psalm 34, David says, 
Oh, taste and see that the Lord is good! Blessed is the man who takes refuge in him! Oh, fear the Lord, you his saints, for those who fear him have no lack! The young lions suffer want and hunger; but those who seek the Lord lack no good thing. Come, O children, listen to me; I will teach you the fear of the Lord. What man is there who desires life and loves many days, that he may see good? Keep your tongue from evil and your lips from speaking deceit. Turn away from evil and do good; seek peace and pursue it (vv. 8–14).
Life is about learning, taste by taste, that God is good. It may take time to develop an appetite for God. I mean, I think about when I'm trying to feed wholesome food to my babies. Did you know it may take ten to fifteen tastes before a baby develops an appetite for green beans. But green beans are so good for babies. 
And God's ways are so good for us. So taste it. Try it just once. The next time you're at a crossroads between God and something lesser, choose God and see for yourself the good that comes from it. And then taste again. And again. You will never regret turning to Him and His Word day after day. Because nothing . . . nothing on earth satisfies the human soul like God does. There is no greater life than the one lived in the light of the Word.
There's more to that hot box dancer story than I told you. So my youth pastor and his wife came to see it. A couple days after the performance, my youth pastor's wife took me out for lunch. 
Ever so kindly, she said she was wondering why I took the part. She said that when the hot box dancers were on stage, she and her husband had to look away. 
My heart dropped because it was kind of like she was gently holding a mirror up for me to see the bigger picture of my decision. I could see that although I thought I had secured something good for myself and for my future, I hadn't, because I hadn't chosen God's best. 
Oh, whenever I experience that sinking moment of recognizing that the fruit I've been tasting is actually full of bitterness, God meets me in His Word. 
He reminds me of another verse from Psalm 34, which says, "Those who look to him are radiant, and their faces shall never be ashamed" (v. 5). So even though I've done so many things, resulting in that terrible sinking feeling of shame, I turn to the God who forgives. I confess my sins, and He is so faithful to forgive my sin and cleanse me from all unrighteousness. And just like that, He replaces my shame with His glory. 
He will do the same for you. Do you have a decision before you today? Do you have a choice to make between something God says is good, and something that looks appealing . . . but will turn to bitterness and regret? 
I am cheering you on to walk by faith that Psalm 34 is true. I am cheering you on to discover that God's ways are best. In the moment, it may feel like you are turning down something good. You may feel a sense of loss. But you can trust God to be by your side and to provide good things for you today and in the future. And this frees you from having to scramble and sin and compromise.
I hope you remember this as you walk with God and live In the light of His Word. The decisions you make and the way you live will be for His glory and the good of the world. And don't you worry, God will fill you with every good thing, a whole bushel and the pack.

Expect Something Beautiful as a production of Revive Our Hearts, calling women to freedom, fullness, and fruitfulness in Christ.
*Offers available only during the broadcast of the podcast season.
Support the Expect Something Beautiful Podcast
Darkness. Fear. Uncertainty. Women around the world wake up hopeless every day. You can play a part in bringing them freedom, fullness, and fruitfulness instead. Your gift ensures that we can continue to spread gospel hope! Donate now.
Donate Now