Deborah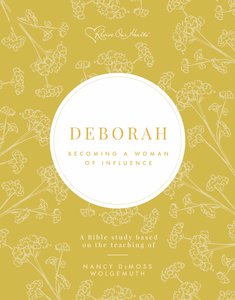 Deborah
With courage and conviction, by trusting God and His plan, Deborah became a woman of influence—not only in her time, but also for our day.
"We see in Deborah a woman of faith and a woman of courage. The legacy of her life is that through her encouragement and influence, the men of her day became men, came forward, stepped up to the plate to accept responsibility, to fight against evil and to defend their wives and children. It is, ladies, not the power of control, but the power of influence that we have as women."

— Nancy DeMoss Wolgemuth
With Your Gift...
In this new six-week study, discover how to become a woman of greater influence by exploring the life of Deborah. With Scripture memory, daily study, and group discussion questions, this resource is ideal for both individual and group study, and it's only available through Revive Our Hearts. When you give a gift of any amount to the ministry this month, we'll gladly send you a copy as our way of saying thank you.