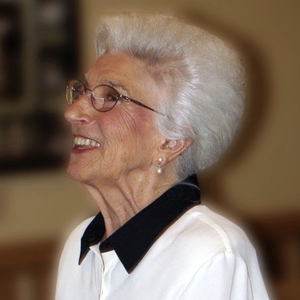 Grace Wolgemuth
Grace Beatrice Dourte was born to a farming family in Manheim, Pennsylvania in 1916, the third of eight children. As a teenager, Grace joined the Brethren in Christ church, following the example of her parents and older sisters. There she met Samuel, the man of her dreams, whom she married in 1938 after attending Taylor University.
The first year of their marriage, Grace and Samuel were house-parents for neglected boys at the Children's Aid Society. The next thirteen years, Grace faithfully supported her husband as he pastored the Fairview Avenue Brethren in Christ Church in Waynesboro, Pennsylvania, graciously welcoming people into their home and leading programs for children.
In 1952, Grace and Samuel left the Brethren in Christ pastorate and joined the worldwide ministry of Youth for Christ. After selling their house and belongings, Grace, Samuel and their four children moved to Japan to serve as short-term missionaries. 
After returning to the states in 1955, Grace, age 39, gave birth to twins. While her husband traveled extensively as the President of Youth for Christ International, Grace gently shepherded the lives of her six children. At the same time, she provided spiritual encouragement and was a powerful support in her husband's work, becoming "Lady Grace" to ministers around the globe.
Even though home was most precious to her, Grace traveled by her husband's side to every continent of the world. With constant prayer and generous hearts, she and Samuel supported Youth for Christ staff, their church and other Christian ministries.
Grace was an accomplished seamstress, skillful gardener, lover of music, and dedicated student of the Bible. Grace memorized large portions of scripture, read her Bible through every year, and taught her children, grandchildren, and great grandchildren many Bible verses.
For nearly 30 years, Grace was an active member of The Orchard Evangelical Free Church in Arlington Heights, Illinois.
Grace modeled a passion for family, Jesus Christ and His Word.
Articles Teach children key verses using the alphabet.